Inside Issue 66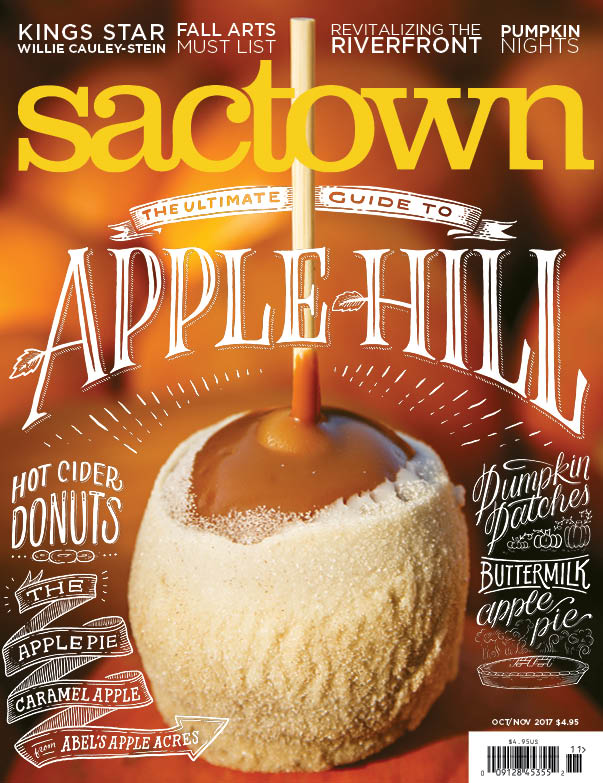 Inside the

October /
November 2017
Issue
Get Sactown delivered to your door. Subscribe HERE!
The Ultimate Guide to Apple Hill
​For over a half-century, visitors from across Northern California have celebrated Camino's fruitful harvest with a leisurely idyll in its rolling foothills, where the Fujis are crisp, the piecrusts flaky and the romantic autumn vistas infinitely Instagrammable. Want to know where to go for the best homemade pies or the freshest cider doughnuts? We've got your apples-to-apples guide to the beloved region.
Center of Attention
This NBA season, all eyes in Sacramento will be trained on Kings star Willie Cauley-Stein. The 24-year-old, 7-foot-tall center can dunk on the opposition's defense with the force of a runaway freight train, but spends his downtime in art studios, giving new meaning to dominating "in the paint."
Fall Arts Must List
Are you not entertained? You're about to be. From the sounds of John Cage and the music of Prince to the world premiere of a presidential play and the final curtain for the original B Street venue, here are the 10 can't-miss performances, presentations and exhibitions to check out in the Sacramento region this fall. Get ready to go out on the town—it's showtime!

Riverfront Essay

Many of today's celebrated civic movements were started by people who were called troublemakers. Now, we call many of those same people placemakers. It's time to stir up some more trouble, right here in River City.

Riverfront Q&A
​In 2016, the city of Sacramento hired Richard Rich—once the private sector development director of the railyards—to represent its interests on the massive infill project. Today, the bulk of his focus is on solving a problem that has vexed this town for decades—how to revive our underutilized riverfront. A former Disney Imagineer, Rich talks about a few of the bold new ideas for Old Sacramento, bridging the gap between the past and the future.
Play

Art imitates life on the West Sacramento waterfront, where artist Federico Díaz's new sculpture will reflect its changing environment; Auburn plays host to the spooktacular Pumpkin Nights; the Mondavi Center creates buzz with a visit from Samantha Bee; California Musical Theatre brings the "beautiful" music of Carole King to the Community Center Theater; and oh myyy—George Takei kicks off the 12th season of the Sacramento Speakers Series

Dish
​Canon's executive chef Brad Cecchi brings Michelin star power to East Sacramento; the team behind The Red Rabbit gets set to roll out a new farm-to-cart restaurant on K Street; the recently opened Tap & Vine goes modern in Auburn; a pair of restaurants by a pair of brothers enliven Oak Park's Broadway Triangle district

Why Not Here?
Cities across the globe, from Long Beach to London, are putting a spring in their steps with creative crosswalks. Let's follow their path and paint the town with street art of our own.