La Cosecha in Cesar Chavez Plaza will open in May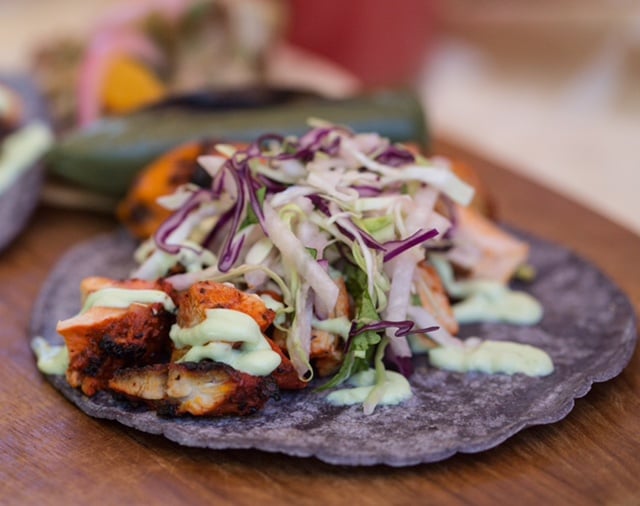 La Cosecha, the newest eatery from restaurateur Ernesto Delgado, who owns downtown's Tequila Museo Mayahuel and Carmichael's Mesa Mercado, will open its doors Friday, May 5, and Saturday, May 6, from noon to midnight each day for a special weekend Cinco de Mayo celebration in Cesar Chavez Plaza, and will hold a soft opening the following week, beginning with lunch on Wednesday, May 10.
(Read more about La Cosecha here and here.)
Chef Adam Pechal, formerly of Pour House and Tuli Bistro, is leading the restaurant's kitchen and has developed a small menu of tacos for the opening weekend—carnitas with tomatillo salsa and pickled onion, achiote-marinated chicken with jicama slaw and avocado crema, and carne asada with charred onion salsa and cotija cheese. For the spot's everyday offerings, Pechal will focus heavily on seasonality, looking to Cesar Chavez park's Wednesday farmers' market to influence his daily specials (he's thinking quesadilla, taco and ceviche specials that incorporate the fresh bounty).
"It's such a fun project, with the farmers' market on Wednesdays—it's been my favorite market for a long time—and just that vibe being in the center of downtown," says Pechal. "It's always so active, people are looking for lunch, and I'll get to wheel my cart around and pick up my stuff [for the week]."
For the restaurant's full menu, Pechal also plans to encourage a casual atmosphere with traditional dips like queso fundido (a dish of melty cheese and chorizo) and a vegetarian bean dip with heirloom beans, and evening offerings of entrées, like a shareable taco platter that will come with a choice of meat and taco fixings.
"We're not just going to be your traditional Mexican place," says Pechal. "He wants it to be more Sacramento-focused and a little more farm fresh, so you'll see traditional [Mexican] technique, but with Sacramento products."
The bar, helmed by former Red Rabbit bartender Chris Sinclair, will feature two draft cocktails—the Mezcal Mule (mezcal with ginger beer and lime) and a bloody Mary that uses Preservation & Co.'s mix—as well as a margarita and El Diablo, a classic tiki cocktail with tequila, lime, ginger beer and crème de cassis (a black currant liqueur) during the weekend's festivities. Folks can also look forward to seasonal sangritas, a savory drink that is traditionally sipped with agave spirits, made with orange and tomato juices, peppers and onions, on the forthcoming bar menu, but Sinclair says mezcal will be the main attraction. "Tequila is a form of mezcal like scotch would be a form of whiskey," he explains. "So there's a whole lot of varietals that fall under mezcal; tequila just happens to be the most widely known."
Pechal emphasizes that while La Cosecha will cater largely to the downtown breakfast and lunch crowd with an array of grab-and-go sandwiches and salads, its "fast-casual-plus" service model—where patrons order at the counter, but after they have been seated, can order more food and drink from servers—fused with his crowd-friendly taco platters and Sinclair's bar program (replete with mezcal tastings) will facilitate an inviting environment for folks to spend some time at the restaurant and park.
"We've got four patios and we've got this great outdoor bar on the 9th Street side," he says. "We want it to be efficient for people who need to grab their lunch and go, but if you want to hang out for two or three hours, we want to make that happen, too."
La Cosecha will be open for Cinco de Mayo on Friday, May 5, and Saturday, May 6, from noon to midnight. The restaurant will begin its soft opening on Wednesday, May 10, serving lunch beginning at 11 a.m. and the bar open into the evening. Breakfast, beginning at 7:30 a.m. will be added as early as next week. (Hours are expected to be Mon.-Thurs. from 7:30 a.m.-10 p.m., Fri. from 7:30 a.m.-midnight, Sat. from noon to midnight, and Sun. from noon-10 p.m.) Cesar Chavez Plaza. 917 9th St. For more updates, visit facebook.com/La-Cosecha-by-Mayahuel
You Might Also Like
Cesar Chavez Plaza's new Mexican restaurant to open this spring
Five festive fiestas to ring in Cinco de Mayo
14 great farmers' markets to visit throughout the Sacramento region