Launch festival debuts new poster series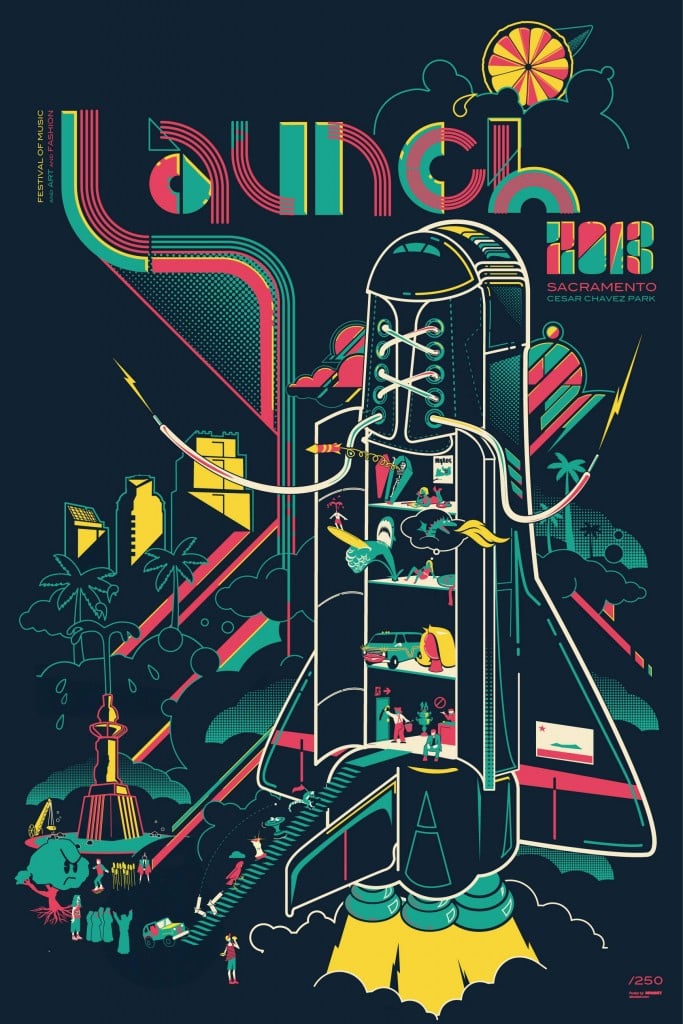 The fifth annual Launch festival is underway downtown, bringing its celebration of art, music, fashion, design and architecture to venues across the grid. The event culminates this weekend at Cesar Chavez Plaza with a two-day live music binge boasting more than 30 acts—a dozen of which are getting posterized in a collection curated by Sacramento designer Jason Malmberg.
The inaugural Launch Poster Series builds on the grand tradition of rock posters throughout the years, pairing Sacramento designers with Launch performers like Imagine Dragons (whose single "Radioactive" was declared the "biggest rock hit of the year" by Rolling Stone in May), Blonde Redhead, Minus the Bear, Rocket From the Crypt, and others.
Malmberg says the idea sprung partly from events like Sasquatch!, the Washington music festival that annually commissions poster art from designers around the Pacific Northwest. "I was thinking about it, and in the last two or three years here, we've been lucky to have a few artists carve out little niches for themselves," says Malmberg, a former art director at Sactown magazine and the Sacramento News & Review who collaborated with other designers like Laura Matranga and Johnathan Buck to develop the bands' posters. "And what's cool about it is that they have really different styles."
The artists all selected the acts they wanted to design for, resulting in a range of work as diverse as the Launch acts themselves. David Lee Angstead's cubist-inspired design for the Seattle-based rapper Grieves stands in contrast to Melissa Arendt's pulp-inflected poster for the one-man synth-pop band Washed Out. Benjamin Della Rosa's '50s-fueled illustration for the New York indie duo Cults offers a gonzo counterpoint to Malmberg's own photo-centric layout for the Australian quartet Van She.
The main Launch Music poster (shown above)—the 100th "gigposter" that Malmberg has designed in roughly a decade, depicts a "shoe space shuttle" that subtly hints at the festival's name. "It looks really flat but three-dimensional at the same time," he says, citing the influence of '70s-era schoolbooks and his fondness for typographical mischief. Most notable are the pictograms representing each of the festival acts, a clever alternative to including all of the bands' names on the poster.
Attendees can view the complete collection of posters for themselves at Cesar Chavez Plaza during this weekend's festival. (Four-color screen prints of Malmberg's main event poster—produced in a limited edition of 250—will be on sale for $20.) For a sneak peek of the series, visit the event's Facebook page.
Launch Music Festival: Saturday and Sunday starting at 11:30 a.m. $20-$75 per day. Cesar Chavez Plaza. 910 I St. 877-463-2875. launchsacramento.com