Meet Winston, Camden Spit & Larder's scooter-riding, martini-wielding boar mascot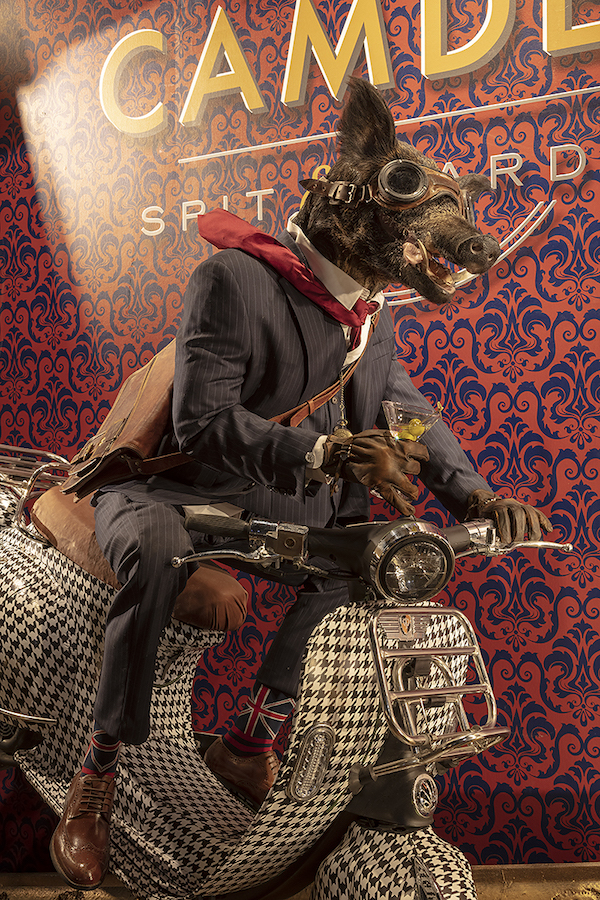 Other pigs may not fly, but this one sure looks like he can. Camden Spit & Larder, the new restaurant from chef Oliver Ridgeway, officially kicks off its happy hour today at 4 p.m. with the debut of Winston, an anthropomorphic boar on display in one of the eatery's windows facing Capitol Mall.
As a nod to Ridgeway's British heritage, the restaurant's new unofficial mascot is named after Winston Churchill, and dressed in the style of U.K. fashion designers like Ben Sherman and Paul Smith (Winston sports a three-piece pinstripe suit, brown wing tips, Union Jack socks and leather motorcycle gloves). The boar-ishly handsome pig rides a houndstooth scooter, seemingly flying by on his way to the Capitol—tongue out, martini in hand.
"This is kind of about not taking ourselves too seriously," says Ridgeway. "We wanted a restaurant that was serious in design and in food, but let's also lighten up a little bit. Let's have some fun too."
Camden's lead architect and interior designer Brendan Koon, principal at San Francisco-based Vitae Architecture Planning Interiors, worked with husband-wife design team Joe and Cindy Strickland to create Winston. Bischoff's Taxidermy & Animal FX in Burbank—whose work has been seen in movies and on shows like Westworld, Game of Thrones, Pirates of the Caribbean and Stranger Things—was tapped to build the fashionable mascot.
"He is a kind of bad-boy departure from the rest of the restaurant," says Koon, referring to Camden's pub-chic look featuring plaid wingback chairs and navy leather banquettes. "I wanted patrons to understand that this is all tongue-in-cheek to some degree."
Winston will serve as host of the restaurant's happy hour—dubbed "Winston's Hour"—which will operate in the bar area on weekdays from 3 to 6 p.m. and offer a select menu of plates, including English-inspired eats like sausage rolls, salt cod fritters and caviar and crumpets, as well as contemporary California dishes like Tomales Bay mussels and vegan mushroom pâté. Drink specials will include $1 off local craft drafts and $3 off cocktails like gin and tonic and the house Old Fashioned.
Winston's Hour runs Mondays through Fridays from 3-6 p.m. 555 Capitol Mall. 916-619-8897. camdenspitandlarder.com
You Might Also Like
A new traveling Yuletide cocktail bar with a tiki twist pops up in Sacramento
The Bank food hall sets opening date
Golden 1 Center unveils new menu for the 2018-19 season