"By Any Means Necessary, I Will Keep Being an Artist."
Painter. Bluesman. Filmmaker. Educator. After retiring in 2012 from UC Davis, where he was an art professor for 43 years—and on the eve of a solo show at the Manetti Shrem Museum—Mike Henderson reflects on shining shoes as a young man in Missouri, seeing his soul in Van Gogh's Potato Eaters, believing he had lost decades' worth of paintings in a fire, and securing his place in one of the greatest university art departments ever assembled.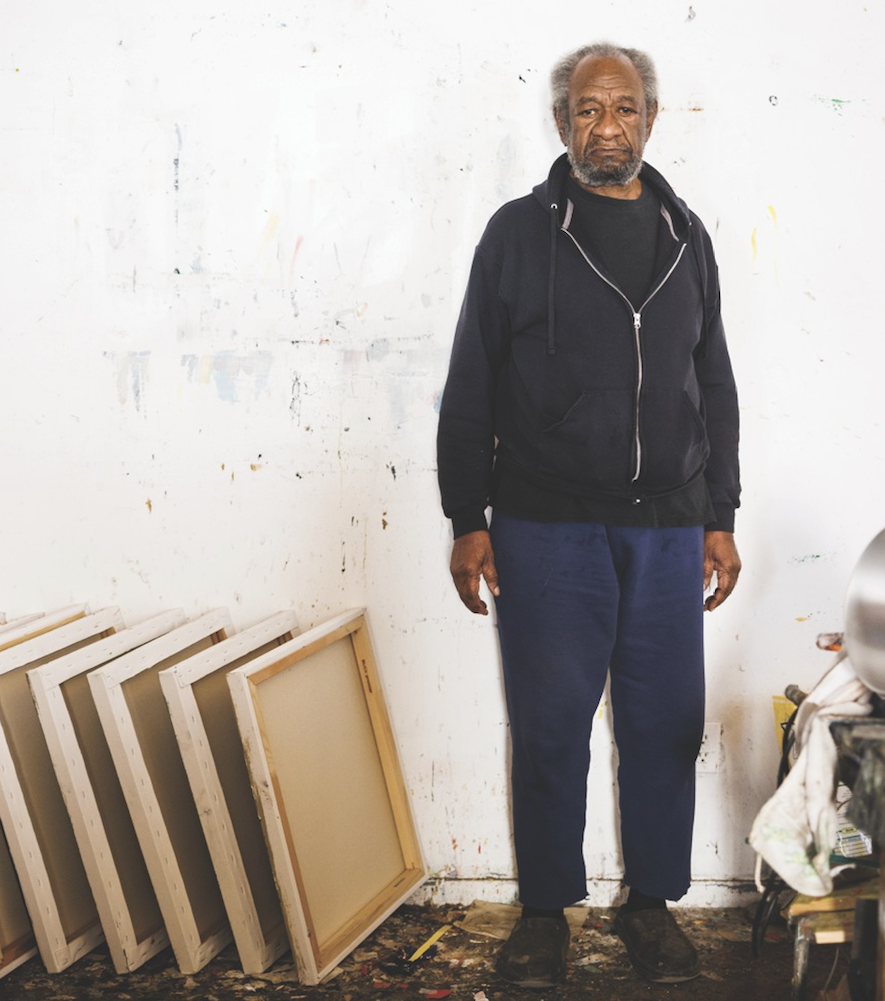 Mike Henderson is the only one at the $750-a-plate gala wearing blue jeans—and he's the guest of honor.
On this late October evening, throngs of art patrons in art-inflected cocktail attire are wafting into the vaulted, airy lobby of UC Davis' Jan Shrem and Maria Manetti Shrem Museum, where a neon sign reads "I belong here," an installation by Tavares Strachan that is part of an exhibit titled Young, Gifted and Black. It's been over a half-century since Henderson accepted a job as the university's first—and for many years only—young, gifted and Black art professor, a job he held for 43 years before retiring in 2012. Soon he will open his first solo U.S. museum show in two decades right here, Mike Henderson: Before the Fire, 1965-1985, which will run from Jan. 30 through July 15.
The guests take their seats at tables inside the Manetti Shrem for the 6-year-old institution's annual fundraising gala. Waiters serve up plates of lamb chops to the accompaniment of a soulful cellist. Henderson, 79, arrived at the festivities without fanfare, with a friend named John Rogstad in tow, and spends much of the evening in an animated forehead-to-forehead conversation with his gallerist, Cheryl Haines. Their families have grown close over their nearly 40-year relationship, so the time between speeches is for catching up.
"Mike has had more solo shows than anyone at the gallery," says Haines Gallery executive director David Spalding, who's sitting next to me. An impressive accomplishment at his San Francisco salon, which is also home to marquee names like Chinese artist-activist Ai Weiwei and British sculptor Andy Goldsworthy. Acclaim came early and often for Henderson: He was tapped for a group exhibit at the Whitney Museum in New York while he was a student at the San Francisco Art Institute in 1969, and received a Guggenheim Fellowship in 1973. In 2020, the de Young museum in San Francisco acquired what is perhaps his most celebrated work, a 1966 piece titled The Scream, depicting a trio of faces, in which Henderson attacked a heroically large 10-by-12-foot canvas using his bare hands, slathering paint across three expressive faces whorling and howling to life out of a vortex of color. Tim Burgard—curator-in-charge of American Art for the Fine Arts Museums of San Francisco, which oversees the de Young and the Legion of Honor—calls Henderson's work a masterpiece, and says that it "embodies the artist's visceral response both to personal experiences and to contemporary events, most prominently institutionalized racism and the Vietnam War. The painting confronts the viewer with a powerful and inescapable vision—and voice—that critique and condemn the inhumane treatment of human beings who are marginalized by the powerful."
But when the evening's honoree takes the stage to accept the Margrit Mondavi Arts Medallion (the previous recipient was iconic artist Wayne Thiebaud), few in the crowd recognize him as the creator of the epic-scale paintings that have been hanging high above their heads: two abstract works and one figurative depiction of singing Black churchgoers called Sunday Evening, each canvas only slightly smaller than a single-car garage door. After Henderson's demure thanks, the Manetti Shrem's founding director Rachel Teagle invites everybody outside to hear him and bassist Rogstad jam with Thiebaud's stepson Matt Bult on the drums. The bluesman's blue jeans make perfect sense as Henderson—who is also a musician and filmmaker—shoulders a guitar.
The architecturally adventurous museum—which last year was named one of the 25 best museum buildings of the past century by ARTnews—is small in size but ambitious in every other way, including its commitment to elevating diverse voices from around the country, and now it's set to elevate one of its own. "Mike Henderson is a man of his time," says Teagle, speaking by phone in the afterglow of the event, "as a Black artist who is channeling his frustration—you might even want to say rage—through his artwork, making a political statement. And like so many of Mike's colleagues at the time, that work was not given the opportunity to be exhibited. That's a typical problem that Black artists of his generation encountered, and we hope this art project will do a small part in changing that trajectory."
The idea for the show emerged when Dan Nadel, co-curator of the upcoming Henderson exhibit, made a visit to the artist's East Bay studio in 2018 at the behest of William T. Wiley, co-founder of the Funk Art movement and iconic Davis art faculty emeritus. Wiley, who died in 2021, once told Teagle, "If you want to understand UC Davis, you've got to understand Mike Henderson's work."
Many of the pieces will be displayed for the first time after being freshly restored, having been all but lost to a cataclysmic fire that raged through Henderson's previous San Francisco studio in 1985, providing an incendiary, involuntary inflection point in his career. It had been largely assumed within the art world that nothing remained of this 20-year period of Henderson's oeuvre. Before the Fire is a feat of reclamation.
The exhibit's other curator, Sampada Aranke—UC Davis grad and professor at the School of the Art Institute of Chicago—recounts how Henderson captivated her and Nadel for hours during a follow-up studio visit in 2021, opening up a shipping container on the property and pulling out powerful painting after powerful painting—all damaged by fire and subsequent neglect—a metaphor for his career, which has been marked by both recognition at the highest levels and yet, somehow, underappreciation. "The time that Mike was coming up was pretty incredible in California," she says. "Black artists were mixing genre, sculpture, performance—all of these kinds of avant-garde practices. They were building their own spaces because they were so institutionally left out. One of the big parts of this exhibition is to fill in that history of Mike's impact, his overwhelming and powerful force."
Back in the Manetti Shrem courtyard, the band has settled into a groove under blue and purple house lights, while the students who had served as the evening's ushers form a circle, swaying in floaty, blissed-out dance moves. "Here I stand," Henderson croons, mouthing his own lyrics from an upcoming album, also due out in January, in a blue velvet voice that sounds like Missouri moonshine in a mason jar.
• • • • •
Henderson's house is a comfortable pastel yellow clapboard bungalow in a leafy neighborhood in San Leandro. Two days after the gala, the artist, in sweats and slippers, is wheeling a trash can to the curb when I arrive. The home is modest from the street but sprawling in the back, where a lovingly tended yet wildly Fauvist flower garden connects a covered patio to Henderson's studio.
Crossing the threshold, I feel like I've stepped inside the artist's gleefully chaotic mind. The scratchy lamentations of Charley Patton (aka Father of the Delta Blues) are as pungent as the scent of oil paints curing on a palette the size of a family dining table, 50 years deep in splatters and globules—Henderson sometimes trowels paint onto billboard-sized canvases, sometimes globs it on with his bare hands.
He sits in a chair made for computer gaming, in front of what looks like a full-on recording studio, but which he insists is simply a practice area for his guitar and vocal exercises. Henderson sips water from, yes, a mason jar, turns Patton down from a rolling boil to a simmer, and points out snapshots of friends from the music industry.
"I was lucky enough to play with people like that guy there, [legendary blues pianist] Sunnyland Slim," he says in a buttery, bluesy baritone, "and Mike Bloomfield—he was the guitar player on [Bob] Dylan's first electric album. It's been a magical, parallel music-and-art world." He proceeds to use that round, sonorous voice to hypnotize me with storytelling that feels like warm liquid poured over the hairs standing up on the back of my neck—so mesmerizing I barely notice that five hours have passed by in the blink of a lifetime. It was a sunny fall morning when I arrived; it's now afternoon turning to early evening when I leave, with a carousel of images from Henderson reeling through my head.
• • • • •
The artist was born on June 15, 1943 in Marshall, Missouri, and grew up there with eight siblings, a mother who worked as a housekeeper and a violent janitor father in a house with no plumbing—Henderson stuck a wedge of wood under a window in shop class to prop it open so he could sneak into the school gymnasium on weekends to shower.
Highly dyslexic but unaware of it at the time—part of the reason he was always drawing and painting as a child—he dropped out when he was 15 and eventually went to work at the Viking Hotel in downtown Marshall, as a janitor, bellhop, and then shoeshiner. He set up his easel and painted between customers, which gained him a lot of positive attention. White friends would see him at work and tell him, "Hey, my mother paints!" (Even though Henderson was raised in the segregated South, he says, "I never saw them as white, and I never asked how they saw me.") So Henderson would go to the ladies' watercolors circle and paint with them, and paint with the church ladies in their group too.
A shoeshine customer, Eddie Van Dyke, the father of a former classmate, so admired Henderson's artwork that he paid for a bus ticket for him to travel to Kansas City to see a Van Gogh exhibit, where the aspiring painter was transfixed by The Potato Eaters. The stark portrayal of poverty and struggle moved him. When he returned, he thought to himself, "If you're going to better yourself and do art, you have to finish school."
So, a full-grown man at the age of 21, Henderson found himself back in math class with seventh-graders. "The seats were so small I'd have a hard time getting out," he says, laughing.
• • • • •
Henderson managed to graduate high school, and chose the San Francisco Art Institute (SFAI) for college. Van Dyke helped him with the first year's tuition money, and he took a work-study job as a janitor, partly so he could have a key to the school's art studio to paint all night long.
His first experience attending a gallery opening was a memorable one. Not too long after his arrival on campus in 1965, a fellow student invited Henderson to one at the school. Mike asked her, "What's an opening?" She said, "It's like a party where you show your pieces." To which he replied, "What's a piece?" That's how basic his art vocabulary was at the time—he didn't know a work of art could be called a "piece."
When they arrived at the gallery, the renowned artist Bruce Nauman, then fresh out of UC Davis and teaching at SFAI, was sweeping a heap of flour into a pile in a corner of the gallery space for one of his Flour Arrangements—innovative works that would go down in art history as signifying a major shift in conceptual art. But at the time, Henderson the janitor profoundly misread the room.
"I said, 'You don't have to sweep that up. That's my job. Would you like me to sweep that up?' " he remembers. Nauman, to his credit, didn't miss a beat. He considered thoughtfully, then replied, "Well, I guess you can sweep it up if you think you should." They would go on to be great friends and collaborators, but it was Henderson's first exposure to conceptual art, and his first point of contact with UC Davis, an alliance that eventually would change his life.
Soon after this, one of his SFAI professors introduced him to William T. Wiley, a recent alum turned UCD professor, who invited Henderson to visit Davis' budding art department for the first time—then little more than a Quonset hut at the largely agricultural college. "There were all these guys I'd seen in art magazines," he says, referring to teachers like Wayne Thiebaud, Robert Arneson, Roy De Forest, and Manuel Neri, many of them progenitors of so-called Funk Art—a Northern California-centric movement with a name "borrowed from jazz" that represented art that was "bizarre rather than formal," "irreverent in attitude," and "symbolic in content and evocative in feeling," according to Peter Selz, founding director of the UC Berkeley Art Museum and Pacific Film Archive, in his 1967 essay "Notes on Funk."
Meanwhile, Henderson's figurative work was well received, but abstraction eluded him. That all changed one morning during his freshman year after he'd been to a Sunday performance at the Fillmore the previous night. "There's [jazz musician] Roland Kirk playing four or five horns at one time, then he starts walking through the audience handing out whistles and kazoos. So I'm heading to school early Monday morning, and I'm going to catch the cable car by Woolworth's on Market Street, and I hear this horn being played—that's Roland Kirk! It's 6 in the morning and he's playing right in the middle of the street. He finished, and I walk up to him and say, 'Pardon me, aren't you Roland Kirk? What are you doing here?' And he says, 'Playing the sounds of the city, brother.' "
Here Henderson pauses for effect, smiling beatifically at the memory. "Right then I understood [Jackson] Pollock. And every abstract painter I'd ever been exposed to. By the time I got to the school I was shocked and I was [feeling] high as a kite. I wanted to paint the sounds of the city."
So he did, producing his first abstract painting, a jazzy, syncopated composition of painterly strokes, and he's been mining that vein ever since. "Decades of painting experience have taught Henderson to trust his materials," the late San Francisco Chronicle art critic Kenneth Baker wrote in 2002, of Henderson's abstract oeuvre. "Echoes of the history of art seem inherent in the stuff of paint itself. His relaxed, generous, intuitive touch awakens them better than any theoretical posture could."
In college, Henderson's artistic output matured rapidly as he soaked up West Coast culture, which included attending Black Panther rallies. "I was overwhelmed," he recalls. So he painted The Scream. A bad road trip home for Christmas produced another explosive epic, The Last Supper, in 1967. As Henderson started working on increasingly large canvases, SFAI gave him a rare solo studio space for his sophomore year, and while he was earning a master's in fine arts at the school, a haunting portrait about police brutality during the civil rights marches called Non-Violence was featured in a group show at the Whitney Museum of American Art in New York.
Filmmaking came into the picture after the assassination of Martin Luther King Jr. "I went to a Dr. King memorial at the Civic Center," Henderson says, "I was going back to paint. But I got in front of my painting, and I wanted my figures to move." His first motion picture, completed in 1970, was an eight-minute filmic take on The Last Supper, a gonzo interpretation wherein Jesus is served a topless Mary on a platter and a blasphemous orgy of sex and violence ensues.
Henderson had found a lifelong vernacular he'd return to again and again with works that are full of movement. The new show at the Manetti Shrem bridges the gap between his early expressionist figures and protest paintings and the later abstract paintings, which share an emotional palette. His canvases, whether figurative or not, are vigorous and charged. His figures are often singing or shouting, and somehow, his abstractions are markedly mellifluous too, as if they could be musical scores written for six-dimensional alien orchestras to perform in living color.
• • • • •
Wiley had long thought Henderson needed to be part of the magic happening at the UC Davis art department, and offered him a teaching job upon graduation. Henderson initially turned him down—three times. He was hesitant to return to small-town life.
When Henderson finally relented and accepted a professorship in 1970 (he really wanted to buy his parents a house), he decided the only way he could strike a livable balance—in addition to being the first Black professor in the art department, he would be just the second Black professor at the school—was to continue to reside in San Francisco and commute back and forth to Davis. "I sold a painting to the Oakland Museum when I graduated," he says. "So I had a little money and I bought a red [Volkswagen] Karmann Ghia—freedom!" He raises his hands.
"I wrote on the sun visor of that brand-new Karmann Ghia, 'By any means necessary, I will keep being an artist. I can leave Davis with empty pockets, but I won't leave Davis empty-headed.' It was written in a magic marker. The resale value of this car—I thought, 'Well, Mike, deal with that later,' " he says, laughing.
With the remaining proceeds from the sale of his painting, a self-portrait titled Portrait of Hindu, Henderson rented a studio in San Francisco. "Every day when I drove over that hill and down into Davis, I would picture someone from my life," he says. "Eddie Van Dyke, who loaned me the money for school, the soldier who gave me $5, or Wiley or Rosa Parks. There was always somebody I could dedicate a day of teaching to."
The first class he taught was on filmmaking, and he was distressed that his students were turning in script ideas that included elements like car chases and airplanes, so he decided he needed to expose them to more alternative filmmaking. Someone told him there was a gifted avant-garde filmmaker living and working right there in Sacramento, and that she was married to one of his colleagues, in fact. "I went up to Wayne [Thiebaud] and said, I hear your wife Betty Jean makes films."
Thiebaud said, "Yes. We're having a cocktail party this weekend, so why don't you come? You can meet her."
"I walk in and the first person I see is [iconic sculptor] Claes Oldenburg. I wanted to cry out, 'Hey! I know who you are!' " Henderson says. "But of course famous people don't want that." He was once again stunned to realize the caliber of the company he was keeping.
---
READ MORE – Thiebaud: A Celebration – A retrospective of the local painter's career
---
Betty Jean agreed to bring some of her short films for show-and-tell in Henderson's class, and it was the start of a beautiful friendship that lasted until her death in 2015. "She would call me and say, 'Luciano Pavarotti is staying at our house. I feel like I should make some kind of film.' And I would say, 'Yes, you need to get him to sing in the shower!' "
Even though he never kept house there, Davis became a home of sorts to his painter persona. When Henderson released his first blues album in 1983, the artist photo he chose for it was one of him just outside the back door of the UC Davis art building. "John Lee Hooker nicknamed me The Blues Professor," he says, "So it had to do with that—I entered one world when I came into the building, and into another world when I left the building."
Just as he had in Marshall, Henderson made fast friends across a wide spectrum in Davis, going to faculty parties and colleagues' art openings. The first time he met Manuel Neri's wife, the artist Joan Brown, she asked him how he liked teaching. "I said, 'I love it!' And she said, 'Talk to me in seven years.' " So he did. "I went up to Joan in seven years, at a museum function, and said, 'I found you have to force yourself to work [on your own art] when you get home because teaching is such a reward—you feel fulfilled, like you've done something.' "
He was, by all accounts, a passionate teacher. "I'd tell the students to come down to the city for the day with their sleeping bags. I'd take them to The Fillmore, go to museums and galleries with them, or to the Art Institute to see experimental films," he says. "But I'd realize I hadn't painted in a week." At the time, most of his students were white, and the Black students, he says, were more likely to be African than African American.
Meanwhile Henderson's bifurcated life continued. In 1973, he received a Guggenheim Fellowship—a prestigious financial award the recipient may use at their discretion—for his work in film. At the time, his North Beach studio was across the street from the projects, where he had befriended and mentored many of the young Black residents. He decided he wanted to use a portion of his grant award to help one disabled neighborhood boy get an operation that would let him walk again, but before he could make good on the idea, the boy was shanked to death with a screwdriver in a dispute with another boy over possession of a 45 RPM record.
Then in 1985, while he was on a three-month sabbatical playing the blues in Europe, Henderson's studio burned down when a lump of charcoal fell off a neighbor's barbecue grill. When his landlord finally got a message to him, it had been garbled enough to indicate that nothing was left, and for a moment, Henderson contemplated never coming back to the U.S. at all. Then he got the story straight: his loft was uninhabitable, but there were belongings yet to salvage, including an unknown quantity of art, so he returned. "It brought about the re-evaluation of everything. Could I be a husband, be a father? What is life for?" he says. "I realized I could have been gone in a second, and I hadn't had a shock like that since I came to San Francisco. The fire made me look for my own voice."
He moved to an artist complex in Oakland, where he never quite felt he fit in. The artists there were too commercial-minded, he thought. But this is also the transitional era where he met his future wife, so more than geography had shifted, and by 1992 he was married, and buying the yellow house in San Leandro, entering a new phase and rising resplendent from the ashes into a new and better life.
The story of the fire is the last story of the day. As I'm leaving his studio, I mention how I loved that he wore jeans to the Manetti Shrem gala he was being honored at. "I thought about wearing a suit and a tie," he says thoughtfully. "But teaching for 43 years at Davis, I was thinking that I am a worker, an old country boy who grew up working. I should dress my lifestyle, so I decided on a Levi's sport coat and Nikes—that's dressed up for me."
• • • • •
"To understand Mike, you have to understand the blues," says Ethan Wiley, William's eldest son, who was 9 when he first met Uncle Mike, unintentionally but poetically echoing what his dad said about UC Davis and Henderson. "It's in his passion for music and his passion for painting." When we speak in November, Ethan—who is a musician and filmmaker himself—is putting the finishing touches on a documentary titled Mike Henderson: Here I Stand, which he plans to release sometime in early 2023. That hardscrabble blues ethic, Ethan says, made Henderson fit in with the group of all-white artists at Davis. "They saw art as a vocation, something to be taken seriously. Even as experimental as all their art was—many of them were doing wild and groundbreaking things—they could also draw the hell out of a drawing," Ethan says. "They all knew their art history." They all jammed together to stave off what Wayne Thiebaud liked to point out: the loneliness of painting.
As prolific a painter and musician as Henderson is, his creative output also included a steady stream of young minds, like former student and painter Vonn Cummings Sumner, who is a professor of art at Fullerton College in Orange County. Sumner went to Davis for his undergraduate degree because Wayne Thiebaud taught there, but he stayed for his master's degree because of Henderson.
"By the time I got there [in the '90s], he'd been teaching almost 25 years. He would teach these seminars and we would go all night. He would say interesting, poetic, beautiful things. He'd be looking at a painting, and he'd talk about it like it was a song," Sumner says. "Mike was so candid with his students—he was an open book, with his life story and his emotions all on his sleeve."
And then there was that knack for storytelling. "He taught me that the inner life of the artist can be willfully transferred into the art we make, and that inner life gives the work a depth of feeling and thought that it would not otherwise have," Sumner says. "It is all the difference between an artist just having a career as an 'art world employee,' and an artist dedicating their whole life and energy to the act of self-discovery and artistic exploration that Mike embodies so beautifully."
Sumner credits Henderson with his decision to become a teacher himself: "It sounds cheesy to say out loud, but it seems like the only way to repay that debt."
• • • • •
It isn't the biggest or splashiest work in Before the Fire, but Henderson's self-portrait from 1966 (shown above) will stop you in your tracks. The bluesman's head tilts forward under a raked green fedora—a lush evocation of felt that's as richly rendered as a slice of Thiebaud's pie—the eyes are black wells that invite you to fall into them, while the mouth forms a perfect "O" around an eternal song—or scream, or both—a note that encompasses all of the rage and joy of a generation. The only strokes of blue pigment are in the stripes of his shirt peeking out from under his jacket, but the painting is somehow all blue. You can hear the color, I swear—a low, melodic moan that also soars.
Which is by design. "You mix colors—you've got blue, yellow and red, ​​you've got black and white, and you can change the tone of the colors. It's the same with notes," he says of the connection between painting and blues music. "It's about the way you play them."