Modern Italian seafood restaurant Allora to open in February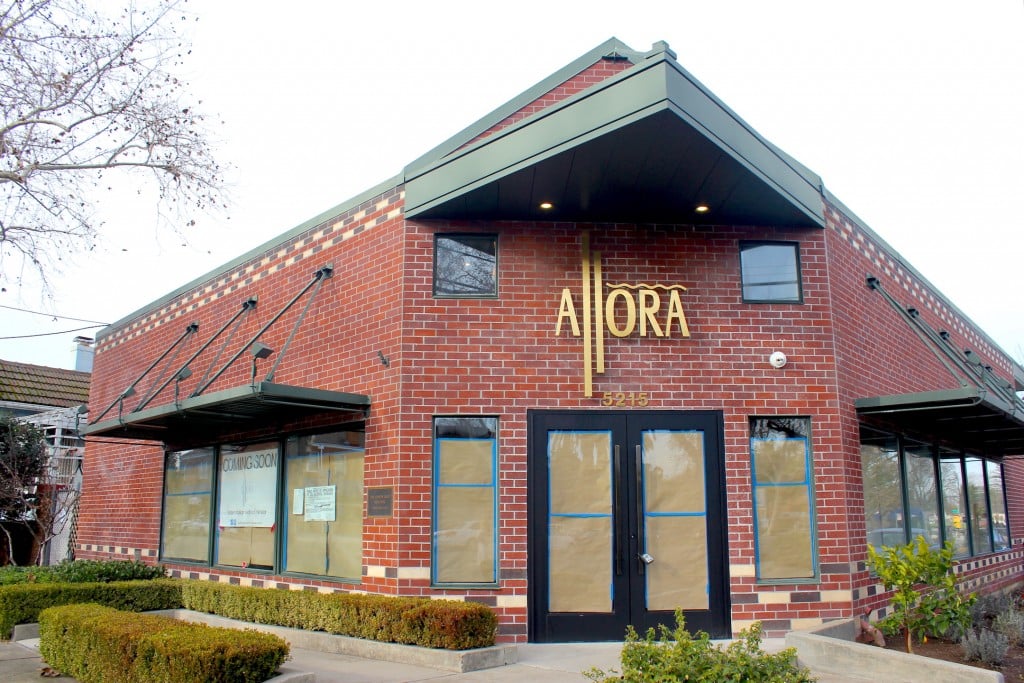 Just in time for Valentine's Day, Allora—the new Italian seafood restaurant from husband-wife culinary team Deneb Williams and Elizabeth-Rose Mandalou—is slated to open Feb. 13 in East Sacramento.
Williams, the former executive chef of The Firehouse, and Mandalou a former sommelier at Ella—last July, she achieved the coveted status as an Advanced Sommelier—also run Woodlake Tavern and Uptown Pizza Kitchen in North Sacramento. Williams says Allora is the couple's dream project: A wine-driven Italian eatery, with everything from crudo to handmade pastas on the menu.
Joe Pruner—whose resume boasts stints as former head chef of Mulvaney's B&L and chef du cuisine at Empress Tavern—will helm Allora's kitchen, along with sous chef Marco Cerruti, whose Italian roots contributed to concepts like the aforementioned crudo (meaning "raw" in Italian), featuring the likes of sturgeon caviar from Passmore Ranch, yellowtail, red snapper, and three to four varieties of oysters each day.
The antipasti menu will feature items like smoked veal tongue carpaccio and a signature "polpo" dish with octopus that has been char-grilled and cooked sous vide, potato gnocchi, pickled fennel and squid ink. Entrées will include Passmore Ranch black bass with parsnips and radicchio, along with handmade pastas like cavatelli with sausage and charred broccolini, and bucatini with Dungeness crab and sea urchin. For dessert, there will be buttermilk panna cotta, a chocolate hazelnut torta and house-made gelato.
Mandalou is curating the wine list, which emphasizes Italian and Cal-Ital varietals, some of which come from the foothills. "We have something that I think very few places can offer, and that is an owner-operator who is also a sommelier at the advanced level and can bring in great wines and offer her recommendations," Williams says.
The show-stopping centerpiece of the 3,000-square-foot space, which formerly housed Rust Florist and was reconfigured by Sacramento-based Reinke Construction, is a 22-foot-tall temperature-controlled glass wine cellar that holds 600 bottles of wine. Local designer Emily McCuiston, who also worked on Woodlake Tavern, has created a sleek, modern space with gold accents, velvet chairs and an intimate bar area where guests can sit with an amaro cocktail and fritto misto at happy hour and peek into the kitchen through a large window.
An outdoor patio will house up to 35 guests and is surrounded by a living garden wall filled with planter boxes of microgreens from Watanabe Farms, herbs, edible flowers and produce that will be harvested daily for the restaurant's seasonal dishes.
Williams says Allora will open on Feb. 13 for dinner service. By late March, Williams hopes to launch Saturday and Sunday brunch, followed by lunch service soon after.
"[Allora] is part of what I perceive as Sacramento's restaurant renaissance," Williams says. "I think there are chefs and talent in this city that can stand up to any metropolitan area and the food scene is really taking off."
Allora will host its grand opening Feb. 13 from 5:30 to 10 p.m., and will be open thereafter on weekdays for dinner from 5:30-10 p.m. (happy hour from 4-5:30 p.m.) and weekends from 5:30 to 11 p.m. 5215 Folsom Blvd. 916-538-6434. allorasacramento.com
You Might Also Like
Northern Comfort: Woodlake Tavern elevates the art of comfort food
The newest outpost of Zocalo opens at University Village
Michelin Man: Brad Cecchi's new restaurant in East Sacramento