Nevada City Classic bike race comes to the foothills for Father's Day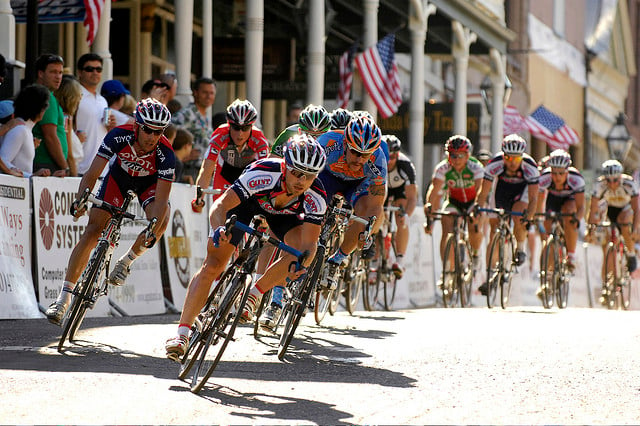 The race is on in downtown Nevada City this Sunday for the 54th annual Nevada City Bicycle Classic.
Three categories of men's races, a women's pro race, and a junior race for the top teen riders in the country will overtake the historic Victorian town, which will be decked out with flags and bunting for the event.
Founded in 1960, the race is the oldest and largest bike race on the West Coast, and the second oldest in the nation. Spokes will be flashing as about 300 riders make their way along a 1.1-mile, counter-clockwise loop course that includes a 120-foot stair-step climb before reaching sprint speeds of over 50 miles per hour during a mad dash to the finish line.
"It's probably the most technical and physically difficult one-day course in the country," says race director Duane Strawser.
This year's riders include three-time Olympian Katerina Nash from Truckee and Bontrager Livestrong Cycling Team racer Ian Boswell, who won the Nevada City Classic in 2011. More than 30 local riders—including Sacramento's Chuck Hutcheson, who won the Menlo Park Grand Prix last year, and Sacramento's Jason Grefrath, who won the Victory Velo Racing Auburn Omnium in May—are expected to vie for the gold medal this year.
Strawser recommends viewing the race from the start and finish lines on lower Broad Street, or catching the uphill action from Yuba River Charter School on Main Street, then making your way down to Broad Street for the finale. (View the complete route map here.)
In addition to the race, spectators can enjoy a cycling vendor expo, children's activities like face painting and a bounce house, plus food from local vendors like Coloma Wraps and Three Twins Ice Cream. Little ones can bring their own two wheels for a children's bike parade at 12:45 p.m., with free ice cream from BriarPatch Co-op when they cross the finish line.
Races begin at 1 p.m. Downtown Nevada City. nevadacityclassic.com