New Asian-Italian food truck to hit the streets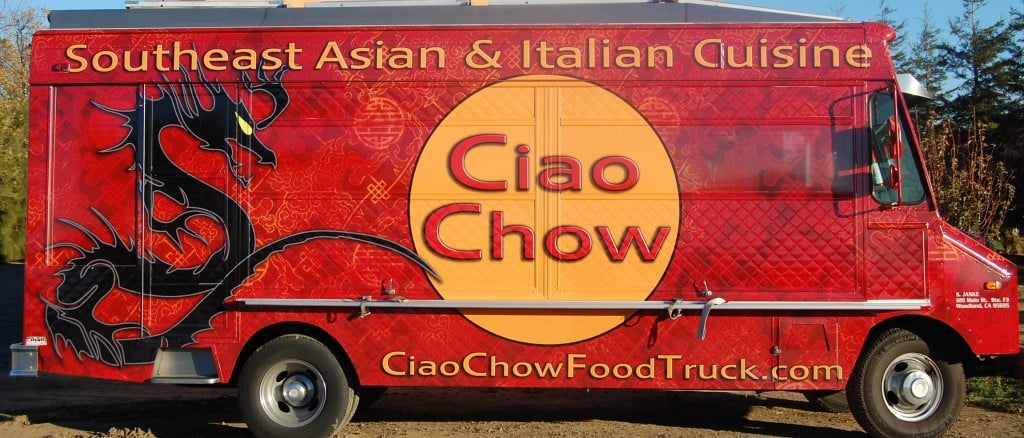 Here in the capital city, the food truck trend is on a serious roll, boasting everything from marinated meats to deep-fried treats to farm-to-fork eats to . . . an Asian-Italian hybrid? Yep, come mid-December, we'll have that too when Ciao Chow, a brand-new fusion food truck, hits the streets of Sacramento and Yolo counties.
The vehicular venture was dreamed up by the husband-and-wife team of Stefen Janke and Julie Van Dam, who first met in Los Angeles while working at the Michelin-starred fine-dining restaurant Patina. The couple, who now live in Davis, currently run Gourmet Solutionz, a catering company based in Woodland, which served as the springboard for the creative new project. "With a food truck, it has its own point of view, and you really get to have fun making the food that you want to do. We found that is what really makes us happy," says Van Dam, who manages the business operations while Janke does the majority of the cooking and menu design.
In creating the bill of fare for Ciao Chow, Janke wanted to craft a diverse array of unique options, incorporating components of Italian and Asian cuisines in unexpected ways and offering plenty of options for health-conscious eaters. "I really enjoy Italian food, and I've always been drawn to the flavors of Vietnam and Thailand—you can create a dish that is big-flavored and really good for you," he says. "It all just translates."
That vision will result in clever creations like the "Mu Shu Melt," a braised pork sandwich with hoisin sauce, and a hearty meatball sandwich accented with "Ciao Chow" sauce—a rich, tangy blend of cream cheese and kimchi. Other delicious highlights include rice bowls with ginger-braised tofu and melt-in-your mouth macaroni and cheese squares that have been breaded and pan seared. "We are really working to combine the two cuisines together, and really play with that," says Janke. We can't wait to play along.
The truck's whereabouts will be posted on Twitter, Facebook and ciaochowfoodtruck.com.