New details on downtown's planned mini-golf pub with an upscale speakeasy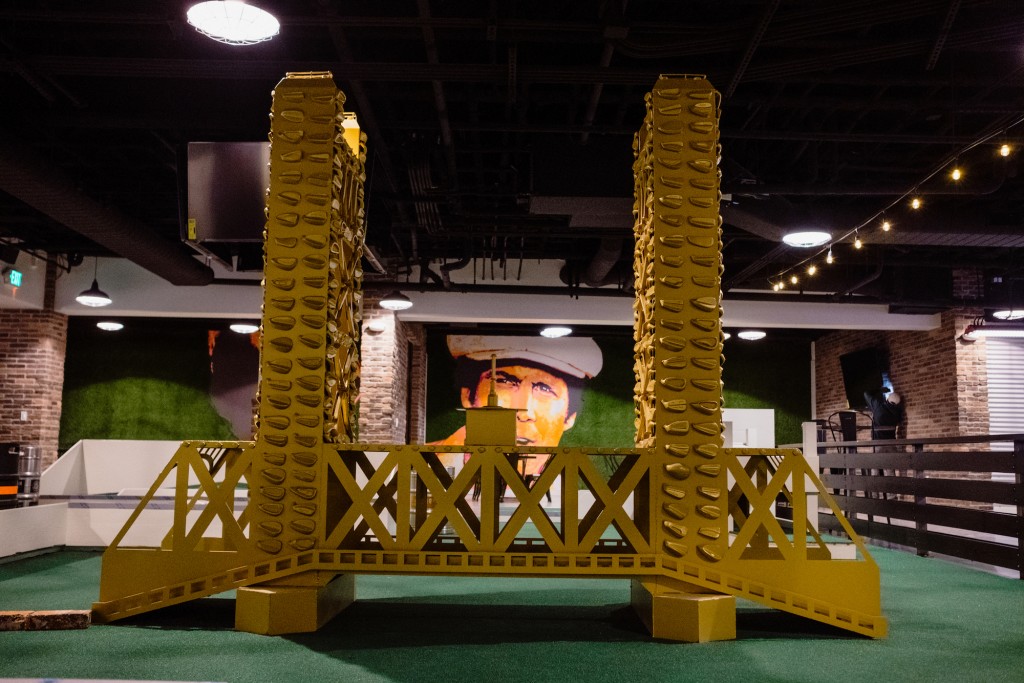 Update: Flatstick Pub and Trophy Club will open at DoCo on Sunday, Oct. 20. The nine-hole, indoor miniature golf course will feature River City-centric elements like a replica of the Tower Bridge and a series of holes that spell out "S-A-C," as well as golf-themed decor, including a portrait of Arnold Palmer made of over 30,000 golf tees by artist Blake Byers (with two more planned, of Jack Nicklaus and Gary Player) and a series of Pop Art murals matched with themed puns from Sacramento artist Maren Conrad (for example, one piece depicting Sir Mix-a-Lot reads, "I like big putts and I cannot lie"). New sneak-peek photos are at the bottom of this post. Hours of operation will be Sun.-Thurs. 12 a.m.-12 a.m., and Fri.-Sat. 12 a.m.-2 a.m.
******
Flatstick Pub, a new 12,000-square-foot indoor miniature golf course and tavern with an emphasis on local craft beer, plans to open its doors this October at Downtown Commons along with an upstairs speakeasy called Trophy Club.
The concept—in which the 21-and-over patrons (sorry, no kids allowed) can drink while they play (with handy cup holders at every hole)—launched in 2014 in Seattle, where it has three locations. The name (flatstick is slang for a putter) has been licensed to Sacramentans and husband-and-wife team Jenny and Brandon Robinson, who visited one of the locations on a business trip and were hooked.
"We were looking for something a little more fun and active than a normal bar," says Jenny, the CEO of a Sacramento property management firm called LOMS (an acronym for Love of Midtown Sacramento). Her husband Brandon is a self-described serial entrepreneur who works in the cosmetic surgery field.
The entrance for Flatstick is located near the corner of 7th and K streets, between the Starbucks Reserve and the Sacramento Kings store, and primarily occupies the basement space of the building, formerly home to Ruhstaller Beer, which relocated a block away. Continuing the family affair, the pub will be helmed by COO Jesse Ledin, Brandon's brother-in-law and a former bar manager at the erstwhile ESPN Zone in Downtown Disney. 43 taps will be on hand to serve exclusively regional beers, wines and draught cocktails, including brews from Sacramento-based Mraz Brewing Co. in El Dorado Hills to midtown's Big Stump Brew Co.—and its in-house restaurant, #taco, will serve street-style Mexican food like tacos and burritos.
Avid and amateur golfers alike can putt their way through nine holes on the industrial-themed indoor course, which features obstacles made of old kegs as well as plenty of Sacramento-centric touches. For example, the first three holes will spell out the letters "S-A-C," while another will eschew the ubiquitous mini-golf windmill for a seven-foot-tall replica of the Tower Bridge.
Not a golfer? Flatstick also offers up its own invention called "Duffleboard"—a tabletop game halfway between golf and shuffleboard where you use a "handheld putter." With nine tabletop holes to play through, the game can be played one-handed, so you never have to put down your drink.
For those not in the gaming mood, look for the glass trophy case by the entryway. The hidden door next to the case serves as the entrance to restaurant's upstairs members-only speakeasy, Trophy Club—an homage to '20s-era country clubs. While membership to the intimate 2,000-square-foot space costs a flat fee of $399 (which also comes with free mini-golf for life), check out Flatstick's Instagram page, where Jenny will tip-off IG'ers on "secret password nights."
"The speakeasy is meant to be a polar opposite of the pub," says project architect and designer Brendan Koon of Vitae Architecture. "Sophisticated, elegant, but still fun—it's supposed to evoke a certain grandeur that comes with the game of golf." Koon also designed the interior of Oliver Ridgeway's tony Camden Spit & Larder restaurant on the other side of the arena.
Guests will be able to sip craft cocktails while lounging in the bar's dark-brown club chairs with gold piped edges, or on the emerald green banquette, all while admiring the walls, which are expected to be lined with photos of stars like Marilyn Monroe and Chevy Chase playing golf, as well as historic images and documents that harken back to Sacramento's Prohibition past.
Above all, Jenny says she wants this to be a "community driven space" that celebrates the city. "We think this is just a perfect fit for Sacramento."
630 K Street. tipsyputt.com. Follow Trophy Club on Instagram.
You Might Also Like
Here's when downtown spots like Solomon's Delicatessen, Kodaiko, KoJa Kitchen and more will open
A trio of new mobile bars are letting the good times roll
New hotel and residential project to rise next to Tower Bridge