New Flavor Face food truck hits the streets of Sacramento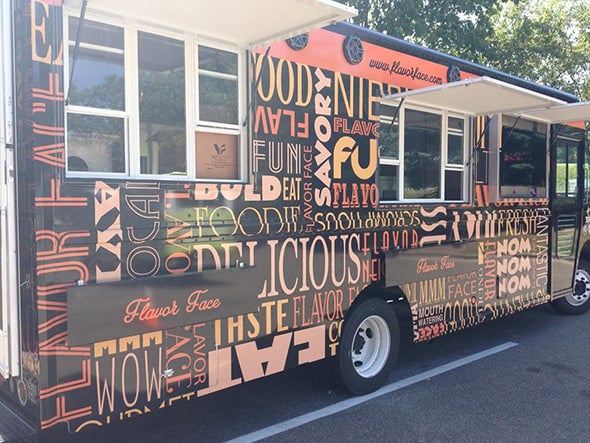 Fans of eclectic fare with international flair may want to check out Flavor Face, a new area food truck with influences ranging from Mediterranean to the Far East.
The truck, which started making the rounds last month in Sacramento and will appear Saturday in Tahoe Park, is the brainchild of chef Brian Stansberry, who is also new to the city after building his name and profile over two decades based in Minnesota.
Stansberry says he drew the inspiration for Flavor Face's menu from his years of international travels as well as the agricultural bounty of the Sacramento region.
"I love the farm-to-fork movement and that everything grows here," Stansberry says. "There's an excitement about food in Sacramento, and I want to help and contribute to that."
Flavor Face's cuisine emphasizes what Stansberry classifies as "gourmet international fusion" for the food-truck crowd. He says the menu highlight of this weekend's event will be his Cherrywood Smoked Garlic Roasted Crab dish, while other offerings include sandwiches like a Crab Mac and Cheese grilled cheese (with jumbo lump crab, Vermont white cheddar mac and cheese, and American cheese on sourdough) and the "Sole Roll" featuring crusted filet of sole, parmesan bacon salad, and red onion on a kaiser roll.
Other items sometimes offered in the Flavor Face repertoire include a curried oxtail slider (featuring red curry oxtail, pickled hot peppers, plantain chips and Gruyère cheese on a toasted ciabatta roll), the soft-shell crab sandwich (with tempura soft-shell crab, ponzu cabbage and key lime cream cheese on a telera roll), or the ahi tuna sandwich (with cilantro lime-marinated tuna, crunchy ramen noodles, arugula and wasabi masago mayo on a croissant).
Stansberry doesn't skimp on vegetarian-friendly options either, offering a blackened cauliflower mini-pita (with Cajun-roasted cauliflower, baba ghanoush, sun-dried tomato, quinoa and herbed Greek yogurt in a pita) and an eggplant tofu sandwich that stacks grilled eggplant and seared tofu along with candied wonton chips, arugula, white-bean dip and blood orange parsley oil.
Before settling in Sacramento to be closer to family, the Vallejo-born Stansberry made a name as both a private chef (he once made Thanksgiving dinner for Los Angeles Dodgers superstar Matt Kemp) and the executive chef at Minnesota's Augsburg College, where he prepared meals for dignitaries including Hillary Clinton, Bob Dole and the king and queen of Norway. Last week, Stansberry says, Flavor Face was in Los Angeles catering a video shoot for Nicki Minaj.
Stansberry was one of five chefs chosen by Major League Baseball to feature his food at this year's MLB All-Star Game in Minneapolis, where Flavor Face made a splashy debut before Stansberry and his truck headed west. (See a clip about Flavor Face from Minneapolis' CBS affiliate below.)
Stansberry says the name Flavor Face derives from the expression a person makes when eating something delicious—"and I've seen a lot of flavor faces this [month]," he adds.
Flavor Face will serve lunch this Saturday, Nov. 15, from 11:30 a.m. to 4:30 p.m. at 6630 4th Ave. (across from Target) in Tahoe Park. Keep an eye on Flavor Face's web calendar and Twitter and Facebook pages for up-to-date details on locations and menu variations. flavorface.com
Related Links
–Sticky Gator opens in midtown with spotlight on soul food and barbecue
–New farm-to-fork charcuterie opens in Placerville
–LowBrau founders bringing new restaurant to West Sacramento riverfront