Outdoor movies, beer and bikes converge in Davis for Clips Beer & Film Tour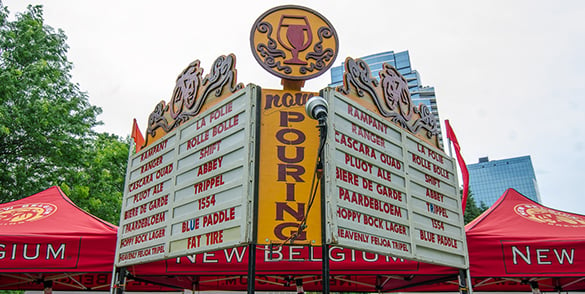 The brewery that brought Fat Tire to taps around the country is set to bring 17 of its finest—and rarest—beers directly to Davis on Aug. 1 when New Belgium Brewing stops by on its Clips Beer & Film Tour.
For the fifth year, the event—held this year at Community Park—will screen a lineup of about 20 fan-submitted short films that were created specifically for the tour. The PG-13 shorts, which will vary in length from 30 seconds to five minutes, will cover a diverse range of topics, from bicycling to beer. The outdoor screening commences at 9 p.m., but, starting at 7:30 p.m., guests can sample beers, set up a picnic on the lawn or grab a bite from vendors like The Davis Graduate or Hogs, Horns and Hens BBQ.
Last year, the event attracted more than 1,800 people of all ages (guests don't need to be 21 to attend, only to purchase beer), making it one of the most popular events of the 21-city tour.
"Davis is known to be kind of a beer-geeky town," says Joanna Laubscher, a Clips Beer & Film Tour coordinator with New Belgium. "Everyone kind of gets out there and relaxes. That's going to be pretty consistent with every single city, but I think the biggest difference is that it feels like [Davis] really comes out to be a part of this."
In addition to offering year-round New Belgium beers like Fat Tire Amber Ale and the Trippel Belgian-Style Ale, a tent will be set up where guests can learn about the souring process and taste the brewery's flagship sour La Folie. The limited-edition Lips of Faith collection will also be highlighted, featuring brews like the Coconut Curry Hefeweizen and the Gruit, which uses bittering herbs like wormwood and elderflower instead of hops. "Those are small-batch, very unique, very different beers that you don't really see," Laubscher says.
Although admission is free, all proceeds from beer sales—$5 for a 12-ounce pour or $1.25 for 3 ounces—go to the nonprofit bike-safety advocacy group Davis Bicycles. Last year, the event raised $10,374, which Davis Bicycles used for programs including helmet checks for kids and giving away over 10,000 bike lights.
To encourage biking, guests from Sacramento who ride to the event can also take advantage of the new "Back to Sac" program, which will provide a free return Amtrak ticket to Sacramento.
Free. Aug. 1 from 7:30-10:30 p.m. Community Park. 1405 F St. Davis. newbelgium.com/clips