Owners of The Rind share details for their new West Sacramento pizzeria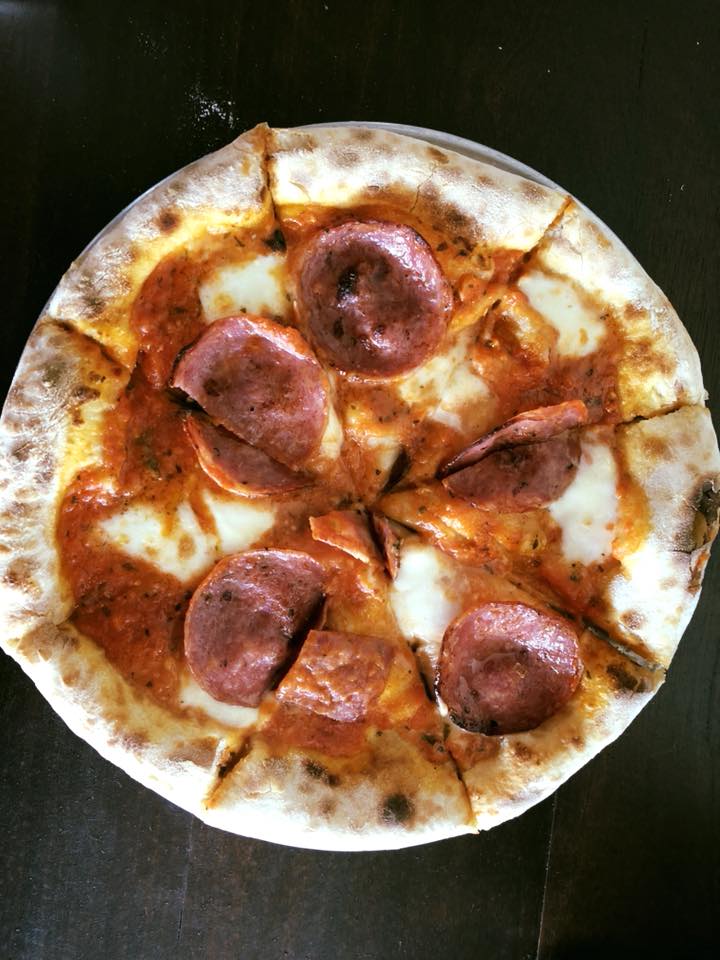 UPDATE: After a series of "secret" lunch-only tryouts in September, La Crosta officially opened on Oct.16. Four pizzas currently grace the menu, including The Family, topped with salami, pineapples, jalapeños and three cheeses, as well as four piadinas (a thin Italian wrap), one of which is inspired by the Vietnamese banh mi. Dinner entrées–including steak, pork chops and pasta dishes like pappardelle alla bolognese–are available after 5 p.m. La Crosta, which will expand its menu lineup soon, is open Mon.-Sat. 11 a.m.-10 p.m.
*********
La Crosta Pizza Bar, a new pizzeria from Steve Tatterson and Sara Arbabian, the husband-and-wife team behind midtown's cheese-centric restaurant and bar The Rind, will open in West Sacramento by mid-September.
The eatery will feature handcrafted Neapolitan-style pizzas using ingredients from local farms like Del Rio Botanical and Riverdog. The menu will also consist of a rotating selection of piadina sandwiches (piadina is an Italian flatbread), pasta entrées, salads, soups and desserts.
"The focus of the food will be to do everything fresh, and to source local, farm-to-fork, seasonal [ingredients] to infuse as much variety, and a bit of eclectic-ness, into our flavor profiles [as possible]," says Arbabian.
While La Crosta (which means "the crust" in Italian) will open with the more traditional pizza options like margherita and crispy pancetta, Arbabian plans to experiment with a few special flavors, like an Indian pie with paneer, cilantro and tandoori sauce, or a Cajun 'za with shrimp spiced with thyme, oregano, paprika and cayenne pepper.
She has also been testing out different piadina sandwiches, such as one filled to the brim with Crescenza cheese, prosciutto and arugula, as well as a dessert version with fresh seasonal fruits, nuts, honey, salted caramel and a dollop of whipped crème fraîche. Hop heads can pick from La Crosta's 11 beers on tap at the long wooden bar, featuring pours from local favorites like Track 7, Bike Dog and Jackrabbit.
The 2,400-square-foot space is located in a 1938 building, and the design shows off the original exposed brick walls and rafters on the ceiling, with an Art Deco vibe that extends to the logo.
Plus, burgundy velvet chairs and white marble tabletops will line up along one wall of the dining area where The Hop Monster, a painting by local artist Leon Willis, will hang, while the kitchen's 5-foot-wide brick hearth, bedazzled with thousands of pennies on its sides, will cook up pies in just minutes.
"I want people to feel welcome and to eat food that they're too busy stuffing their face with to speak," says Arbabian. "I want people to have a good time, good memories and I want [La Crosta] to be part of their lives."
La Crosta Pizza Bar will be located at 330 3rd St. in West Sacramento. Follow them on Facebook and check back with sactownmag.com for more updates.
You Might Also Like
A new pizzeria and taproom to open in El Dorado Hills
11 cool summer cocktails to beat the heat
Longtime Grange chef shares details for his new downtown restaurant