Q&A with CEO of Broadway Sacramento Richard Lewis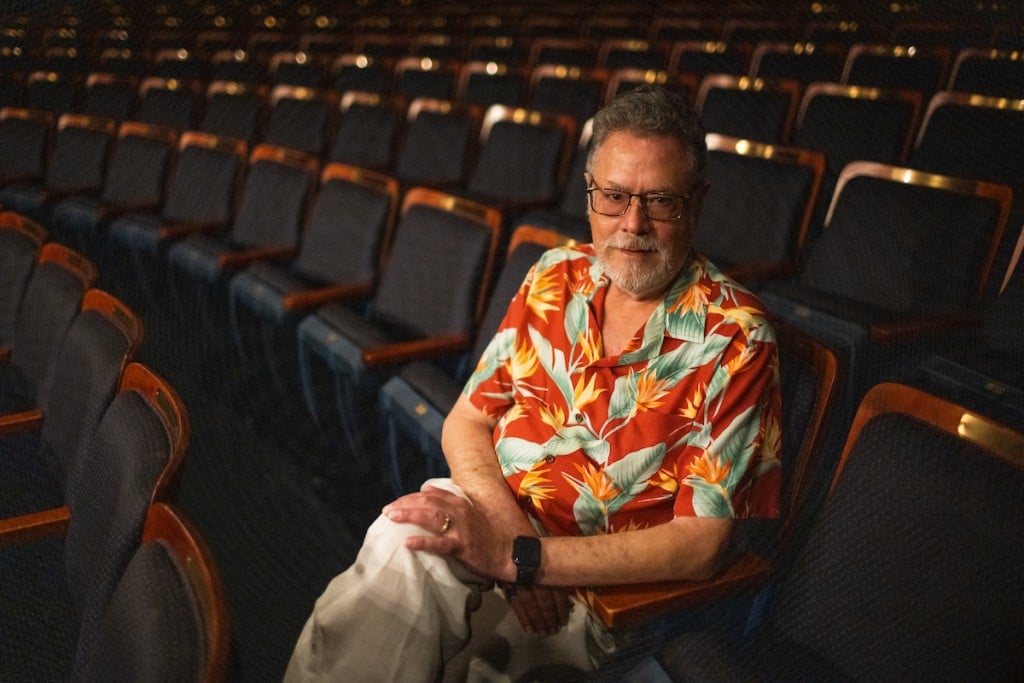 On Sept. 15, after going dark in the spring of 2020 due to Covid, Broadway Sacramento (which produces Broadway on Tour and Broadway at Music Circus) will finally raise the curtain on its first show in a year and a half, the 11-time Tony Award-winning Hamilton—and in a newly renovated theater to boot. Here, Richard Lewis, the CEO and president of the arts organization, whose strong penchant for musical theater is hereditary—his father co-founded Music Circus in 1951 and his mother was a stage performer—addresses the pandemic elephant in the auditorium, reveals the best seat in the (new) house, and gives a pro tip for Hamilton first-timers that's super, well, sonic.
Editors' note: This interview was conducted in late July. On Aug. 25—following the news that the state of California would require proof of vaccination or a negative Covid test to attend indoor events with 1,000 or more people starting this fall—Broadway Sacramento announced that for all its performances, theatergoers will need to present proof of full vaccination or a negative Covid test taken within 72 hours of the show.
It seems very appropriate that Hamilton, the biggest musical of the last decade, is the inaugural show at the newly renovated SAFE Credit Union Performing Arts Center [formerly the Sacramento Community Center Theater].
We're getting this son of a gun open! You know what, bringing Hamilton to Sacramento is a really big deal. That took a measure of work. At the same time, we're opening the theater after the renovation project. It's really not a renovation, though. It's really more of a transformation. It's massive. What's very exciting to me is getting this beast up and running. 
Are you concerned about the Delta variant? What if doors close again?
Doors aren't going to close again. We know that. We've already told the audience, "You know what, you're going to have to wear masks." We've already said that. That's actually coming from the union—the Actors' Equity Association. We are members of The Broadway League, which is negotiating not just with Actors' Equity, but other performing arts unions about what the rules are going to be for touring Broadway companies. We await further guidance, but we know right now that you're gonna have to wear a mask.
How do you know doors aren't going to close again?
Well, you don't know this about me, but I'm prescient. I can actually see into the future, and have been doing so for decades. In fact, people pay me a lot of money to read their palms.
How much do you charge because I might take you up on that service.
The economy, the state, the country—we can't handle another shutdown. That would be a disaster. So closing the doors ain't gonna happen. Now it's not like Gov. Newsom called me the other day and said, "Oh, Richard, by the way…." The fact is we know we can't handle it. We can't shut down. We can't turn off. So what do we do to make things safer? What are the rules going to be to make things safer? That's what we're waiting for. 
Do you believe vaccinations should be required for the performers, crew, or even the audience?
New York producers are in fact requiring their employees to be vaccinated in order for them to go on the road. I've received communication that indicates that those of us—and that includes me—who have to interact with the road company must be vaccinated. There are a lot of city employees that are going to be involved in this because the performing arts center is a city building. But for us, for my staff—there aren't that many of us, but for those of us who must interact with the Hamilton company, we will in fact be vaccinated. I am already.
Do you sense any hesitancy among your patrons about returning to an indoor theater?
None whatsoever.
I'd bet they're rarin' to go.
They want to go—really, anywhere. You know as well as I do that everybody's ready to go. "Oh my gosh, please, can we go out? Can we go have dinner at Cafeteria 15L or whatever and then go to the show?" Yeah, they want to. And we're rigged and ready for them.
As of late July, only about 50% of Sacramentans had been fully vaccinated. [At a recent city council meeting, Mayor Darrell Steinberg called the low local vaccination rate "crazy-making."]
I don't know that proof of vaccination is going to be a requirement to enter the theater. As we sit here today [July 27], that has not come down the pike. I don't want to have to do that. I don't want to have to have ticket takers saying, "Show me your vaccine information." I don't want to do that. Wearing a mask? Fine. We're all used to that. I don't want to have to go past that. But we'll do whatever is required.
So you're going to fill every seat, not every other, or every third?
I said this a year ago: Social distancing is an economic failure for theaters and will not work. If any kind of social distancing were required, we would not do this. I need 2,000-plus people in a building, whether that's Broadway on Tour with Hamilton, or Broadway at Music Circus 2022. I need 2,000-plus people. 
We are a nonprofit arts organization. But at a given point, we've got to put some money in the bank. In particular, Broadway at Music Circus is a very expensive proposition because the bulk of the cast, production staff, directors and choreographers are coming in from New York. What we do is top quality, which means top dollar, right? Then I need 2,000 people to be able to come into the building and pay the freight.
The SAFE Credit Union Performing Arts Center was renovated during the pandemic. Did you make any adjustments to the design, like more ventilation?
Do you know what a MERV filtration system is? [An acronym for Minimum Efficiency Reporting Value, a MERV rating measures how much matter passes through an air filter. The higher the filter rating, the fewer the contaminants passing through.] I knew this was coming early on. The industry standard is MERV 13. I had already been working on this over at the [Wells Fargo] Pavilion, where we do Broadway at Music Circus. There, we have MERV 15. At the performing arts center, we've got MERV 16.
This is what the Broadway theaters are all doing. Everybody is having to upgrade their air filtration systems. And when I say everybody, I mean everybody across the United States who wants to put a chunk of people in a building together. We got ahead of it. Like I said, the pavilion is already ready. And the performing arts center will have an upgraded filtration system. That's mission critical. That's the big one. It's all about the filtration systems.
Any other improvements to the theater that we can look forward to?
From the very beginning, I've been saying, "Look, leave enough concrete to hold up the roof." I had to tell the city council, "The building isn't broken. We could get whatever we needed to get into the damn building." We got 20 trucks' worth of The Phantom of the Opera and 20 trucks' worth of The Lion King into the old building. You know, these are 50-foot semi-trucks. Hamilton is 13, 14 trucks. 
It wasn't broken. But it is a building from 1974. What's better is that now it's really meant for the 21st century. All of the safety systems have been upgraded. There's been an improvement to the loading dock so that the show can get in more efficiently. The seating is completely different. What was there before was called "continental seating"—very long rows that were around 65 seats long. That was a style that was established back in the '70s. Now we are going to traditional theater seating. So there will be a little less leg room for those of us over 6 feet tall, but we will also still have two aisles on the sides and a massive cross aisle in the middle to help comply with all of the ADA requirements.
The big, huge, ginormous deal is the new lobby. We have blown it out—the L Street side goes almost all the way to L Street. Even on the 13th Street side, we've punched out the lobby there. It's a lobby that's spacious enough to reflect the capacity of 2,135 seats. That's what you want. In the past, if I had a disaster running—you know, like a play at 40% attendance—the old lobby was fine. But for The Lion King running at 99%, the lobby was a disaster. 
The biggest deal wasn't a mid-project change, it was something that I put out there from the very beginning—we needed more ladies' toilets. We've gone from 24 ladies' facilities to 60. But it doesn't matter how many ladies' restrooms you have, there's always going to be a damn line. We're going to do everything we can to mitigate that. What you want is for folks to be able to go out at intermission and go to the to the restroom, but also go to the concession stand and get a beverage. We want the ability for people to do both.
What's the new best seat in the house?
I will tell you, there are no bad seats in this theater. Now, where does Richard Lewis sit on opening night? I'm generally in Row G, center aisle because that's where the director often sits to bring the ship to life. There, I'll listen to the show, and even though my audience announcement says, "Turn off your cell phone," I will text my sound guy if I'm not happy with what I'm hearing. Which is another good reason for me to be in the heart of it all. But in this theater, it won't matter where you sit, you're gonna have a great experience.
I've been waiting for someone to debunk the cachet of front-row seats. My favorite seat is typically in the mezzanine section.
I don't want to sit in the front. I don't want to look up people's noses. I'm what's called a "Tony voter." My Tony seats are almost always on the aisle, about 10 rows back. That's what the director wants you to experience. If I'm going to judge a show, which is what I'm supposed to do, the director obviously wants me in what he would or she would perceive to be the best seating location. So, 10th row, 12th row. I love being on an aisle because I've got a bad leg.
Are we going to get better sound quality in the new performing arts center?
Oh, just wait. In 1974, when the theater was built, there was a science called acoustics. Guess what? It's over 40 years later. The entire audience chamber has been re-paneled on the side walls and overhead. It's gorgeous wood paneling, and all of it is designed with acoustics in mind. The room will lend itself to a better experience for the audience. On top of all of that, I've got what are called "under balcony fill speakers." If you're sitting under the balcony, sometimes you're not going to hear what the sound guy hears. But now you will. And it'll be a much better experience audio-wise with 21st-century acoustics involved.
I fondly remember the first time I saw Hamilton. What do you recall of your first time seeing it?
I saw it for the first time before this pandemic mess. I would get to New York three or four times a year. I would see as many shows as were open for Tony voters to see. And that year, 2015, it was October. I got my two Tony tickets for me and my wife, and a third seat for my daughter. You know, I never listen to the soundtrack before I see a show. That was stupid.
One hundred percent.
Oh yeah, Hamilton comes at you like a machine gun. I would have been much better off and better prepared had I listened to the CD about 27 times before the show. I would not make that recommendation for any other show. But for this show, I would say yes. Especially if you're, you know, like I am—68 years old—you need to listen to it because you need to be able to comprehend the words that come at you. They're worth listening to. I've seen the show twice since then, and I get more out of it each time.
Do you think the pandemic will impact the kinds of shows you choose to bring to town or stage at Music Circus?
We've already announced our 2022 Broadway on Tour season. We've got Anastasia, Wicked, Tootsie. We're looking forward to the summer season—we've got Kinky Boots, Carousel, The Color Purple and Kiss Me, Kate. We've also got Something Rotten, which is one heck of a funny show. And then The Secret Garden, which does in fact begin with a pandemic. It's a little fascinating, but that's not why we chose it. We chose the title because our producing artistic director Scott Klier said, "We haven't done this one in a few years. Why don't we do it?" And I said, "You know what, Scott? Makes sense to me, pal. Let's do it."
Issues of race and diversity have also taken center stage in the past year. Has that impacted your programming or casting decisions?
We just bring the best of musical theater to our community here in Sacramento. We're going to do The Color Purple, and it's a stunning piece of work. I saw it on Broadway years ago and I was in tears after the first act. But we're not doing The Color Purple because of everything that's going on here and in the atmosphere. We're doing it because it's time. We did the tour back in 2008. And we tried to do it again in 2020, but that didn't pan out.
Can I put in a request for Springsteen on Broadway?
Not gonna happen. The guy doesn't need to tour. And if he does tour, he's going to want 20,000 seats. For anything else, I can guarantee you, I've probably had a conversation about it.
What's been the most amazing show you've put on?
When we did Les Misérables in 2007, it blew all of us away. When I got the rights, I turned to my team and said, "Hey, we got the rights for Les Miz. Here we go!" And they all looked at me and said, "Are you out of your mind? How the heck are we gonna do that?" And I said, "I don't care. That's up to you. I got the title. Go put it on the stage." They did and it was brilliant. It is an absolute highlight of my career.
What about your favorite musical, period. What's that?
I love The Music Man. I just do. I absolutely love it. My mother was in it several times as Mrs. Paroo. I was in it as a kid, in the band. Good old-fashioned Music Man. You can't go wrong.
What our audience wants is to be entertained. They want good musical theater. So we'll do it. It's time to rock and roll. And away we go.
You Might Also Like
The Mondavi at 20 – A conversation with executive director Don Roth
Staging a Comeback – Sacramento Philharmonic & Opera brings opera back to the city
A Bird's Eye View – Sacramento Ballet's Anthony Kurtzkamp talks Swan Lake