Sacramento Kings announce Kimpton as operator of new Downtown Plaza hotel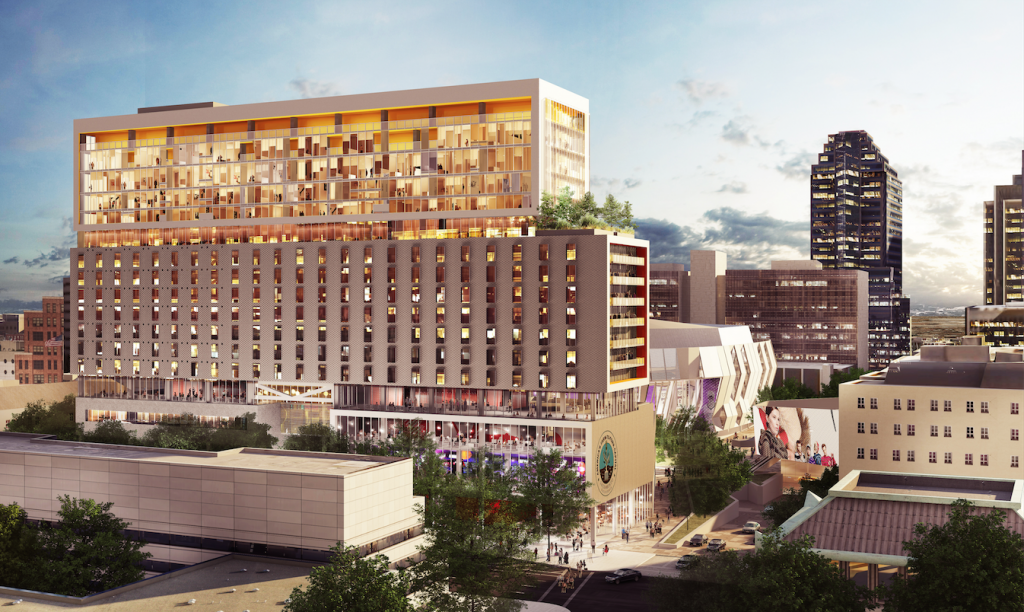 The Sacramento Kings and JMA Ventures are announcing today that the planned hotel adjacent to the new Sacramento Entertainment and Sports Center will be operated by Kimpton Hotels & Restaurants.
The four-star, 250-room hotel will be housed in the 16-story, mixed-use tower, which the Kings announced last fall.
Kimpton started in 1981 and currently runs 66 hotel properties in 31 U.S. cities, including nine properties in San Francisco, such as the Palomar, Triton and the Sir Francis Drake. InterContinental Hotels Group announced in December 2014 that it was acquiring Kimpton, the largest independent boutique hotel chain in the United States.
In an interview with Sactown this morning, Sacramento Kings president Chris Granger emphasized the importance of securing a world-renowned hotel brand for downtown Sacramento's urban growth.
"In order to attract the biggest events, [Sacramento doesn't yet] have enough four-star hotel rooms, so we're thrilled to add this to the mix," he said. "This won't be a Hotel Monaco or a Palomar—this will be something we create that's unique to Sacramento."
The hotel will occupy 10 to 12 stories of the high-rise, and the condos above the hotel will also be operated by Kimpton. Hotel features will likely include special long beds for visiting NBA players, and although many of the design details are forthcoming (they are scheduled to be finalized over the next several months), Granger noted that the hotel's aesthetic and features will be reflective of Sacramento's culture. "It's going to be a joint effort to create something that we think people will truly be proud of here," he said.
Kimpton's restaurants and bars are acclaimed for their use of seasonal and sustainable menus and craft cocktails. Granger said plans for on-site dining establishments at this new Sacramento location are in the works, but nothing has been finalized yet.
"We're truly excited to be part of the tremendous growth and urban revitalization currently happening in Sacramento," said Kimpton CEO Mike DeFrino in a statement released by the Kings. "There's a palpable sense of excitement in Sacramento right now, and we are thrilled to bring our signature style, boutique spirit and unparalleled guest experience to this wonderfully unique and passionate city. We can't wait until our Sacramento hotel joins the Kimpton family."
Granger said that many hotel companies submitted proposals for the downtown Sacramento location, but the Kings team ultimately felt Kimpton was best-suited for this city.
"Given [Kimpton's] sense of style, their sense of design and just generally thoughtful amenities, we think we can create something that works for us here and will be attractive to not just travelers to Sacramento, but also locals who want to stay the night and enjoy a concert or a game," he said.
Pre-construction is underway and the opening of the hotel and condo tower is set for fall 2016 to coincide with the opening of the arena.
Stay tuned to sactownmag.com for future details.
Related Links
Kings release new renderings of mixed-use tower and plaza
New sports bar and restaurant project underway near downtown arena
ESPN doc on the Sacramento Kings to debut at New York's Tribeca Film Festival
The Game Changer: A profile of Kings owner Vivek Ranadivé