Second Saturday: 125 artists open their studios, plus 3 new gallery shows to see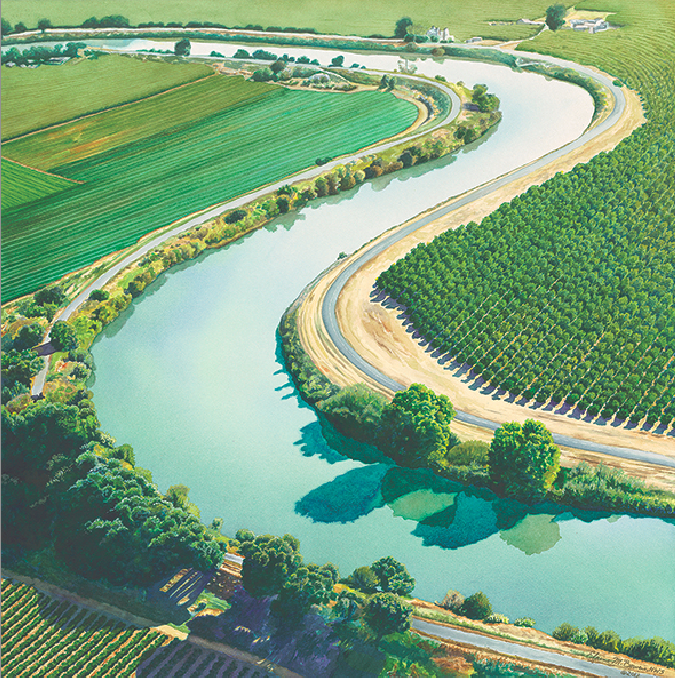 This month, art lovers will have the opportunity to enjoy works not just on gallery walls for Second Saturday, but inside the studios of more than 125 artists during the Sac Open Studios Tour.
Artists based in and around downtown and midtown Sacramento will open up their work spaces to the public on Sept. 13 and 14, while next weekend (Sept. 20 and 21) will feature those in suburban areas such as Arden-Arcade, Tahoe Park, Carmichael and Fair Oaks.
The event is presented this year for the first time by Verge Center for the Arts, which merged this year with the program's founders at Center for Contemporary Art Sacramento. (The CCAS launched the tours in 2006.)
"When somebody goes into a gallery or museum, and they see the finished product hanging on the wall, they don't always have a sense of [what] goes into producing that piece," says Verge executive director Liv Moe. "What you are really doing [on these tours] is seeing how that artist's process works, how things develop and what an artist spends their day doing, which I think is really neat."
Highlights from the two weekends include a talk on Sept. 13 with new-media artist Mario Sotelo, who will discuss his involvement with the new Broadway Augmented art project, and painting demonstrations in Oak Park at Patris Studio and Art Gallery on Sept. 20 and 21.
Additionally, Verge will host a reception this weekend on Second Saturday to highlight a connected exhibit on view through Oct. 1, featuring one work from each of the participating tour artists.
"One of the things that is so valuable about the tour [and exhibition] is that they give all of these artists a venue to showcase what they are doing," says Moe. "[They] show how diverse and how spread out the artists working in this community are. You end up seeing all these different types of work, and artists from different backgrounds, and potentially, you will get to go to parts of your city that you haven't traveled in."
For more information about specific events and studio locations, visit sacopenstudios.com or download this year's Sac Open Studios guide here.
While on your studio rounds, consider also checking out three new gallery shows of note in midtown and Folsom:
Alex Bult Gallery
Through Oct. 4 From the Valley and Beyond
Southside Park-based artist Anthony Montanino, who studied at Sacramento City College under famed landscapist Gregory Kondos and whose work is owned by celebrities like Madonna and Arnold Schwarzenegger, presents a collection of approximately 30 new paintings in this exhibit. The color-rich pieces—which Montanino says convey "a feeling of calmness" and are rendered impressionistically in oils—largely focus on areas in the Sacramento Valley, including local landmarks like The Tower Theatre and Discovery Park Bridge and locations along the Sacramento River like Clarksburg and Elk Slough. Other locales portrayed by Montanino include Carmel, the Bay Area and the New England coastline. 1114 21st St. 476-5540. alexbultgallery.com
Elliott Fouts Gallery
Through Oct. 2 Target Practice
The complexities, politics and polarization of the American gun control debate are explored in this exhibit of more than two dozen pieces by Sacramento artist Gale Hart, who sought to comment on the issues surrounding firearms by creating oversized representations of the weapons. Works on display include aluminum or steel sculptures of guns (including Last Rites, which contains two barrels, with one end pointing backward toward a would-be shooter to represent murder-suicide incidents). Also featured are arresting wall pieces such as Back to School, which addresses campus shootings through its depiction of a handgun featuring a compartment filled with bullets and sharpened pencils. 1831 P St. 736-1429. efgallery.com
The Gallery at 48 Natoma
Through Oct. 30 Bird's Eye View: Aerial Art
Two Northern California artists—Sacramento painter Elaine Bowers and Los Altos-based Linda Gass—will present their work in this show of aerial portrayals of landscapes across the Golden State. Gass' stitched paintings are made of embroidered silk and capture waterways such as the San Joaquin River and San Francisco Bay, while Bowers' watercolors—like Delta Reflections, which is pictured above and earned a bronze medal last year in the American Watercolor Society's prestigious annual exhibition—were created based on photographs she took during plane rides and depict Sacramento area scenes that incorporate elements like rivers, rice fields and farmhouses. 48 Natoma St. Folsom. 355-7285. folsom.ca.us