SF Giants Assistant Coach Alyssa Nakken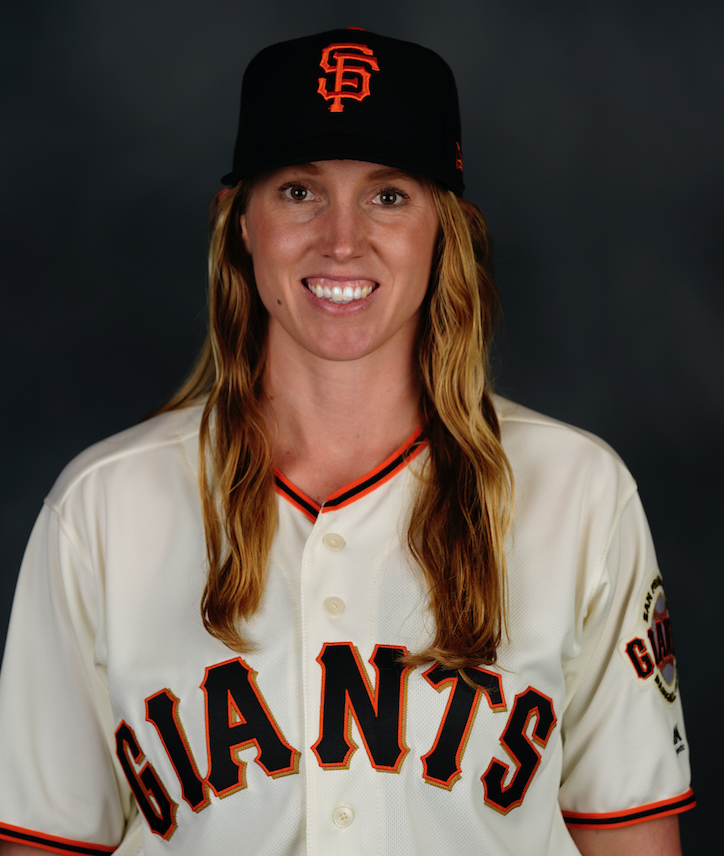 O
 On the evening of July 20, San Francisco Giants assistant coach Alyssa Nakken coolly jogged out to first base in an exhibition game against the Oakland A's. There were no fans in the stands to cheer her, but the world was watching as she became the first woman to coach on the field in a Major League Baseball matchup. The historic moment was the second, in fact, for the former Sacramento State softball star, who was anointed as the first full-time female coach in the major leagues in January. Here, the Woodland native talks about breaking down barriers, coaching in the age of the coronavirus, and trading the turf for the surf in her off time.
Congratulations on being the first female to coach first base in an MLB game! Take us back to that momentous night.
Thank you! It's been a whirlwind. [The Giants first base coach] Antoan Richardson, mentioned to me in pregame that he was going to have me go to first base. He was targeting the seventh inning, but I ended up going out in the sixth inning. Antoan and I worked really closely during spring training in Scottsdale, and throughout the shutdown. He has helped prepare me for any opportunity to be coaching first base, and I had been doing it in our inter-squad games. And on that night, I remember just going over the signs in my head, going over the notes we had on the opposing pitcher. I was ready and focused on the game, and not thinking too much about cameras or the impact that being out there was going to have.
You must have anticipated some of the attention.
I mean, it did cross my mind. It was a televised game. But I don't even think I told my parents that I was going to be coaching first base that day. I do remember thinking, "I wonder if they're going to watch the game? If so, they might be surprised to see me out there." I figured it would be in the news, but not to such an extent.
You broke the glass ceiling earlier this year too when you became the first female coach on an MLB staff. How did that feel?
I didn't even know this was a position that was available. You know, I grew up a Giants fan—I was three weeks old when I went to my first game. I grew up going to Candlestick [Park]. I was at Matt Cain's perfect game in 2012. So when I joined the team as an intern [in 2014], I was just excited for the opportunity—being a coach one day wasn't on my radar. I had a goal of moving up at a regular pace. I didn't know where the ceiling was.
I read that [Giants manager] Gabe Kapler was interviewing you for a month and you didn't even know it.
It was a great month of really amazing conversation with somebody who has incredible leadership skills and a pretty interesting coaching philosophy. He had just been hired by the Giants in November. [Longtime team manager Bruce Bochy announced his retirement in February 2019.] We never really called them interviews. We were just having really important and thoughtful communication. I was learning more about his vision—he's all about transparency and really looking for every ethical, competitive advantage it takes to win at the major league level. He's not really the type of guy that'll say, "Well, this is how it's always done. This is how we're going to do it." Quite frankly, he's the exact opposite. So while we were talking, I was trying to figure out if there was a way for me to transition toward the coaching side of things, since before I had been on the business side, in the front office. I wanted to offer help in any way that he needed.
What is your role as an assistant coach?
It's actually the perfect title because as an assistant coach, I assist all the coaches. But I kind of make the job my own. It's not like there's a specific job description. All the coaches wear a lot of hats. As [Kapler] likes to say, we're like a Swiss army knife. We can do a lot of different things.
How are you liking your new job so far?
I like getting to know people. Coaching is all about human connection. Getting to know their strengths and investing in them. It's a real personal thing. As coaches, we want to help our players step up their game and build upon the weapons that they already have. So to do that, I come up with these drills that will help a player hone in on that weapon and strengthen it. Throughout that process, I ask him questions and really learn what he's feeling in the drill so I can maximize development.
Do you ever feel pressure to be "one of the guys"?
No, not really. The athletes are humans first, so getting to know them, getting to know where they want to go and what they're feeling, is the most important thing. I am completely honest about who I am, because if I'm not, they'll probably see right through that. They know I care and that I'm there to help them continue to develop, so they're all in.
Have other female coaches in men's professional sports reached out to congratulate you?
Katie Sowers [an assistant coach for the 49ers] and I have talked a few times. Not too many people have done what we're doing, so we kind of just talk through things together and remind each other, "You know, one day at a time."
What has it been like coaching during the pandemic?
Well, we had to follow a 113-page health and protocol document. [Rules include no high fives, fist bumps, spitting or chewing tobacco, and baseballs used during batting practice must be disinfected and not used again for at least five days.] At the start of it, I was like, "Oh man, how are we going to do this?" But honestly, it's been fine. There's a lot of hand sanitizer around the stadium and we're all in masks. I just had to be like, "This is OK, this is going to be part of our routine." We can't ignore it—following these health and safety protocols is going to allow us to continue to play. So my attitude is to just make the most of it.
You were an Academic All-American softball player at Sacramento State. Your college coach Kathy Strahan told the university, "I knew early that she would blaze new trails and do something groundbreaking." How do you feel about that?
Aww, Coach Strahan—she's the best. When I first met her in person, I knew I wanted to play for her. So for her to say that, I don't think I have words to describe how it feels, other than completely honored and excited that I got to play for her for four years. She's an amazing coach, but also just an amazing human and she helped me through so much while I was playing for her.
Do you try and emulate her in any way?
I try and emulate all of the amazing coaches that I've had. But I try not to be them. As I mentioned, being authentically you is the first step in becoming a good coach. Coach Strahan was incredibly consistent and really strong with this message. So, in that aspect, yeah, I'm definitely trying to emulate that. Mac [Mieko Mendenhall], my high school coach, really helped me become a little bit more intentional with my craft. She was a huge influence on me and helped me through the college recruiting scene. Gabe Abelia was my travel coach—I played like 10 years for him. Oh man, he was awesome to play for. He has been such a strong person in my life. I'm pretty lucky with the coaches I've had. They're all down-to-earth people who were always there to help me sharpen my tools. I was somebody who wanted to play every single sport that I could. There are a lot of coaches out there that really try and limit people to one sport, which in some instances is great. But for people like me who wanted to play as many sports as possible, Gabe and Mac were OK with it and encouraged me. I think it made me a well-rounded athlete.
---
READ MORE: The Heart of a Giant – The legacy of Sacramento athlete turned longtime Giants coach Dusty Baker
---
You've lived in San Francisco for seven years now, moving there in 2013 to get your master's in sports management at the University of San Francisco. How often do you travel home to Woodland?
Well, it's a little different with the pandemic. In the past, I would try and see my family about once a month. I really love spending time at my parents' house and being with them. I love their backyard. It overlooks a farm field. One of my best friends also lives nearby, so I try to see her too. Downtown Woodland has really started to [grow]— there's always something new popping up, whether it's a restaurant or a coffee shop or something else. I really like to go to Taqueria Guadalajara for chicken tacos and to The Burger Saloon—I've never met a cheeseburger I didn't like.
What does your family think about your place in history?
They're proud. They're excited. They like to check in. They're like, "We don't want to overwhelm you, but we also want to make sure you're doing OK." I think they're [trying to strike] a balance between wanting to be there and support me, but also wanting to, in their words, "Stay out of the way." But I tell them all the time, "No, you can text me, you can call me—you're never bugging me."
What's a typical day like for you?
Currently, it's a lot of baseball. I'm pretty much at the field all the time, so there's that. But on my off days, I like to surf. I learned how in Panama and then just continued it here in San Francisco. I surf at Ocean Beach or down in Pacifica, Santa Cruz, Bolinas. Sunrise surf sessions are probably my favorite though. The sunset time is a really good time as well, but it just gets a little crowded. So the early morning times are nice, with less crowded [wave] lineups.
Have you lined up another history-making goal? You're two for two!
Well, a year ago, I didn't think I'd be here. Coaching is a big, big step for me professionally, obviously, but personally too. I feel like I'm constantly learning right now. I don't think I can really say that I want to be the next this or the next that. I just want to keep pushing forward in a game that I love so much where you're trying to hit a round ball square and it's incredibly difficult. There's a lot of growth in new and uncomfortable situations, but as long as I wake up every single day loving what I do, and go to bed at night extremely grateful for the day that I had, I'm good.