Shake Shack to open its first Sacramento location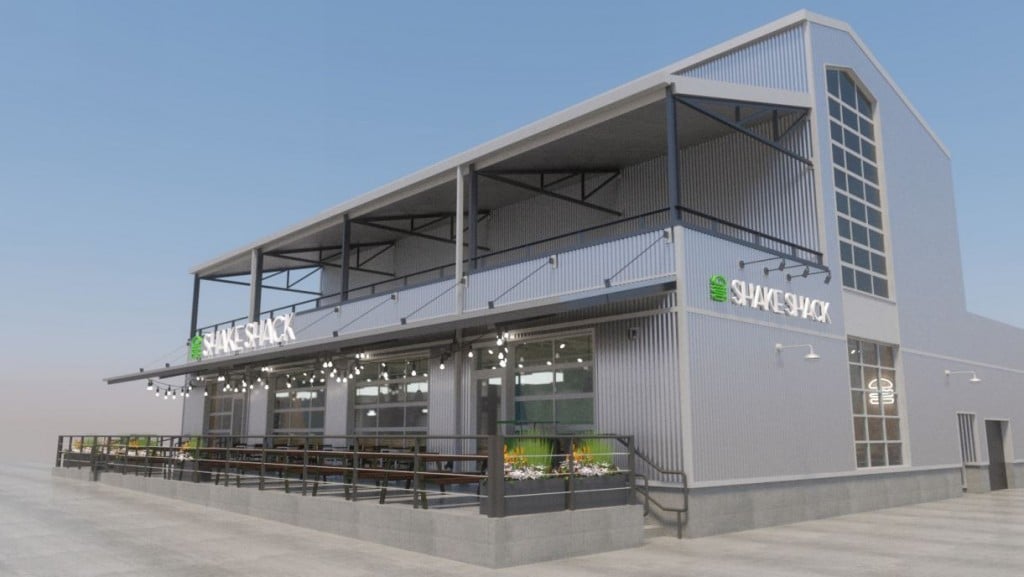 Sacramentans will soon be able to weigh in on the great "In-N-Out vs. Shake Shack" debate, when Shake Shack launches its first River City location at midtown's Ice Blocks later this year or in early 2020.
The wildly popular burger chain will inhabit a 3,645-square-foot, ground-floor space inside the complex's Ice Shed building at 17th and R (directly across the street from Beast & Bounty), which will include a large outdoor patio. It is expected to be the group's fourth Northern California location, following Palo Alto in December, Larkspur in Marin County in March, and San Francisco, whose new outpost is under construction in the Cow Hollow neighborhood.
While chains have not typically fared well in downtown and midtown, Ice Blocks developer Michael Heller believes Shake Shack will be an exception. "For my entire career, I have focused on local creative talent and that will never change, but there are times when mixing in a chain is the right move. We tend to put a negative stigma on chains in general, myself included," he says. "But some of our favorite experiential retailers like West Elm, Peet's Coffee and Anthropologie, to name a few, are really fantastic additions to any urban core. I think people are going to love what Shake Shack brings to Sacramento."
The New York-based burger joint—which was founded by celebrity restaurateur Danny Meyer (Manhattan's Gramercy Tavern and Union Square Cafe)—has come a long way from its humble beginnings as a hot dog cart that evolved into a permanent stand in the city's Madison Square Park in 2004. Serving a menu that consists mainly of burgers, shakes and crinkle-cut fries, Shake Shack now boasts more than 220 eateries worldwide.
Devotees swear by the go-to ShackBurger—a single or double 4-ounce Angus beef patty with melted American cheese, lettuce, tomato and ShackSauce (a proprietary blend that includes mayo, Dijon mustard, ketchup and dill pickling brine) on a soft potato roll. The restaurant also offers options like grilled flat-top hot dogs, the Chick'n Shack sandwich with crispy chicken breast and the vegetarian 'Shroom Burger with a fried portobello mushroom stuffed with muenster and cheddar cheeses.
Another menu highlight is the selection of shakes made from frozen custard in flavors like vanilla, chocolate, coffee, strawberry and caramel. You can also order the custard in floats, a cup or cone, or as one of several "concretes," which are blended with mix-ins that can vary at each location to create flavor combos specific to that locale (for example, Larkspur's Mount Tam Graham concrete features chocolate custard, marshmallow sauce, graham crackers and chocolate chunks from San Francisco's Dandelion Chocolate, while Palo Alto's MB Malt version nods to Los Gatos' acclaimed Manresa Bread with vanilla custard, malted fudge sauce and pieces of the bakery's whole wheat chocolate chip walnut cookies). Shake Shack plans to partner with a local charity and donate 5 percent of sales from one of its concrete variations at the Ice Blocks eatery.
If you want first dibs on Shake Shack's signature burgers and shakes, get there early and expect to stay a while. The fast food phenom is known for long lines, and enthusiasts show up in droves for new openings. Over 1,000 fans descended on the Palo Alto location on its first day, resulting in three-hour waits, and in May, one woman lined up at 10:30 p.m. the night before the doors opened at 11 a.m. at the Philippines' first Shake Shack in Manila.
While each location of the cult chain maintains a similar, modern aesthetic with tables made from reclaimed bowling alley lanes and slatted bench-style seating (booths are made from lumber certified by the Forest Stewardship Council), guests can expect local representation on the beer and wine lists (each site works with area purveyors). And Shake Shack ups the fast-food ante by using hormone- and antibiotic-free beef, chicken and pork, as well as cage-free eggs and frozen custard made with real sugar instead of corn syrup.
"At the end of the day, it's about tasty hamburgers and milkshakes," Heller says. "What's not to like about that?"
1710 R St. shakeshack.com. Stay tuned to sactownmag.com for updates.
You Might Also Like
A sneak peek at Shangri-La, the retro Palm Springs resort-inspired restaurant
Here's when downtown hot spots like Solomon's Delicatessen, Kodaiko, KoJa Kitchen and more will open
Federalist Public House team open The Neighborhood Pizzeria in East Sacramento