Sign Lady inducted into ESPN's Fan Hall of Fame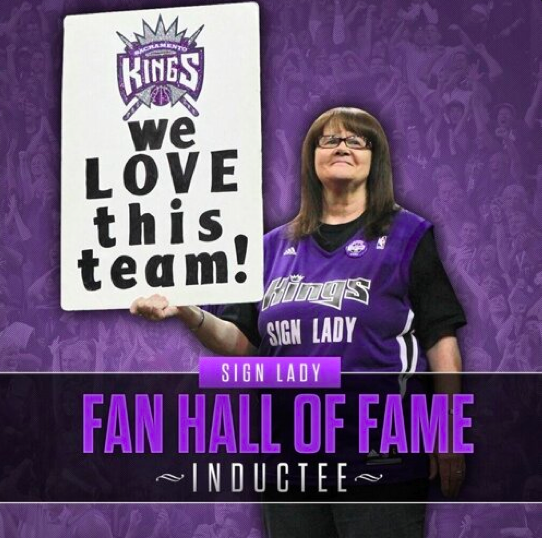 This morning, Sacramento Kings fan Barbara Rust, aka "Sign Lady," will be immortalized in ESPN's Fan Hall of Fame, along with fellow superfans Canaan Sandy (a devotee of the Arizona Razorbacks) and Pierce Wallace (a Georgia Bulldogs supporter). The induction comes after a public vote in December, for which Rust received more than 85,000 online votes and, subsequently, a standing ovation during a Kings game that brought her to tears.
"It's still kind of unbelievable to me that the whole thing happened," says Rust, who can be seen at almost every Kings home game waving her poster-board displays of team spirit from the third row of Section 120 at Sleep Train Arena. "It's such a surprise."
To honor the Folsom resident's dedication, SportsCenter anchor Hannah Storm will host the induction ceremony at 9:15 a.m. today on ESPN's main campus in Bristol, Conn. While Rust isn't able to attend because she's recovering from treatments for breast cancer, she will celebrate with family and friends at a small private ceremony at Sleep Train Arena, which will carry a live stream of the event.
"I am filled with humility and extremely grateful. The outpouring of love and support has blown me away," Rust says. "In my mind, this award recognition is not about me. It's about all Kings fans and how strong and passionate and loyal they are to this team. I am like a representative. The recognition is for all Kings fans."
To read more about Sign Lady, pick up a copy of Sactown's new June/July issue, which features the Kings superfan in its "Best of the City" cover story.