Sparks Fly Around the Sacramento Region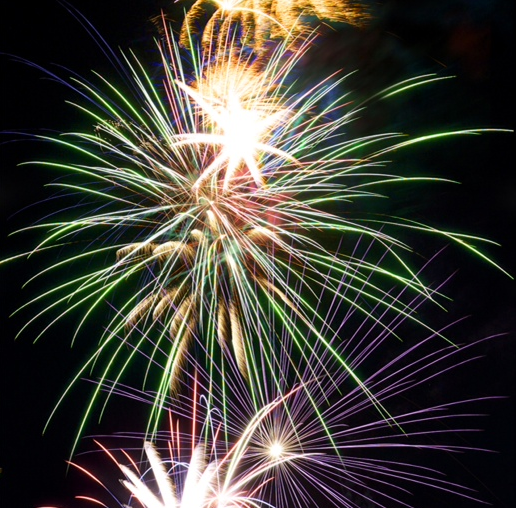 Fireworks will be flying, flapjacks will be frying, music lovers will be chilling and food trucks will be grilling at these eight Fourth of July (and three third of July) events throughout the region. Get ready to put on your red, white and blue and go out with a bang.
Cal Expo
July 4 Sacramento County and the City of Sacramento will team up for the 15th year in a row to put on the region's largest Fourth of July celebration. Produced by SoCal-based Pyro Spectaculars—which has plants in Sacramento and Rocklin and has created fireworks shows for the likes of Disneyland, Disney World and the 2004 Summer Olympics—the display will light up the skies at 9:30 p.m. Adding to the patriotic evening will be music from the U.S. Air Force Band of the Golden West ensemble Mobility. Free ($10 for reserved seats; advance purchase recommended). $10 parking. 5:30-10 p.m. Cal Expo. 1600 Exposition Blvd. 263-3000. calexpo.com
Carmichael
July 4 This Independence Day extravaganza begins bright and early with a 7 a.m. pancake breakfast at the Carmichael Park Clubhouse. After filling up on flapjacks, grab a seat in a grandstand across the street from the park and watch as vintage cars, equestrian groups, colorful floats and marching bands pass by during the 55th annual Carmichael Elks Club parade. The party continues at the nearby La Sierra Community Center with an event featuring cheerleading performances, a food truck and children's activities like arts and crafts and a puppet show. A glittering 9:30 p.m. fireworks show wraps up the festivities. Free. 7 a.m.-10 p.m. Locations vary. 485-5322. carmichaelpark.com
Davis
July 4 Join 10,000 other Davis residents for the city's annual Fourth of July celebration, which includes an all-day softball tournament, a bicycle race through downtown, and a gathering at Community Park with live music from groups like Mumbo Gumbo, kids' games and a drop-in from skydivers. The sparks fly at 9:30 p.m. Free. 9 a.m.-10 p.m. Locations vary. 530-757-5626. cityofdavis.org
El Dorado Hills
July 3 Wish America a happy early birthday alongside 25,000 others at the El Dorado Hills Town Center on Independence Day eve. Festivities will include everything from a parade of fire trucks honoring the 50th anniversary of the city's fire department to the annual Badge-to-Badge chili cook-off between officers and firefighters from local CHP, Cal Fire and Sheriff departments. The glittering firework finale begins at 9:30 p.m. Free. 6-11:30 p.m. El Dorado Hills Town Center. 4364 Town Center Blvd. 933-6699. eldoradohillstowncenter.com
Elk Grove
July 4 The city's annual Salute to the Red, White and Blue returns for its 17th year with Elk Grove Regional Park once again playing host to performances from bands like the R&B ensemble Innersoul, eats from regional food trucks like Heavenly Dog, as well as fare like kettle corn, chicken kabobs and Italian ice, and a glowing sky-tacular at 9:30 p.m. Free ($10 for parking). 6-10 p.m. Elk Grove Regional Park. 9950 Elk Grove Florin Rd. 691-2489. elkgrovecity.org
Placerville
July 4 Meander through a massive hay maze or take part in kid-friendly games, contests and crafts at this Fourth of July gathering at the El Dorado Fairgrounds, which concludes with a fireworks show. Plus, families can satisfy their need for speed for an extra $14 (up to $6 for kids) and watch a series of high-octane auto races at the fairgrounds' Placerville Speedway. $3; free for ages 6 and under ($5 for parking). Starts at 4 p.m. El Dorado Fairgrounds. 100 Placerville Dr. 530-621-5860. eldoradocountyfair.org
Rancho Cordova
July 3 & 4 This two-day festival at Hagan Community Park also honors Rancho Cordova's 10th birthday, with a fireworks show tonight launched off of a birthday cake-shaped stage (a separate pyrotechnic spectacle will take place July 4). Both days will include a carnival (with classic rides like a Ferris wheel and treats like kettle corn and funnel cakes), BMX bike shows, live music, an animal petting barn and the popular "Bobble Lagoon" (where youngsters hop inside a human-sized hamster ball and roll inside a pool). $2 ($10 for parking). Weds. 4-11 p.m. Thurs. noon-11 p.m. Hagan Community Park. 2197 Chase Dr. 273-5704. ranchocordovajuly4th.com
River Cats
July 3 & 4 Celebrate America's birthday with its favorite pastime as the Sacramento River Cats take on the Tucson Padres tonight. Before the game, feast on an all-American barbecue dinner including Raley Field's famous tri-tip sandwich (the first 2,500 fans arriving at the park will receive an American flag) and watch as a fireworks blast off after the final out. And even though the River Cats will be playing in Fresno tomorrow, you can still head back to the park for the first-ever Fourth on the Field event featuring games like potato sack races, a pie-eating contest, fare from regional food trucks like Drewski's and Mama Kim on the Go, and a 9:30 p.m. fireworks show. July 3: $38 for dinner & game ($34 for ages 10 and under). Gates open at 5 p.m. rivercats.com. July 4: $8 ($5 for children 12 and under). 6-10 p.m. raleyfield.com. Both events will take place at Raley Field (400 Ballpark Dr.).
Roseville
July 4 Roseville's revelry begins at 10 a.m. with a parade of floats, equestrian groups, antique cars and a marching band through downtown. At 11:30 a.m., head to Royer Park for a post-parade party, where the Capitol Pops Concert Band will perform patriotic tunes and kids can play in a bounce house and try classic games like bean bag toss. The day concludes at the Placer County Fairgrounds with a 7 p.m. concert featuring country musician Jason Buell and a fireworks show at 9 p.m. Free. Times and locations vary. 774-5200. roseville.ca.us