Summer Travel from A to Z
From airstreams near Yosemite to zinfandel rosés in wine country and everything in between, here's our ultimate guide to 26 must-visit Northern California destinations this summer. Just make sure your belly is empty and your tank is full: we've got a veritable alphabet soup for the soul.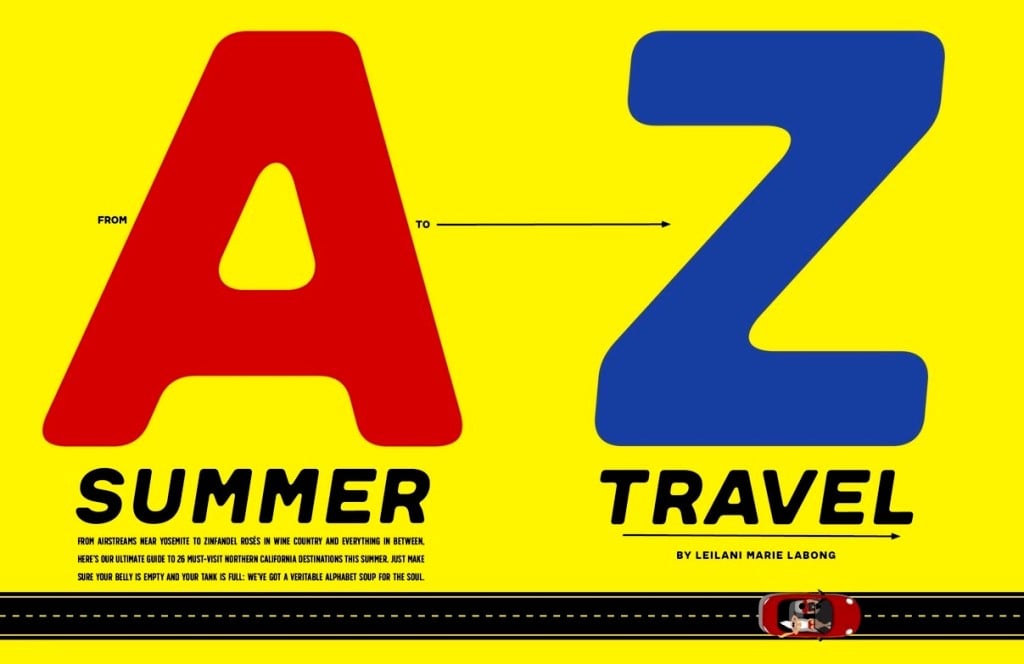 ---
AUTOCAMP YOSEMITE
A Roughing it not required: In 2019, AutoCamp opened its second Northern California Airstream hotel in the town of Midpines, about 26 miles from Yosemite National Park's Arch Rock entrance (the first regional spot is located in Guerneville on the Russian River). Merging nostalgia with modern amenities, AutoCamp Yosemite's fleet of 81 gleaming, 31-foot-long silver bullets is custom-built in super comfortable fashion with everything you'd expect to find in a four-star hotel room, from a marshmallowy queen bed to bath products from popular natural skincare line Ursa Major. (AutoCamp also offers other accommodations like glamping tents and cabins.) At the General Store inside the 4,000-square-foot clubhouse, the peckish can pick up snacks like sriracha-flavored Hippeas and New York-based Milk Bar's cult-favorite Compost Cookies, but since no camping experience is complete without an eyebrow-singeing effort to cook over smoldering embers, DIY barbecue meal kits are also available—each trailer comes with a private outdoor fire ring.
If attempting El Capitan is not on your Yosemite bucket list (Sacramento's own Alex Honnold—who was the first person ever to climb the vertical rock without ropes, a feat that was chronicled in the Academy Award-winning documentary Free Solo—has vicariously satisfied that requirement for the rest of his River City brethren), AutoCamp's guided experiences include less grueling options like fly fishing in the Merced River and cider tasting in the Sierra. autocamp.com/yosemite
---
BENIAMINO BUFANO
B Standing sentinel over the Timber Cove Resort on the Sonoma Coast is late Italian artist and legendary pacifist Beniamino Bufano's 93-foot-tall Peace Obelisk. Also known as Madonna of Peace, the sculpture—which is made of concrete, mosaic tile and redwood—was partly a response to the 1962 Cuban Missile Crisis and depicts a Madonna and Child.
After the long pilgrimage to this mother of a monument (you can hike right up to its base on a windy bluff and take in a humbling view of the mighty Pacific Ocean), bunk at Timber Cove's Frank Lloyd Wright-inspired A-frame lodge. Built in 1963 and renovated in 2016 by San Francisco-based architecture firm Gensler, the resort boasts a Pacific Northwest vibe—think plaid blankets, in-room pour-over coffee supplies and Crosley record players with the vintage vinyl to match—courtesy of HGTV royalty, the design studio Novogratz. timbercoveresort.com
---
CLAY
C By merging post-war modernism's "design for all" philosophy with a keen California sense of place, the late Edith Heath, who founded Sausalito-based Heath Ceramics in 1948, shaped a new genre of stylish everyday objects for the home using unique clays sourced from Sierra Foothills quarries.
The Oakland Museum of California's current exhibition Edith Heath: A Life in Clay, which runs through Oct. 30, explores the legacy of this global design icon through storied artifacts (her family's dainty Haviland china, for instance, which sparked her rebellion against "gutless" European clays and the idea of Sunday-best porcelain) and memorabilia (a poem she wrote, her personal periodic table). While Heath's early influences include New Mexico's Indigenous potters, she blazed her own trail in the field with mad-scientist experiments of clay and glaze, and her legacy lives on: Heath Ceramics—relaunched by husband-and-wife designers Robin Petravic and Catherine Bailey in 2003—remains part of a rare breed of mid-century American potteries still firing up their kilns, and the only one to have received a Cooper Hewitt National Design Award. But then again, such high recognition was easily predicted. "What I do is going to change things," Heath once said. "Things aren't going to be the same anymore." Pro tip: Time your exhibit visit to the weekly Off the Grid food truck event, which occurs every Friday night when the Oakland Museum stays open until 9 p.m. museumca.org
---
DAIRY FARM
DIn a century-old redwood barn at Toluma Farms, a 160-acre dairy nestled among the rolling green hills of Tomales, baby lambs and goats frolic in the hay. During the two-hour $40 farm tours that take place on the first Sunday of every month (except in September and January), cooing visitors can cuddle these cute animals, as well as witness the farm-to-table loop in action: The milk produced by the 280-head herd of sheep and goats goes directly to the farm's on-site fromage facility, Tomales Farmstead Creamery, which produces a veritable cheeseboard's worth of American Cheese Society Award-winning wedges. Good news, tastings are par for the tour: From the Manchego-inspired Atika to the earthy, washed-rind Kenne to a tangy, spreadable Liwa, you'll likely sample these dairy delights alongside wood-fired bagel chips from the farm owners' city bagelry, Daily Driver, located in San Francisco's Dogpatch neighborhood. Bonus time: Should you and your own flock choose to extend your rural reverie, Toluma Farms' 4,000-square-foot modern farmhouse is listed on Airbnb (for, ahem, $1,400 a night)—fresh cheese upon arrival, natch. tolumafarms.org
---
ELK
E The tiny coastal community of Elk (population 355) on the Mendocino Coast seems an unlikely location for a two-Michelin-starred restaurant, but nevertheless this culinary unicorn exists. Head chef Matthew Kammerer takes most inspiration for the tasting menu at the Harbor House Inn's 18-seat destination restaurant from the ocean—the dining room is perched above a private cove, a source of sea provisions from rockfish (served with miso-cured egg yolk) to abalone (roasted inside kelp). But the squally land is also a muse—Kammerer's "Elk-style noodles," of lace lichen (which have the same texture and chew as glass noodles when blanched), arrive in nori broth marbled with kelp oil, topped with furikake seasoning and presented alongside maitake mushroom tempura.
The up-to-12-course dinner invites an overnight in one of the 11 rooms at the recently remodeled inn, which could also be considered a luxe home base for the 15th annual Mendocino Film Festival, taking place a 25 minutes' drive north on Highway 1, from June 2-5. Perk up your ears for this year's hot ticket, Mickey: The Story of a Mouse, a cinematic cultural history of the beloved 93-year-old Disney character by producer Morgan Neville and director Jeff Malmberg, the duo who directed and edited, respectively, the wholehearted Mister Rogers biodoc Won't You Be My Neighbor, an official selection at the MFF in 2018. theharborhouseinn.com and mendocinofilmfestival.org
---
FOOD HALL
F State Street Market in downtown Los Altos is Silicon Valley's first food hall, loaded with the culinary clout you'd expect from an area that's one of the wealthiest in the country. Located in a renovated mid-century grocery store, the new destination-worthy eating emporium—which opened last September in the spiritual mold of Napa's Oxbow Public Market—features 11 fast-casual counters like Bao Bei, where married Michelin-starred chefs Michael and Meichih Kim sling gochujang-glazed pork belly baos, and Little Blue Door, where decorated chef Srijith Gopinathan (see Oxford Kitchen below) serves a nostalgic, no-frills take on his signature upscale Cal-Indian fare—Kerala fried chicken with creamy cilantro-mint aioli, anyone? Anchoring the market is James Beard Award-winning San Francisco chef Traci Des Jardins' first Peninsula project, an elevated Cal-Mex concept called El Alto that celebrates the region's agricultural production—don't miss the Liberty duck confit with a complex and velvety Blenheim apricot mole, featuring Los Altos' juiciest stone fruit export. After your gastronomic adventure, ward off food coma with a 20-minute boardwalk saunter under the cooling canopy of old-growth trees at the downtown-adjacent Redwood Grove Nature Preserve. statestreetmarket.com
---
GOETHE
G On a hillside of old oaks and olive trees in St. Helena, a jet black Victorian sits like a shadow, befitting the plot-twisting devilry in the 18th-century German playwright Johann Wolfgang von Goethe's masterwork Faust. Interior designers Maca Huneeus, whose father-in-law founded Napa's Faust Wines, and Ona LeSassier envisioned the sumptuous look of the 1878 heritage home—now the Faust Haus tasting room—as a portrayal of the tortured protagonist's quest for enlightenment. Faust's decadent, earthly temptations are evoked on the ground level with rich gemstone-hued walls and original art, including a freehand Roberto Ruspoli stairway mural depicting the literary character's ascent to eternity, an illuminated final frontier represented by the Victorian's sundrenched second-floor aerie. No better setting, wethinks, to paradoxically savor the winery's sinfully supple, damningly juicy limited-edition release, a 2018 cabernet sauvignon labeled with Faust-inspired artwork by Ruspoli. faustwines.com
---
HORN BARBECUE
H Even before the doors open each day, the line at West Oakland's Horn Barbecue—one of Esquire's 2021 Best New Restaurants in America and a 2022 James Beard Award nominee also for Best New Restaurant (the winner will be announced on June 13)— stretches down the block, a salivating cross section of humanity queued up for a common goal: to secure a share of Fresno native Matt Horn's acclaimed "West Coast" barbecue before it sells out. (This is a daily occurrence—you've been warned.)
Horn's unique style, which earned him a place on Food & Wine's Best New Chefs list last year, combines the low-and-slow philosophy of Central Texas with the rich foodways of the South—from where his family hails, and the reason you'll find, oh, oxtails on the smoker (and in the pitmaster's new debut cookbook titled, what else, Horn Barbecue). While the 16-hour smoked brisket, prized for its glistening ribbon of melty fat, is a no-brainer, so too is the house-made cheddar-jalapeño pork sausage with its canal of oozy cheese, and the spare ribs, prepared simply like most of Horn's meats—the mustard-Worcestershire dressing binds a simple salt-and-pepper rub to the proteins before they hibernate in a dry sauna of white-oak smoke. And since barbecue can only be heightened by the mouthwatering sides in its orbit, try the smoked pit beans mixed with brisket, the honeyed cornbread and Granny's Potatoes, a cheesy spud casserole that—heed now a second warning, this time from Horn's 'cue crew—"will knock you out for about four hours." hornbarbecue.com
---
INTERTIDAL ZONE
I Even with the rise of coral-bleaching, plankton-killing ocean acidification (referred to by the Smithsonian Institution as "climate change's equally evil twin"), the intertidal zone—a shoreline reef that's under water at high tide and above water at low tide—at the Fitzgerald Marine Reserve in Moss Beach remains stable and in good health. Which means that when you visit the teeming tidepools, you'll observe a billowy, bubbly ecosystem that includes, among its innumerable aquatic citizens, hermit crabs, sea clowns, rock-boring clams, tidepool sculpin and ochre sea stars, a keystone species that helps keep invasive mussels in check. (For a surf-and-turf experience, you can also take a walk on the Reserve's blufftop trails, which wend through a forest of century-old cypress and eucalyptus trees.) Consult the National Oceanic and Atmospheric Administration's online tide table to synchronize your visit to an explorer-friendly ebb, wear rubber-soled shoes, and most importantly, don't poke, paw or pilfer the creatures. What you can take, however, are pictures, and lots of them—park ranger Rob Cala notes that sharing the beauty of the natural world is a simple act of stewardship. fitzgeraldreserve.org
---
JACK JOHNSON & JACKSON BROWNE
J Don't get caught "Running on Empty" en route to the South Lake Tahoe Summer Concert Series to catch barefoot surfer-crooner Jack Johnson (Sept. 4-5) or the poster singer-songwriter of the progressive 1970s Laurel Canyon music scene Jackson Browne, who will close out the 17th annual event on Sept. 10. The two Jacks are among an esteemed list of Billboard-topping headliners—from Elton John and Lady Gaga to Bruno Mars and The Eagles—who have commanded the stage at the series' 7,000-seat venue, the Lake Tahoe Outdoor Arena at Harveys.
Hawaii-born Johnson, dubbed "the King of Mellow" by The New York Times, last performed hits like the summery-sweet "Better Together" and the sing-songy "Breakdown" on this patch of Big Blue waterfront in 2017, while "the voice of the boomers," as The Guardian calls 73-year-old Browne, will be quenching a seven-year absence from the event with a juicy set list that could include the breakthrough hit "Doctor My Eyes" from his debut album and the pop classic "Somebody's Baby," a favorite of Fast Times at Ridgemont High fans. If you plan to add yourself to the concert series' cumulative 1.2 million attendees and counting—the 2022 lineup also includes Kenny "No Shoes, No Shirt, No Problems" Chesney on July 12 and 13, and "Don't Know Why" chanteuse Norah Jones, who will kick everything off on June 26—then act fast. Tickets disappear like hotcakes—er, flapjacks. (Is this thing on? Apparently Browne, a father of two, is proficient in dad jokes.) caesars.com/harveys-tahoe
---
KILT
K For a hauntingly beautiful reverie evocative of the Scottish Highlands, head to the Ritz-Carlton Half Moon Bay one hour before weekend sunsets, when a bagpiper wanders the majestic bluff-top property clad in traditional plaid, a Gunn tartan of navy blue, green, black and red.
Thirty to 40 songs will typically be performed in a single evening, including traditional Scottish melodies like "Scotland the Brave," "Highland Laddie" and "High Road to Gairloch." But it's the canticle "Amazing Grace" that officially bids farewell to our daystar as it dips below the horizon. Though these wuthering heights are often soupy in summer, Lynne Miller—who is the most senior of the hotel's three bagpipers and has been playing the instrument for 50 years—suggests that attendees always try to catch the sunset's elusive green flash, an optical phenomenon caused by a prism-like refraction of light near the skyline.
Pair this iconic Half Moon Bay serenade— which is free and open to non-hotel guests—with drinks at the The Ocean Terrace (if you're not sufficiently layered in fleece and feather down, the smoky Scotch Toddy with Johnnie Walker Black Label scotch and black tea can help increase bodily warmth). And if you're in the mood to splurge and indulge, we recommend the hotel's signature restaurant Navio, most famous for its extravagant Sunday buffet brunch, where champagne cocktail wishes and Sacramento-made Tsar Nicoulai caviar dreams come true in the daylight hours. ritzcarlton.com/halfmoonbay
---
LAND ROVER CAMPING
L Since summer tends to conjure visions of the open road, the North Bay's Bohemian Highway Travel Co. (named after the 10-mile route in western Sonoma County that rambles through picturesque hamlets like Monte Rio and Occidental) offers a unique wayfaring experience in—and atop—a Land Rover Defender. Kitted out with a Coleman camping grill, an industrial Yeti cooler that doubles as a step stool and a rooftop iKamper tent with a built-in, California king, memory foam mattress, not only does the rough-and-tumble rig put a new spin on traditional car camping, but it also makes you the envy of the dusty Subaru Outback crowd. Bring your own sleeping bag, secure a site in advance (we pulled into Bodega Dunes Campground for its sunset-stroll-length proximity to Bodega Dunes Beach and the easy 10-minute drive to Bodega Head for whale watching) and preorder a farm lunch for the road from Boho Hwy's chef (think heirloom-tomato-and-ricotta toast or roast chicken nicoise) before you roll out on this nomadic Choose Your Own Adventure, summer-camp edition. If you'd rather leave the trip-planning and chauffeuring to Boho Hwy, you can hop aboard one of its wine country Land Rover tours, like "The Collector," a circuit of small-batch wineries. bohohwy.com
---
MUD BATHS
M At the newly renovated retro lodge Dr. Wilkinson's Backyard Resort & Mineral Springs in Calistoga, the proprietary volcanic-ash mud bath—an original recipe by chiropractor John Wilkinson, who founded the facility in 1952—includes ingredients like sustainably harvested peat moss. This key component removes dead skin, boosts circulation, and helps with the absorption of minerals like silica (key in bone formation), magnesium (regulates energy) and calcium (makes the heart go boom, boom, boom), which are present in the locally sourced volcanic ash (the area is built atop a collapsed volcano that last erupted over a million years ago) and the natural mineral water (tapped from an on-site well, the water surfaces at a scalding 260 degrees, before it's cooled down to 104 degrees for the mud bath). "The Works" ritual continues with an epsom-salt soak in a jetted tub, followed by a pore-opening eucalyptus steam, a cocooning blanket wrap and a softening Swedish massage. Since a wayfinder on the Instagram-friendly property (read: pop-colored murals abound) points the way to the spa for a "detox," but also to the resort's New Mexican-inspired restaurant House of Better for a "retox," you have no choice but to go in both directions. Après-mud, treat your glowing, reinvigorated self to carne adovada tacos and a guacamole flight, plus house-made red sangria spiked with antioxidant-rich yerba mate. drwilkinson.com
---
NICOLINA BOAT COTTAGE
N The quirkiest lodging along the Point Reyes National Seashore can be found at Nick's Cove bed and breakfast, located in what we're officially coining—remember, you heard it here first—the Oyster Riviera, a short stretch of the Shoreline Highway home to fish shacks like The Marshall Store, Hog Island Oyster Co. and Tony's Seafood. Nicolina, a boat cottage modeled after a 1930s fisherman's vessel, is the smallest of the recently remodeled waterfront rooms at Nick's Cove, but it brims with nautical knickknacks and sea-faring sentiment, from porthole windows to washed-up buoys to vintage fishing rods. Pull the Petaluma-brewed Lagunitas IPAs from the mini fridge to toast the sunset on the back deck before heading to the on-site restaurant for a dinner of hearty chowder and daily-catch seafood rolls. Then head back to Nicolina for s'mores (a complimentary DIY kit comes with marshmallows that can be toasted in the wood-burning fireplace) and a soak (in the vintage clawfoot tub). The next morning, after getting an energy boost from your in-room breakfast (including a caffeine jolt from a cup of French press java by Mill Valley-based Equator Coffees), head across the street to The Croft, the B&B's lush culinary garden, where you can play bocce among zebra eggplants and purple tomatillos. nickscove.com
---
OXFORD KITCHEN
O This new Lodi restaurant (an outpost of the Sunnyvale original) may bear the hallmarks of a traditional gastropub—hearty and comforting classic English dishes, check; boozy joviality in the dining room, check; historic building more than a century old, check—but the technique brought by its James Beard-nominated, two-Michelin-starred chef belies the casual nature of the quintessentially British food venue. Srijith Gopinathan, of the celebrated Taj Campton Place in San Francisco, has a soft spot for English food, having staged in distinguished restaurants like Le Manoir aux Quat'Saisons in Oxfordshire during his formative cooking years. The India native uses his mastery to refine traditional dishes in ways that still retain their cozy familiarity. "It's not about how much more you can do to a dish, but how faithful you can be to the original," he tells us. As such, The Oxford Kitchen's signature beef Wellington gets its buttery texture from a sous-vide step before the meat is coated in sauteed mushrooms and kale, then wrapped in puff pastry and baked until golden, while the fish and chips plate forgoes beer batter in favor of simple carbonated water and flour for the laciest crisp on the Atlantic cod. A bottle list heavy on Lodi vintages, from a juicy albariño by Bokisch Vineyards to the Oak Farm Tievoli cabernet, roots this straight-outta-England concept firmly in its new home, a 100,000-acre agricultural cradle so bountiful and unique, it is a federally designated wine appellation. oxfordlodi.com
---
PADDLING (OR PEDALING) AND PINTS
P Since an ice-cold beer always goes down the hatch more smoothly after some fun (read: muscle-tiring exertion) under the summer sun, the North Lake Tahoe Ale Trail makes connections between the self-powered jaunts—by land or by lake—that culminate in frosty pints at the area's destination tap houses on an easy-to-use interactive online map. For instance, paddle a kayak or stand-up paddleboard from Meeks Bay (equipment rentals are available at nearby West Shore Sports) to Homewood and celebrate the 4.25-mile, one-way water adventure with the best local draught brews at West Shore Cafe, including Alibi Ale Works' tropical pale ale and the biscuity Tahoe Pilz from FiftyFifty Brewing Co. Or pedal your way around the 36-mile Tahoe Triangle (mountain bikes are recommended for all North Tahoe trails and can be rented at Flume Trail Bikes in Incline Village), which includes an enduring climb approaching Brockway Summit and a screaming descent to Kings Beach, then throw back a longneck on the lakeview deck at Jason's Beachside Grille—its bottle bevy includes all-American classics like Coors Light and Michelob Ultra—as the day's well-deserved capper (or un-capper, as the case may be). bit.ly/NorthLakeAleTrail for ale trail map
---
QUAIL, A MOTORSPORTS GATHERING
Q A cute contingent of the spit-shined luxury cars that will roll onto the lush lawns at the Quail Lodge & Golf Club in Carmel Valley this summer for the annual automotive exhibition and concours known as "The Quail, A Motorsports Gathering" will qualify as compact, to say the least. "All Things Mini Cooper," one of this year's featured classes, will showcase models from the nearly 60-year-old British-born brand, which foremost excels, says the lodge's director of motorsports Gordon McCall, "at putting smiles on people's faces." Cue lovable Cooper reel featuring scenes from Austin Powers in Goldmember, Four Weddings and a Funeral and the 1969 comic caper The Italian Job. The more action-driven remake of the latter in 2003 starring Charlize Theron and Mark Wahlberg reportedly boosted sales of the bantam roadster by 20 percent, recalling its historic purpose—to burn rubber at car races, including three wins at the renowned Monte Carlo Rally. Speaking of hightailing, The Quail 2022—which will take place on Aug. 19—will also celebrate "70 Years of Jaguar and Their Wins at Le Mans," France's 24-hour endurance motor race, in which the purringly posh British brand has claimed the checkered flag seven times. Even gearheads and grease monkeys will don their stiffest garden-party garb to ogle the world's finest driving machinery—beyond the aforementioned, expect to see a range of sporting vehicles by makers like Lamborghini and Lotus—and mingle with bold-faced spectators like racing legend Sir Jackie Stewart, Formula One champ Jenson Button, and Hollywood stars Eric Bana, Garrett Hedlund and Renée Zellweger, who showed up last year on the arm of HGTV fixer-upper Ant Anstead. quaillodge.com
---
ROADHOUSE PAELLA PARTY
R Calling all paella-philes: Please report to the pretty patio at The Boonville Hotel and Restaurant, a self-styled "modern roadhouse" on rural Highway 128 in the Anderson Valley, where Sunday afternoons from Memorial Day to Labor Day are dedicated to the national dish of Spain. Cooked outdoors on a satellite-sized pan over hot coals, the considered ingredient combinations—think gulf shrimp, local halibut and chorizo nestled in saffron rice and served with fermented allium aioli and garden herbs—befit the culinary credentials of chef Perry Hoffman, the youngest American to have ever received a Michelin star, at age 25, when he was manning the stoves at the erstwhile Étoile eatery in Yountville. Hoffman earned another twinkler at Healdsburg's Shed, also now closed, before returning to his family's Mendocino County stomping grounds in 2018. (Uncle Johnny Schmitt owns the hotel and Hoffman's grandmother Sally Schmitt, the Sacramento native who co-founded The French Laundry in 1978, lived nearby on the family's apple farm in Philo until her passing in March at age 90.) What Boonville lacks in dramatic coastline—the village is usually an inland pit stop on the way to Elk—it makes up for in charm and tasteful trappings like a French-inspired scoop shop, a high-end mercantile and a rustic epicerie. So come for the paella party but stay for the weekend, ideally in one of the 19th-century roadhouse's 17 farmhouse-chic rooms. Dibs on the Bungalow—we're due for a lazy doze in its porch hammock. boonvillehotel.com
---
SEA RANCH LODGE
S The Sea Ranch Lodge—which serves as the heart of the eponymous modernist enclave on the Sonoma Coast—reopened last October after a three-year closure with a streamlined, panorama-revealing renovation by Seattle-based architecture studio Mithun. From the low-slung lounge to the cafe-style solarium, long views of the golden grassy meadows, swell-sculpted bluffs and churning ocean command the lofty spaces by day. At night, attention shifts to The Dining Room and chef Eric Piacentine's thoughtful hyper-local fare, including silky foraged-mushroom pappardelle and pan-roasted catch of the day with fresh-harvested seaweeds. The Lodge is also home to a series of supergraphics by San Francisco artist Barbara Stauffacher Solomon, who pioneered this punchy style of postmodern wall art here in the 1960s. A vintage red arrow, for example, points the way to the highly curated General Store, while a new design by Solomon above the cocktail lounge represents the blazing sun sinking into the briny deep. So impactful is the 93-year-old's work that the weathered-redwood building facade forgoes name for symbol—in other words, the resort's enduring ram's head logo marks the spot. Since the 17 guest rooms will be under renovation until next spring, we suggest bedding in under the watchful eye of the Madonna sculpture at Timber Cove Resort in the meantime, and cruising 25 minutes north on Highway 1 to The Sea Ranch Lodge for a picturesque picnic lunch (courtesy of grab-and-go eats like maple turkey breast sandwiches and hummus pitas from the on-site all-day cafe) or an oceanfront dinner at The Dining Room. thesearanchlodge.com
---
TUNNEL TOPS
T This summer, the Presidio in San Francisco expands by a verdant and bustling 14 acres, connecting an area of the national park previously bisected by busy Presidio Parkway. Designed by the same firm that created New York's wildly popular High Line, the new Presidio Tunnel Tops—as the name suggests—will enable parkgoers to walk over the tops of the Presidio Parkway Tunnels, from the expansive Crissy Field waterfront (aka the city's "front yard") to the Main Parade Ground, starting July 17.
Cars will rumble beneath the Tunnel Tops' two sweeping, multiuse grassy meadows ribboned with a short Cliff Walk. Nearby, you'll find a barbecue-grill-stocked picnic area, a fleet of food trucks, and overlooks with views of globally recognized symbols of the Bay like the Golden Gate Bridge, in all its International Orange splendor, to Alcatraz, the defunct island prison whose incarcerated alumni include mob bosses Al Capone and James "Whitey" Bulger. At the foot of the Presidio Steps (sun-worshiping or fog-watching, depending on the day, is encouraged on these wide lawn terraces) will be an open-air kids' adventureland called the Outpost. And an adjacent Field Station will include the hands-on Investigating Lab, where aspiring archaeologists can examine objects using tools like microscopes. presidiotunneltops.gov
---
U.S. PRESIDENTS
U It's no surprise that two Northern California landmarks—the Holbrooke Hotel in Grass Valley and The National Exchange, located 4 miles away in Nevada City, sister lodgings built post-Gold Rush—have hosted their fair share of American historical figures, given the region's literal gilded past. U.S. President Herbert Hoover stayed at The National, while oral history suggests that commanders-in-chief like Ulysses S. Grant, Grover Cleveland, James Garfield and Benjamin Harrison visited the Holbrooke. Other notable guests at The National have included U.S. Senator George Hearst—along with his suffragette wife, National PTA founder Phoebe, and their media-magnate-in-the-making son William Randolph—and Mark Twain, then a regular lecturer at the Nevada Theatre.
Modern-day visitors can walk the same hallowed halls and snag some shut-eye in the same fabled rooms as these American legends—the hotels, gloriously restored by Santa Barbara's Acme Hospitality, reopened during the pandemic. Imbibing a rye-based cocktail like Wild Buck at the Holbrooke's Golden Gate Saloon—which operated as a whiskey joint, even during Prohibition, and is now handsomely bedecked in burnished brass and horned taxidermy galore—is practically a requirement. The National, on the other hand, is a frilled and flounced old Vic adorned in floral wallpaper and fringed lamps. But a blood-red tufted corner banquette and its matching scarlet-hued Persian rug introduces a femme fatale factor to The National's restaurant Lola, named after Wild West-era dancer Lola Montez, who performed a (rumoredly bloomerless) burlesque act called the "Spider Dance" for forty-niners. holbrooke.com and thenationalexchangehotel.com
---
VODKA FROM GRAPES
V You know what they say, "When life gives you grapes, make vodka." (What do you mean you've never heard that before?) Hanson of Sonoma Distillery, the country's first non-GMO organic vodka distillery, may be an outlier in an illustrious wine region, but consider this: Not only does Hanson's signature product celebrate the land's agricultural calling card, but in order to make vodka in their gleaming German copper pot and towering 50-plate column still, the distillers must first ferment wine using a variety of white grapes (mostly French colombard and chardonnay) from neighboring Ceja Vineyards. While the original hooch is finest neat and at room temperature (all the better to detect those stemmy overtones and fruity roundness), the habanero variety (peppery nose, lemongrass finish) tastes best over ice on a dog day afternoon, and the annual summer release Organic Ginger (spritzy lime bouquet, chili aftertaste) is destined for a frosty mule. But you don't have to take our word for it: the distillery's vodka cocktail tasting ends with a craft libation of your choice. Other experiences include pairings with chocolate truffles from Yountville's Kollar Chocolates, plus a classic duo of martini and caviar sourced from Thomas Keller's Regiis Ova brand. But perhaps the potent potable's best gateway drink is the Bloody Mary, which you can order in "spicy," "cranberry," or "screwdriver" styles at the distillery's Sunday brunch, far exceeding our grape expectations. hansonofsonoma.com
---
WAVES
W Within a pleasantly strollable stretch of Santa Cruz's meandering West Cliff Drive, you'll find two ends of the surfing spectrum: Steamer Lane, a world-class surf break where spectators can survey the shredding from cliffside benches or behind a rusty safety rail, and Cowell Beach, one of California's best beginner bays for its sandy bottom and gentle, rolling waves. For a quintessential swell-soaked weekend in this iconic surf town, make the Dream Inn on Cowell Beach—where every retro-modern room has an unobstructed ocean view—your overnight base camp. Wake up early to catch the dawn patrol in action at Steamer Lane, and at midday head to the Santa Cruz Beach Boardwalk, a half-mile from the hotel in the other direction, for ice cream-hued kitsch and an old-fashioned midway: ride the Giant Dipper—a nearly century-old wooden roller coaster that's also a National Historic Landmark—for waves of a different sort. Around 4 p.m., join the throngs of novice surfers descending from the cliffs for a sunset session at Cowell. An hourlong private lesson from the silver-haired surfing sages at Club Ed Surf School comes with the required cold-water neoprene (the late Santa Cruz native Jack O'Neill pioneered the modern wetsuit in the early 1950s) and cushy foam-deck longboard. After a brief dry-land instruction on the basics of paddling (about 90% of surfing) and the art of the pop-up (the trick is to keep your eyes trained on the shore, not on the board), you'll spend 45 fun, fatiguing minutes catching waves—or attempting to. Before you know it, you'll be back on terra firma, but ironically ready to Hang Ten— that is, with a so-named tropical cocktail (Ketel One vodka, lime spritz, pineapple juice and coconut water) at the Dream Inn's Jack O'Neill Lounge. dreaminnsantacruz.com and club-ed.com
---
X-ING
X Measuring in at 50 degrees Fahrenheit, the 49er Crossing swimming hole in the South Yuba River State Park makes a refreshing cold plunge on hot summer days, thanks to the Sierra Nevada snowmelt. At a decommissioned one-lane bridge—its newer, two-lane replacement is located just down the water—the hot and bothered can make their way to the riverside via Hallmark Channel-famous concrete steps (the final scene of the network's 2006 holiday movie The Christmas Card was filmed at the bottom of the flight), unfurling their towels to stake a thermo-regulating claim on the cottonwood-dappled granite boulders before scooting (never diving) into the frigid shallows to join the aquatic life like rainbow trout. If you've ever been curious about the Wim Hof method—the eponymous technique developed by a Dutch extreme athlete to reduce stress and inflammation, among other bodily boons, through finding steady, deep breaths during cold exposure—the summer season at the X-ing seems like a kinder, gentler testing of the waters, so to speak, than, say, a masochistic jump into Lake Tahoe in the middle of winter (no offense, Goop). Hot tips from park rangers: Wear reef-safe sunscreen to protect riverlife, visit on weekdays for more parking and quieter pools, and use the buddy system—while the summer current is much calmer than the rapids caused by spring runoff, untamed wilderness knows no off-season. southyubariverstatepark.org
---
YARROW SCHLEY
Y A youth spent rock climbing in the Eastern Sierra led to a lifelong passion for movement—including surfing and capoeira—for Luke Skywalker doppelganger Yarrow Schley, co-owner of The Coast Ridge, a fitness-based, metabolism-reboot retreat in Stinson Beach. For those who rediscovered their carefree childhood eating habits during the pandemic (guilty as charged), TCR's four-day, all-inclusive program—modeled after The Ashram in Calabasas, the wellness intensive where Schley worked as a guide for six years before launching TCR with his wife Angela Barale in 2015—can be a healthy jolt back to an active, rosy-cheeked lifestyle. Each morning, Schley leads a small group of rebooters on an 8- to 10-mile ocean-view hike crisscrossing Mount Tamalpais and the Marin Headlands, building up to an altitude-crunching trek like a journey from The Coast Ridge's sea-level-ish Japanese farmhouse-style estate to Tam's East Peak—at 2,571 feet, it's the highest point in Marin County. While the trail snacks are intentionally skimpy—an apple slice sprinkled with remineralizing Himalayan pink salt, for example—the rainbow-hued, nutrient-dense, seasonal vegan meals (think purple sweet potato gnocchi with truffled vegetables) designed by Angela are thankfully hearty and restorative. An hourlong massage to thwart muscle fatigue and soreness is a daily reward for such rigorous rejuvenation, but the real jackpot is your body's newly humming metabolism, keeping you in those jeans you haven't worn since the Before Times for the foreseeable future. thecoastridge.com
---
ZINFANDEL AND SHUFFLEBOARD
Z In a land where the average lifespan of a grapevine is around 20 years, the 80-year-old zinfandel vines at Abbot's Passage Winery—a 60-acre property in Glen Ellen anchored by an 1864 winemaking barn—are almost mythical, and have added their long institutional knowledge of the Sonoma Valley terroir to a new bottling of Redshift rosé, which releases on May 1. Two shuffleboard courts (the dive bar version of the traditional cruise ship game is a favorite of sixth-generation vintner and Abbot's Passage founder, Katie Bundschu) lay within this old-growth block for your bored-of-bocce recreational pleasure. For a two-hour booking, a max party of 10—divided into two teams—can play, with the goal of using long-handled cues to push pucks into the high-scoring areas of the triangular board, while trying to displace the opposing crew's discs out of bounds. (The first team to reach 75 points wins.) The reservation also includes a bottle of chilled Redshift, bright and refreshing with notes of tart watermelon, strawberries and lemon zest, plus a picnic spread of high-cuisine bites by executive chef Kyle Kuklewski that may include toasted popcorn with gochugaru chili flakes and Parmesan, za'atar-seeded flatbread, Cowgirl Creamery fromage blanc with pistou of arugula and sage, and estate-wine poached pear—all of which ensures that shuffleboarding won't turn into shuffle-boring. abbotspassage.com