Sutter's Fork
A new downtown restaurant named after John Sutter's Hock Farm pays tribute to both our region's history and bounty.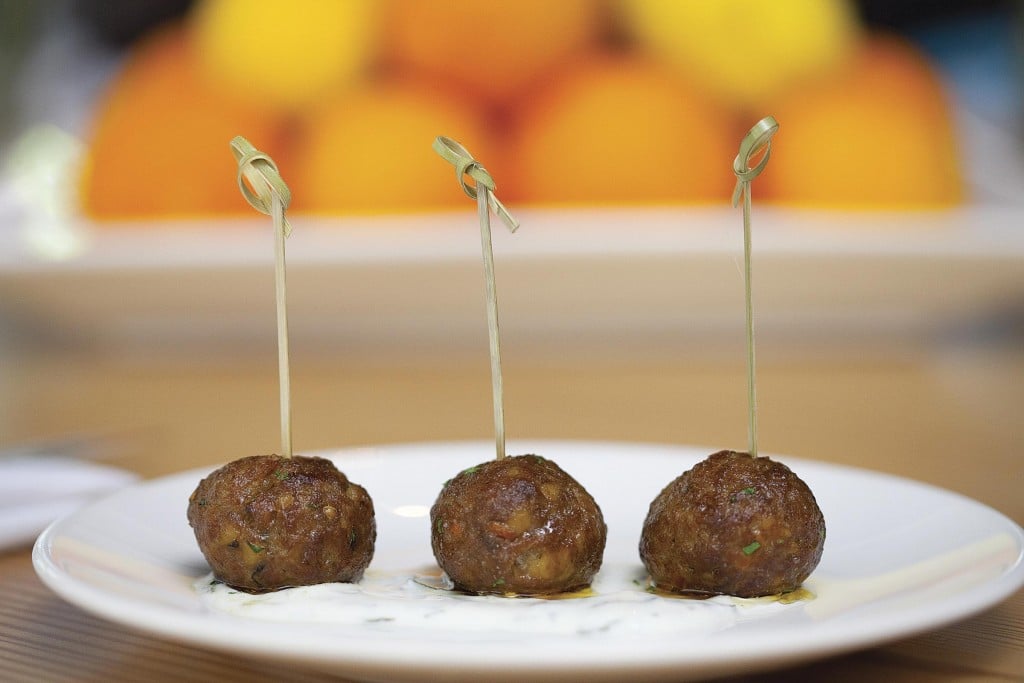 Hock Farm
1415 L St.
440-8888
hockfarm.com
OOne of Sacramento's hottest new restaurants was fast-moving enough to open in just three weeks (in the prime downtown space formerly occupied by Spataro), but it reaches back far into the distant past for its name and inspiration.
Sacramento has never been a town to ignore its own history (just read Joan Didion or ask anyone who's been to Old Sacramento lately), but Hock Farm Craft & Provisions—named for John Sutter's Hock Farm, established as an agricultural settlement in 1841—may get the local prize for the oldest namesake. (It beats out Hook & Ladder, named for an 1850 volunteer fire corps, by nine years.)
Hock Farm is a Paragary Restaurant Group (PRG) eatery, but its management and ownership structure is a departure for the company, with Randy and Stacy Paragary ceding day-to-day control to the team of chef-partner David LaRoche (a longtime PRG staffer who served as chef at Spataro for four years), managing partner Shaun Freeman (a native of Pollock Pines who managed such restaurants as Cafe del Rey in Marina del Rey before returning to the Sacramento region to work for PRG at Cafe Bernardo), and bar manager–partner Brad Peters, a veteran of another Paragary restaurant, Centro Cocina Mexicana, who recently helped to open Hook & Ladder and Pour House. When Spataro closed on March 16, the trio was ready to jump in and reopen quickly, thanks to preplanned designs for the minimalist interior (which sports an aesthetic Freeman describes as "industrial-colonial") and a lot of hard work. "I was in here on St. Patrick's Day, doing all sorts of stuff," says Freeman with a smile, describing the subsequent opening of the restaurant on April 11 as "quite a feat." Indeed, the turnaround might set a restaurant-launch record.
Diners might be forgiven for not knowing immediately what the name Hock Farm refers to. Unless you've spent a lot of time driving up and down Highway 99, you probably missed the historical marker for Sutter's Hock Farm (south of present-day Yuba City), which supplied Sutter's Fort and other settlements with food. As a brief glance at the menu—which lists purveyors on the back—quickly reveals, there's no single farm supplying Hock Farm, the restaurant, but just like in the 1840s, the rich farmland surrounding Sacramento fills Sacramento tables.
Chef-partner David LaRoche, however, is quick to point out that Hock Farm isn't exactly jumping on the farm-to-table bandwagon, despite the recent initiative declaring Sacramento America's Farm-to-Fork Capital. "[Farm-to-fork] is just the way that we've always done things," says LaRoche, who has been with PRG for 15 years, first at Paragary's Bar and Oven (where Patrick Mulvaney was his sous-chef) and later at Spataro. "The purveyors that I'm using now are the purveyors that I've used ever since I've been in charge. The guys that I go to buy fish from every day are the same people that I've bought fish from every day for 12 years. It's just the ethos."
Those purveyors include many of the top farms and suppliers around the Sacramento area, such as West Sacramento-based Del Rio Botanical and Rancho Cordova's Soil Born Farms, though most of the produce sourcing is not specifically called out on the menu ("If you call everything out, your menu becomes five pages long," LaRoche says). Some of the local items include lamb from Dixon in kabobs with minted yogurt, and Vega Farms eggs from Davis topping a small plate of Delta asparagus.
The dinner menu includes bar bites (a luscious chicken liver mousse with crostini and a dish of peppery, house-made caramel corn with candied bacon are early hits); small plates, such as succulent sliders of shredded pork braised in Fanta orange soda and dressed with crunchy apple-cabbage slaw; and full-scale entrées, many of which make creative use of the imported Italian wood-burning oven that the kitchen inherited from Spataro. (Hock Farm burns local almond wood from orchards in the foothills; this spring, LaRoche also sourced unripe green almonds, a rare delicacy, to shave thinly and add to the daily crudo.) In addition to wood-fired pizzas, the kitchen offers roasted dishes like an unusual but delicious mélange of pork, clams and fingerling potatoes, or a fish special of whole branzino. The menu changes often, but LaRoche says certain dishes like the Amish roasted half-chicken are likely to stay.
If LaRoche's cooking is quintessentially farm-to-fork, bar manager Brad Peters considers his cocktails farm-to-glass. Hock Farm, like other recent openings Hook & Ladder and Red Rabbit, proudly claims the craft-cocktail moniker, and Peters' vision for the bar is straightforward. "We're taking classic cocktails crafted with a classic technique, and we're reimagining them with local produce and locally sourced goods," he says. (The local sourcing isn't limited to produce; Peters has a whole shelf of regionally made gins, for instance.) The bar's most popular cocktail has been its Original Formula Manhattan, a traditional rye-based version made silky with gum syrup from Berkeley maker Small Hand Foods and accented with Peters' citrus bitters, made from fruit from his own backyard.
Other hits include the signature Golden Word, a revision of the Last Word (a formerly obscure cocktail containing gin, now revived as an avatar of the craft-cocktail movement). Peters' new version, developed when he was a brand ambassador for House Spirits Distillery, contains hidden layers of local flavor: it uses Galliano (instead of the Last Word's green chartreuse), referencing the Golden Cadillac from Poor Red's, "one of the most popular cocktails to come out of Sacramento," Peters says. The result is an herbaceous cocktail that's a bit sweeter than a Last Word. Peters also makes a mad-scientist-worthy number of elixirs, infusions (like four-peppercorn citrus vodka for the Bloody Mary), seasonally changing tonic for the gin and tonic (in spring: white peppercorns and jasmine pearls), and more—much of it contained in glowing, differently hued mason jars behind the bar.
Aside from a vibrant pop of color from aqua-tinted chairs, those mason jars provide the brightest tones in the restaurant's simple, understated design, devised by Sacramento-based Beta Form Industries. The white-painted brick walls are hung with bows and arrows; communal tables adjacent to the semi-open kitchen sport brands with the restaurant's logo, and a wall-sized reproduction of a vintage black-and-white drawing of Sutter's Hock Farm flanks the bar. One conversation starter? A neon sign over the kitchen, unexplained, that reads "patriarch, priest, father, and judge." It might seem puzzling, unless you know that they're John Sutter's own words about himself. Another key feature, likely to be popular on summer evenings, is a spacious patio off the dining room, covered by an arbor of fast-growing hop vines and dotted with large pots holding citrus trees; bar rails out front overlook Capitol Park.
Many regional artisans contributed to the restaurant's look, including pendant lights from Mansion Flats-based Schmitt Design. The sign out front, featuring reclaimed Douglas fir from the former Globe Mills factory, was made by local metalworkers 12M Design and Reclamation Art + Furniture. The star of the show? A big bar table, right at the entrance, milled in the shape of California, with a cutout star right on Sacramento, custom-made by J. Rusten Furniture Studio in San Francisco.
Hock Farm's devotion to California's history and the capital region comes across in ways ranging from large and obvious (that bar table, a beer and wine list that highlights California) to subtle and small (partner Brad Peters' cell phone sports a bear flag case). But the best example of Hock Farm carrying on the legacy of our region—and of Sutter's original Hock Farm—can be found on your plate or in your glass.