Taste: The region's latest food, drink & restaurant news for Aug. 23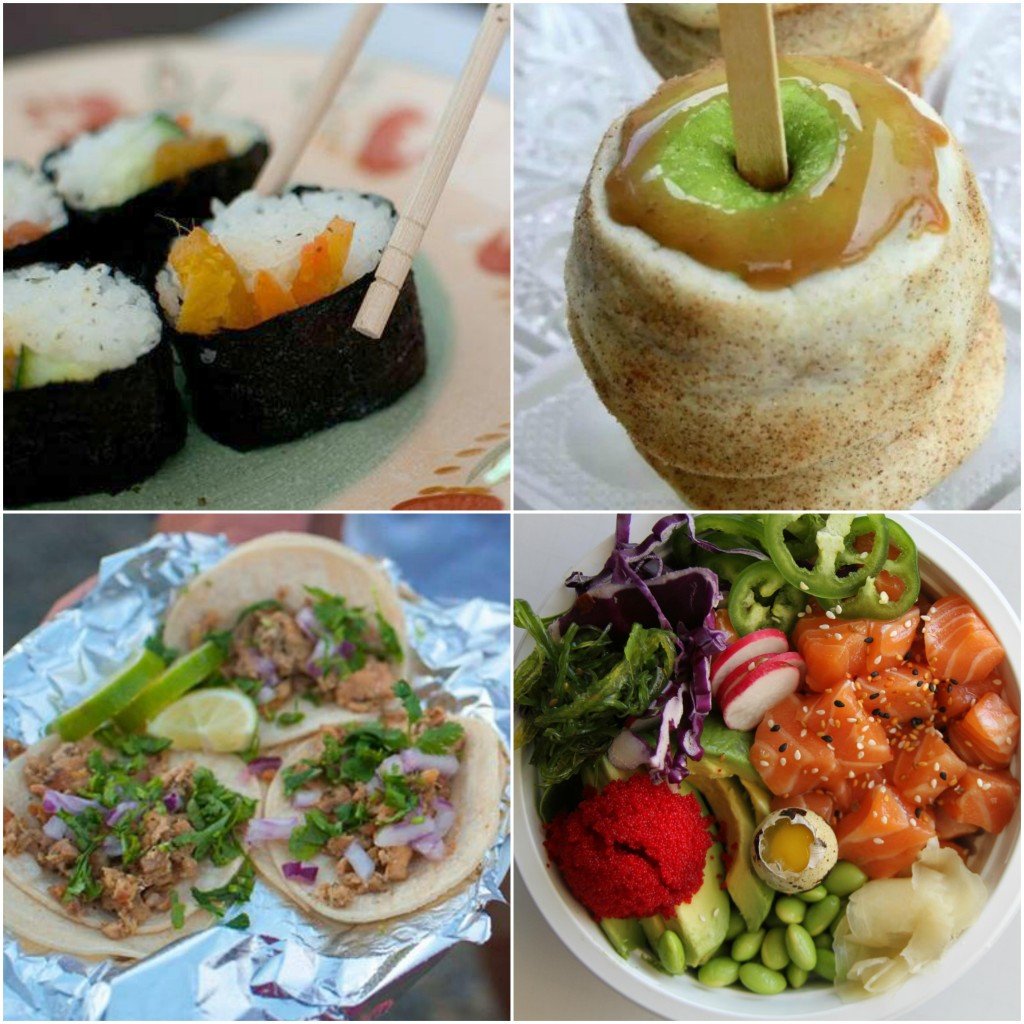 Get the details on Old Soul's newest drink concoction, the Off the Grid food truck rally's wild new location, a National Dog Day Instameet celebrating canines and a weekend tasting event in Apple Hill. Meanwhile, a new sushi restaurant opens in Rancho Cordova, and Folsom gets a new poke bar.
Apple Hill Smorgy
This event in Apple Hill—located along U.S. Route 50 from Placerville to Pollock Pines—lets you sample delicacies from more than 50 orchards, ranches, bake shops and wineries. The smorgasbord of desserts, appetizers, wine and hard ciders will be laid out at Larsen Apple Barn in Camino on Aug. 28 from 2-4 p.m. Taste port from Madrona Vineyards, lavender-date shortbread cookies from Bluestone Meadow, hard apple cider from Smokey Ridge Ranch and the can't-miss apple cider doughnuts from Rainbow Orchards. Then take home fresh fruit pies like apple, peach and blackberry. $50. Sun. Aug. 28. 2-4 p.m. Larsen Park at Larsen Apple Barn. 2461 Larsen Dr. Camino. 530-644-7692. applehill.com
Fishology
This poke restaurant in Folsom's Broadstone Plaza will hold its soft opening the first weekend in September, with a grand opening planned for the following week, according to co-owners and brothers-in-law Jonathan Nguyen and James Vo. According to Vo, the 1,000 square-foot space evokes a clean, industrial vibe through bright, off-white walls and hardwood floors. Folks will be able to build their own bowls of poke, starting with rice, salad or wonton chips, followed by their choice of protein (think salmon, tuna and octopus), sauce (like creamy cilantro pesto and sesame shoyu) and toppings (including mango, pickled ginger, crispy garlic and bacon bits). 2784 East Bidwell St. Folsom. 587-19899. fishologypokebar.com
Hot Italian
The pizza mecca's Davis location will host a pup-friendly Instameet on Aug. 25 from 5:30-9:30 p.m. in celebration of National Dog Day, featuring a tap takeover by West Sacramento's Bike Dog Brewing Co., with proceeds from beer purchases benefiting the Yolo County SPCA. After romping through the UC Davis Arboretum, quadrupeds and bipeds alike can congregate on the pizzeria's patio, where they will have the chance to meet popular Instagram stars like @minniethebostonterrier, a 4 year-old Boston terrier from Sacramento, and @thecorgijack, a one-year-old corgi from Granite Bay with more than 26,000 followers. Free. 5:30 p.m.-9:30 p.m. 501 1st St. Davis. 530-792-7015. hotitalian.net
Off the Grid
This San Francisco-based company is introducing another food truck event to its Sacramento lineup, with 10 mobile kitchens set to gather outside the Sacramento Zoo from 5-9 p.m. every Thursday through October, starting Sept. 1. Off the Grid began hosting its food truck series at West Sacramento's River Walk in June, and has since expanded its weekly events to Rancho Cordova, the Crocker Art Museum, Folsom Outlets and the Barn in the Bridge District. Guests can bring their fare into the zoo, taking advantage of Family Deal Night hours with discounted admission until 7 p.m. The food truck lineup for the event is yet to be determined. Free to attend; $2 off regular zoo admission. 5-9 p.m. Zoo closes at 7 p.m. William Land Park. 3930 West Land Park Dr. offthegrid.com
Old Soul Co.
This local coffee company has collaborated with Sacramento-based Zeal Kombucha to create a blended coffee/kombucha drink for summer. Cascara Kombucha is a combination of Old Soul's Nicaragua Pacamara Cascara coffee, brewed and blended with Zeal's honeybush kombucha and flavoring agents like Meyer lemon, pineapple, hibiscus and tarragon. The Pacamara Cascara beans, sourced directly from Nicaragua, have a bright cherry flavor profile that combines well with the kombucha's fizz and tang. It's a sweet but not overpoweringly saccharine beverage. The drink will be on draft at Old Soul's Alley location throughout the summer while supplies last. 1716 L St. 443-7685. oldsoulco.com
Taiko Sushi
This longtime Folsom sushi spot will open a new location in Rancho Cordova today, Aug. 23. Owner Wayne Yu, who opened the flagship restaurant in Folsom in 2004, says the Rancho Cordova spot can to accommodate about 50 more guests and allow for outdoor seating. Expect to see a similar menu featuring current Taiko staples like gyoza, tempura, sashimi and bento boxes, and signature rolls like the Catalina, stuffed with crab salad, avocado and cucumber and topped with salmon, lemon and chili aioli. 11291 Folsom Blvd. Rancho Cordova. taikosushi.com
You Might Also Like
A popular pizza chain opens a location in East Sacramento
Food Truck Cinema launches in Roseville with two outdoor screenings
First Look: The new Saddle Rock brings a Gold Rush of flavor to midtown