Taste: The region's latest food, drink & restaurant news for June 2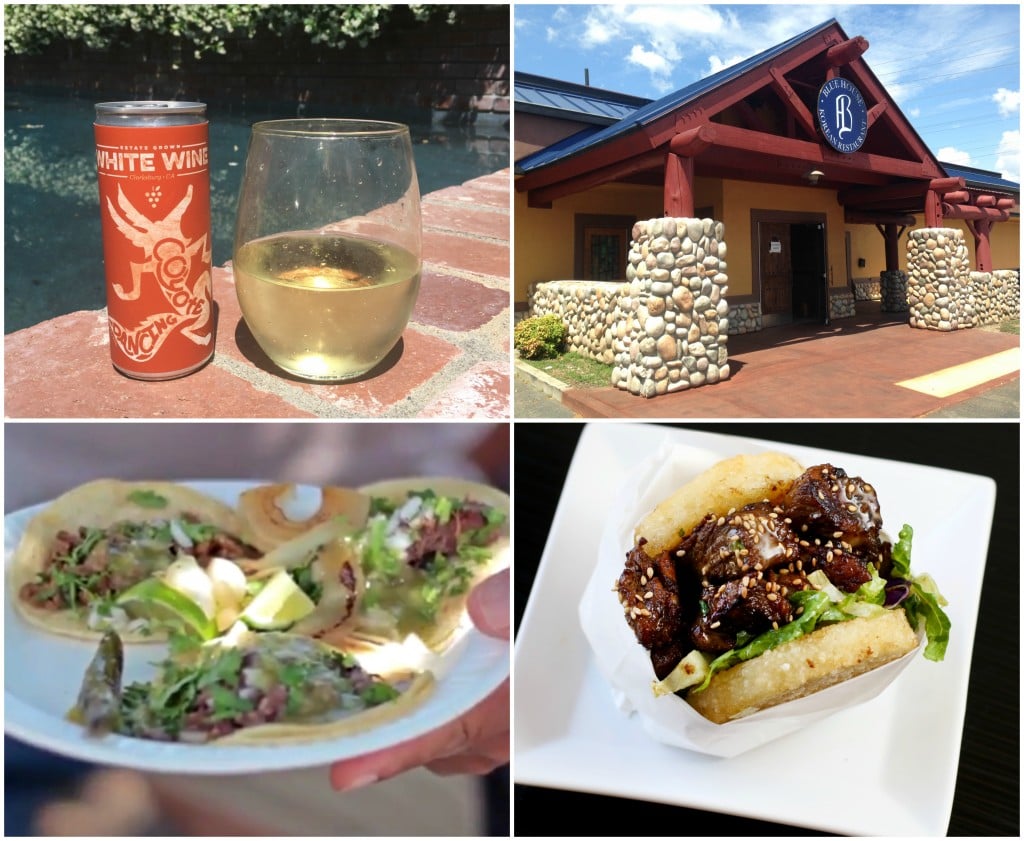 In this week's roundup of dining news, Sactown has exciting updates on the Broderick team's newest restaurant venture, as well as a new sports bar getting set to open in Old Sacramento. Plus, Sacramento hosts an action-packed taco festival, a local winery launches a line of canned white wine, a new Korean restaurant opens in Arden-Arcade and a popular Korean-Japanese food truck venture expands to a brick-and-mortar restaurant in Rocklin.
Blue House Korean Restaurant
In a 9,000-square-foot building on Howe Avenue (that formerly housed a Lumberjacks restaurant), Blue House Korean Restaurant will host a soft opening beginning June 5, with a grand opening planned for later this summer. Owned by El Dorado Hills residents Paul Cho and his wife, Sarah, who moved to the Sacramento area from Korea in 1985, the Arden-Arcade eatery will serve an extensive menu of traditional Korean fare like bibimbap (a popular rice dish with vegetables and a fried egg), kimchi pancakes, and dumplings (steamed or fried) that come from the kitchen, as well as a selection of meats (including soy-marinated pork belly, beef brisket points and lobster tails) that will be cooked by patrons on electric or gas grills at the granite tabletops. Even though the spacious spot will easily accommodate almost 300 guests, the cushy black booths, tile floors, textured metal accents, and the burbling stone fountain in the main entry are designed to create a cozy atmosphere. 1030 Howe Ave. 646-2004.
Dancing Coyote
This Lodi-based, family-owned vineyard is venturing into the aluminum can industry with its April release of canned white wine. The crisp and fruity blend of Italian varietals Cortese and Falanghina will be sold in four-packs of 250-ml cans, which are smaller than standard beverage cans due to regulation size for wine containment. Dancing Coyote's vice president Celia McCormack says the idea for canned wine sprung from trying to offer a convenient alternative to glass during outdoor activities like hiking, camping, barbecues or outdoor concerts. You can find this portable wine at Dancing Coyote's tasting room and at shops like Matteo's Italian Food Products in Carmichael or the Davis Natural Foods Co-op and soon at local grocers like Corti Brothers and Nugget Markets. McCormack says the winery has plans to also release a pinot and rosé. 3125 E Orange St. Acampo. 209-339-9780. dancingcoyotewines.com
SacTown Sports Bar & Grill
This new sports bar will replace Coconut Sports Bar in Old Sacramento. SacTown Sports Bar & Grill is planning to open by late July and will feature upscale bar bites for lunch and dinner. The downstairs bar—one of two—is being developed into the "Nor Cal Room" featuring area craft beers and wines. The main bar will feature 30 drafts beers and specialty cocktails, as well as sports memorabilia from owner Chris Easton's extensive private collection (which includes hundreds of items like a Joe Montana jersey and a photograph signed by Joe DiMaggio) adorning the walls alongside nearly 50 high-definition televisions. 106 J St. 704-1212.
Sacramento Taco Festival
This third annual taco-centric extravaganza will once again take over Del Paso Boulevard (from West El Camino to Arden Way) on Saturday, June 4, and will feature a smorgasbord of tortillas food with traditional fillings like chicken, beef and pork, and more experimental options like Hawaiian-style chicken and spicy Thai. In between bites, check out the Lucha Libre (Mexican wrestling) and the margarita bar and beer garden, or one of the competitions like the Chihuahua beauty contest, the taco-eating contest and the sombrero contests. Attendees can also groove to tunes by Next Phase (an Isley Brothers tribute band), Sacramento-based Latin-reggae group Sol Peligro and local ska outfit La Noche Oskura, and join in on the attempt to break the world record of largest soul train dance (currently held at 426 participants). $10 (free for children ages 10 and under). Del Paso Blvd. between W. El Camino and Arden Way. 914-4665. sactacofest.com
Saddle Rock
This highly anticipated new midtown restaurant helmed by Chris Jarosz of the Broderick chain, is slated to open mid- to late June on the L Street spot (between 18th and 19th) that formerly held Capital Dime. Saddle Rock is named after the restaurant of the same name that originally opened in 1849 during the Gold Rush (it closed in 1962), and new head chef Matt Masera, formerly of Mother and Empress Tavern, plans to steer away from the burger-minded menu of the former occupant, and instead toward modern twists of food eaten during the Gold Rush era, such as updated dishes featuring oysters, which were popular with miners. 1801 L St. 444-4444.
KoJa Kitchen
A new eatery is set to makes its mark in the Sacramento area in late August or early September. KoJa Kitchen, originally a food truck based in the Bay Area and an active participant of SactoMoFo events, will be serving up Korean-Japanese fusion food at its new Rocklin brick-and-mortar outpost. Munch on menu items the Food Network star Guy Fieri called "Asian street food at its best" during an episode of his show Diners, Drive-Ins and Dives, like the ahi tuna bowl (with seaweed, imitation crab, wonton crisps, wasabi mayo, masago and soy ginger vinaigrette); spicy Korean buffalo wings; and a myriad of taco selections like the teriyaki Zen Taco with a soy and Portobello mushroom patty, sesame vinaigrette lettuce, wasabi-lime mayo and fried shallots. 4210 Rocklin Rd. Rocklin. kojakitchen.com
You Might Also Like
See outdoor movies (for free) this summer in the Sacramento region
New locally grown on-demand food app launches in Sacramento
10 bountiful farmers' markets to visit throughout the region