The Bank food hall opens for breakfast and lunch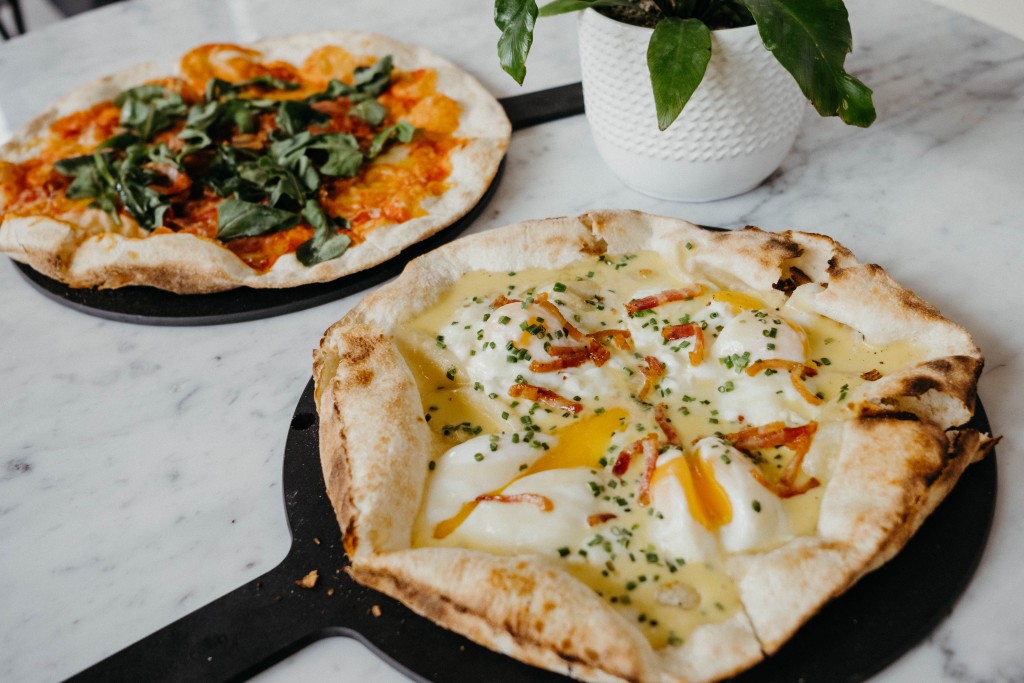 The Bank, the new downtown food hall that inhabits the 107-year-old D.O. Mills Bank building, has launched its breakfast and lunch service today.
Beginning at 7 a.m. on weekdays (brunch starts at 10 a.m. on weekends), The Bank's cafe now offers up coffee drinks using beans from Chocolate Fish Coffee Roasters, as well as pastries and baked goods from Bella Bru and Boy's Bakery, which specializes in Swedish fika buns. The cafe also serves cheese and charcuterie boards, sandwiches and salads from Zia's Delicatessen, ice cream from Berkeley-based The Latest Scoop and dairy-free gelato from North Sacramento's Conscious Creamery.
Platypus Pizza Company and Sac Poke Bros. will get in on the action starting at 11 a.m.. (Station 8 Burgers will open at 4 p.m. daily starting March 25, and aims to start lunch service on April 1.)
Platypus is launching with a select menu. Expect topping combinations like carnitas and jalapeños, steak and chimichurri, and a Nutella pizza with bacon, marscapone and hazelnuts. Purists need not worry—a Margherita option is available, as well as classic toppings like pepperoni.
Jason Cameron, owner of Platypus Pizza Company, brought on kitchen manager Justin Cooke to help devise the "neo-Neapolitan" style of pizzas that will come out of the Italian-imported electric oven, which is kept around 1,000 degrees Fahrenheit for crispy, blistered pizza in just minutes. "Our pizza is inspired by Neapolitan, but we use all local, Sacramento ingredients," he says. The two are also aiming to open a street taco spot—where diners will be able to choose corn or flour tortillas and a meat or veggie filling, topped with cilantro, onion and lime—at The Bank by the end of April.
Station 8 Burgers, the little sister of midtown's seafood-focused Station 16, will offer a burger- and fry-focused menu, with items like the The 16 burger topped with the house gogi ketchup (a creamy, garlicky version), cheddar cheese, bacon and a fried egg, or The Bank burger with golden enoki mushroom gravy, jack cheese, onions and a sour cream and chive mayo. Non-beef eaters can have a lobster roll or a vegan Impossible burger with avocado and aji amarillo sauce (a tangy, sour cream-like condiment), or grab some fries stacked with butter-poached lobster and triple cheese sauce.
Sac Poke Bros., which has been serving dinner since The Bank's opening in November, also joins the lunch crowd. In addition to the spot's namesake poke bowls—like the Bruddah's bowl with two types of ahi tuna, avocado, masago, seaweed salad and fried onions—patrons can order sides like sushi rolls, Spam musubi and miso soup, or build their own bowls starting with rice, mixed greens or wonton chips (poke nachos, anyone?), and adding proteins (think tuna, octopus and tofu), as well as sauces and toppings, which include everything from onions and avocado to edamame and seaweed salad.
"It's fun to be part of the variety," says Platypus' Justin Cooke of the food hall atmosphere. "If one person wants burgers in a group, they can go to Station 8, if someone wants pizza or tacos, they can come to us, or [Sac Poke Bros.] if they want poke." Adds Cameron "We all get to focus on our own thing and specialize in what we're passionate about. Everyone's excited for each other."
Still to come at The Bank are Mama Kim Eats and Preservation Kitchen & Market.
The Bank. Mon.-Wed. 7 a.m.-midnight. Thurs. & Fri. 7 a.m.-2 a.m. Sat. 10 a.m.-2 a.m. and Sun. 10 a.m.-midnight. 629 J St. 916-557-9910. thebank629j.com
You Might Also Like
Federalist Public House owners to open The Neighborhood Pizzeria in East Sacramento
Eagerly awaited Cider House to open soon
Milk House Shakes to open in Old Sacramento