The second annual Sacramento Santa Run comes to town this weekend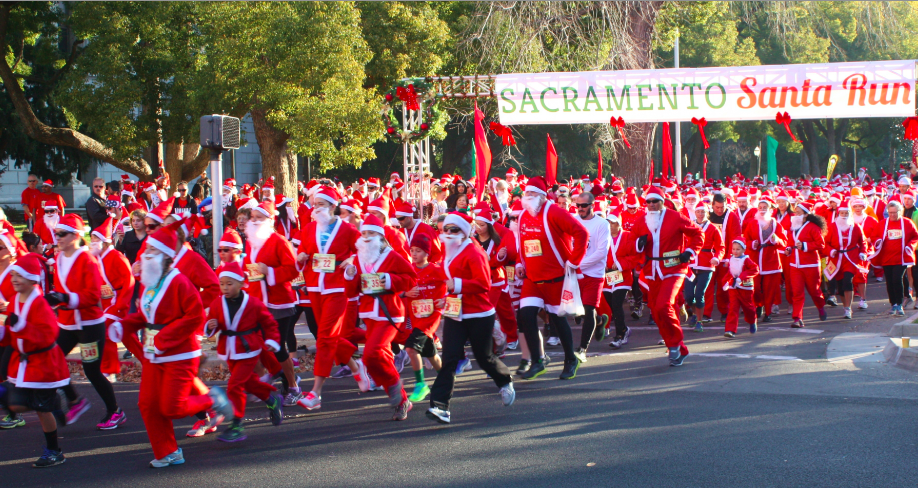 You'd better not cry, and you'd better not pout—the second annual Sacramento Santa Run, with its 3,000 jolly joggers, is returning to the River City this Saturday.
"It's just one of those really fun, feel-good events that happens in the city with holiday cheer the entire time," says organizer Chris Hollingsworth, whose Sacramento-based company, Seven Seas Industries, produces other regional events such as Susan G. Komen Race for the Cure and Leukemia & Lymphoma Society's Light The Night walks.
All participants will receive a full Santa costume (whiskers included), so runners can suit up before dashing through the streets in either the short "Merry Mile" or the full 5K course, which will both begin at the State Capitol and meander through Capitol Mall and Old Sacramento. Various features, from candy cane stations to carolers, will be positioned along the way to help make spirits bright.
After crossing the finish line near Macy's in Downtown Plaza, racers can refuel with cookies and milk under a flurry of machine-made snow. Better still, attendees can take advantage of opportunities to spread Christmas cheer around the community by donating to nonprofits on hand like Wellspring Women's Center, an Oak Park organization that cares for underprivileged women and children.
Register online before race day to guarantee availability of Santa suit. The "Merry Mile" ($25 per person) will start after the 5K run ($35-$45), which will begin at 9 a.m. this Saturday, Dec. 20, at the California State Capitol. Call 530-346-3881 or visit sacramentosantarun.com for more information.