The Shops Around the Corner
Talk about a Hollywood ending. Over two decades since Meg Ryan's sweet little children's bookshop lost the battle to Tom Hanks' big bad Fox Books, it looks like indie bookstores around the country (and around town) may have won the retail war. With April 30 marking Independent Bookstore Day this year, we're spotlighting a dozen of our favorite local literary nooks in the Sacramento region. Trust us, this story is a real page-turner.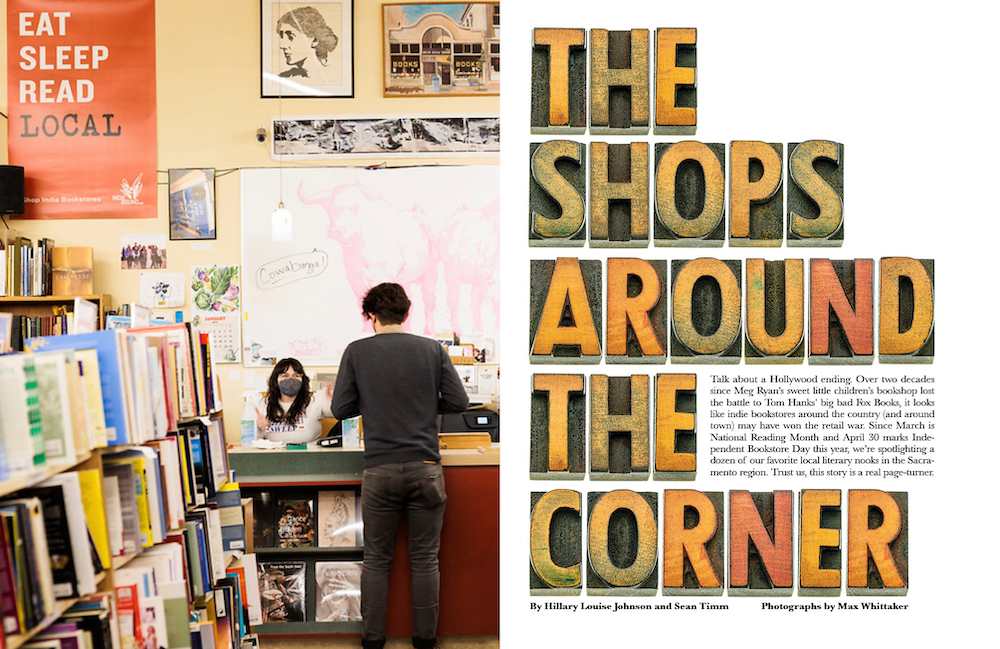 IIn the 1998 rom-com You've Got Mail, Meg Ryan's adorable Shop Around the Corner gets driven out of business by Tom Hanks' corporate behemoth. Then in the decade or so that followed, online giants like Amazon hit the delete button on many big-box retailers like Borders.
Today, however, there's been something of a miracle on Main Street, as small, independent bookshops have either risen from the ashes or hung out a shingle for the very first time, with a surprising number of them surging to life during the pandemic.
Many of these indie bookstores are family operations, run by spouses, siblings—and even, in at least one case, with the "help" of an adorable dog. These particularly soulful entrepreneurs all agree that one thing the pandemic has done is to make us all think smaller (and smarter), prompting us to vote with our dollars for community over corporatism.
Some offer online sales or free delivery (along with unexpected delights like complimentary tea and treats). Others, however, happily eschew the digital experience altogether, focusing on bricks, mortar and paper.
Regardless of their approach, the numbers bear these booksellers out. According to the industry tracker NPD Bookscan, sales of print books have increased by nearly 20% from 2019 to 2021. Last year, sales of adult fiction books rose 25.5% over 2020, and young adult fiction was up 30.7%. The result? There seems to be small, scrappy shops around more and more corners these days. So read on to learn about a dozen local bookstores behind this revolutionary declaration of independence.
* * * * * *
Editor's note: To celebrate Independent Bookstore Day, many of the shops spotlighted in this story—including Capital Books, Underground Books, Ruby's Books and A Seat at the Table—are participating in the second annual Gold Country Book Tour on Saturday, April 30. The self-guided event features a gift with purchase at each participating store and a passport to track visits, which earn raffle tickets to win one of two "prize collections" that contain books (naturally), gift cards and other items like tote bags and mugs. Visit goldcountrybooktour.com for more information.

This bookstore is about as eccentric and independent an establishment as you could wish for. Founded in 1936, it was named after Ms. Nellie Beer, a charter member of Sacramento's first book collectors club, and has survived several location and owner changes (one of whom reputedly held seances on the premises and established the still-thriving metaphysical and occult section), until Jim Naify, a philosophy professor at Sacramento City College and board member of the High Sierra Community of Writers bought it in 1985.
Naify's son Andrew, born the same year, virtually grew up in the store and now manages it, welcoming customers, some of whom have been regulars longer than he's been alive. In recent years, the downtown shop's collection has also seen changes: Before the pandemic, 80% of the inventory consisted of used books, but now new books account for around half. A history buff, Andrew is proud of the store's history section, which specializes in Western Americana and California history, with books like Up and Down California in 1860-1864 by William Brewer—one of Andrew's personal favorites.
But it's the future he's most sanguine about. "People have doubled down on local, really pushing back on some of the online retail conglomerates," he says. "We had some record-breaking sales days this holiday season." 915 S St. 916-442-9475. beersbooks.com — Hillary Louise Johnson
Ruby is a 6-year-old golden retriever, who is usually found lazing around on one of the rugs in the tall-ceilinged bookstore named after her, accepting a pat on the head from the regulars who come in daily to sit in a comfy chair and read for a spell. This clean, well-lighted space has become a neighborhood fixture with astonishing speed, considering that owner Stacy Gould, a former doula and math teacher, only signed the lease in February 2020, "two weeks before the world shut down."
Understandably, Gould and her husband Carl discussed whether or not to move forward. "And we decided you have to be a little bit crazy to open a bookstore anyway," she recalls, "so why not do it in a pandemic?" Fortunately, she says, Folsom's Sutter Street (where her shop is located) adopted a "can-do attitude" that persists, with events like an upcoming concert series and the annual Sip and Stroll (April 9) that draw patrons.
Gould also made a decision that counters advice she had received during a week-long business boot camp. Instead of ordering large volumes of top-selling titles, she opted for a strategy of ordering very small quantities—often just one or two copies—of many different titles, allowing her to offer a much broader inventory than she would've been able to otherwise.
With such a deep selection on hand—Ruby's currently carries over 13,000 titles—a substantial portion of customers hail from outside the area. Visiting cyclists taking a break from the American River Trail gravitate to the shop's extensive, 500-title outdoor adventure section, while weekenders peruse their gifts and greeting cards—all made by local artisans. Gould also stocks 200 different cookbooks. And the store's Books on Tap club meets every first Tuesday at Folsom's Red Bus Brewing to discuss the book of the month. Naturally, all dogs are welcome. 724 Sutter St. Folsom. 916-790-8760. rubysfolsom.com —H.L.J.
The name says it all—so what has kept this little-bookstore-that-could chugging along for over 40 years? It's the human recommendation and curation engines there, like owner Peter Keat and longtime staffer Finian Scott-Small, who live to pair rare books with exceptional readers. A collector's collector, Keat delights in tracking down rare titles—and turning new readers on to them. "There are lost classics that people aren't aware of. One of my absolute favorite books—and it's not very well known—is November Grass by Judy Van der Veer," Keat enthuses. "It's about southeastern California, one of the most beautiful books I've ever read."
Filled with new and used books that are stacked to the exposed rafters 10 shelves high in some places, midtown's Time Tested Books combines the warmth of a rustic, brick-walled bookshop with whimsical Easter eggs to amuse browsers. Whether it's the retro KZAP sign over the music section, the plastic hula dancer in the travel section, or the author-themed Time Tested Bucks gift certificates drawn by Keat's wife, artist Miriam Davis, every detail is carefully thought out.
That personal touch extends, of course, to the books on display, many of them sourced from places no algorithm can reach. "Each time we'd travel, we would stop at bookstores and I would look around for books that I could buy and resell," Keat says. The end result is a store full of rare earthly delights just waiting to be discovered between the covers.
1114 21st St. 916-447-5696. timetestedbooks.net —Sean Timm

Everyone in Oak Park knows that Underground Books is Georgia West, aka Mother Rose, who opened her nonprofit bookstore in 2003 in the 40 Acres Complex affiliated with her son (and former Sacramento Mayor) Kevin Johnson's St. HOPE organization. West set the tone for the store, and for the surrounding neighborhood's eventual revitalization, welcoming authors to well-attended readings at the nearby Guild Theater.
The pandemic afforded the opportunity for a remodel and expansion, and the inviting brick-walled space now brims with artisanal gifts from local Black makers, dubbed the 40 Acres Market, along with even more selections from African American literature, an expanded children's section and an upgraded online presence. "During the crisis with the George Floyd killing in Minnesota, people were supporting local bookstores, [buying] books like How To Be an Antiracist, White Fragility, Caste," West says. "And they're still interested in Eldridge Cleaver, the Black Panthers and Fred Hampton. People want to know about African American culture, and with the pandemic, they're reading more books."
If there is one message over the years that she has imparted to her customers and to the scores of students from her alma mater Sacramento High who have interned under her generous wing, it's this: "There's more to life than our phones and social media. There is great knowledge and wisdom in books." 2814 35th St. 916-737-3333. underground-books.com —H.L.J.

"I saw a TikTok of someone opening a bookstore and said, 'That looks fun!' " laughs Noelle Baganz. At the time, just last year, she was a senior at Sacramento State, working part time at the California State Railroad Museum. What she didn't realize was that her sister, Claire Bone—a school library volunteer—had always harbored a dream of opening a bookstore and took her sister's casual comment as a sign.
Five months later, the Wild Sisters Book Company opened in a quaintly shabby chic space in Tahoe Park's Tallac Village shopping center, where you can nibble on a homemade macaron with your nose in a copy of Get a Life, Chloe Brown, Act Your Age, Eve Brown or Take a Hint, Dani Brown, a series of Baganz' favorite books about—what else?—some obstreperously adventurous sisters.
The store's homey vintage vibe is casual by design. "Sometimes if it looks too pretty, people won't buy it because they don't want to disturb the display," says Bone, to which Baganz adds, "One of the first things people remark on when they walk in is the smell. It smells like books."
A lot of what drives sales in such a quirky, personal store is the sisters' own passions, so Baganz sells a lot of true crime, while Bone is responsible for the window display of Outlander books—her personal favorite series. Graphic novels and cookbooks are also big movers, and it's hard to keep the children's section from looking bare, as the titles fly off the shelves with alacrity in this family-forward neighborhood where, as the book says, the wild things are. 3960 60th St. 916-942-9250. wildsistersbookco.com —H.L.J.

If you're a downtown worker looking for something to tuck into during your lunch break or a relaxing weekend, Capital Books on K Street is your jam. And chances are your tastes are pretty highbrow, according to Ross Rojek, who owns the store with his wife, Heidi. "We're not a James Patterson store," he says, "We sell a lot of literary fiction and poetry. The Hill We Climb by [former National Youth Poet Laureate] Amanda Gorman was in our top 20 best-selling books of last year. Song of Achilles [scholar Madeline Miller's retelling of the Illiad] was in our top 20 the past two years."
The shop also hosts some big-name readings and signings, which over the past year have included Congressman Adam Schiff stumping for his book Midnight in Washington (Mayor Darryl Steinberg led a Q&A session before an intimate crowd of 250) and an in-store event with Gov. Gavin Newsom signing copies of his baseball-themed children's book about dyslexia, Ben & Emma's Big Hit. The store's basement has recently debuted as a space for sci-fi, fantasy and horror genres, complete with a Harry Potter room under the stairs. "It's what I describe as Harry Potter meets the Batcave," says Ross, a longtime sci-fi fan.
Meanwhile, the Rojeks are also taking over the former Oblivion Comics & Coffee space around the corner and turning it into a Lord of the Rings-inspired cafe and board game venue called There and Back Again, which is set to open in mid-March. The establishment will be BYOBG (bring your own board game—you'll also be able to rent games like chess and Catan, or even sample decks of Magic: The Gathering) and will feature a wall menu with items spelled out using Scrabble tiles.
Covid has led Capital Books to expand their web presence as well, which now makes up 10% of revenue and allows them to keep hiring artists to paint the boarded-up storefronts of the neighboring businesses that didn't quite make it. A capital idea if ever there was one. 1011 K St. 916-492-6657. capitalbooksonk.com —H.L.J.

"Elk Grove didn't have a general interest bookstore," says Emily Autenrieth—a hip mom whose shock of purple hair matches her rainbow face mask. An Alaska native, she and her spouse Ryan moved to California to raise their kids. "So I thought, 'How cool would it be if we had a diverse, multicultural, inclusive space that was family-friendly?' "
For the first two years, A Seat at the Table operated as an outdoor pop-up bookseller before Emily—previously a tech writer—and Ryan—who still works as a school counselor—signed the lease on the bookstore and cafe space last April. Their two kids, first grader Audrey and sixth grader Caden, are the de facto book buyers for the store, vetting every title for the store's children's section—the phrase "kid approved" has real meaning here. Around half of the shop's square footage is devoted to children's books, and the kids' play area includes a replica vintage travel trailer and a picket fence. There's also a quiet room, which Emily calls "a safe haven for neurodiverse and nursing people or anyone who needs a sensory break."
Parents who need a break themselves can sign up to use the shop's co-working space for some quiet me-time. But it's that thoughtfully curated inventory that makes A Seat at the Table more than just a neighborhood bookstore. "It's not that we don't carry straight white male writers," says Emily, "but you'll see a lower percentage of that on our shelves."
They also don't carry J.K. Rowling's books due to the author's widely criticized comments regarding the transgender community; or Dr. Seuss books, some of which have been pulled from circulation by the author's own estate for containing racist imagery. Instead, they recommend Harry Potter fans dip into B.B. Alston's Amari and the Night Brothers, about a young Black girl who, not unlike Potter, gets invited to a program for people with magical abilities.
After all, there is nothing more magical than getting lost in a great book.
9257 Laguna Springs Ave. Elk Grove. 916-538-3482. aseatatthetablebooks.org —H.L.J.

With graduate degrees in law and Russian history, Stan Forbes is about as well read and erudite an individual as you're likely to meet, and the shelves of the former Davis city councilman's bookstore reflect that. But like a modern-day Jean-Jacques Rousseau, he's as interested in educating young minds as stimulating mature ones, which is why you'll find a table of titles on World War II steps away from a collection of wooden toys and a display of dinosaur figurines.
Avid Reader came to Sacramento in 1994, seven years after Forbes and his then-wife Alzada Knickerbocker founded the original Davis shop (which is now under new ownership), but the store has only been at its current location at 20th and Broadway since 2017. The pandemic prompted Forbes to increase the space allocated to toys and games, mental manna for kids challenged by too much home time, making this outlet a mecca for parents looking for an edifying outing.
The extensive magazine selection, which includes harder-to-find publications like Foreign Affairs and BBC History, is also destination-worthy for those looking to increase their print media consumption—Forbes himself reads The Atlantic and The Economist cover to cover religiously.
And if you ask this avid reader to recommend three books everyone should read? "Guns, Germs, and Steel [by Jared Diamond] and Cadillac Desert [by Marc Reisner]—two absolute classics," he says, citing two works on how the environment shapes us, and we shape the environment. "And The Rise and Fall of the Third Reich [by William L. Shirer]. It has stood the test of time—it's right on." 1945 Broadway. 916-441-4400. avidreaderbroadway.com —Sean Timm

Back in 2011, when the Borders bookstore chain closed, Tina Ferguson blamed Facebook. "People want to be on Facebook, on the computer rather than having their face in a book," she quipped to a friend over coffee—and the idea for a bookstore was born. The soon-to-be empty-nester, who spent years as a stay-at-home-mom after a career in sales, was looking for her next chapter, so she went home and googled "How to open an independent bookstore." She signed a lease in the El Dorado Hills Town Center shopping mall and opened in 2012.
She hired the former managers of the Borders children's section, who created a strong program with some unique features that make the shop a regional destination. For example, in addition to hosting children's book authors for readings and signings, at story time, the kids read aloud to a pair of therapy dogs—two Welsh corgis named Bryn and Emma, who belong to local author Jim L'etoile. "They have these big ears, so they really look like they're listening to you, and they give confidence to these young readers, breaking down fears and anxieties; it has been a really positive thing," says Ferguson.
Adults find the store's presence therapeutic, too. "On our opening day, a woman came into the bookstore, and she was crying. I walked up to her and offered her Kleenex and asked, 'Are you okay? Is there anything I can do?' And she said, 'I'm just so happy there's a bookstore.' I realized it's a sanctuary for so many," Ferguson says. "We have a customer who is in her 90s who has been a member of our book club since we first opened, and we are on her emergency contact list if something happens to her—because we are family now." 4359 Town Center Blvd. El Dorado Hills. 916-941-9401. getyourfaceinabook.com —H.L.J.

Since its debut in 1980, Richard L. Press Fine and Scholarly Books on the Arts was a haven for lovers of rare books on all things art—painting, photography, sculpture, graphic arts and more—for generations of customers. But in early 2020, he sold the inventory of 20,000 books to an Ohio-based bookseller who had planned to liquidate the entire collection.
To accomplish that task, the new owner hired Miranda Culp, a writer who has spent most of her adult life working in bookstores, and Laurelin Gilmore, an artist with a degree in library science, to help. "Then Covid hit," says Culp. And in the process of archiving the collection, the two fell in love with the shop and what it meant to the community, so they decided to save the store instead. They purchased it and reopened in late November 2020 (only about a week after Richard Press passed away on his 88th birthday) as Amatoria—a name taken from Ovid's epic poem Ars Amatoria (Art of Love).
"We've done our best to maintain the warmth Richard established," Culp says. The shelves are tidier, and there are, she says, "waaayy more houseplants." And way more events too—collaborating with the Verge Center for the Arts and the Crocker Art Museum to co-host artist salons. They have also added "new, juicy, high quality art books to the space," says Gilmore, including new sections on street art and sci-fi and fantasy illustration and psychedelia. "People are excited about us, providing boots on the ground word-of-mouth, and sharing our story online to spread the word. Our instinct that this store is an irreplaceable gem for Sacramento is right on the money." 1831 F St. 916-822-4909. amatoriafineartbooks.com —H.L.J.

"Bookstores are so special in terms of community spaces," says Erin Arnold, who took ownership of Davis' venerable Avid Reader with her husband Brett on Feb.1, 2020—just weeks before the pandemic struck. The store's roots date back to 1987 when Stan Forbes and the late Alzada Knickerbocker opened the space—one of several local bookstores at the time, and then, eventually, the only one.
After a divorce, Alzada kept the Davis store, while Stan kept their second store in Sacramento. When the Davis location came up for sale, the Arnolds purchased the bookstore (along with Avid & Co., the toy store three doors down) because of their passion for what bookstores represent, especially in a college town like Davis.
"People who have spent a lot of time in academia, we dream about things that are bookstore-related because it's sort of an idealized space. We all love You've Got Mail, which I think is kind of required for the literati," she laughs.
The store, she says, is first and foremost a hang-out, with no pressure to buy, and where the staff is as much a draw as the inventory. "We try to hire people who are informally specialists in every genre," Arnold says. "From cookbooks to sci-fi, everyone has their niche." And the pandemic hasn't slowed the store down one bit. In fact, Arnold says that not only did they manage to retain the entire staff, "we've more than doubled it."
So, if you're looking for a new book to dive into, or just want to pick up a Ted Lasso "Believe" sticker, or take a good long sniff of a "Jane Austen" scented candle (a blend of citrus, juniper and verbena) before heading down the street for some student-priced all-you-can-eat sushi, make yourself at home. 617 2nd St. Davis. 530-758-4040. avidreaderbooks.com —H.L.J.

"I always liked the quaint, little bookstores that maybe had less of a selection but showcased books that were very carefully chosen, ones I wouldn't seek out on my own," says Sabrina Nishijima.
Her store, East Village Bookshop—which opened last June and is located just four blocks from McKinley Park—is exactly that, perhaps the platonic ideal of the neighborhood bookstore, the scale and substance instantly enthralling, as something on every table beckons you with a serendipitously delightful cover, making you want to take up hobbies you'd never heretofore dreamed of: One-Plank Woodworking Projects, or The Book of Difficult Fruit: Arguments for the Tart, Tender and Unruly (with Recipes), or A Cloud a Day: 365 Skies from the Cloud Appreciation Society.
And if you want to discover hidden adventures around town with the kiddos, whether it's riding a cardboard sled in Slide Hill Park in Davis or taking free swan tours in Yuba County, you can pick up Nishijima's own guidebook, 1,001 Things To Do in Sacramento With Kids (and the Young at Heart).
But even if you walk out with a cold popsicle and a $4 copy of a short story collection by Miranda July from the used shelf instead, you'll feel like your imagination just took a brisk walk around the block. 3604 McKinley Blvd. 279-202-9018. bookshop.org/shop/eastvillage —H.L.J.