The Ultimate Guide to Apple Hill
For many Sacramentans, A is for Apple Hill, especially in the fall. Want to know where to go for the best homemade pies or the freshest cider doughnuts? We've got your apples-to-apples guide to the beloved region. Scroll down—your fruit-full adventure awaits.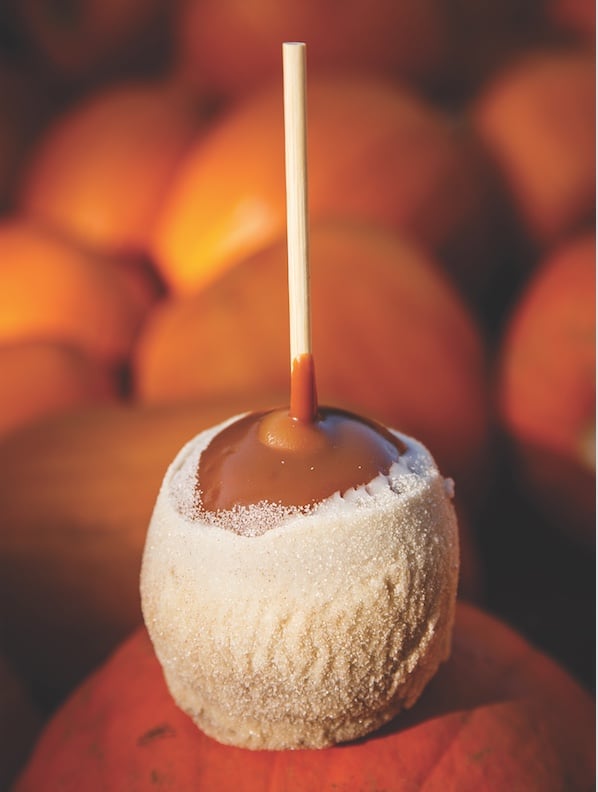 Prep Talk
While you can't really have a bad Apple Hill outing, a little planning can help you sail over the rookie pitfalls. Here are our top strategies for making sure your visit proves fruitful.
Bring storage for goodies. Shallow cardboard boxes (like the kind used by grocery stores for canned goods or by online retailers) are great for keeping pies and other delicate baked goods from sliding around in the trunk and making a mess. An ice chest is indispensable if you want to grab frozen pies or fresh-pressed cider. Reusable shopping bags come in handy for apples and other produce.
Tap the app. Yep, there's a handy (and free) map-based app that lists everything from current weather to traffic conditions to the farms' hours. (The app offered by the Apple Hill Growers Association is tagged with the word "official," and its icon sports the red-and-white sign of the group's logo.) The association's website (applehill.com) also offers a wealth of information, including a farm finder that sorts by opening dates or desired features, from kids' activities to the types of produce for sale.
Beat the traffic. Many visitors from the Sacramento area head straight to the big farms at the western end of the region, eagerly jumping off at the first exit, Schnell School Road, to enter Apple Hill. On busy October days, this route is often clogged and slow. Bypass traffic jams by being patient and starting at one of the easternmost exits (such as Barkley Road or Carson Road; although Carson Road traverses the whole region and houses many big players at its western end, its intersection with Highway 50 is farther east), working your way back toward the west. You'll avoid the crowds with your "reverse commute" and be that much closer to home when you're ready to call it a day.
Stay hydrated. The foothills can still be warm in October, and although most bakeshops sell bottled water, relying on that can get pricey. We suggest bringing a reusable water bottle (many farms have drinking fountains for refilling), or, better yet, start with a cooler full of iced H2O bottles, which you can swap out for homebound treats as the day progresses.
Layer up and wear comfy shoes. A chilly morning often gives way to a blazing afternoon, so dress for changes in weather as well as lots of walking. Also, toss a blanket in the car, both for picnicking on and for swaddling sleepy folk as the air crisps up toward the end of the day.
Pack for a snack attack. Bring paper plates, a knife and other utensils so you can buy whole pies or cakes and enjoy them spontaneously when you stumble on that perfect picnic ground. A roll of paper towels and wet wipes are always good ideas, too.
Leave pets at home. As much as Fido may love it down on the farm—and even though most of the orchards on Apple Hill are canine-friendly—you'll be limited in what you can see and do if you bring your four-legged best friend along. Association rules prohibit tying him up while you duck into a bakeshop or eatery (dogs must stay with their owners at all times), and since cars can heat up quickly even in the fall, letting him sit this one out is the better option.
Skip the stroller. Parking lots are frequently unpaved, terrain can be bumpy, and shops can be crowded, so if you're bringing little ones, consider using a backpack or other carriers, as strollers may be more hassle than they're worth. For walks or U-pick excursions, a collapsible wagon is a great choice for transporting your brood—and it can do double duty as a fruit-hauler.
Be patient. With more than a million visitors every year, the Camino apple farms are a hot ticket, so you may have to wait for parking spots or pies. Take a deep breath—remember it's all part of the experience—or consider postponing your visit until after October, when the crowds thin. All the farms are still open in November, an equally lovely and less thronged time to visit the foothills.