The Ultimate Guide to Apple Hill
For many Sacramentans, A is for Apple Hill, especially in the fall. Want to know where to go for the best homemade pies or the freshest cider doughnuts? We've got your apples-to-apples guide to the beloved region. Scroll down—your fruit-full adventure awaits.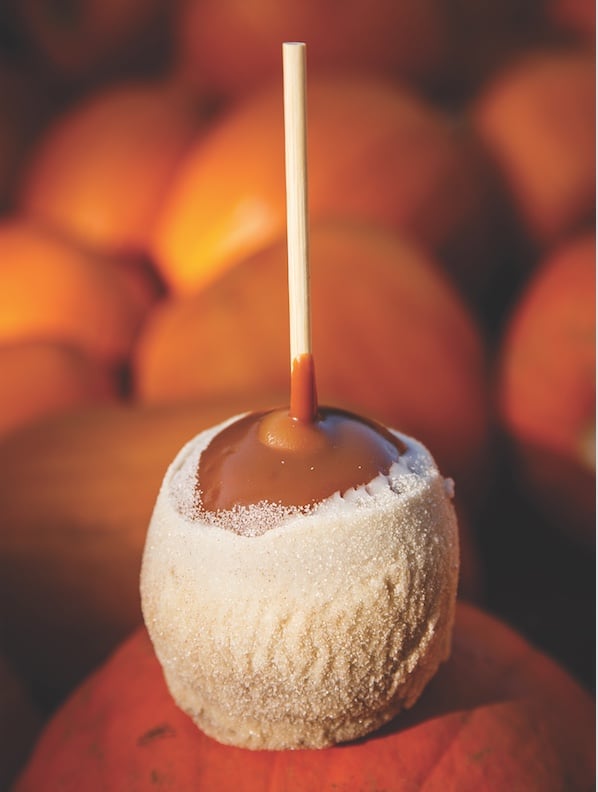 Apples to Apples
Which apple is best for pies? For applesauce? For snacking? Our guide to the distinctive charms of eight popular varieties grown in Apple Hill answers those questions and more.
Illustrations by Emilee Rudd


Call it the Miss Congeniality of the local apple pageant. This beloved sweet apple is excellent for a range of uses, from making pies (the slices hold their shape and, true to its name, the fruit offers delicious flavor) to applesauce and eating. It also keeps well, and has long been one of the most popular apple varieties in the U.S.

Deeply colored, almost purple, this late-harvested, winey apple not only makes for a dramatic fruit-bowl centerpiece, but is also one to seek out if you're visiting Apple Hill after mid-October. Its very firm flesh makes it a good keeper (its slightly astringent notes mellow with aging) and its tardy appearance makes it an excellent choice for holiday pies.

With a tang that's reminiscent of summer lemonade, the Pink Lady (an Australian apple also known as Cripps Pink) is the ideal snack. Its flavor develops best in warmer climates, and it ripens later in fall, making it a standout in the Apple Hill area and a great variety to look for if you're heading up in late October or November.

This traditional green-and-red variety—a favorite for pies, especially when mixed with Granny Smiths to balance the latter's sour pop—has a mildly tart, spice-scented flavor. Although the McIntosh, which was discovered as a chance seedling in 1811, is harvested in late August or early September, it keeps well with refrigeration, so many farms will have it on hand later in the season.
The pleasingly sour, bright-green apple (think mouth-puckering Jolly Rancher flavor) originated from the farm of Maria Ann Smith in Australia in 1868. It's great for baking, with slices that hold their shape in a pie—but we think it feels most at home on a cheese plate next to a glass of old vine zin from Lava Cap Winery.
The versatile, popular Fuji—originally bred in Japan as a cross between the ubiquitous Red Delicious and the obscure Ralls Janet (said to have been grown by Thomas Jefferson)—does well in the Apple Hill area. It's sweet, with fresh-cider taste and a snappy mouthfeel. We prefer it for eating out of hand or accompanying a firm, savory cheese like aged Gouda.
Gold with red stripes, the beautiful, mild Gala is a cross between Golden Delicious and an old New Zealand variety. It's best eaten raw, the perfect choice for fruit salads, but it also works well in applesauce, breaking easily down to a nubbly texture and releasing its quintessential, well-rounded apple flavor as it bubbles away gently.
This bright red, glossy orb is a handsome devil indeed, but supermarket Romes can be bland. The cool nights and hot days of the Apple Hill region, however, lead to an excellent tangy-sweet taste that makes this varietal, which holds its shape well, perfect for baked apples. For extra flavor, hollow out the cores and fill them with brown sugar, raisins and a little butter before baking.