The Ultimate Guide to Apple Hill
For many Sacramentans, A is for Apple Hill, especially in the fall. Want to know where to go for the best homemade pies or the freshest cider doughnuts? We've got your apples-to-apples guide to the beloved region. Scroll down—your fruit-full adventure awaits.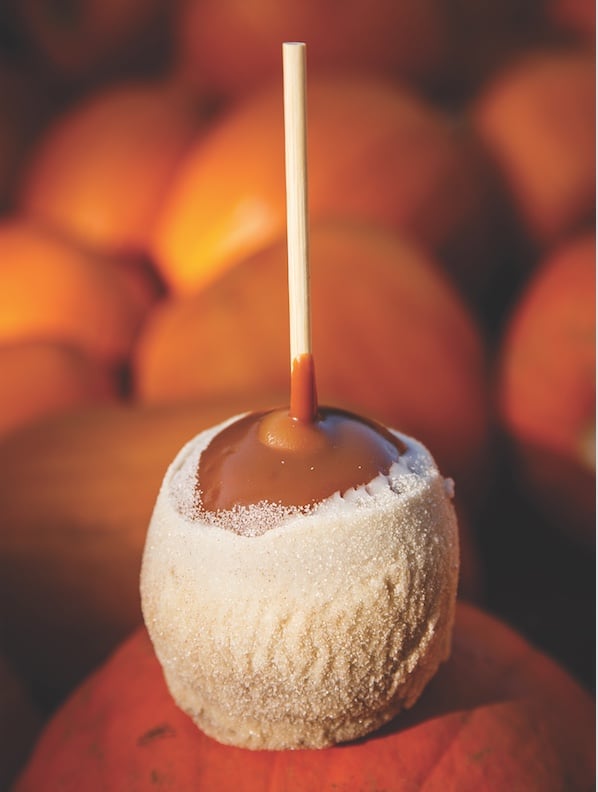 Beyond Apples
Suffering from apple overload? Don't get apple-plectic. Despite its name, the Apple Hill area has more going on than just the titular fruit. Whether you want to stockpile pumpkins for Halloween or pick out the perfect tree for Christmas or stain your fingers handpicking berries, here's the anything-but-apples guide to the region.
SMASHING PUMPKINS
O'Halloran's Apple Trail Ranch
Patrick and Donna O'Halloran's quiet ranch, tucked away at the far northeastern end of the Camino area, offers 30 acres to roam, with a popular cut-your-own-orb, 3-acre pumpkin patch that includes both jack-o'-lantern and pie pumpkins, as well as multicolored ears of jewel-like corn, knobby gourds, and dinner-plate-sized sunflowers for all your seasonal decorating needs. (Don't worry, fall-fruit lovers: they've got you covered there too, with more than a dozen apple varieties, from Mutsu to Winesap, plus pears including Bartlett and Bosc.) Golden light slants through the gnarled branches overhead as you wander through the orchards on the ranch's gently rolling hiking trail, so O'Halloran's is also the perfect place to get that romantic autumn 'gram of you and your boo surrounded by drifting leaves. 2261 Cable Rd. Camino. 530-644-3389. ohalloranranch.com
24Carrot Farm
This 13-acre gem of a farm is hiding in plain sight on the less-traveled Jacquier Road, where East Bay transplant Ben Hansen, a restaurant vet, relocated to grow organic produce. There's a big farm stand featuring burgeoning bins of photogenic veggies, as well as a cornucopia of decorative gourds and pots of local honey. But come October, the sprawling pumpkin patch is where it's at, with a dizzying choice of pick-in-the-field pumpkins, each one more flawless than the next. Pack a picnic to eat by the quiet pond and fill your basket with the flaming sunset hues of fall produce. 2731 Jacquier Rd. Placerville. 530-391-8582. 24carrotfarms.com

Sloan Winters Mountain Orchards
One of just two growers located south of Highway 50, Sloan Winters offers an escape from the Carson Road bustle. The all-organic U-pick pumpkins include hard-to-find varieties like those giants seemingly big enough to fashion a carriage for ferrying Cinderella to the ball. Hay-wagon tractor rides wind through the farm, and kids can feed kid goats lovingly guarded by Sasha the dog. Owner Thomas Sloan's great-grandfather was farming this land as early as the turn of the last century, but it fell into years of fallowness; Sloan is spending his retirement from the Coast Guard bringing the family acres back to life. 3061 Snows Rd. Camino. 916-860-9207. sloanwintersorchards.com
O CHRISTMAS TREES
Harris Family Farm
This seventh-generation farm lies at the far eastern edge of the Apple Hill area in Pollock Pines, at a higher—and thus wintrier—elevation. You'll appreciate the hot apple cider after you've hit the slopes to choose and cut down one of its multiple varieties of conifers, including the cult fave silvertip firs, which have fragrant, gray-green needles on slender, mod branches that show off ornaments to perfection. After you've buried your nose in an armful of cedar garlands and boughs, we dare you to leave without some. 2640 Blair Rd. Pollock Pines. 530-644-2194. harrisfamilyfarm.com
Santa's Acres
Looking for the rustic experience of heading into wilderness to choose your own tree, but not quite up for an unmapped forest adventure? This chemical-free farm, with 10 ungroomed, rambling acres of choose-and-cut Douglas firs, white firs, silvertips and other conifers, feels wild, but you won't get lost, making it the ideal compromise for city folk. Owner Matt Sorensen grew up on the farm, which was founded by his grandmother and forester grandfather, and in addition to Christmastime evergreens, Santa's Acres feature deciduous liquidambars, planted by the elder Sorensen, that create a glorious, Insta-perfect late-autumn display. Bunches of holly come free with your tree, and fire pits, cider and hot cocoa round out your jolly experience. 2921 Barkley Rd. Camino. 530-391-5865
Hillside Tree Farm
In 1964, the storied Apple Hill Smorgy, a dessert potluck that was the founding event of the Apple Hill Growers Association, was held at what was then El Dorado Orchards—now Hillside Tree Farm. The 20-gauge train that circles the farm's two glassy ponds was used to collect the fruit harvest back in the day, and you get a free ride when you buy a tree, like a long-needled Swift Silver, which glows with a distinctive shimmery bluish hue in the dark. Owner Mark Visman, who opened Hillside in 1991, was the first in the area to plant this rare variety. 2881 North Canyon Rd. Camino. 530-621-2053. hillsidetreefarm.com
✦ ✦ ✦
Open Seasons
While many apple ranches close by Thanksgiving, some remain open into December, and by heading up the hill then, you can pick up holiday gifts and might even find a dusting of seasonal snow. For instance, High Hill Ranch (highhillranch.com) hosts a daily craft fair—with everything from handcrafted birdhouses to decorative candles through Christmas Eve. In late spring and throughout the summer, several farms offer U-pick blueberries and other berries, including Harris Family Farm, which also holds summer "high tea" events in its orchard. 24Carrot Farm boasts a summer produce farm stand, U-pick flowers, and gatherings like a sunset movie night at the ranch. For those pining for U-pick apples, consider an early September visit for the best harvest-your-own opportunities.
✦ ✦ ✦
Liquid Assets
From old vine zinfandel to exotic Portuguese alvarelhão, El Dorado County wines are increasingly worth toasting.
The rolling elevation changes, rich volcanic soil, warm days and cool nights that make the Camino region ideal for apples are similarly suitable for grapes. El Dorado County is an American Viticultural Area (AVA) with a long heritage and an unusually diverse array of vintages, from sprightly whites to big, bombastic reds that make you sit up and say hello.
"We have probably the most dynamic terroir in the world for growing grapes," says Lexi Boeger, vice president of the El Dorado Winery Association and marketing director for Boeger Winery, one of the area's biggest brands. ("Terroir" is a wine term that includes the total environment influencing the grapes, including soil, climate, elevation and sun exposure.)
While the El Dorado region has a history of winemaking dating back to Gold Rush days, commercial wine production died with Prohibition, not to be revived until 1972, the year Greg Boeger (Lexi's dad) founded his winery, boldly staking his claim with a barbera—then relatively unknown in the United States, but a favorite in Italy.
El Dorado features more than 20 distinct soil types, and its frequent elevation changes, ranging from 1,200 to 3,500 feet above sea level, create pockets of different temperatures, or microclimates. Its sloping foothills offer varied sun exposure, which enables wineries to grow several different varietals within a single small vineyard.
"You can literally find the right niche for the right variety," says Boeger, "and because of that, we have over 70 varieties in this county. And this county is tiny. There is no other wine region in the world that even comes close to that many distinct varieties in one AVA." By contrast, Napa Valley boasts around half that number.
In the warmer lower elevations near Placerville, growers focus on such varietals as Northern Italy's robust barbera and California favorite zinfandel, which was first planted in the area over 150 years ago. El Dorado winemakers today make all the usual suspects, like cabernet sauvignon, syrah, merlot and sauvignon blanc. But they have also found a niche growing lesser-known varietals like spicy, elegant tinta cão, a cool-climate Portuguese grape used in port and red blends, and alvarelhão, a rare northern Portuguese red—Madroña Vineyards, which makes estate ports, uses both in its dessert wines, and Rucksack Cellars uses them in their signature Portuguese dry blend. French white muscat (called muscat canelli by area winemakers) is used for lightly sweet and dessert wines by Lava Cap, Boeger, and others. Other less-common French varietals, such as petit verdot, cabernet franc and viognier, also thrive here.
"We have been a small, underdog, unknown region for a long time," says Boeger. "This region is making its mark. It's exciting."
✦ ✦ ✦
FIVE VINTNERS TO VISIT
The Camino area boasts dozens of wineries, from big to boutique. Here are five of our favorites, where it was love at first sip.
Rucksack Cellars
Roll up to the casual open-air tasting counter, which opened last year, and the first thing you see is a wooden bunny on wheels, salvaged from a local theater company's Monty Python production. Rucksack's chardonnay lets the grape's tropical notes shine, and the seco, a red blend of Portuguese varietals, offers deep, structured berry notes. 3030 Carson Rd. Placerville. 530-647-2113. rucksackcellars.com
Bumgarner Winery
Housed in a 100-year-old barn, this winery specializes in refined and distinctive reds. We love the cherry-scented, high-elevation pinot noir and the smooth tempranillo. Don't miss the unusual selection of hard ciders, including a citrusy dry-hopped version and a punchy gingered one. 3550 Carson Rd. Camino. 530-303-3418. bumgarnerwinery.com
Madroña Vineyards
Woodsy and welcoming, the tasting room pours about 10 of the 27 estate vintages the winery makes. Rhone and Bordeaux varieties stand out here, especially the cabernet franc, but don't miss the inexpensive El Tinto, which makes a great table wine. Madroña is also known for its Portuguese blended port. 2560 High Hill Rd. Camino. 530-644-5948. madronavineyards.com
Boeger Winery
The oldest of the El Dorado wineries is not to be overlooked, with a tasting room located in a rustic 1872 farmhouse serving juicy zins and surrounded by idyllic picnic grounds. When owner Greg Boeger was clearing hillside blackberries, he found old vines of Gold Rush–era zinfandel, which proved to have an entirely unique DNA signature; they form the basis for the winery's small-batch Rosa Canina zin. 1709 Carson Rd. Placerville. 530-622-8094. boegerwinery.com
Lava Cap Winery
The wines are spectacular—in particular, the peppery syrah or the powerful old vine zin. You can't beat the gorgeous view from the scenic patio or the snack selection (think gourmet crackers, salami and other savory treats for nibbling) either. Adding a quirk factor are the informative signs touting geological trivia about the location's namesake "lava cap," a remnant of its distant volcanic past. 2221 Fruitridge Rd. Placerville. 530-621-0175. lavacap.com
✦ ✦ ✦
The Fizz Biz
Local orchardists and vintners have caught the craft drink craze and are starting to dabble more in fermented hard ciders. Fizzy and ranging from dry to lightly sweet, with crisp fruit notes and a light-bodied mouthfeel, ciders can appeal to partisans of both beer and wine. Thirsty travelers will also find apple wines and even apple beers. Ready to get tasting? Some favorite spots: High Hill Ranch (highhillranch.net) offers tastings of hard cider and apple wine, plus indulgent caramel apple cider shakes inside its Wine Shack. Delfino Farms is soon to launch a winery, but meanwhile they currently produce a dry sparkling cider. Jack Russell Brewery makes four flavors of cider (apple, peach, blackberry and raspberry), as well as an apple ale. Fans of mead, the honey wine, will also find their thrill here. Bumgarner Winery has three types of cider on tap: traditional hard apple cider, with a straw-pale color and tart flavor; dry-hopped cider that takes on beer-like notes; and the popular, zingy ginger.