The Ultimate Guide to Apple Hill
For many Sacramentans, A is for Apple Hill, especially in the fall. Want to know where to go for the best homemade pies or the freshest cider doughnuts? We've got your apples-to-apples guide to the beloved region. Scroll down—your fruit-full adventure awaits.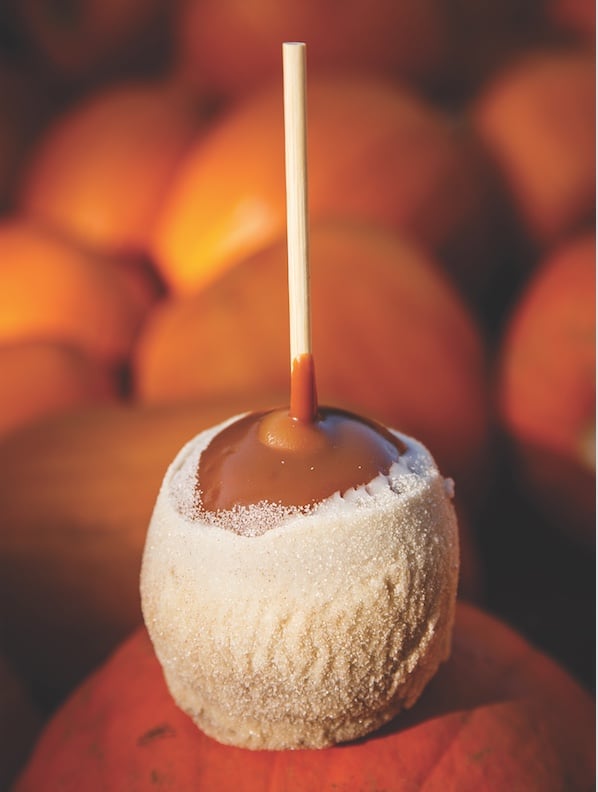 Forever Young
The Apple Hill region can seem like one big playground, but a few spots hold extra magic for the area's littlest visitors. Here are our favorite activities for the weenager set.
Travel Back in Time
Got children who are fascinated with pioneers or American Girl dolls? Head to Larsen Apple Barn, where they'll go wide-eyed for a peek into the distant past at the Apple Hill Museum. The Larsen family has been farming in Camino since the 1860s, and the building is crammed with artifacts, including old saddles and snowshoes and a replica of their onetime log cabin, replete with antique china plates. The property also boasts vintage tractors and automobiles, and a big high-wheeled buggy. Stop for a family photo at the picturesque mill wheel on your way out. 2461 Larsen Dr. Camino. 530-644-1415. larsenapplebarn.com
Go Fish
Surrounded by tall pines and with a view of the distant blue ridges of the Sierra, High Hill Ranch's fishing pond is pretty enough to make you forget the crowds that flock to this popular spot—and teeming with trout, catfish and sturgeon. Prices are modest, with a permit, pole rental and bait costing just $9 (although if your spawn reels in a whopper, the fish costs $11 per pound). Our best tip to anglers young and old is free: hold the fish out in front of you at arm's length so it looks its biggest for the camera. 2901 High Hill Rd. Placerville. 530-644-1973. highhillranch.com
Hunt for Treasure
Real gemstones, fossils and arrowheads are all waiting to be discovered at Apple Ridge Farms, where kids can mine bags of gemstone ore ($5-$20 each) for precious objects using real sluice boxes with running water. Owner Kandi Tuso, a mom herself, wanted to add an activity to her spacious farm that would engage kids' imaginations, and she says she found it: her pint-sized patrons adore sifting for valuables and walking away with something tangible to keep. The farm also offers a hay bale maze, crafts the grown-ups can browse, and a winding nature trail. 1800 Larsen Dr. Camino. 530-647-0613. appleridgefarms.com
Become Maze Runners
Kids Inc. may have changed its name to Delfino Farms, but it's retained its original child-friendly attractions. The ranch offers not one but two corn mazes. The smaller one sits at the base of a wide grassy hill kids love to roll down, and it's ideal for the younger set. A few yards up the road from the main farm is the more challenging and much bigger maze—nearly an acre in size and full of blind alleys, twists, turns and tricks, it will baffle and intrigue older kids (and, let's be real, parents too). At just $2-$5 per person, prepare to be happily mazed. 3205 N. Canyon Rd. Camino. 530-622-0184. delfinofarms.com