The Ultimate Guide to Apple Hill
For many Sacramentans, A is for Apple Hill, especially in the fall. Want to know where to go for the best homemade pies or the freshest cider doughnuts? We've got your apples-to-apples guide to the beloved region. Scroll down—your fruit-full adventure awaits.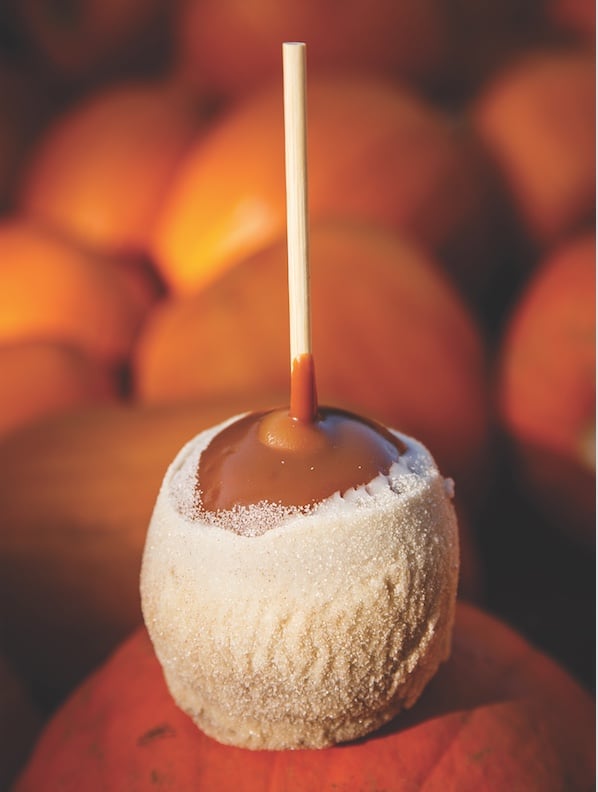 Top Tart
What to do with those bushels of Golden Delicious you bought? Make a tart with this easy recipe, which brings the fall flavors of Apple Hill to your table.
Dutch Apple Tart
This simple apple dessert combines the taste of a traditional, streusel-topped Dutch apple pie with the look of a sleek, modern tart. The vintage Dutch apple pie recipe in the Apple Hill Growers' cookbook, Favorite Recipes of Our Apple Hill Farms, uses bitters to add a haunting, subtle note to the custard that moistens the apples. We borrowed that flavor, and the original recipe's easy press-in crust, for this autumnal treat.
(Serves 8)
Tart
1 ⅓ cups flour
⅓ cup brown sugar
½ tsp salt
¼ cup oatmeal
½ cup butter, melted
3 Golden Delicious apples, peeled and thinly sliced
1 tbsp granulated sugar
Glaze
¼ cup apple jelly
2-3 dashes Angostura bitters
To make the tart, preheat the oven to 400ºF. In a food processor, pulse to combine the flour, brown sugar, salt and oatmeal. Pour in the melted butter in a thin stream, pulsing the motor until the mixture starts to come together. Transfer the mixture to a 9-inch tart pan and press evenly into the bottom and up the sides to form the crust.
Arrange the sliced apples in a spiral in the tart shell. (They will shrink during cooking, so pack them in tightly.) Sprinkle with granulated sugar. Place the tart in the
oven and bake until the crust is browned and the apple edges are beginning to brown, around 30 minutes.
While the tart is baking, make the glaze. Melt the apple jelly in a small saucepan over low heat or in the microwave. Stir in the bitters. Keep the liquid warm over very low heat, stirring occasionally.
Remove the tart from the oven and brush the apple slices carefully with the warm bitters glaze. Return the tart to the oven and continue to bake until the apple edges are caramelized and golden brown, 8-10 minutes longer. Take it out of the oven and place it on a wire rack to cool. Let it cool completely, slice into wedges, and serve.