Tiger changes its stripes and relaunches with dual dining concepts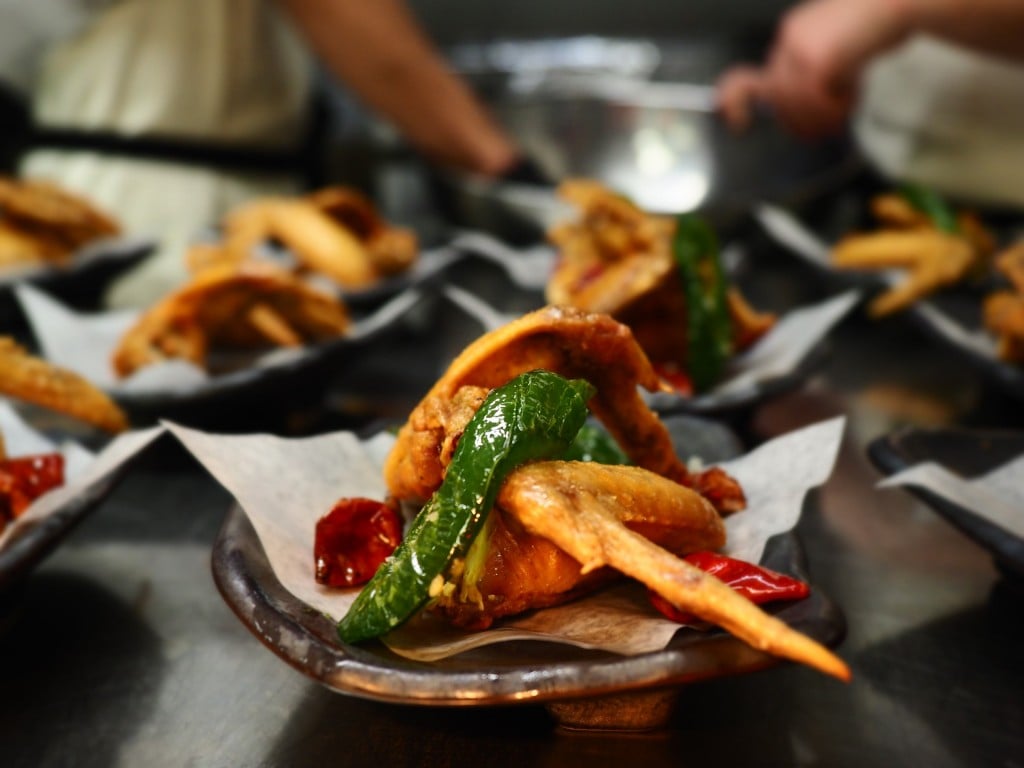 Downtown's Tiger restaurant continues to reinvent itself. On Friday, April 2, the space will open for weekend service with two new back-to-back nightly concepts—"Dinner as a Show" and "Black Cat Diner"—by the Sacramento events company Hall of Fame (HOF), known for putting on the 2019 pop-up nightclub series, Tiger After Dark, in the same space. This is the fifth iteration for Tiger since owners Sonny Mayugba and Dave Pringle (also shareholders in Solomon's Delicatessen and The Grateful Bread) opened the space on the 700 block of K Street in 2018 with a dim-sum-style concept.
Dinner as a Show is a ticketed music club that opens at 7 p.m., offering a four-course prix fixe meal that changes weekly depending on executive chef Byron Hughes' farmers' market haul. A veteran of the kitchens at Kru and Canon, Hughes is also the co-host of The Cook-In, a virtual cooking series from his pop-up dinner company, Last Supper Society. Inspired by Sacramento's historic jazz clubs, many of which were located along K Street in the days of ragtime and the Big Band era, Dinner as a Show will host a house band fronted by singers Alicia Hayes and Julian Cunningham, known locally for slaying R&B covers at the Shady Lady Saloon, plus other regional and visiting talents.
"We come from organizing warehouse parties, pop-up events and pop-up restaurants, so we really wanted to bring that big energy into this space," says Tony Christ, Tiger general manager and partner at HOF.
At 9 p.m., the concept will switch to Black Cat Diner. Open until 1 a.m., the kitchen will offer elevated bar food like fried green tomato Parmesan and the Black Cat Chop Cheese, an upscale spin on a deli classic—Hughes crafts his version of the New York-style cheesesteak with a blend of ground chuck and rib eye spiced with Calabrian chilies, smothered in gooey and unapologetically "yellow" cheese, then sandwiched between two slices of toasted Japanese milk bread from Sacramento cottage bakery Pastry Cat. "I want to bring fine-dining technique to ordinary food," says Hughes. "I'll take something as simple as chicken wings and throw a ton of technique on it." In case you're wondering, the wings at Tiger will be salt-cured for 24 hours before they achieve fall-off-the-bone tenderness during a 40-minute confit. They're then flash-fried and topped with fresh jalapeños and green garlic.
The bar program will be spearheaded by Jared Murray, formerly of True Laurel in San Francisco, and will prioritize local produce. The Snap Your Fingers, for example, is a classic martini that features a house-made gin infused with sugar snap peas, while the Buddy Love is a whiskey sour flavored with sous vide strawberries and crème de cacao that is meant to be reminiscent of chocolate-covered strawberries.
Mayugba's wife Lynn partnered with designer Whitney Johnson, known for decking out local restaurants and bars like Kru and Shady Lady, to create a "filthy gorgeous" aesthetic for Tiger in 2018. Much of the restaurant's décor—from the plush jewel-toned banquettes to the graffiti on the original concrete walls—remains the same, but the dining experience will get a Covid-conscious upgrade: patrons will be seated at 25% capacity on the mezzanine while the staff will work on the ground level, and instead of servers, dining "guides" will lead you to your table and explain the online ordering platform, available through a QR code.
The Tiger team hopes the fifth time will be the charm. "We have this really beautiful space, and we're just trying to do something that's going to entertain and excite people," says Christ. "That's what we do best."
Fri.-Sat. 7 p.m.-1 a.m. 722 K St. tiger700block.com
You Might Also Like
A Rare Bird, Darling Aviary
A sneak peek at the colorful new Devil May Care Ice Cream shop
The team behind de Vere's and The Snug launches Ro Sham Beaux wine bar
Special K: After decades of blight, one of Sacramento's most critical blocks is about to become an instant neighborhood