Tower Bridge dinner to once again cap Sacramento's Farm-to-Fork Celebration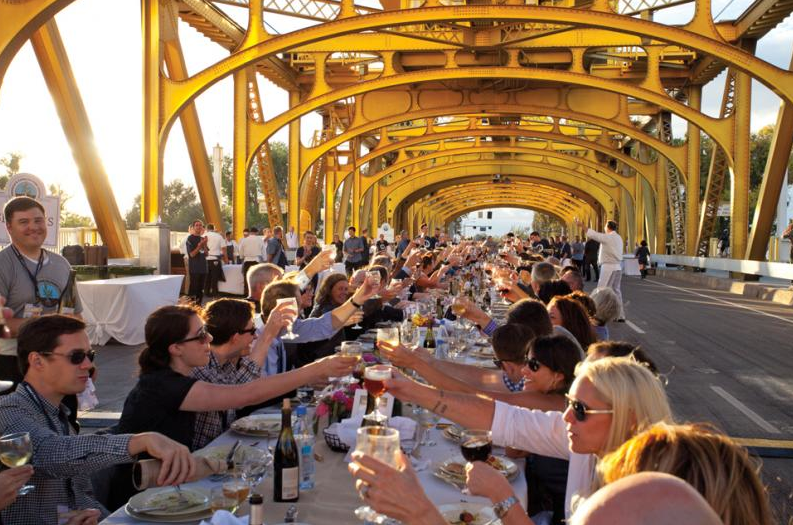 This morning, The Sacramento Convention & Visitors Bureau announced that the gala dinner that will cap off Sacramento's second annual Farm-to-Fork Celebration will return to the Tower Bridge. The date of the dinner will be Sept. 28.
The SCVB's senior vice president Mike Testa says that due to logistical concerns, organizers were considering other locations for this year's gala dinner, but ultimately decided the event should keep its home on the golden Sacramento icon that spans the Sacramento River.
"Based on the demand last year and the huge interest it generated, we felt like at least another year was in order to allow more people up there and really celebrate the food in the region," Testa says.
Approximately 600 people attended last year's dinner, for which tickets sold out in just eight hours. This time, more than 30 of the region's top chefs—led by Dawson's executive chef Jason Poole and Hook & Ladder Manufacturing Co. executive chef Brian Mizner—will prepare a multicourse feast using locally sourced ingredients.
Other Farm-to-Fork Celebration events this September will include the Legends of Wine event on Sept. 18, featuring samples of the region's best wines selected by experts Darrell Corti and David Berkley, as well as the Farm-to-Fork Festival on Sept. 27, which Testa says could attract up to 34,000 people to Capitol Mall.
Tickets for the Tower Bridge dinner will cost $175 per person (and $5,000 for a table of eight, which includes additional benefits like name recognition on the event program) and will go on sale on Monday, July 21, at 10 a.m. Call 808-7777 or visit farmtofork.com for more information and to purchase tickets.