Treat yourself to Monday brunch this Presidents' Day at these seven local restaurants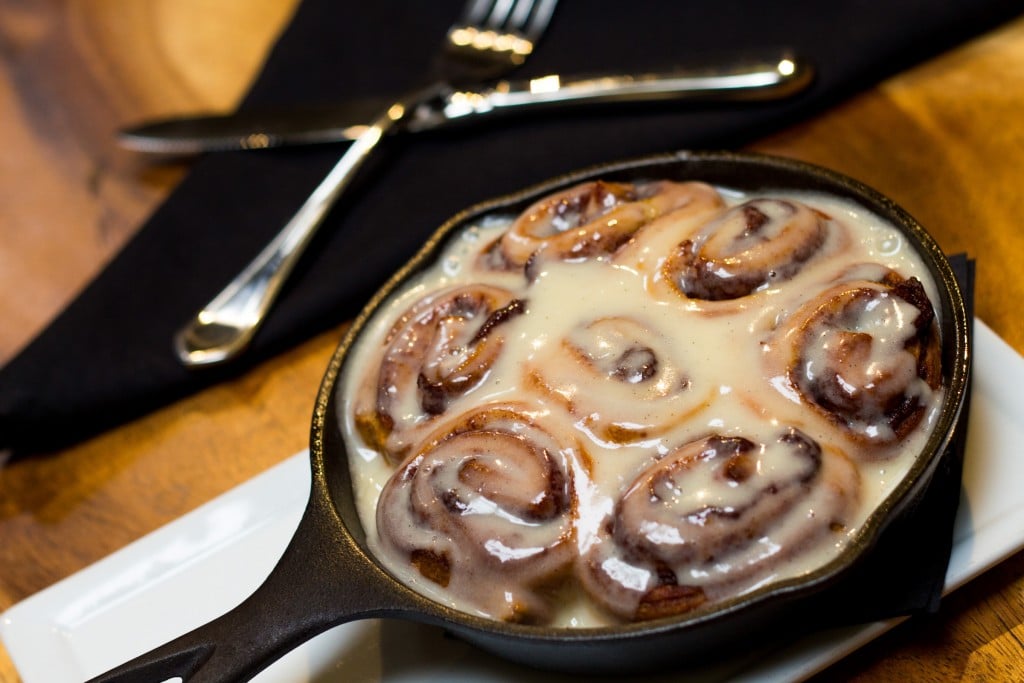 This Presidents' Day weekend, exercise your constitutional right to eat brunch on a Monday if you want to. Here are seven places dishing out everything from Dungeness crab eggs Benedict to apple pie buttermilk pancakes this holiday.
Cafe Bernardo
Drop by any of Cafe Bernardo's four locations (Capital Ave., R Street, The Pavilions and Davis) for your Monday brunch fix, with signature dishes like the smoked salmon Benedict with two poached eggs and hollandaise sauce resting over flaky salmon and slices of toast spread generously with cream cheese. Don't miss this local chain's amaretto brioche version with grilled banana slices, slivered almonds, toasted coconut flakes, a heavy spread of butter and maple syrup to sop up with each fluffy bite. Trust us, you can try the steel-cut oatmeal and house-made granola another time. 8 a.m.-12 p.m. at Pavilions. 8 a.m.-1 p.m. at Capital Ave. 8 a.m.-2 p.m. at R Street and Davis locations. cafebernardo.com
Cafeteria 15L
Classic comfort food reins supreme at this modern cafeteria-style restaurant in downtown Sacramento. Brunch highlights include the Benedict with two toasted English muffins coated in homemade bacon jam—made with chopped bacon, caramelized onions and brown sugar—topped with slices of thick-cut bacon, poached eggs and hollandaise; as well as the chicken and waffles platter, containing fried chicken breast drenched in Tabasco country gravy that rests on top of a Belgian waffle, with pecan butter and male syrup on the side. And drink up: bottomless mimosas will be served until brunch ends at 3 p.m. 1116 15th St. 9a.m. to 3 p.m. 916-492-1960. cafeteria15l.com
Grange Restaurant & Bar
If you haven't been to Grange since its sleek renovation in late 2016, here's your chance to check it out on a holiday Monday. The downtown restaurant is whipping up seasonal brunch plates like his Dungeness crab Benedict served with a zingy lemon dill hollandaise; the popular huevos rancheros with farm-fresh eggs and classic fixings like guacamole and house-made salsa ranchero; and sweet dishes like the cara cara orange waffles, with sides of pistachio butter, cranberry compote and cardamom-infused whipped cream. 8 a.m.-2 p.m. 926 J St. 916-492-4450. grangesacramento.com
Hook & Ladder Manufacturing Co.
Midtown staple Hook & Ladder will extend its weekend brunch into Monday this Presidents' Day weekend, with menu items like an indulgent breakfast sandwich containing a stack of sausage, an over-easy egg and melty cheddar cheese; and the porchetta Benedict with roasted pork belly and two poached eggs over a brioche bun that's served with a side of addictive fried red potatoes. If you bring your squad, there's plenty of shareable plates, like vegan mac-and-cheese, and colorful cocktails, including the Rosé All Day with two types of rosé, hibiscus syrup, lemon juice, aperol and a splash of soda. 10 a.m.-2:30 p.m. 1630 S St. 916-442-4885. hookandladder916.com
Hoppy Brewing Company
Indulge in generous portions of comfort food at this popular Sacramento brewery (which closes on Feb. 26 before moving to a new location in midtown), like the apple pie buttermilk pancakes and the Hangover Burger, a massive half-pound Angus beef patty with red pepper aioli, a fried egg, bacon and beer cheese sandwiched between a toasted egg bun. Presidents' Day brunch here will also offer all-day "Hoppy Hour" deals on cocktails like Bloody Marys and dishes like the brewery's beloved panko-crusted jalapeño poppers or its bacon-and-Brussels-sprouts hash made with sweet potato tots and topped with jack and cheddar cheeses and chipotle crema. 10 a.m.-3 p.m. 6300 Folsom Blvd. 916-451-4677. hoppy.com
Orphan
This East Sacramento standby serves up a tempting breakfast menu every day of the year, and this Monday is no exception. Try the stack of three blueberry cornmeal pancakes garnished with fruit puree and served with maple syrup, or the savory cakes with bacon and jalapeños folded into a buttermilk batter and topped with crisp grilled jack cheese. On the lighter side, Orphan offers a Zen Breakfast: brown rice and tofu grilled in a ginger-soy sauce with egg whites and steamed spinach. Wash it down with a banana-blackberry smoothie and you just met your Monday #healthgoals. 7 a.m.-2 p.m. 3440 C St. 916-442-7370. orphanbreakfast.com
The Patriot
Talk about national pride. The Patriot, run by local restaurateur Chris Jarosz of Broderick fame, will be dishing up brunch plates worthy of Presidents' Day, like the Ronald Reagan, a sweet cinnamon roll monkey bread dish smothered in gooey vanilla glaze, and El Presidente, a pork chile verde with crisp tortilla chips, two fried eggs and sour cream. For those with an even heartier appetite, there's the Theodore Roosevelt, a crispy chicken-fried steak dish served with cheddar-chive biscuits and herb potatoes drenched in a savory house-made country gravy. 10 a.m.-3 p.m. 6241 Fair Oaks Blvd. Carmichael. 916-550-5080. patriotrestaurant.com
You Might Also Like
Fizz champagne bar to open in Downtown Commons
Mas Taco Bar to open in Dos Coyotes space on R Street
Real Pie Company will reopen in larger location with expanded menu