UC Davis gets in the TEDx spirit with fifth annual event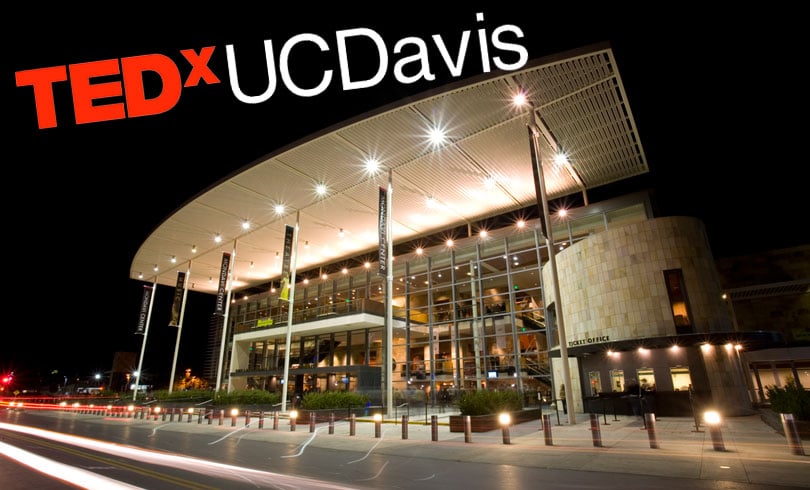 Hear ideas worth spreading at TEDx UCDavis' fifth annual conference, taking place at the university this Sunday, May 4.
These distinctive intellectual affairs are independently organized offshoots of the popular TED (technology, entertainment and design) talks founded in 1984, in which international experts and thought leaders from Bill Gates to Jane Goodall give engaging, enlightening short speeches on all manner of subjects.
At this year's TEDx UCDavis conference—which is being hosted for the first time at the Mondavi Center, a move which more than doubles the event's attendance capacity—speakers will address the theme of "Pause or Press Play."
"We posed it as a question," says Shavika Singha, the group's marketing director. "It is really about when you are kind of at a crossroads—you wonder if you should hesitate and stay where you're at, or just jump in full throttle and take action. All of the talks will be about those moments in life."
The diverse and distinguished cast of speakers exploring that crossroads range from UC Davis chancellor Linda Katehi, who will be joined onstage by her daughter Helena, and state assemblyman Dr. Richard Pan, who currently chairs the California Assembly Committee on Health. Others include Ali Bouzari, a faculty member at the Culinary Institute of America who has consulted celebrated restaurants like The French Laundry and Benu; professor and astrophysicist Marusa Bradac, who will discuss topics like cosmology and dark matter; and associate professor of communication Jorge Peña, who studies how human interactions are mediated through technologies like video games and social networking sites.
The program will be interspersed with performances from campus cultural groups like the Danzantes del Alma folklorico dance troupe and Jadoo, a Middle Eastern-influenced pop-folk band.
Visit tedxucdavis.com for more information about the event, which will take place this Sunday from 1 to 5 p.m. at the Mondavi Center, located on the UC Davis campus at the corner of Mrak Hall Dr. and Old Davis Rd. Tickets ($35 for the general public) can be purchased here. UC Davis alumni will receive a promotional code for discounted tickets if they tweet a photo of their old student ID cards with the #pauseorpressplay hashtag to TEDxUCDavis' Twitter page.