Vintage car trek California Mille makes a pit stop in Sacramento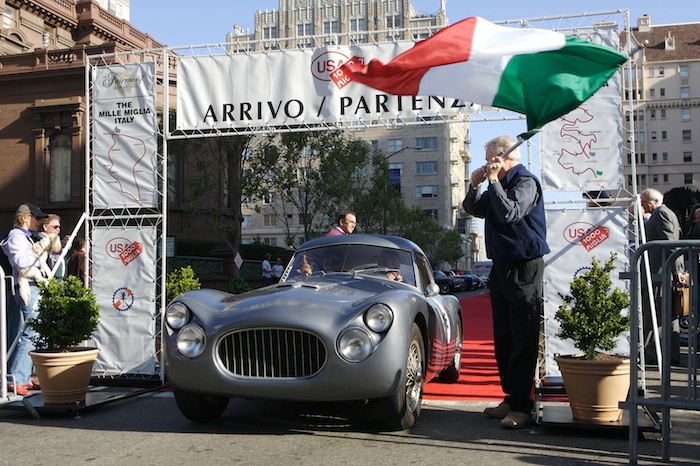 Sacramento, start your engine. You may catch a glimpse of Italian tradition this week when the 24th annual California Mille, a tribute to Italy's famous open road race the Mille Miglia (or "thousand mile"), comes through the region.
Modeled after the Italian race in that began 1927, riders will cruise along back roads in a group, avoiding major highways. The thundering herd of classic cars began its voyage Sunday at Nob Hill in San Francisco, where thousands of spectators gathered to see the automobiles off on their four-day, 1,000-mile journey through cities from Lodi to Lake Tahoe. About 77 entrants representing 14 states and four foreign countries—Canada, Japan, Colombia and England—are involved, including a local driver from Auburn who sits behind the wheel of a 1962 Lotus Elite. This year's lineup of vintage vehicles also features 13 Alfa Romeos, 11 Porsches, six Jaguars and six Ferraris. The oldest vehicle is a 1928 Bentley.
On Tuesday, the convoy will meander down the foothills to Grass Valley's Veterans Memorial Hall for a lunch stop, then continue to Sacramento for an overnight stay at the Citizen Hotel. The classic cars will be parked opposite the hotel at Cesar Chavez Park for admirers to view and chat with car owners. From Sacramento, the riders will continue west to Napa, climb Mount Tamalpais and conclude in Sausalito with an award ceremony May 1.
For more information, visit californiamille.com.