A 65-foot Ferris wheel rolls into Old Sacramento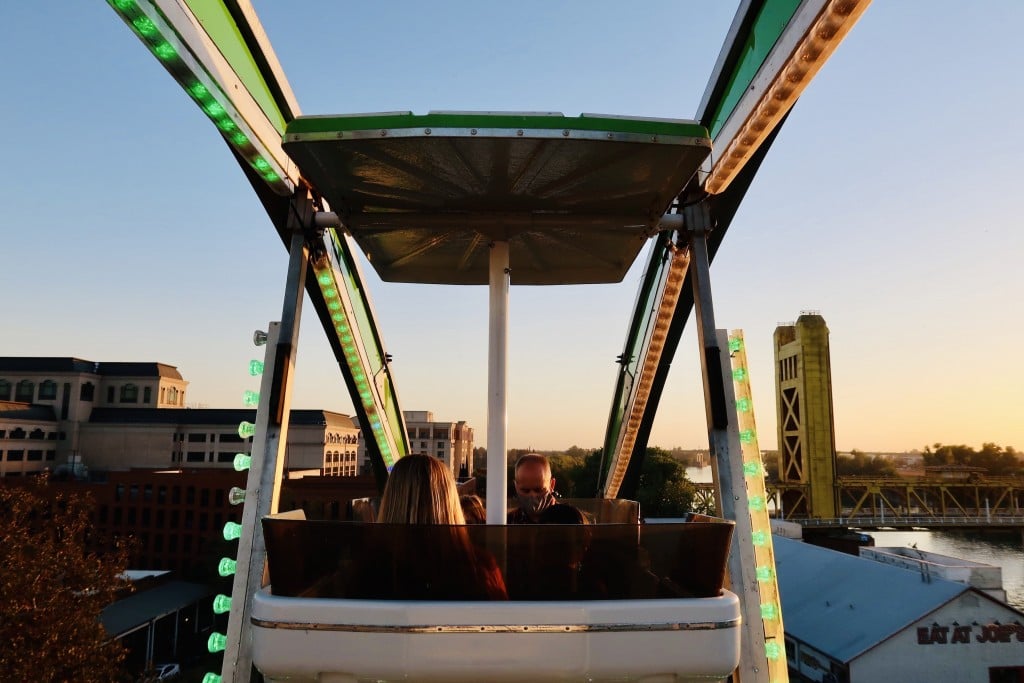 Update: The Ferris wheel will remain in Old Sacramento through the end of 2021.
*******
Sacramentans can go out for a spin in Old Sacramento with the debut of a 65-foot Ferris wheel in the historic waterfront district on Oct. 30.
Located in front of Rio City Cafe, the Waterfront Wheel—hosted by Downtown Sacramento Partnership, it will be open for rides, rain or shine through Jan. 31—goes both fast and slow, providing riders with the opportunity to soak in skyline views from four-seat open-air carousel cabins, as well as a chance to experience the stomach-dropping thrill usually reserved for the midway at the State Fair, which was canceled this year due to the pandemic. While waiting to embark on the approximately five-minute spin, Ferris wheel fans must maintain physically distanced queues, wear masks and only occupy the cabins—sanitized after each go-round—with people from their household.
With Covid-19 postponing other area holiday traditions like the annual Theatre of Lights (a show that takes place on the balconies of Old Sacramento Waterfront buildings), Scott Ford, operations manager for the historic district, felt like it was the right time to come full circle on an idea that was planted long ago by Harry Mason, owner of Fair Oaks-based Brass Ring Amusements.
"I've been talking about putting a Ferris wheel on the waterfront for over two decades, but the timing was just never right," says Mason, whose company is operating the ride. "The perfect opportunity came when Scott said he was looking for a way to reimagine the holiday season in light of pandemic restrictions."
While the attraction is currently set to grace the waterfront for three months, Ford is cautiously optimistic about its potential to become a permanent fixture. True to form, Mason's wheels are already turning. "I've always thought that with the Tower Bridge in the background, it would be awesome to see the wheel every day. It's got such a cool vibe," he says.
$6 per person. Oct. 30-Jan. 31. Mon.-Thurs. 11 a.m.-8 p.m. Fri.-Sun. 10 a.m.-9 p.m. Old Sacramento Waterfront. 1150 Front St. oldsacramento.com
You Might Also Like

Cities are dressing up their skylines and energizing downtowns and waterfronts with shiny new observation wheels. This is one idea that Sacramento should take out for a spin.
Take a Covid-cautious joyride this fall with these drive-in, drive-thru events
The team behind Preservation & Co. sets opening date for Sacramento's first distillery since Prohibition