Where the Sidewalk Blooms
In an innovative effort to green up and cool down our concrete jungle, the Seed Pile Project empowers citizen botanists to color outside the lines (and inside sidewalk cracks) throughout our region. With a goal of expanding statewide and beyond, the nascent urban environmental movement hopes to spread like wildflowers.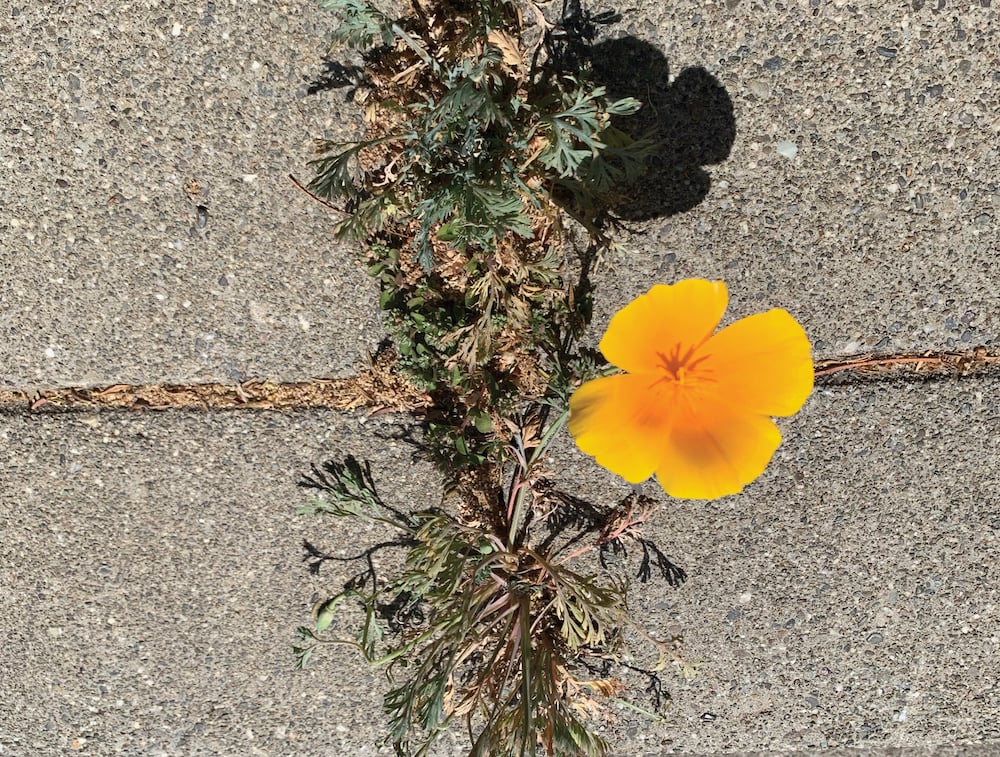 Once upon a time not so long ago, the only color you could count on seeing as you drove, biked or walked along that ugly urban streetscape on your commute came in the form of occasional roadside graffiti. Now imagine one fine day, lo and behold, a colorful riot of neon California poppies, purple lupine, blushing clarkia and beaming yellow sunflowers have sprung to life from the barren ground to line the roadsides, railways, bus stops and medians, cheering you along your way. Meanwhile, their respiring leaves cool the air, their grippy roots prevent erosion and filter rainwater runoff, and their bewitching blooms attract the pollinators that make the daisy chain of life go round and round.
Well, that vision of urban Eden may be coming soon to a median near you. The Seed Pile Project—a collaboration between UC Davis and West Sacramento start-up Miridae Living Labs, assisted by a cadre of citizen scientist seed sowers—aims to find out if no-maintenance native plant species can rewild forgotten corners of the urban landscape with little to no upkeep.
A little over two years ago, UCD landscape architecture professor Haven Kiers and ecologist Billy Krimmel—an Aggie alum and founder of Miridae, a landscape architecture firm specializing in creative native design-build projects—devised an unfunded experiment, scattering wildflower seeds in unlikely, unloved areas around Davis and Sacramento, and deliberately did not water or tend them, in order to see what Mother Nature would do when left to her own devices. "We got poppies blooming, we got clarkia blooming, we had a lot of yarrow and some lupine," says Kiers. "We were like, 'This is fun! How do we scale it?' "
The team chooses colorful showstopper species to create that fun factor, and to encourage and reward participation, but the bigger goal is to introduce plants that can make a difference in combating environmental ills, like the urban heat-island effect, where concrete-dominant streetscapes can trap and radiate heat, contributing to energy consumption, poor air quality and heat-related mortality. "Plants give off water through evapotranspiration, and that has a cooling effect," Kiers says. "You don't need a big shady tree. Any type of vegetation can do that."
Plant root systems help with soil erosion and storm runoff too, while at the end of each flower's blooming season, their husks compost themselves to fertilize the ground for next year's crop of sunny annuals to thrive even better. "And it helps create wildlife corridors for insects and other pollinators, creating stepping stones within urban areas for biodiversity," says Kiers. "It's also helping on a cultural level—just the healing power of nature, and how important it is to be able to see greenery."
In late 2021, a year after Kiers and Krimmel's successful trial, the newly formed Seed Pile Project distributed roughly 2,000 seed packets to about 1,000 volunteers to sow in Sacramento and Yolo counties, with surprising and interesting results—the plants thrived best in the roughest conditions, with the least intervention by human hands.
This past November, 3,000 seed packets were distributed, for a blooming season that began in March and April and carries through the summer months. Different species bloom at different times, with poppies popping up early, and lazy sunflowers late to the party. The endeavor has grown to now include the greater Sacramento area—including Placer, Yolo and Solano counties, as well as East Bay counties like Alameda and Contra Costa—and 55 pounds of seeds were donated by Hedgerow Farms in Winters and Pacific Coast Seed in Tracy.
"A lot of these native plants are grassland plants that do well in tough conditions and poor soils and don't need maintenance," Kiers says. "It really solves the problem of how we can bring biodiversity into urban areas where we don't have a [funded] project or people to maintain it, where it's literally just one action of drop and go."
That approach means no irrigation, no weeding, no tending. And even better, no pesticides or herbicides. The seven varieties of plants chosen for the Sacramento area this year—which include mountain phacelia and baby blue eyes—aren't just native to California, they're local plants you would have seen dotting the grasslands before the Gold Rush, so they're ideally suited to thrive where they fall.
Volunteers were given three packets each, with simple instructions to sow and go in a barren spot—no watering or tending allowed, and no taking seeds home to plant in a garden—and to return once a month to snap a pic of whatever has sprouted to upload to CitSci, a citizen science smartphone app, for the record.
"We're testing to see which plants do well," Kiers says. Other scientists at Davis are jumping on board too, taking advantage of this new data set to study not just how well the plants do, but their ability to attract native pollinators like songbirds, hummingbirds, butterflies and native bees, in the hopes of helping combat the loss of species diversity in our region.
Kiers adds that the project is also designed to be egalitarian in nature. "This isn't an elitist kind of sustainability for the few and rich. We really want this to be accessible to everyone," she explains.
"We want to give out these seeds so that anyone can do it in any type of environment." The project is ideally suited, she says, to bring soothing greenery and heat-island relief "in areas where there's lots of concrete." As such, some popular locations have been sidewalk cracks, street medians, bus stops, and along train tracks.
Eventually, the plan is to take the project on the road and perhaps even branch out beyond California. "Imagine large-scale, impactful projects, like along highways," Kiers says.
Even if you missed the seed give-away, you can still try your hand at guerilla gardening all on your own. Have a vacant lot on your block that's an eye-sore, or a forlorn parking strip? A packet of native seeds that include many of the same species will set you back a mere $4 at The Plant Foundry in Oak Park, or you can check Miridae's website to find their mobile plant shop (aka "the taco truck of nurseries," as the firm calls it) that travels to local outdoor events (among other places, you can find it at the Oak Park farmers' market today, June 23, and next Saturday, July 1). And just like that, you can be sowing the seeds of change in your own neighborhood with just a flick of the wrist.
Discover More Ideas from Our Special Eco-Themed Issue:
Can Electric Bikes Help Save The Planet? – The rise and future of e-bikes
Where It's Easy Being Green – The plastic-free, Earth-friendly Nudge Eco Store