Younglandia
In an industry where women rarely take center stage, Julie Young has quietly become one of the most significant and thoughtful urban developers in the region—crafting exquisitely curated projects that bloom like defiant wildflowers in the concrete jungle. And now, through sheer tenacity and savvy scrappiness, she may just have unlocked the mystery to attainable housing that aspires to forward-thinking design as much as affordability. It's a beautiful day in her neighborhood, indeed.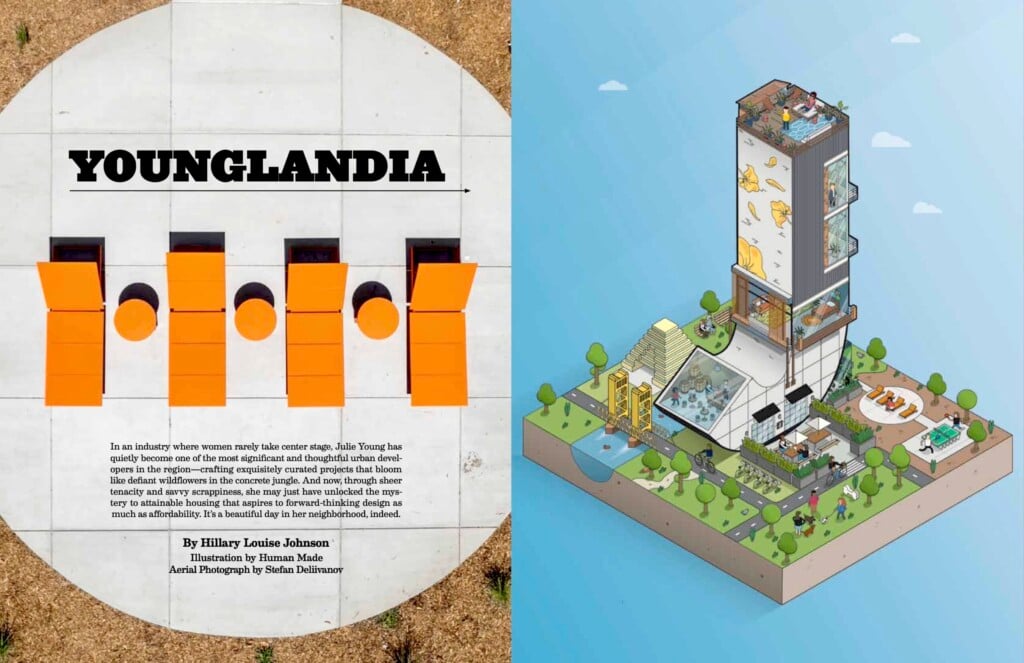 J
Julie Young stands out against the frothy pink backdrop of Ginger Elizabeth Patisserie. The self-made real estate developer is dressed in black head to toe, including a patent leather moto jacket that could be Tom Ford, or could be from Target. Like Michelle Obama, Young has a knack for seamlessly mixing high and low, a proclivity that extends to her work. Just look at two of her latest projects—a luxurious, exquisitely crafted jewel-box of a building opening in midtown this spring, The Jacquelyn, and an innovative, low-cost apartment complex that recently opened in West Sacramento, The Kind Project.
"The two are fundamentally different," she explains as we head for her car to strap in for a whirlwind tour of Younglandia—that layer of Sacramento's urbanscape that bears her imprint. "But the spirit of love that permeates both of them is key to why I got involved." The Jacquelyn is a tribute from a husband to his late wife, and The Kind Project is in part about, well, fostering kindness. "What I do is build consensus around a story, and I think people attach to a story as much as they do to a property. And frankly, if you don't have consensus around the story, I don't think you really know what you're building." When I note that she's used the word story a couple of times in the space of a few minutes, she smiles and cocks her head. "I think what I really am is a storyteller."
We're meeting at Ginger Elizabeth this blustery day in January because it's a key stop on the tour. Young's firm, Urban Elements, transformed a former auto body shop into the desserterie's latest outpost, and bought the vacant plot next door on which it built The Didion, where Young now lives—a narrow four-story, 12-unit apartment building with such concentrated vertical energy that it appears to soar despite its streetscape-respecting stature.
"Julie is a unicorn," chocolatier Ginger Elizabeth Hahn tells me over the phone later, describing how Young's mentorship gave her the confidence to risk opening a third location—her first patisserie—in the middle of the pandemic. "She's a very coveted landlord to work with. Her development process is really unique, so it wasn't a hard decision to make," Hahn says, describing how Young gathered plans from her tenants before beginning construction, to get them open sooner and save them build-out costs—something retailers know seldom happens.
"The perseverance of the tenants, who have really crafted beautiful things in our community, is amazing," Young says. "You really saw that play out here through Covid. We didn't have a single tenant fail."
Hahn's story has a happy ending: Not only did she succeed in the new location, she bought the building from Young in 2021 and is now a landlord herself, to co-tenants Wild Heart Beauty and the Ro Sham Beaux wine bar, the latter of which was launched with a team that includes Henry and Simon de Vere White—two of the region's best-known purveyors of libations.
Young and I zigzag west to her first independent project, on Capitol in midtown, only steps from the bustling Mexican restaurant, Zocalo. The modestly sized, modern infill project with a design by architect Ron Vrilakas (who also converted a former auto showroom into Zocalo many years ago) was on the drawing board in 2006, with financial partner Linda Clifford. It was epic bad timing for a bootstrapper like Young to quit her day job as a project manager overseeing commercial construction projects to roll the dice on the development game, with 2007's housing market collapse and subsequent monster recession right around the corner.
"I went out on my own when I thought life would be simple," Young says with a wry smile, "and then that project ended up taking ten years to get completed."
Nevertheless, she persisted, taking on management jobs in the industry again while chinking away at her passion project. "I always say to people, it's the best thing that ever happened to me to not get anything to go the way I hoped it would," she says. "Because if it had gone right, I would have thought I had something to do with it. The one thing it really taught me, all of those sleepless nights of everything being on the line, is that the arc of success on anything is not yours to control." She pauses. "But you don't walk out in the middle of your own movie. You hang in there."
When the project was finally completed in 2016 (with that 10-year ordeal behind her, it's easy to see why Young treated an obstacle like the pandemic as little more than a speed bump), Young and her then-husband Duncan Young occupied one of the four condominiums briefly. "Everything I've ever done has been something I would want for myself," she says. "I think because it's such a personal journey, that's why the projects resonate with people." There's equity to be built on that foundation, too; a unit that originally sold for $350,000 in 2018 has an estimated value of $800.000 today—proof you can take Young's forward-thinking ideas to the bank.
The four-unit building's site-sensitive design has it set back from the street, providing a visual bridge between the row of historic homes with front lawns to the east, and the urban retail adjoining it to the west. The setback also gives the sole retail tenant, the popular restaurant Sibling by Pushkin's, a gracious patio, while slatted wood scrims in front of the condo's windows lend the property an air of Zen-like calm.
Our next two stops on the tour are drive-bys of her next retail redevelopment projects, both commercial renovations that turned drab, dumpy little buildings into stylish black boxes with elegant, dusky façades that meet the street with serious chic, and memorable, oft-Instagrammed murals around their corners. One is at 28th and U Streets, encircled by rosy-cheeked flying pigs, and houses Beehive Waxing and Les Tattoos—two women-owned, LGBTQ+ friendly small businesses. Another on 19th Street is occupied by healthcare nonprofit Sacramento Covered (like Ginger Elizabeth, they purchased the building from Young), where the side-facing Historic Alley is festooned with a dramatic dandelion-gone-to-seed piece by prolific local artist Maren Conrad.
If the list of the retailers Young has worked with reads like a local cool-hunter's wish list, that's because she is first a connoisseur of friends, and her tenants and colleagues grow out of that pool. Just as she builds homes where she herself wants to live, she curates her tenant mix based on businesses that she herself would like to frequent.
"I had an open studio, and she walked in and bought 36 pieces," Maren Conrad says (those pieces ended up in the stairwell next to Sibling by Pushkin's). Hahn, too, says that Young was a customer for years before they began a working partnership.
"My approach to retail is simple," Young says. "Who do I admire, and where do I enjoy going? I believe in the power of community—live, work and shop locally, and everyone thrives."
"She goes above and beyond helping a lot of people—a lot of women—be more successful," Hahn adds of the woman she considers both a close friend and a business mentor. "But my favorite thing about Julie is that she makes me want to pay it forward to younger women."
Young is proud to be a woman's woman. "Women give me courage," she wrote in her unpublished 2012 memoir, Missionary Gypsy Cowboy Gorilla. "Their sincerity and tenderness leave me filled with the faith that human beings are good."
Next, we veer east to swing by the Sutter Triangle—a mixed-use cluster of retail and apartments on the old Sutter Memorial Hospital site in East Sacramento—with 11 rental units, and a planned coffee house called Druthers Coffee & Waffles (owned by designer Whitney Johnson and her husband Nick Duren of Willow restaurant in The Exchange Hotel) set to soon join Poppy by Mama Kim, a neighborhood bistro by longtime local chef Kim Scott. Young sold the entire project soon after completion, like she has done with all of her solo projects. "I have determined I do not have the temperament for property management," she laughs. Her first may have taken a decade to build, but since founding Urban Elements in 2017, Young hasn't stopped to take a breath, and she'll have a total of eight projects completed by this spring.
The small-scale successes—four units here, 11 units there—emboldened Young to undertake something a little bit bigger and a lot more ambitious. We zip over the river via the I Street Bridge into West Sacramento and pull into a parking lot a few blocks from Sutter Health Park.
The Kind Project, which opened last year, consists of 148 studio apartments in two facing buildings, all nearly identical, and all with small Juliette balconies or ground-floor doors that open onto unfenced patio spaces. Each unit is around 350 square feet and rents for around $1,300 in a central city market where studios usually start at around $2,000.
Young eschews the term "affordable housing" in favor of "attainable housing"—the idea that earning less than a stockbroker isn't a failing or a handicap.
Rather, The Kind Project "was a simple version of our intention," she says. "If we are kind, will our residents feel appreciated and be kind, too? Can we spread kindness?"
"Part of my inspiration for this was that we'd created these beautiful little retail jewels here and there"—that collection of midtown boutique businesses we'd just visited—"and we want [the staff] biking and walking to work, right?" she says. I can appreciate just how effectively Young paints an irresistible picture of a walkable, bikeable, holistic urban eco-system where all the parts fit together. "So I was able to go to all of the retail tenants and say, listen, if any of your employees need housing, we have this project that's within biking distance and there's car charging on site and bike charging on site for e-bikes." Another detail that reveals just how painstakingly thoughtful Young's attention to detail is: EV charging stations may be trendy, but it's a little known fact that e-bike sales have outpaced those of hybrid and plug-in vehicles combined (an earlier dream of providing residential projects with "house" smart cars for residents was abandoned with the advent of rideshare companies like Uber and Lyft.). Young has made sure The Kind Project isn't just trendy, but is ready for the way urbanites really commute.
Other amenities that are unusual for "attainable" housing—or in some cases, any housing—include the outdoor fitness equipment, the heritage oak trees, a little dog park, indoor fitness, meeting rooms and a bicycle repair station.
The off-black concrete buildings are surrounded by mature oak trees shading multiple outdoor living spaces dotted with cheerful orange Adirondack chairs and barbecues that invite neighborly outdoor lounging in a configuration every bit as generously stylish as the higher-rent apartments in the neighboring Bridge District, or the Ice Blocks on the R Street Corridor.
Inside, the apartments all have polished concrete floors and gallery white walls that stretch 12 feet to blond wood ceilings. The kitchens have matte black cabinets and fixtures, visually echoing the kitchens in the upscale Didion. There's that eye Young has for achieving an aspirational look whatever the price point.
The black trend in architectural façades and accents has found its way to HGTV by now, but Young was an early adopter. It's long been her signature color, in her wardrobe and her buildings. She uses black the way a set designer would—as a dramatic background that intensifies the colors of life. Stand on the polished concrete floor of one of her rooms, framed against a wall of black cabinetry and bathed in light falling through a tall window, and you feel like the main character in a prestige drama. It's a far cry from the beige-carpeted holding cells so many of us inhabit at work and at home. "We want Mondays to feel like Saturdays and home to feel like vacation," Urban Elements' mission statement declares. Yes, Julie Young wants your entire life to be a beige-free zone.
It worked. Within 45 days of its opening last spring, the project was fully occupied and had a 60-person wait list. "We don't need a model home here," Young says. "When a new resident comes to tour the property, people throw their doors open like, 'Come see what I've done with my home!' "
That was the plan: a real community, buzzing with active, energetic singletons of all ages and persuasions, from baristas to coders to pensioners—a lot like the kind of older apartment buildings you used to find in abundance in bustling metropolises like New York, Chicago and San Francisco before everything was co-opted and condo-minimized, pushing out the artists and the old folks.
"What makes a community magnificent is your creative culture," Young says. "And if your creative culture means you're a $30,000 or $40,000-a-year wage earner, first of all—fabulous; and second of all—live at The Kind Project."
It can't just be about putting roofs over heads. "It's about everybody having a backdrop to play out their life and their story," she says. "People want to be known and they want to be loved as they are. So you create community where people have housing security, and the opportunity to be known, and to elevate their skills, and they get to have pride of place."
Still, it's quite a leap from building 11 units to 148 units. But Young's track record with smaller projects and experience managing large projects for others inspired her old friend, Mark Friedman, chairman of Fulcrum Property, owner of the Arden Fair Mall, lead developer of the Golden 1 Center—and developer of most of West Sacramento's Bridge District—to partner with her on The Kind Project.
"Julie was one of the first residents of the Elliott Building—the loft project that Mike Heller and I did at 16th and J," Friedman tells me. "She was an early adopter of urban living. I remember walking into her loft and my first impression was how cleverly she occupied the space. She had attached a pulley, hoisted her bike to the ceiling and tied it off on the wall."
Young is still designing for herself. The Kind Project is just designed for her younger self. "I've known Mark for years and he and I were just both completely incredulous that you couldn't build housing more cost effectively," she says.
But Friedman turns the creative spotlight back on her. "I'm a financial partner and advisor, but the idea is hers," he says. "One of the problems that Julie really wanted to solve was how to create attractive, affordable dwellings for people who make less than the median income."
Friedman goes on to explain that the term "affordable housing" technically refers to projects built with public subsidies, which trigger so many costly hoops to jump through that "affordable" units cost 25% to 30% more to build than so-called "luxury" apartments. The trick? Bring down the costs without subsidies and the red tape they trigger.
"Julie was exceptionally clever in terms of figuring out how to untie the Gordian knot of affordable housing," Friedman continues. "Everybody's looking for a silver bullet, and there isn't one, but there are probably 100 silver BB's—lots of teeny, little interventions that you can make that, when you add them all up, bring the cost down into the range of the average person. Julie was brilliant at figuring that out."
Young's version of the story is saltier. "I'm a very scrappy developer," she says. "I don't have an open checkbook. Solutions either require money, or incredible creativity. [And the latter] are always the better solutions."
Young worked tirelessly with the City of West Sacramento to persuade them to change the basis for computing development fees. "When a developer goes to build a new housing unit, we have to pay a school fee, a park fee, a traffic fee, a water fee, a landscape and lighting fee," Friedman explains. "And those fees are generally charged on a per dwelling unit basis." In other words, $60,000 in fees might seem reasonable per 3,000-square-foot single family home, each of which might sell for $800,000, but they start to look pretty onerous when applied to a 350-square-foot studio apartment. Young succeeded in getting the city to recompute fees on a basis that takes square footage into account.
"She was an inspiring developer to work with," says Katy Jacobson, then economic and housing director for the City of West Sacramento who has since retired. "Julie came forward with this financial package and we discussed ways we could create a new, innovative form of affordable housing. We negotiated something of huge benefit to the community. I've never seen it done before—a model that other jurisdictions could [use]." The other thing unique about Young? "She's the first woman developer I've seen in my 26-year career."
When you hear "real estate developer" in Sacramento, after all, you probably picture a man. There are very few women on the scene. So it's a bit audacious for a woman—who was once married to a rodeo cowboy—to start small, stay mission-driven, and now finally find the accelerator pedal late in her career. Perhaps though, through sheer persistence, will and vision, Young can have as positive an impact on Sacramento's urban streetscape as the established leaders.
But Young's explanation for her success is downright prosaic compared to what Friedman or Jacobson describe. "The difference is if the project doesn't go as we hope, Mark will lose something, but I will lose everything," she says. "Simply not being able to afford to lose, I think is really a lot of what drives my inability to hear 'No.' "
Not only did Young get West Sacramento to "Yes" for The Kind Project, she caused a ripple effect. West Sacramento recently launched a three-year experiment lowering impact fees by 60% in the rest of The Kind Project's Washington neighborhood, on the theory that more residents and businesses will improve tax revenue to more than compensate. She left the door propped open.
Now that Young and Friedman have proof of concept, The Kind Project is expanding, with another 72-unit iteration under construction and due for completion this spring in downtown Sacramento, where fees were already more in line with their goals. And a third 216-unit Kind Project is in the planning stages in South Sacramento—tentatively set for completion in late 2024 or early 2025—on land owned by Paratransit, Inc., a nonprofit that delivered 2 million meals during the pandemic and provides essential transport to underserved communities. These units will be rent-subsidized, filled by Paratransit and partner nonprofits, but will be built using Young's approach—without those expensive subsidies. By repeating the major design elements and employing the same concepts and solutions, Young and Friedman believe they can keep lowering costs moving forward, from project to project. It's hard to overstate how unusual an accomplishment this is.
But it's also not just about dollars and cents and amenities. "I think that one of the things that we're very proud of with The Kind Project is that it's attractive," says Friedman. "We're delivering an architecturally beautiful building and graceful public spaces at an attainable price point because everybody deserves to live in a comfortable and attractive place. And Julie is a rare breed. She has got a keen aesthetic sense—she's definitely a modernist—but also a keen sense of bottom line. And she just has a knack for figuring out how to do something that's clean and simple but attractive, and that's very hard to do."
Eventually, Young left the cowboy after moving back to Santa Barbara, where she found success working in finance, then as a project and operations manager at a succession of large real estate companies. Divorced, she moved to Sacramento for a job with The Voit Company, where she helped open and establish its Northern California construction office. She became a single parent, then married Duncan Young, and they raised a blended family together until parting ways amicably in 2021.
In the '90s, she went to work for the Heller Company. ("I was with them in their early days," she says. "Mike [Heller] helped me feel like Sacramento was also my town.") At some point, it was like she couldn't not try to get in the game, despite the odds.
When I ask her what it's been like, being a woman in a male-dominated industry, she gives a sly smile. "I love being underestimated. I feel like it's one of the most powerful things in the whole world, because you're learning so much while people think you're not listening."
Our last stop on the tour is a construction site. The Jacquelyn is a three-story building in the heart of Boulevard Park, on G St, just off 21st St. and financed by Jim Anderson of Anderson Lumber as a tribute to his late wife, Jacquelyn—an accomplished amateur photographer who died of cancer in 2021 and was a close friend of Maren Conrad, who introduced Anderson to Young. When fully completed this summer, it will house a wine bar called The Cellar; a market featuring products specifically curated for women—including vintage items, bath products and teas; a private gallery space for female professionals ("to help elevate and create networking opportunities for women's career advancement," says Conrad); and just a single residence upstairs, where Young will live. In addition to making the connection between Young and Anderson, "Maren really concepted this whole project," explains Young. "Fundamentally, she is the creative advisor, but that's not a big enough title for her. When you look at what we're building, it is exactly what she envisioned."
The structure will also feature a corner atrium with a two-story LED screen inside that will be visible to passersby. The screen, according to Conrad, will display "a video that Jackie shot of moving water, and she recorded of sounds from the American River. So it's kind of like a giant glass lantern. It's a really tranquil, beautiful way of being able to have a water feature that doesn't use actual water." The screen will display other examples of Anderson's digital artwork too, as well as that of visiting artists in residence.
On our way into the building, Young greets a crew of construction workers, complimenting one on his wedding ring. "My wife loves me," the burly, hard-hatted man answers, beaming at the attention.
"Everyone really rallied around the love story of this project," she says as we move on, "of the legacy that Jim wants to leave for his wife, but also what it will do for our artistic community."
She's leveraged the love story to get everyone on board with finishing the project in record time. "When I'm talking to the elevator supplier, I'll say, 'Look, I don't know if you believe in a love story…' I swear, everybody does, and it's the reason they rally around."
Maren Conrad says there's a little more to it than that. "She has all the heart and compassion and can hold a line and absolutely keep people to deadlines, but do it in a really warm way. That's uniquely Julie," she says. "She has a tight circle of highly professional, amazing women that surround her, of all different ages and backgrounds and ethnicities and socioeconomic statuses. She is a collector of rare humans, which is really wonderful."
Young is an artist in her own right, Conrad says. "It's just that her medium is paperwork, concrete and steel."
Standing among the steel framing on the third floor, which will ultimately be her penthouse apartment, Young surveys the space she's created and says, "I've lived in 42 places in 62 years. This will be number 43."
Designed by Whitney Johnson (Shady Lady, The Exchange Hotel), the sprawling 3,000-square-foot top-floor suite will have walls of marble, fine draperies and velvet couches—luxe as one of the 1930s penthouses Fred Astaire and Ginger Rogers swirl through in Top Hat. It seems like the ultimate apartment by anyone's standards.
Will it be the one that finally gets her to stand still, stay in one place? "Oh, no," Young says with a dismissive wave, and leads the way back downstairs. Even though she's moving into this space in a few months' time, her head and her heart are restlessly moving on. And the mistress of midtown is done creating jewel boxes, at least for the time being.
"Right now, I have to put my energy into The Kind Project. It is the highest and best use of my time," she says. The three iterations are, she hopes, just the beginning. "If we can help solve the conundrum of housing security, then Sacramento actually will have found the solution that moves the needle that every other community is working to solve."
Kindness, she firmly believes, can scale.
Then she smiles and cracks wise. "I'm really excited about this chapter of my life. As a 62-year-old woman, I'm deluded enough to believe that my best years are still ahead of me."
Back at The Didion, she opens the door to her inner sanctum. Urban Elements' headquarters is an airy, open live/work space with two desks—one for Young and one for son Ean, 28, who works with her (he lives in the building as well).
"I would say if there was a time when I was arm wrestling and there was a time I behaved badly, it was probably on this project, just trying to get it across the finish line," she says with a wink as we walk in. "Others would argue that I've behaved badly far more often than that."
The velvet glove, in other words, can come off when it needs to. In describing her style, Friedman says, "I think the authenticity of her passion is apparent to everybody. I think that people are motivated by her obvious authenticity. And, you know, she's quite persuasive. It's not just diplomacy. Julie's got a lot of speeds—a lot of different tools she can pull out of her bag of tricks to persuade, cajole or pressure or browbeat. I think it's a very good skill set."
What might have been a sitting area is piled with un-hung artwork ready to decamp to The Jacquelyn. But Young is always ready to move. "The best person to be in my life is the person I know when I'm moving," she quips. "You inherit fabulous furniture."
We sit in comfortable slip-covered dining chairs around a wood table in the sleek black kitchen, a Wayne Thiebaud landscape poster glimpsable behind hanging pots and pans.
"I'm finding out personally a lot about what is home to me, and it's never been a place. Physical space is my creative toolbox, so of course I've bounced," she says. "It's always been the people; our connections are everything. My gosh, I'll get weepy. I'll show you what I mean."
She pulls out a snapshot of a group of women, lined up arms around one another, smiling—many of her retail tenants and collaborators among them, including Conrad, Ginger Elizabeth Hahn and Misty Briglia-Bozzo, the owner of Wild Heart Beauty salon. "This is everything—my girlfriends at my birthday party in November. I have this amazing support system of joyful women. To me, that's the undercurrent of home. My friendships, my son. I always told Ean that my job as a mother is to keep his spirit safe, so he believes the world is possible. When you believe the world is possible, then you have hope, and you will create."
Learn About the Others Helping Reimagine Sacramento:
The Scene Setter – Interior Designer Whitney Johnson
The Place Maker – Architect and Developer Ron Vrilakas