Chow Bella
Willow serves up love, Southern Italian style, with a side of colorful and texture-rich decor. After three tough pandemic-impacted years, the downtown restaurant scene is looking up.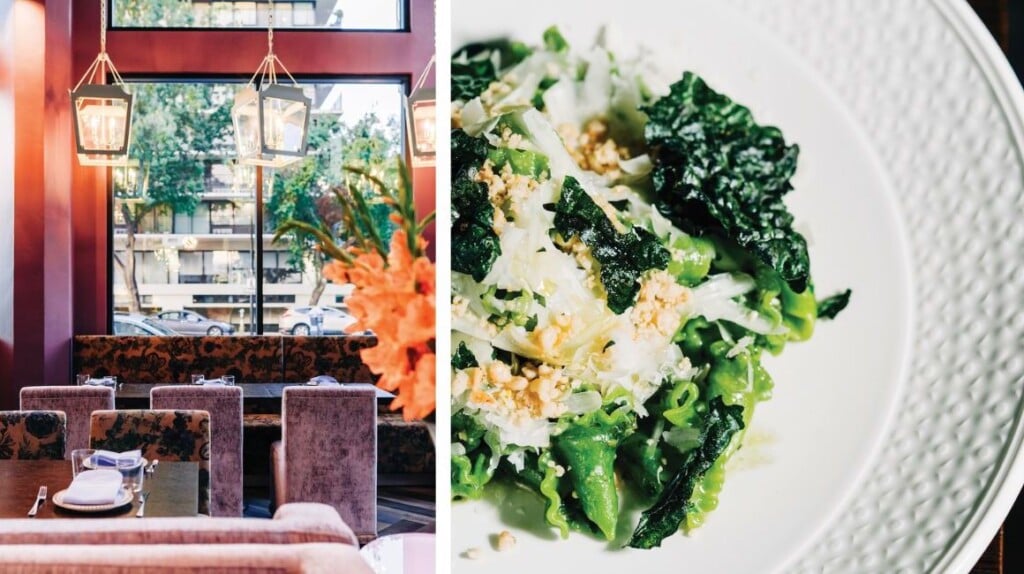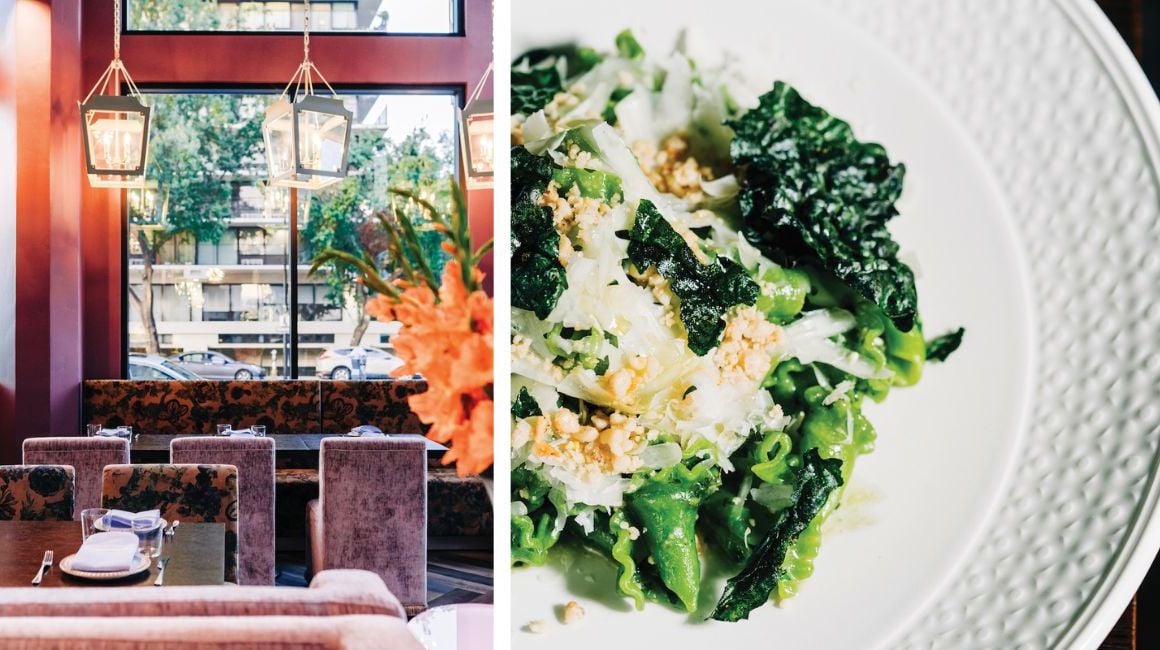 Here we rebuild: Before the pandemic, transformation was Sacramento's main storyline, driven by the deal that was struck for a downtown arena a decade ago. While Covid stalled the rejuvenation momentum, the newly opened Willow restaurant marks a step toward renewed resurgence, for downtown's growth and for the city's hard-hit restaurant scene.
Part of The Exchange hotel, Willow breaks through pandemic-induced civic fatigue with fresh, artful design and thoughtful takes on Southern Italian-Mediterranean cuisine. The eatery opened in September, about a year after the hotel, but it was worth the wait. Talk about transformation: The hotel and restaurant's lead designer and project manager Whitney Johnson (the visual force behind popular area spots like Shady Lady, Kru and Hook & Ladder) turned what she says was "an empty, unbuilt space" on the ground floor of the century-old California Fruit Building into one that boasts an elegant, joyful confluence of purples and golds, florals and stripes, and the occasional tassel and pom pom.
"It's color, clutter, grandma chic—a lot of mixed patterns and mixed textures, but doing so in a way where it's still approachable," Johnson says of the restaurant's look. But Marie Kondo would not flinch were she to walk through Willow's spacious dining room, with its decidedly non-maximalist wood flooring and abundance of light coming through windows facing J and 4th streets.
If the dining space rose from the studs, its considerable culinary achievements come down to the spuds. I liked every dish I tried during my dinner visit, but the "patata di carbone" starter made with squid ink was, perhaps inevitably, the most indelible. Executive chef Russell Middleton steams German butterball potatoes, then blanches them in squid ink, until they emerge blackened and with hints of brininess. Served whole, in a pile, the potatoes were cooked perfectly—creamy yet still of adequate consistency to stand up to a dip of mascarpone and cream cheese expertly pricked by garlic and chive.
"My thought process was campfire potatoes or sort of an elevated baked potato," Middleton, former chef de cuisine at Fair Oaks' Shangri-la and sous chef at Grange, says of his inspiration. The dish's evocations are even more specific: the subtle "sea" taste places the campfire in question firmly on a beach.
Sophisticated comfort is a prevailing theme at Willow, where the food and service are fine-dining quality and the chairs are plush, padded and set on casters that prevent din-exacerbating floor scraping.
"Going through [the worst of] Covid and coming out of it, we really wanted to focus on the true essence of hospitality, which is inviting someone into your space to take care of them from top to bottom," Johnson says. "That is why everything is upholstered. There are very few hard surfaces."
Johnson began working with property owner Sunny Dale five years ago on plans to convert the office building into a hotel and construct a restaurant. Seeking a design through-line between the two projects, Johnson assigned each space a related yet distinct persona.
---
READ MORE: The Scene Setter – A profile on Sacramento interior designer Whitney Johnson
---
"We created this identity of Mr. Exchange, who is this illustrious world traveler," she says. "You didn't quite know what he did for a living, but we knew he was very successful and very worldly and worked in the exchange of goods and services. We wanted the hotel to be very buttoned-up and mimic who we thought he would be, stylistically." The dark blue hallways represent his suits, Johnson says, and the "really architectural" light fixtures his cufflinks.
The second persona, Willow, is Mr. Exchange's wife, whose life is "equally eccentric, equally opulent," but who does not leave home. "So everything he does is to keep her happy at their estate," Johnson says, including sending gifts from his travels to decorate their abode. The eatery is her vision of their formal dining room.
The married couple seems of an era closer to 1914 (the year the building was constructed) than now—you can imagine them back then, with Mr. Exchange working diligently to please his fruit-packing heiress wife and impress her disapproving, land-baron father. Johnson's design, however, aims for timelessness. "There were facets to the design that were from 1914," she says, "but it also has to be modern. It has to have that draw and that approach of 'Oh gosh, I feel like I have seen this, but I can't place it.' " Contemporary Italian streetscape photography Johnson found through San Francisco's Lost Art Salon gallery increases the sense of anachronism around every corner.
"We spent a lot of time saying, 'OK, what's missing in Sacramento?' " recalls Johnson of brainstorming sessions with Dale and Willow's food and beverage director Nick Duren, formerly of Grange and Canon, and Johnson's fiancé. Adds Duren, "We were looking at what opportunities were available in downtown Sacramento, and to add to the [city's] restaurant scene in general." What downtown—and midtown—appeared to lack, especially after Biba Caggiano's death in 2019 and the closure of her eponymous establishment, was locally owned, upscale Italian. (Capitol Mall's Il Fornaio belongs to a West Coast chain).
The team did research and found similarities between the food-growing regions of Southern Italy and Northern California. For example, both places are "very olive-oil-driven," Duren observes. Thus, no need to import: Willow uses Séka Hills olive oil from Capay Valley, along with other homegrown ingredients like eggs from Vega Farms in Davis and hachiya persimmons from Twin Peaks Orchards in Newcastle. Guided by Duren's vision for the restaurant to focus on house-made pastas and "unique proteins," Middleton's mostly family-style menu boasts plenty of both. The "secondi" entrées, which are explicitly designed for two or three people, include a "mixed grill" with rabbit and lamb, and there is a "Tutta La Pasta Fatta in Casa" section featuring several single-serve dishes.
My dining partner and I chose the branzino, a whole white fish cooked a la plancha, as a main. The flaky fish was stuffed with dandelion greens and lemon and served on an herbaceous pool of chimichurri. Each bite brought a new dimension, moving from pleasantly bitter to bracing before settling on umami.
The simplest dish we ordered—bucatini caeio e pepe—might've been the most beautifully executed, with the pepper offsetting the cheesy richness and the pasta sufficiently al dente to offer a bit of welcome resistance.

We were tempted to carbo-load on multiple pasta dishes, but instead ordered extra starters. The tender mussels were bathed in a hearty yet not overwhelming broth of pomodoro and vegetable stock, with blistered tomatoes providing sweetly acidic punctuation. And the saltwater-blanched, ice-zapped and julienned pods in the opening-menu snow pea insalata were crunchy and extraordinarily fresh tasting. Salty pancetta and pecorino kept the salad from veering too wholesome for an indulgent night out.
While Willow does not yet offer lunch, it serves breakfast in addition to dinner. It also "supports the hotel with all food and beverage needs," including in-room dining, Duren says, though he's quick to add that The Exchange and Willow are separate operations under Dale's ownership. Or as Johnson puts it, Willow is "not a hotel restaurant, but a restaurant adjacent to a hotel." Although proximity and Johnson's imagination and creativity established thematic visual connections, the hotel and restaurant are not much alike—and neither is much like anything else in town.
Willow. 1006 4th St. 916-938-8001. willowsacramento.com

You Might Also Like
Good Juju – Downtown's Juju Kitchen & Cocktails
From Paris with Love – West Sacramento's Franquette
The Magnificent Seventh – Hyatt Centric Downtown's 7th Street Standard