The Magnificent Seventh
East meets west for one of the best meals in town. Former Ella chef Ravin Patel draws from both his Indian heritage and French culinary background at downtown's new 7th Street Standard restaurant.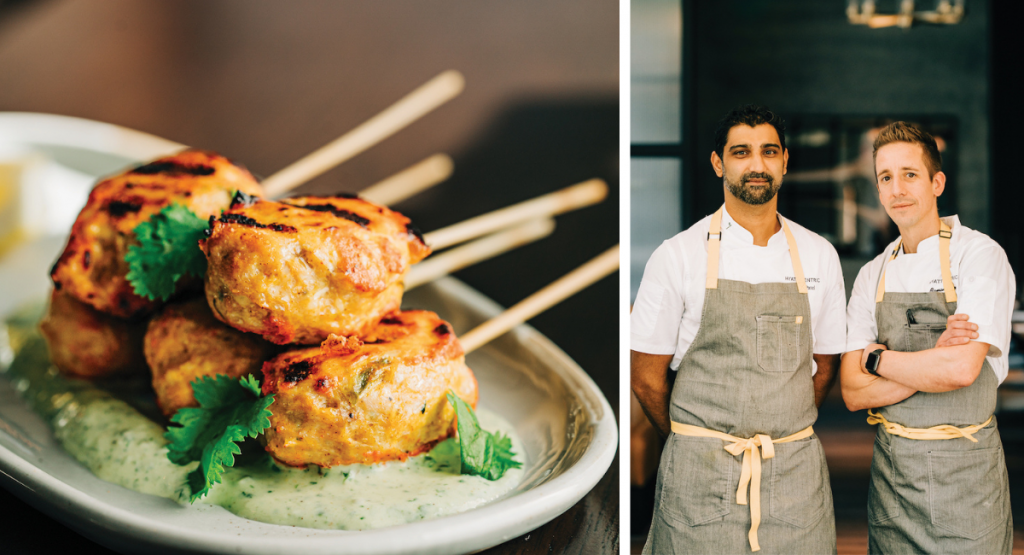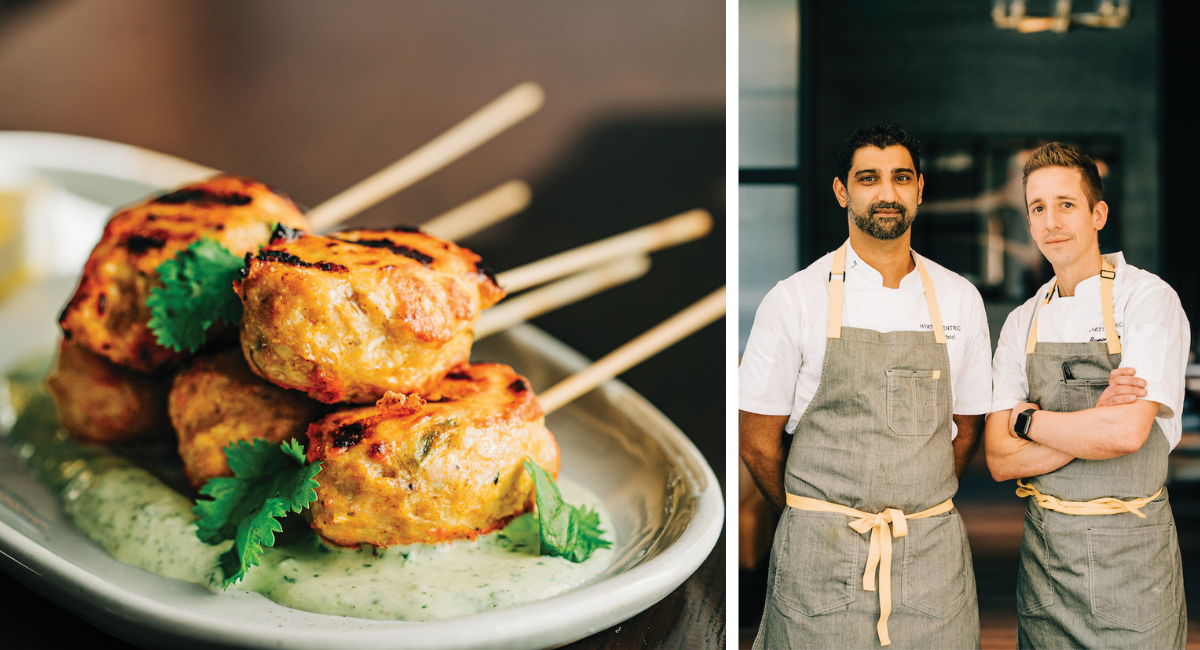 On the winter evening my dining partner and I headed to The 7th Street Standard, the ground-floor eatery at the new Hyatt Centric Downtown Sacramento, British pop star Harry Styles was playing next door at the Golden 1 Center. The sidewalk swarm, effervescent with youthful chatter, made our arrival at the restaurant, which opened on Nov. 4, seem all the more gratifying, if only for its comparative calm. As a breathy vision of channel-tufted leather booths, marble-topped tables and chairs sharply suited in herringbone upholstery, it was a peaceful and polished port in an otherwise busy city environment.
The food at The 7th Street Standard—where California cuisine is lightly spiced with influences from executive chef Ravin Patel's Indian heritage and fortified with his French training—is similarly something of a regional unicorn. Noting that Sacramento doesn't really have a restaurant where diners can experience a "melting pot" of those flavor combinations, Patel says, "A lot of chefs in town were telling me, 'You should open something that has that.' "
Take chicken tikka masala, for instance. While the dish's authenticity is disputed (after all, the creamy tomato curry's 1970s origins are most often attributed to a British-Pakistani chef living in Glasgow and only cited as an original Punjabi recipe every now and then), its value as gateway grub for those yet unindoctrinated into the vibrant world of spice-tingling South Asian cuisine is indisputable. Patel puts his elevated spin on the beloved dish by infusing a mince of chicken leg and thigh meat with garlic, ginger, toasted coriander and fenugreek. The mixture is formed on skewers to make "lollipops," as they're called on the menu, then grilled to order with a slather of house-made masala paste that echoes the spices already present.
"This [version] reminds me of these lamb kebabs I grew up eating. A couple of uncles would get together to make them for special occasions," says Patel, a Natomas native who trained at New York City's French Culinary Institute in the early aughts and cut his teeth at famed NYC restaurateur Danny Meyer's Union Square Hospitality Group before moving back to Sacramento in 2009 to work for the Selland family—first at Ella, then as chief culinary officer of their restaurant group, which also includes The Kitchen, Obo Italian Table & Bar and Selland's Market-Cafe. In 2018, he joined his cousin Sushil Patel's Davis-based hotelier Presidio Companies, which owns the Hyatt Centric. (At the Clayton Club—the hotel's sixth-floor speakeasy named after the mid-century jazz club housed on the ground floor of the site's former Hotel Marshall—the chicken tikka masala stuffs tamales on the small plates menu.)
Another menu highlight with a strong family tie is the biryani rice, which is available as a side dish and accompanies the succulent lamb shoulder entrée, in which the meat glistens from a minimum 12-hour braise in a roasted-lamb-bone stock spiked with cumin, anise seed and red chili. "My mom would make biryani rice once a month, but I've deconstructed her recipe for the restaurant, taking something that I loved eating growing up and applying a different technique," says Patel, who adds whole cashews, za'atar gremolata and gin-soaked raisins to steamed and spiced basmati rice.
The chef also includes American standards on his menu that might appeal to the greater population that tends to dine at hotel restaurants—familiar dishes to tuck into when in an unfamiliar place. But even those are not without their Patel-infused enhancements. The burger, for instance, is stacked with two all-beef patties of house-ground rib eye and New York strip (Patel insists that the proper doneness equates only to the time it takes for the meat to render its fat fully for flavor), and harissa aioli as the proverbial special sauce.
Salads are seasonal and display the regional bounty from farms like Riverdog and Full Belly. (Our toothsome spiced roasted pears with frisée and fromage blanc was among the last of this autumnal tumble, replaced by the quintessential winter combination of roasted beets with citrus.) A classic tomato bisque is a nod to Patel's Selland days. And the chicken and dumplings is inspired by his first taste of the cozy stew at a Cracker Barrel in the Midwest, his wife Ashlee's native stomping grounds. Made with a rich green peppercorn gravy and sous vide chicken that's seared and butter-basted to order, Patel's interpretation may outpace the franchise favorite by a flavor mile, but it's still homey at heart. "There's no Indian in that dish—it's just good old American comfort food," says the chef.
By now you must be craving something sweet to read about. Patel brought on his friend and North Natomas neighbor, Netherlands-born pâtissier and chocolatier Ramon Perez, who spent his formative years in Nevada City, where his parents owned and operated the erstwhile French bistro Citronée. Perhaps best known around town as co-founder of Puur Chocolat, a line of travel-inspired European-style bars and bonbons that he runs with his wife Nicole, Perez displays his pastry prowess—sharply honed at Los Angeles chef David Myers' global dining network, from the Comme Ça brasserie in Las Vegas to the Sola pastry shop in Tokyo—at The 7th Street Standard.
To wit, Perez's chocolate beignets—filled with 64% Ecuadorian chocolate ganache that starts frozen and turns molten in the fryer—cast a final spell on our meal. Just don't expect this bittersweet sorcery, which magically appears as an occasional special, to take the form of pillow-shaped doughnuts, but rather to resemble tentacled deep sea creatures. And given that Perez's cream puffs were a pandemic hit (during 2020, the chef developed popular weekly versions for Origami Asian Grill in East Sacramento), it's no wonder that a crunchy craquelin choux bun—filled with layers of hazelnut praline ice cream, 66% Mexican chocolate custard, and salted caramel Chantilly cream—occupies a sweet spot on the dessert menu. Lastly, the true finesse of the lemon tart is its wafer-thin shortbread crust, a delicate fortress holding back a luscious surge of puckering pastry cream and the confection's melting garnish, a bright green herb sorbet flavored with fresh tarragon, basil, parsley and fennel fronds.
With remarkable technique and stunning flavors, the mouthwatering and eye-opening cuisine at the new Hyatt Centric transcends the corporate feel of a typical hotel restaurant. As for those friends who were encouraging Patel to launch an eatery like The 7th Street Standard, they include fellow top chefs like Brad Cecchi of Canon and Oliver Ridgeway of Camden Spit & Larder. "I really enjoy Ravin's style of cooking and the heritage behind his ideas," says Ridgeway, who grew up eating Indian food in his native England, where chicken tikka masala is widely regarded as the national dish. "He's built enough clout to open [this] restaurant. His time is now."
1122 7th St. 916-898-1100. The7thstreetstandard.com