Your Supersized 2019 Guide to Outdoor Movie Screenings in and around Sacramento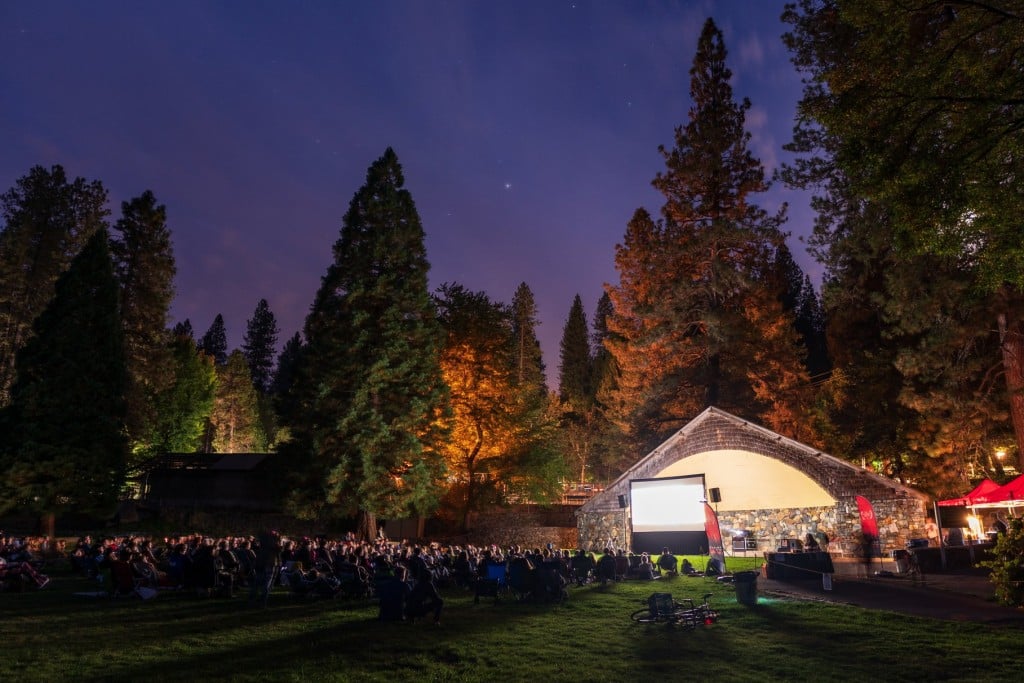 See Hollywood stars under the stars at outdoor movie festivals around the region. Here's our 2019 guide to getting your al fresco flicks fix, with screenings of recent hits like Mary Poppins Returns and Greta Gerwig's Lady Bird, and classics like Back to the Future and Ferris Bueller's Day Off.
A24 Public Access (Midtown)
Gather 'round an unsuspecting midtown billboard for a viewing of Lady Bird, Greta Gerwig's Golden Globe-winning coming-of-age film set (and partially filmed) in Sacramento. Put on by A24, the movie's production company, the parking lot pop-up will feature eats from Chando's Tacos and swag relating to the film.
July 20 Lady Bird
Free. Seating available at 7:30 p.m., screening starts at 8 p.m. 20th and J St. Visit Facebook for more details.
Float-in Movie Nights (South Sacramento)
Beat the heat by grabbing floaties and jumping into the water at these in-the-pool movie screenings.
June 7 The Little Mermaid
July 5 Hotel Transylvania 3
July 19 Incredibles 2
Aug. 2 Ralph Breaks the Internet
$6 ($4 for ages under 18). 7:30-10 p.m. Locations vary. southgaterecandpark.net
Food Truck Cinema (Roseville)
Mobile vendors like Chando's Tacos and Squeeze Inn will be on hand for this dinner-and-a-movie lineup.
May 4 Coco
June 1 The Goonies
July 3 Back to the Future
Aug. 3 Jurassic Park
Sept. 7 Ferris Bueller's Day Off
$11 ($5 for ages 12 and under). Times vary. Woodcreek Golf Club. 5880 Woodcreek Oaks Blvd. Roseville. foodtruckcinemas.com
Friday Moonlight Movies (Rancho Cordova)
Rancho Cordova presents a quartet of canine-themed films during the dog days of summer.
June 7 Secret Life of Pets
June 14 A Dog's Purpose
June 21 Lady and the Tramp
June 28 Bolt
Free. Doors open at 7:30 p.m., movies start at 8:30 p.m. Village Green Park. 3141 Bridgeway Dr. Rancho Cordova. cordovacouncil.org
Gather: Movies at the Fort (Midtown)
Double the movie to double the fun at Sutter's Fort, which will project back-to-back films from different decades on the fort walls every second Saturday. Get there early to stock up on snacks and drinks and take in the live music before the movies begin.
June 8 '80s: The Goonies and Raiders of the Lost Ark
July 13 '90s: Jurassic Park and A League of Their Own
August 10 '00s: The Fast and the Furious and Mean Girls
September 14 '10s: Spiderman: Into the Spider-Verse and Zootopia
Free. 5-11 p.m. The first movie will start at sundown. Sutter's Fort State Historic Park. 2701 L St. exploremidtown.org
Movies in the Park (Arden-Arcade)
Food trucks like Cowtown Creamery will be on hand at these Friday night film viewings at Arden Park.
May 10 Ralph Breaks the Internet
June 7 A Dog's Way Home
Sept. 6 Mary Poppins Returns
Free. Times vary. Arden Park. 1000 La Sierra Dr. aprpd.org
Movies in the Park (Roseville)
Films for kids and kidults will reign at Roseville's Movie in the Park.
May 11 Mary Poppins Returns
May 25 Small Foot
June 15 A Dog's Way Home
July 13 Christopher Robin
Free. Movies start at sundown. Locations Vary. rcona.org
Movie Nights at the Amphitheater (Folsom)
Historic Folsom will showcase an eclectic mix of films, from Boss Baby to The Chronicles of Narnia.
June 3 Mary Poppins Returns
June 10 The Chronicles of Narnia: The Lion, The Witch and The Wardrobe
June 17 Boss Baby
June 24 Solo: A Star Wars Story
Free. 8-10 p.m. Folsom Amphitheater. 200 Wool St. Folsom. historicfolsom.org
Movies Off the Wall at Crocker Art Museum (Downtown)
Films set on the West Coast—including Lady Bird, Greta Gerwig's love letter to Sacramento—will play in the museum's courtyard. Nosh on snacks from Crocker Café by Supper Club and get there early for California state trivia.
May 2 Pulp Fiction
June 6 Butch Cassidy and the Sundance Kid
Aug. 1 Lady Bird
$16. Doors open at 7 p.m., movie starts at sundown. Crocker Art Museum. 216 O St. crockerart.org
Movies Under the Pines (Nevada City)
Ice cream, barbecue and the Nevada City Film Festival's locally famous organic popcorn will play tasty sidekicks to these classic movies shown under towering trees.
June 15 Raiders of the Lost Ark
July 27 What About Bob?
$7 ($5 for children 12 and under). Movies start at dusk. Pioneer Park. 421 Nimrod St. Nevada City. nevadacityfilmfestival.com
Natomas at Nite (Natomas)
Bring the whole gang for these family-friendly flicks screening at North Natomas Regional Park.
June 21 Mary Poppins Returns
July 12 Lego Movie 2
July 26 Incredibles 2
Aug. 9 Wonder Park
Free. Movies start at sunset. North Natomas Regional Park. 4989 Natomas Blvd. angeliqueashby.com
Screen on the Green (East Sacramento)
Free popcorn and double screening of 2018's Oscar award-winning animated feature? Your spider-sense must be tingling.
July 26 Spider-Man: Into the Spider-Verse
July 27 Spider-Man: Into the Spider-Verse
Free. Movies start at sundown. Locations vary. sacscreenonthegreen.com
You Might Also Like
Empress Tavern launches a "Top Gun"-inspired cocktail menu
Four local film festivals for Sacramento cinephiles
Homecoming Queen, Greta Gerwig