30 Things Every Sacramentan Must Eat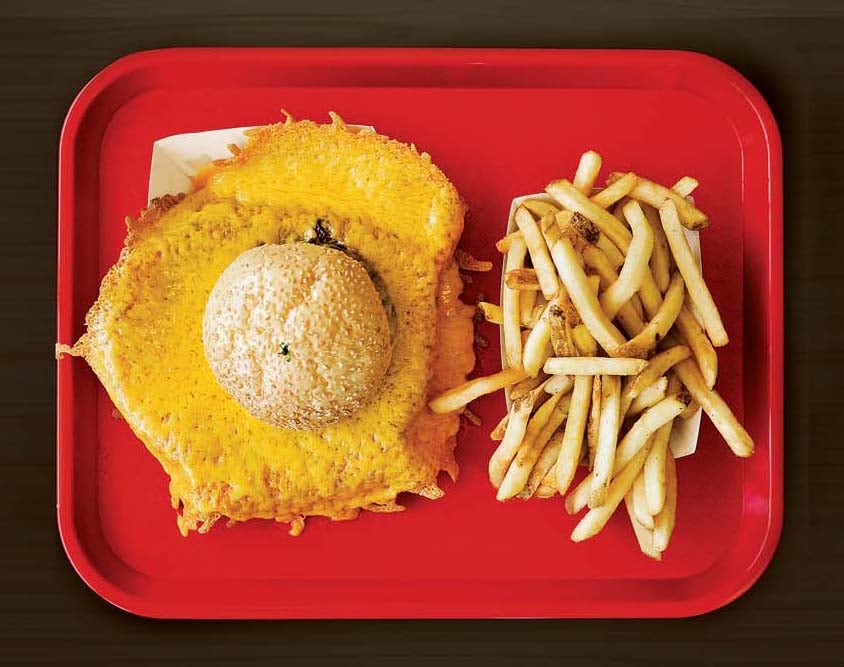 Boy, are we full—of both nosh and nostalgia. That's because we've spent the past two months ambling down memory lane and chowing down on foods we can't live (or rather, live well) without. From forever favorites like Squeeze Inn's Squeeze with Cheese and Frank Fat's banana cream pie to instant classics like Bacon & Butter's flawless flapjacks and Mother's chicken-fried mushroom po'boy, here is our guide to 30 essential edibles in the Sacramento region. If you live here, or are even just passing through, this is required reading—and eating. Scroll down and get ready to start ticking off your gustatory "must" list.
Editor's Note: This story was published in our February/March 2017 issue and was accurate at press time. Please be sure to confirm details before planning visits.
Tower Cafe's Custard French Toast
Thick and pillowy, the acclaimed French toast at Tower Cafe is the gustatory equivalent of sinking into the warm embrace of a feather bed. What makes it so good that it's been on the brunch hot spot's menu since day one in 1990? The recipe, developed by owner Jim Seyman, is classified, but surely the thick-cut French bread, given an overnight soak in sweet vanilla custard, helps make it the luscious dish that upstages all of its sister versions around town. By the time the French toast arrives at your table, it's crispy on the outside and the soft custard-soaked bread on the inside mimics bread pudding on its very best day. The Land Park restaurant serves up to 2,000 orders of its justly famed morning-meal staple every week, and diners have come from as far away as Australia saying they just had to taste it. As such, you can expect to cue up, especially during weekend brunch, along with throngs of other toast-hungry fans who've come from near and very far just for this signature Sacramento dish.
2021 Update: After closing its doors in March 2020 due to the pandemic, Tower Cafe will reopen on Monday, July 12. Hours of operation will be Monday & Tuesday from 8 a.m. to 3 p.m.; Wednesday & Thursday from 8 a.m. to 9 p.m.; Friday & Saturday 8 a.m. to 10 p.m.; and Sunday from 8 a.m. to 9 p.m. 1518 Broadway. 916-441-0222. towercafe.com
Mahoroba Bakery's Kobe Cream Buns
The diversity of Sacramento's food scene is among its greatest strengths, and there's no sweeter, lighter, more rewarding way to get a taste of that than at Mahoroba Japanese Bakery, which opened in 2009 on Freeport Boulevard near another Asian cuisine fave, Oto's Marketplace. In Japanese, "mahoroba" means a land of bliss and peace, and that's exactly where a single bite of Mahoroba's signature Kobe cream buns will transport you. Both a poster outside the charming round bakery and a sign in the glass case proclaim the Kobe cream to be the bakery's No. 1 seller, and no wonder: The golden-glazed buns are featherlight and fluffy, plump with a creamy vanilla custard. One bite, and journeying back to the mythical Mahoroba land is guaranteed to become an oft-repeated pilgrimage. Owner Narusuke Monguchi, who can be spotted kneading soft, pillow-sized lumps of dough on busy mornings, attributes the Kobe cream buns' popularity to their wealth of not-too-sweet custard. We heartily concur—and we couldn't be happier that Sacramento is home to these baked mounds of bliss. 4900 Freeport Blvd. 916-454-1879
Magpie Cafe's Carrot Cake Cookies
There they always were in the bakery case at the original Magpie Cafe: unassuming but tempting, nubbly and orangey golden brown with luscious cream cheese filling peeking out. Now on the menu at Magpie's midtown location at 16th and P streets, to where owners Ed Roehr and Janel Inouye moved their restaurant in July 2015 (as well as at the couple's other eatery, Nido, which has taken over Magpie's former R Street spot), the newly buzzy carrot cake cookies literally turn the traditional carrot cake inside out, with the frosting sandwiched between a pair of buttery carrot-oatmeal crisps. In other words, this handheld dessert is deceptively simple, elevated to delicious perfection by attention to detail—Magpie's signature style—and impossible to put down. Just ask any of their high-profile fans, like Frank Black of the Pixies and the Dalai Lama, who went for seconds—no small feat with these rich gems!—at a lunch Magpie prepared for his visit to the Capitol last year. Follow His Holiness' lead and go get yourself a plate of these sinfully indulgent treats. 1601 16th St. 916-452-7594. magpiecafe.com
Squeeze Inn's Squeeze With Cheese
A decade has passed since Guy Fieri cruised up to the Squeeze Inn and messily devoured its legendary Squeeze with Cheese on Diners, Drive-Ins and Dives, but that renowned burger still wears the jauntiest "skirt" in town: a decadent, delicate, crunchy nimbus of cheddar cheese ringing a beef patty. To achieve said effect, an altogether extravagant quarter pound of cheese is steamed on the flattop grill with a handful of ice—a technique attributed to Maxine Noblett, whose son and daughter-in-law, Ken and Ruth, launched the restaurant chain in 1982 in East Sacramento—before being allowed to spread, sizzle and crisp up to lacy-thin perfection. Thankfully, the celebrated cheeseburger is still made just as Mrs. Noblett intended. (For the faint of heart—literally—a smaller "mini skirt" is available upon request). And, thanks to the addition of multiple new locations over the years (including one far-flung outpost in Missouri, to where Ken and Ruth moved in 2001), you can chase this skirt from midtown to Roseville to Galt and beyond. Multiple locations. squeezeburger.com
Bacon & Butter's Flapjacks
Like most Americans, Bacon & Butter's chef-owner Billy Zoellin recognizes little if any technical distinction between a pancake and a flapjack. Yet the heavy, sprawling stack that arrives on the table at his Tahoe Park destination sets a singular Sacramento standard, as if to say: "You can get pancakes anywhere in town. These are flapjacks." At a glance, they defy everything you think you know about this breakfast staple—they're oblong, pock-marked, inch-thick with edges that tower over the plate like jagged cliffs (rather than well-behaved, thin spongy circles with softly curved borders). Then you eat them, revealing a doughy density more reminiscent of a freshly baked, toothsome biscuit than the griddle-browned cakes might otherwise suggest, and you imagine this is how real '49ers made flapjacks in Coloma with a cast-iron skillet over an open flame. Like so much of what makes Bacon & Butter a bustling morning magnet, the golden stacks are a testament to Zoellin's quirk and precision: The combined batter ingredients, measured by the gram, aren't poured onto the griddle so much as dropped there (with an ice cream scooper, no less). The Californication of the hotcakes is then made complete with farm-fresh diced fruit served atop it. Welcome to the new Gold Rush. 5913 Broadway. 916-346-4445. baconandbuttersac.com
Firestone's Brandy-Fried Chicken
With its tender, savory meat and shatteringly crisp golden exterior, the Wong family's brandy-fried chicken—made with, yes, a slug of brandy in the marinade—earned a hyper-loyal following during the 37 years that Luau Garden served it up. Luckily, when the Chinese American standby on Arden Way closed in 2011, its most popular dish wasn't lost to posterity: The restaurant owners' sons—Mason, Curtis and Alan Wong—thankfully brought the family recipe to the grid and have featured the fabled chicken as a main dish (boneless, unlike the Luau Garden original, and served with fries) at their downtown spot Firestone Public House since its opening in 2012. (It also appears as an irresistible appetizer of smaller, snackable nuggets at the siblings' newer R Street restaurant, Iron Horse Tavern). Lucky for all of us, the family's brandy-fried chicken isn't just part of Sacramento culinary history, it's now also delicious bar food par excellence. 1132 16th St. 916-446-0888. firestonepublichouse.com
An Honest Pie's Buttermilk Pie
If scent is the strongest sense tied to memory, the sweet whiff of freshly baked buttermilk pie no doubt left a lasting impression on Brenda Janssen. The baker runs An Honest Pie, a Grass Valley-based mobile food truck slinging decadent mini pies to customers throughout the Sacramento region (you can follow it on Facebook to track it down; you'll also find the truck at many SactoMoFo events), including a homemade buttermilk pie that she remembers a family friend from Georgia bringing to gatherings over 40 years ago. Happily, Janssen got ahold of the old recipe, and several attempts and versions later, has perfected a delectable, round hand-pie variation that's made to order and arrives in a foil sleeve to keep the precious oven heat in. Holding it with two hands, you can sink your teeth into its flaky, buttery crust, letting that first bite give way to a warm, sweet caramelized sugar interior that tastes like crème brûlée, with a velvety consistency reminiscent of pecan pie filling. Dusted with sugar, the treat is so rich that you'll feel like sharing bites, but so addictive that you won't want to. anhonestpie.com
Shoki Ramen House's Tan Tan Men
When chef Yasushi Ueyama and his wife Kathy opened Shoki Ramen House on 24th Street in 2007, the restaurant quickly became one of Sacramento's favorite places to dive into a belly-warming bowl of hearty broth and noodles. While all the varieties of ramen at this beloved soup joint (which has since moved to 21st Street; there is also a second outpost on R Street) are top notch, we keep coming back for Shoki's signature tan tan men. It starts with a broth base that is a blend of Japanese spices (such as bonito), shitake mushrooms and vegetable stock. Then the traditional salty flavoring sauce known as shoyu tare is added to build up the ramen's earthy, umami flavor. One of the secrets to Shoki's allure is that Ueyama goes the extra mile, making his own tare in-house, where lesser noodle parlors rely on a prepared version. Next comes your choice of noodles—we recommend the thick ones for optimal texture, but other options include thin, yam and whole wheat. This body-and-soul-satisfying bowl can be topped off with a variety of proteins and vegetables, like minced beef spiked with chili, half-poached egg, and healthy greens like steamed cabbage, baby spinach or wet wakame (a Japanese seaweed said to have detoxifying qualities). Remember, in Japan it's considered impolite not to slurp loudly, so make some noise to pay your compliments to the Shoki chef. 2530 21st St. 454-2411. 1201 R St. 916-441-0011. shokiramenhouse.com
Mother's Chicken-Fried Mushroom Po'boy
The most iconic dish at Sacramento's vegetarian haven Mother got its start in 2011 as a food pun: Chef Michael Thiemann, who co-owns the downtown restaurant with wife Lisa Thiemann and Ryan Donahue, was seeking fresh spins on American standards for his herbivorous menu, so he remade the po'boy—a famous New Orleans export stuffed with breaded and fried oysters—with oyster mushrooms instead of shellfish. ("Chicken-fried," by the way, refers to the method of breading and frying—not to actual chicken.) This wink-and-a-nod innovation resulted in the most satisfying meatless sandwich we know: With savory depth from the mushrooms, the contrast of their soft texture and their crisp crust (made with buttermilk, onion, garlic powder and flour), and a house-baked roll piled high with tangy pickles, remoulade and Crystal hot sauce, it's no surprise the dish became a runaway hit. Mother's menu changes frequently, but that signature sando, Donahue assures us, isn't going anywhere anytime soon. 1023 K St. 916-594-9812. mothersacramento.com
Hawks' Charcuterie Plate
Since Hawks took flight in 2007, the fine-dining restaurant's exotic array of house-made pâtés, terrines and salame has drawn a flock of visitors to Granite Bay, including local chefs like South's Ian Kavookjian and Mikuni's Taro Arai. The plate will always vary, but diners can expect it to be adorned with morsels of culinary artistry like bacon-wrapped liverwurst made with duck liver, pork shoulder, white wine and onions; paper-thin slices of zesty fennel-and-black-pepper salami; or rich, creamy duck liver mousse. Served with garlicky toasted bread, tangy pickles and tart mustards, the result is a carnivorous carnival of tastes and textures. Husband-and-wife chef-owners Michael Fagnoni and Molly Hawks first discovered a passion for charcuterie while working together in the kitchen of The Village Pub, the Michelin-starred Bay Area eatery helmed by celebrated chef Mark Sullivan, and they now run one of the only restaurants in the Sacramento region that cures its own meats, so don't miss out on this protein-fueled, flavor-filled adventure. 5530 Douglas Blvd. Granite Bay. 916-791-6200. hawksrestaurant.com
Poor Red's Golden Cadillac
While this cocktail that put the town of El Dorado on the international spirits map may not technically be something you eat, the Golden Cadillac—made with Galliano liqueur, white crème de cacao and half-and-half that are blended with ice—is practically a dessert with its frothy, milkshake-like texture and sweet, herbaceous flavor (in fact, the famed New Orleans restaurant Antoine's adds vanilla ice cream to its version). The drink was created at Poor Red's Bar-B-Que in 1952 when a newly engaged couple popped in, and the fiancée wanted a celebratory tipple that served as a tip of a hat to the couple's gold Caddy. Bartender Frank Cline obliged, concocting a cool, creamy, straw-tinted beverage. The cocktail—which at the roadside dive is served in a champagne coupe with the extra from the blender presented in a separate glass—can now be found coast to coast, and is reportedly even a favorite of actor Bill Murray, who used to partake of the beverage at none other than the Oak Bar at New York's Plaza hotel. Meanwhile, Poor Red's tops off about 5,000 glasses of the Golden Cadillac a month (the bar is the top seller of Galliano in the world), with no sign of slowing down. If you've never had a sip of this luscious libation, it's time to get your motor runnin' and head out on the highway. 6221 Pleasant Valley Rd. El Dorado. 530-622-2901. poorreds.com
Merlino's Orange Freeze
In 1946, Bauldi Merlino and his wife Mary opened up a tiny popsicle stand at 3rd Avenue and Broadway, and introduced Sacramentans to the Merlino's Freeze. A refreshing sweet-tart treat that can be compared to a hybrid of sorbet and shaved ice, the dessert has long served as an icy antidote to our city's summer heat, and became so popular in the '60s and '70s that then-Governors Ronald Reagan and Jerry Brown would brave long lines to get a coveted cup. The famous freeze, whose cool blend of water, fruit juice and sugar remains a secret, comes in flavors like orange (the original and most popular), strawberry and mango, and can be ordered with vanilla ice cream inside for an extra creamy indulgence. Now, 71 years after the first spoonful was sampled, Sacramento's trademark frosty dessert is still scooped into plastic cups at Raley Field during River Cats games, at the California State Fair, and year-round at spots like Mr. Pickle's Sandwich Shop on Folsom Boulevard. In our ever-changing city, it's comforting to know that some things have stayed frozen in time. Multiple locations. merlinosfreeze.com
Dad's Burger at Dad's Kitchen
By now, pretty much anyone with even a passing interest in Sacramento food culture knows that the flagship burger at this local institution achieved national fame after triggering Guy Fieri's rapture in a 2010 episode of his Food Network series Diners, Drive-Ins and Dives. Say what you will about Fieri's quasi-foodie bro-shtick, but on this dish, the TV host's taste is unimpeachable. Tweaked and perfected by chef Luis Becerra, the burger is an unholy flavor collision of beef from Napa's 5 Dot Ranch encrusted in crispy bacon and melted blue cheese, then topped with spicy-but-harmless Aleppo chili spread and tucked in a bun from Davis' Village Bakery. But no must-eat cycle at either of Dad's locations in Land Park or Fair Oaks is complete without a side of garlic fries sprinkled with grated Parmesan cheese (or beer-battered onion rings under rivulets of balsamic reduction), plus a pint of craft beer—often rotated, dependably local, and another facet of this restaurant's delicious mythology. 2968 Freeport Blvd. 447-3237. 8928 Sunset Ave. Fair Oaks. 916-241-9365. ilovedadskitchen.com
Osaka-Ya's Snow Cones
On any given day in summer, you may notice a line forming in front of a small, unassuming window on a quiet, tree-lined block of 10th Street in Southside Park. Part of Sacramento's modern-day Japantown, the window belongs to Osaka-Ya, a confectionery run by owner Linda Nakatani, whose parents opened the shop in 1963 and began churning out snow cones from a hand-crank machine her great uncle sent from Japan (the shop inside is known for its delicious handmade mochi in multiple flavors; our favorite is the peanut butter chocolate chip). These days, the machines have motors, but the fluffy shaved ice piled high in Osaka-Ya's signature paper cones is still doused in house-made syrups in 19 flavors, from pineapple to root beer. One popular choice is Tiger's Blood (reminiscent of red fruit punch), with a scoop of Gunther's vanilla ice cream hidden in the middle. With each spoonful you get a juicy blast of frozen nostalgia offset by the creamy, cold smoothness of ice cream—a historic Sacramento treat and a surefire cure for those summertime blues. 2215 10th St. 916-446-6857. osakaya-wagashi.com
The Press Bistro's Potato Croquettes
Press Bistro's humble potato croquette is a fantastical exemplar of the kind of food that normally resists elevation. We have all had tater tots tarted up with truffle oil or gravy or the suddenly ubiquitous sriracha, but they somehow never rise above their own self-conscious campiness. But these croquettes are the fried spuds of the gods. Light and creamy on the inside, delicately crunchy on the outside and redolent of pure potato essence, they are possessed of the kind of understatement that can only be achieved by an experienced and masterful hand. So it's all the more impressive that they are the exultant product of leftovers. Chef-owner David English introduced them to the menu when he opened his elegant midtown restaurant seven years ago as a way of upcycling yesterday's mashed potatoes (made with milk infused with garlic and herbs). He leaves the delicious detritus to dry out in the fridge overnight, then shapes it into little oval footballs, breads them in flour, egg and panko and flash fries them. The fragile, golden panko coating gives way gently when you bite into the croquette—it's there just to emphasize the softness within. You'll notice people seem to close their eyes when they eat these, which pretty much says it all. 1809 Capitol Ave. 916-444-2566. thepressbistro.com
Frank Fat's Banana Cream Pie
It's impossible to imagine Frank Fat's menu without three famous dishes: honey walnut prawns, New York steak and banana cream pie. However, there's something uniquely essential about the pie—a custardy, comforting slice of Sacramento that originated in the long-standing Chinese restaurant's downtown kitchen in the early '40s. Back then, Frank Fat and chef Bob How developed five cream pies (pineapple, apple, coconut, chocolate and banana) as a response to cravings of the legislators, lobbyists and other Capitol creatures who sought more familiar domestic dishes at Fat's booming L Street retreat. Of the five pies, only chocolate and banana are still served. Yet banana cream, which is now available at all four Fat's locations, persists as a cornerstone of the local restaurant empire—its lightness in seeming defiance of its towering whipped cream topping, its eminently flaky crust owing to chef Lina Fat (Frank's daughter-in-law and a Sacra-mento icon in her own right) replacing the lard in How's original recipe with butter and margarine, its legend as sturdy and synonymous with Sacramento history as the Fat's name itself. 806 L St. 916-442-7092. frankfats.com
The Nutburger at Sunflower Drive-In
Arguments over the signature burger in Sacramento typically devolve to heated discussions between carnivores about meat slung at glorified greasy spoons (or, lately, food trucks). But vegetarians needn't feel left out of the conversation, thanks to the celebrated sandwich topping the menu at this natural foods stand on the edge of Fair Oaks Village. The Nutburger both is and isn't just what it sounds like: a texture-rich blend of sunflower seeds, cashews, walnuts and almonds in a patty bound with carrot and brown basmati rice. (Fun facts: The restaurant, which the husband-and-wife team of Dennis and Rebeckah Click opened in 1978, takes its name from the Nutburger's main ingredient and produces around 1,000 patties each week for the menu standout.) Yet it resists dry, dreary veggie burger convention through a lilt of herbs, a tangle of fresh sprouts, and its decidedly classic tomato-lettuce-pickle trinity on a fresh wheat bun. Eating at a picnic table orbited by the Village's ubiquitous, strutting roosters, you'll find that, indeed, food in Sacramento doesn't get much more natural than this. 10344 Fair Oaks Blvd. Fair Oaks. 916-967-4331. sunflowerdrivein.cafe
The Waterboy's Veal Sweetbreads
It's nice to know that there are some things that can be counted on in this topsy-turvy world, one of them being the reliably impeccable veal sweetbreads at The Waterboy. The pale bulbs of the thymus gland require quite a bit of technique to present properly, but when they're done right—as these invariably are—sweetbreads are a luxuriant, creamy delicacy, the foie gras of the hoofed species. A favorite of prominent local chefs like Patrick Mulvaney, the dish is the only one from Waterboy chef-owner Rick Mahan's constantly rotating bill of French-Italian fare that has stood the test of time, appearing on every single menu since the celebrated fine-dining restaurant opened its doors in midtown in 1996. While the sweetbreads' plating has varied slightly over the years—they have been garnished at different times with pork belly or mushrooms—these days, expect to see them poached in wine with aromatic herbs, sliced, then lightly dredged, sautéed and served with a luscious pan sauce made with marsala wine, demi-glace, cream, shallots and capers. Whenever you go, you can depend on them being perfectly prepared and unfailingly tender and succulent. 2000 Capitol Ave. 916-498-9891. waterboyrestaurant.com
Ground Beef Taco At Jimboy's Tacos
A lot has changed since Jimboy's Tacos founders Jim and Margaret Knudson first started slinging their namesake dish at their Grass Valley restaurant, Jimmy's 49er Cafe, back in 1954. For one, the quintessentially American take on the classic Mexican food is no longer referred to as "Jimboy's Spanish Tacos" as it briefly was in the 1950s, purportedly to help stateside diners understand how to pronounce the then-exotic-sounding foreign word. But one thing that hasn't changed is the ground beef taco itself—a menu item that the couple perfected at their first official Jimboy's Tacos location in Lake Tahoe before they migrated back to the Sacramento region in 1961. A study in simplicity, today's version relies on the same comforting combo of seasoned ground beef, American cheese, shredded lettuce and grilled, stone-ground corn tortillas dusted in Parmesan (a tasty addition that Jim discovered by accident). Said to have bewitched Tahoe regulars Dean Martin and Frank Sinatra, Jimboy's humble recipe may not be as authentically Mexican as anything on the menu at Chando's, but after 68 years as a local staple, it is as authentically Sacramentan as you can get, not to mention one of the most satisfying, hangover-busting fares this side of the border. Multiple locations. jimboystacos.com
Mesa Mercado's Chile En Nogada
At Mesa Mercado, the colorful chile en nogada, which is traditionally served on Mexican Independence Day, is a red, white and green flag-waving celebration on a plate. And with its mild, meaty poblano chili, roasted and stuffed with delicately spiced, raisin-studded minced beef and pork, draped in a velvety-smooth walnut crema and bejeweled with glistening pomegranate seeds, the festive dish feels so edgy and modern that it's quite shocking to discover that it wasn't created by some farm-to-fork rock star chef, but by 19th-century nuns, and has historically been prepared by an army of mothers and grandmothers on feast days. For good measure, Mesa Mercado's owner Ernesto Delgado brought on a Mexican grandmother, Bertha Graciela Medrano Ríos, as a "flavor consultant" to cast a spell of authenticity over the new Carmichael restaurant's version of the dish. As legendary a tradition as it is for our neighbor to the south, chile en nogada is an item that seldom crosses the border, perhaps because it's traditionally served at room temperature, which clashes with Americans' expectations for a hot entrée. No sensory worries here—we warmed to this pretty pepper right away. 6241 Fair Oaks Blvd. Carmichael. 916-283-4081. mesamercado.com
Biba's Lasagne Verdi Alla Bolognese
The sheets of pasta in celebrity chef-owner Biba Caggiano's lasagna are so thin you could read a copy of Il Mondo through them, yet for all that fragility, the pasta remains pleasantly firm and supple as you bite through the 10(!) layers of it in this vaunted dish. While the pork and veal Bolognese sauce made with imported San Marzano tomatoes grown in the shadow of Mt. Vesuvius is meaty and tasty and the béchamel sauce rich, the epicurean experience here is all about those silky layers of pasta. The coveted entrée has been on the menu at the chef's eponymous midtown restaurant for 30 years, but you can only order it on Thursdays and Fridays, largely because making it is such a daunting process (pro tip: it often sells out on Friday nights, so make an early dinner reservation)—a staff of kitchen helpers labors for the better part of a week in the lasagna-industrial complex known as Biba's kitchen, arriving at 4 a.m. to produce a precious five to seven pans. In fact, we're told that the pasta whisperers are none too pleased when the lasagna—which no less a gourmand than Darrell Corti himself has deemed the single best dish in Sacramento—gets a press mention like this one, as it means they have to up the output to meet the surge in demand. To this, we can only say, scusa—and grazie. 2801 Capitol Ave. 916-455-2422. biba-restaurant.com
Corti Brothers' House-Made Ravioli
The drawing of a proud, corpulent chef adorning the flat white boxes that each hold four dozen Corti Brothers ravioli looks like something straight out of a vintage advertisement. But this is no hipster-retro design: it's the real deal. Corti's pillowy little ravioli, scratch-made from an old family recipe since the grocery store's humble 1947 beginnings as an East Sacramento specialty market, stake their claim as the oldest continuously produced food product in Sacramento. So yes, they're a can't-miss taste of local food history, but the real reason you should keep a box (or three) on hand in your freezer is that they're always perfect, whether you choose the savory beef with spinach or the delicate ricotta filling with a hint of garlic—both come draped in sheets of tender house-made egg pasta. They cook up into a fantastically quick, crowd-pleasing supper that's equally ideal for a celebratory meal (for many locals, they're a sine qua non of holiday feasts) and rushed weeknight dinner: just boil them up and serve to acclaim. (Tip: Corti's richly flavored meat sauce, also created from a family recipe, makes for a delicious topping.) You'll be joining a tradition that includes generations of happily sated Sacramentans. No wonder that chef looks so proud. 5810 Folsom Blvd. 916-736-3814. cortibrothers.com
Smoked Prime Rib at Jamie's Broadway Grille
Prime rib, done right, is a thick, juicy slice of Americana on a plate, a dish as hallowed as the all-American steakhouse itself. It may come as a charming surprise, then, to learn that the best prime rib in town is served smoked (yes, smoked!) at a humble taxidermy-filled dive bar that doesn't even have a sign out front. Jamie Bunnell opened Jamie's Broadway Grille in a former Land Park auto shop with his wife Vicki in 1986, and invented his menu mainstay in 1988 when he got a hand-me-down smoker and started playing around with it out back. Now Bunnell arrives every weekday morning at 4 a.m. (the restaurant's closed on weekends) to fire up that smoker, then treats his boneless roasts to a dry rub before racking them to smoke for four hours or so. If you haven't been digging ditches or breaking rocks all day, you probably won't be able to finish your steak, so be sure to eat the perfectly charred crust around the edges first, dipping each piece in Bunnell's luxuriant crème fraiche horseradish sauce. Plan to dine early (best get there as close to 5 p.m. as possible to avoid sold-out disappointment), or call ahead to put a plate on hold, as Jamie smokes just one roast per day, which serves around 15 lucky first-come carnivores at dinner—except on Fridays, when you can get it for lunch, too. Just don't plan on going back to work after. TGIF. 427 Broadway. 916-442-4044. jamiesbroadwaygrille.com
Ella Dining Room & Bar's Roasted Bone Marrow
Sacramento once had a reputation as a town of conservative eaters, but that's changed, thanks in part to pioneers like Ella, which was among the first to popularize bone marrow—yep, the soft, rich substance inside a bone—here. Kelly McCown, who was then executive chef at the downtown restaurant (he's now at Ella's sister eatery The Kitchen), started serving the dish in 2009—with a key innovation that makes his version a Sacramento icon: Crosscut marrow bones are a classic French preparation, but McCown updated it by splitting the femurs lengthwise, letting diners more easily spoon out the sought-after prize of luscious marrow, which is roasted until caramelized in a wood-fired oven and presented in the bone on a bed of hot salt. It's delicious, succulent, comforting and sophisticated all at once, made for spreading onto grilled bread. (The plate's other accoutrements change periodically; currently, they include pickled pink peppercorns and a micro herb salad.) It's so good, Sacramento has gone for the sizzle rather than the steak: Hot, buttery marrow has become one of Ella's longest-running—and most requested—dishes, with the restaurant serving up 120 pounds of the delicacy a week. 1131 K St. 916-443-3772. elladiningroomandbar.com
Captain's Chowder at Blackbird Kitchen
Over the years, downtown's Blackbird Kitchen has opened and closed more times than most restaurants can survive, but we suspect that at least one reason for its stubborn endurance is its Captain's Chowder. Filled to the gills with such underwater creatures as squid, clams, mussels, shrimp and salmon, along with chunks of velvety potatoes, this hearty, peppery soup, created by original chef-owner Carina Lampkin, has made it through all three of Blackbird's iterations, and is anything but your typical soup of the day. The trick, says the restaurant's current chef Jake Shockey, lies in the savory base—hickory-smoked onions sit in heavy cream for 48 hours, after which spices like East Coast standby Old Bay seasoning and Crystal hot sauce are added. Before the seafood is tossed in, the cream gets further jazzed up with the addition of "mussel pop" (the pan juices left behind after sautéing mussels in Chablis wine and garlic until the mussels "pop") to give the soup an undercurrent of ocean flavor. The chowder is so popular that it accounts for two of the eatery's dishes: the Captain's Chowder and the Captain's Fries, in which pomme frites are dressed with a healthy ladle of the signature soup. 1015 9th St. 916-498-9224. blackbird-kitchen.com
Editors' note: This story was originally published in Sactown's February/March 2017 issue. Blackbird Kitchen closed later that year. 
Hook & Ladder's Brown Butter Cookies
If you are looking for Matt Masera, just follow the trail of crumbs. In April, the rising young chef left downtown vegetarian hot spot Mother—where he had created a brown butter and sea salt cookie that quickly garnered a cult following—for a stint at midtown's Saddle Rock, where he re-introduced the treat to diners there. When Masera moved on to nearby Hook & Ladder in November, he brought his beloved buttery dessert along with him—thanks in part to the nudges of its foodie fans. Now you can get the chewy, sweet-salty cookies warm from the oven at his current post, where they're served three to a plate. A larger version of a silver-dollar-sized cookie he had once made as pastry chef at Food Network star Tyler Florence's Wayfare Tavern in San Francisco, the recipe is simple but requires precise execution to brown the butter just right and bake the cookies for only a few short minutes, creating a soft, melt-in-your-mouth treat topped with a slight sprinkle of Jacobsen sea salt. 1630 S St. 916-442-4885. hookandladder916.com
Editors' note: This story was originally published in Sactown's February/March 2017 issue. Matt Masera is no longer the chef at Hook & Ladder, and the restaurant no longer serves Masera's brown butter cookies.
Sandra Dee's Sweet Potato Pie
If you're craving something sweet after a savory plate of 'cue and fixins at Sandra Dee's in downtown Sacramento, look no further than a slice of the restaurant's classic sweet potato pie. It arrives at the table warm and ready to be devoured, its thin but sturdy crust supporting an irresistible filling spiced with cinnamon and nutmeg. Owner Sandra Dee Johnson, a Louisiana native who adapted her grandmother's sweet potato pie recipe, goes to great lengths to strain out the root vegetable's stringy parts, producing a decadent filling that's creamy with an almost fudge-like consistency. The beloved barbecue joint is known to turn hundreds of pies out of its kitchen on any given day (yes, you can order them whole), but you won't find any whipped cream or frilly garnishes decorating the dessert; Johnson says she prefers it simple—just the way it appeared on her grandmother's dinner table all those years ago. 601 15th St. 916-448-6375. sandradeesbbq.com
Editors' note: This story was originally published in Sactown's February/March 2017 issue. Sandra Dee's closed on July 20, 2019
Rainbow Orchards' Apple Cider Donuts
Back in the 1960s, when Rainbow Orchards started frying its famed apple cider doughnuts, there were only five bakeshops at Apple Hill, each one specializing in a particular delicacy. Now there are dozens of places to grab a cinnamony treat—but the line at Rainbow on busy weekend mornings still stretches around the barn (try to get there as early as you can to avoid crowds). Owner Christa Campbell, who has been frying since 1977, attributes the doughnuts' devoted following to the fact that each and every one is made to order, so they're hot and supremely fresh—which sets them apart from their Apple Hill counterparts. But they also reign supreme as the best doughnuts we've ever had, boasting perfectly tender crumb, delicate spiced-apple flavor and a liberal coating of cinnamon sugar. The recipe is a secret, but it contains just-pressed apple cider milled on-site from Rainbow's own apples. In fact, the cider is so popular that Campbell sometimes has to fight to keep enough aside for her dough. Our hot-from-the-fryer tip: when you go (and go you must, as soon as the orchard reopens for the season Labor Day weekend), order more than you intended. Good things are worth waiting for—and go faster than you'd think. 2569 Larsen Dr. Camino. 530-644-1594. rainboworchards.net
Adobada Mulita at Chando's Tacos
There's no denying Lisandro "Chando" Madrigal has created a taqueria empire in the capital city. Chando's is an initiation spot for out-of-town guests and a favorite off-work haunt for the region's top chefs like Kru's Billy Ngo. It's where we go when we're craving no fuss, authentic Mexican street fare, and, more specifically, that addictive little dish called a mulita. Like the quesadilla's much hipper cousin—its cheesy edges spilled out into a crisp skirt—the mulita can be ordered with any of Chando's meat or fish options, but Madrigal says that the best filling choice is the adobada, chunks of juicy pork marinated in a combination of 13 spices and citrus then turned slowly on an upright rotisserie broiler. When you sink into that first blissful bite, the toothsome texture of the corn tortilla and the melty smoothness of Monterey Jack cheese hit your palate, followed by the sweet, chili-spiced flavor of the meat and bright notes of fresh guacamole and chopped cilantro stirring your taste buds. Having recently expanded to five locations, from Roseville to West Sacramento—the latest in downtown Sacramento at 15th and I—the mulita is now happily never far from reach. Multiple locations. chandostacos.com
Petey's Fried Chicken at South
There's almost always a line at Southside's homey neighborhood restaurant South, a casual quick-service spot with a relaxed vibe and happy crowds since it opened in 2014. As you stand waiting to order at the counter, you'll notice that many, many tables are loaded with one dish: Petey's Fried Chicken—even South's official website address, weheartfriedchicken.com, alludes to it as its signature food—which is made from a recipe that hails from co-owner N'Gina Kavookjian's Mississippi roots ("Petey" is her mother's nickname) and brined overnight in a mixture of salt, sugar and herbs before being coated in a custom-seasoned flour blend and dropped into the fryer. What makes this chicken from the Deep South a must-eat for Sacramento? Not only the dish, but the restaurant and its Southside neighborhood embody one of our city's biggest strengths: how we embrace and integrate diversity into the fabric of our culture. Besides, the fried chicken—juicy and tender inside, crunchy outside and perfectly spiced—is the best of its kind in town (yep, we said it), so no aficionado of the quintessential comfort food (heck, nobody who likes to eat) should miss it. Go for the chicken, and also stay for its plate-mates: a flaky, oversized buttermilk biscuit with honey butter and the best kale you've ever tasted, all on a plate piled high with half a bird that's well worth lining up for. You know what? We heart fried chicken too—especially when it's this finger lickin' phenomenal. 2005 11th St. 916-382-9722. weheartfriedchicken.com