A Rainbow Connection
In 2021, a very special span—carefully crafted to bring health and happiness to some humans who deserve them the most—was constructed in Australia. We should walk a similar path and build our own bridge to a brighter future.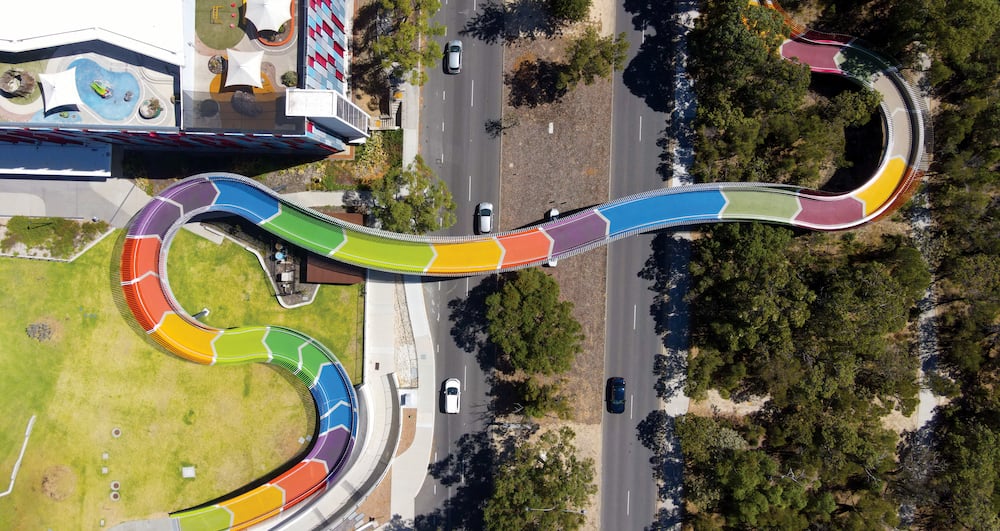 The Idea
If any members of our society deserve some access to healthy fun, it's children who are sick or injured.
So, long before the Perth Children's Hospital in Australia opened in 2018, there was a growing movement to connect the planned hospital to both a park and a botanical garden on the other side of a highway via a kid-friendly, rainbow-hued bridge that would not only make fresh-air destinations more accessible, but the journey cheerful and colorful too.
The result was the Kids' Bridge—a colorful 712-foot-long pedestrian span that crosses over several lanes of vehicular traffic to deliver kids and their families (on foot or in wheelchairs) to a place of joy. Speakers built into the sides of the bridge play "sounds of nature, birds and music to help children immerse themselves into the outdoors and provide a positive distraction during their treatment or care," according to the hospital's foundation.
The bridge also serves the staff of the hospital, making it easier for them to access green space for rest and relaxation as well, and giving them improved access to nearby bikeways. The then-Health Minister of Western Australia, Roger Cook, said of the project, "We all know the power of healing that trees, nature have in relation to the ongoing well-being and recovery of all patients."
Here in Sacramento, two of our premier children's hospitals—Shriners Children's and the UC Davis Children's Hospital—are just across the street from each other, separated by four lanes on X Street. There's also a green space close by called Vanderhoef Lawn, not to mention abundant neighboring surface parking lots that could be converted to lush and healing spaces for both patients and healthcare workers at this massive medical campus.
There's already a strong alliance between the two children's hospitals (the hospitals have long shared some doctors and services, for example). So, imagine our own bridge here that connected the two hospitals and, perhaps almost as importantly, connected kids to nearby park spaces that could be designed as healing oases from the ground up.
The Players
UC Davis and Shriners would clearly be the key drivers, perhaps with assistance from the city and county, along with private donors. As it happens, the design engineers for the bridge in Perth was AECOM—a global firm that designed the Golden 1 Center here in Sacramento. So, if we worked with AECOM, they wouldn't be starting from scratch. We could also hold an international design competition for the project, which is how Perth's bridge got its start.
The Bottom Line
The Perth Children's Hospital Foundation took the lead on its $4.4 million project (in U.S. dollars), with funding from private donors. However we decide to finance our bridge, improving the health and happiness of children with serious medical conditions would pay dividends for all of us. To quote one notable singing frog puppet, "Someday we'll find it, the rainbow connection."
Want to Learn About More Inspiring Ideas We Can Bring to Sacramento?
Sowing the Seeds of Change – Creating pocket forests to clean the air
Wayne's World – A dedicated Wayne Thiebaud museum
Why Not Here? 15th Anniversary Edition – 15 ideas from over the years