Why Not Here? 15th Anniversary Edition
15 Fun Ways to Take Our City to New Heights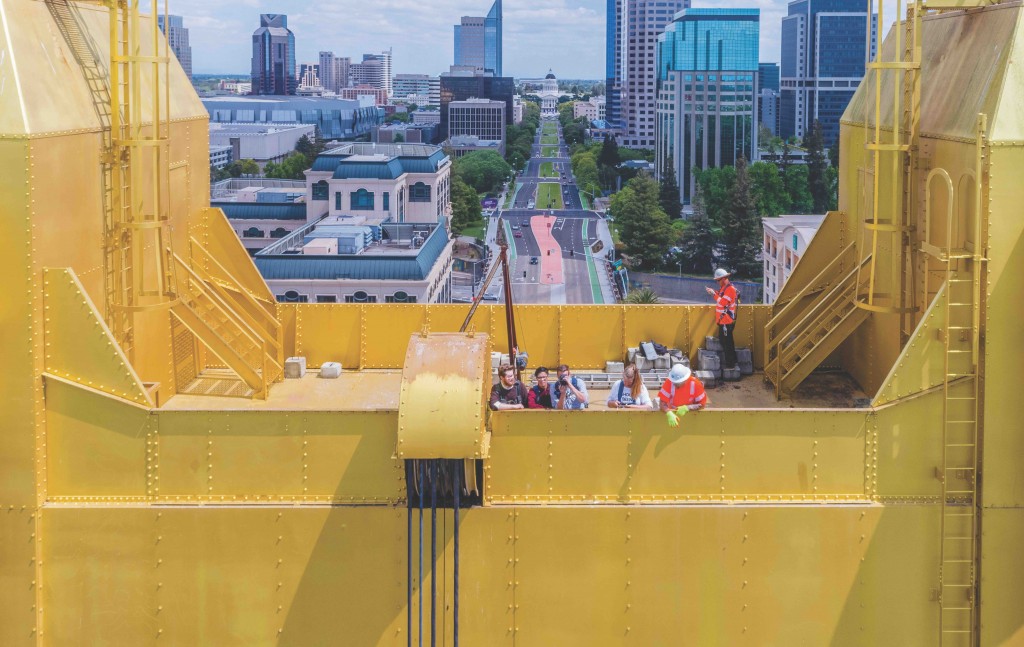 When my co-editor and wife Elyssa Lee and I launched Sactown in 2006, our mission was to shine a bright spotlight on the people, places and things that make our region the amazing place that it is.
But we had an ulterior motive—we also hoped to effect change.
Like all cities, Sacramento is a work in progress—a beautifully imperfect civic experiment that excels in many ways and falls short in others. So while our goal was to celebrate its strengths in every issue, we also wanted to float ideas to help push this region forward.
To that end, for the past 15 years, we've published both long-form, call-to-action essays and bite-sized pieces featuring ideas from other cities around the world that have inspired us, ones we thought we could—and should—make our own. The latter stories have appeared in our back-page column "Why Not Here?"
In all, we have published 90 issues and 90 "Why Not Here?" ideas, including our latest on page 176.
Happily, many of our civic wishes have come true through the hard work of others, such as the Wide Open Walls mural festival (launched by the tireless David Sobon), the Tower Bridge Dinner (the inaugural feast took place almost exactly a year after our piece in which we suggested a community meal on the bridge), the Sacramento Bastille Day Waiters' Race (which chef Patrick Mulvaney and developer Sotiris Kolokotronis ran with, so to speak), Sacramento's inclusion in the Zagat dining guides (which Tim Zagat greenlit on the condition that we edit the first list of local restaurants, a task we gladly undertook), the Umbrella Sky art installation (beautifully recreated by Yuba Sutter Arts & Culture), and the Blue Trees project (which dazzled downtown in 2012, thanks to the leadership of Sacramento Tree Foundation's then-executive director Ray Tretheway).
And since more is more in this case, to mark our 15th anniversary, here are 15 "Why Not Here?" ideas that we are still hoping will happen, from a New Year's Eve countdown clock that we lobbied for in our very first issue to a Nut Tree Restaurant 2.0 concept we proposed earlier this year.
Moreover, we hope that someone reading this now—maybe you!—might fall in love with one of these ideas and wills it into existence. And if you're not sure where to start, please shoot us a note at editors@sactownmag.com and we'll see if we can help.
Personally, we think Sacramento is ready for all of these. So maybe the new question should really be, "Why not now?"
A Splashy New Year's Eve Countdown Clock
First published in Issue No. 1, Dec. 2006

The Idea
On Dec. 31, 2005, almost a year before we published our very first issue, we joined tens of thousands of Sacramentans on the banks of the Sacramento River to ring in the new year. As the magic hour neared, however, there was no communal countdown, no anticipation-building chant. But there was a solution hiding in plain sight across the river in West Sacramento: the Ziggurat building, that pyramidal structure built as the headquarters for The Money Store in 1997, which has been rented by the state's Department of General Services (DGS) since 2001.
Sadly, once the state took occupancy of the building, it doused the exterior lights that made the structure a stunning riverfront beacon (lighting it only occasionally by request, for River Cats games and such). The reason: an unfounded fear of the perception that lighting it a few hours a night would be a waste of taxpayer money, even though the cost to light the entire structure was, at that time, a mere $3.50 per hour, or about $25 a night, to light it from sundown to midnight during the winter (and about half that during the summer). But the building also holds a secret. Serendipitously, it rises 10 stories above the ground floor, each level capable of illuminating separately and, as it happens, in sequence. Imagine each floor lighting from the bottom up as tens of thousands of us joined in on the count. "Ten! Nine! Eight!…" and then the digits of the new year blazing brightly on the roof.
The Players
The Department of General Services, now led by Ana Lasso, who took over in April, needs to be on board. The building's lighting can be programmed for the countdown (we've seen it tested), as long as DGS is willing. The building also has a new owner—the Bay Area-based Nome Capital Partners. If CEO Rohit Kumar wants to raise the profile—and value—of his property, a small investment to turn his structure into an iconic countdown clock could pay serious dividends. And Visit Sacramento, which stages the NYE fireworks show (please bring back the midnight showing, guys!), can be the catalyst.
The Bottom Line
At the time we published this in 2006, the building's original lighting designer estimated that it might cost a couple thousand dollars to install some new equipment to automate the sequencing, and maybe $12,000 to create a lighted sign showing the new year at the top. So perhaps $15,000 (or a bit more adjusted for inflation) for a spectacle that could last for generations. Talk about getting a big "bang" for your buck.
A Tower Bridge Climb
First Published in Issue No. 70, June 2018
The Idea
Creating new tourist attractions usually takes years of planning and millions of dollars. But some of the best attractions come from existing infrastructure and a fresh perspective.
Consider the Sydney Harbour Bridge in Australia. Completed in 1932, the massive span has long been an icon of the city, but in 1998, it became a portal to an exhilarating experience as well. That's when an enterprising professional climber unlocked the bridge's potential and began offering daily climbs to the top of the 440-foot-tall structure with breathtaking views.
Now consider Sacramento's historic Tower Bridge. Built in 1935, this span too has become an icon in its own right, though one that most of us observe from afar. But what if we took a cue from our friends Down Under and invited the world to take in the sights from atop one or both of our bridge's majestic 160-foot-high twin towers?
No, there's no express elevator, but think of the ladder climb as part of the adventure. After all, the Sydney bridge climb takes upwards of three hours and as many as 1,300 steps to complete. The Tower Bridge has a series of ladders inside both towers, each ladder wrapped inside protective cylindrical cages. And there are steel cable systems on the market that are designed to work in tandem with caged ladders and latch onto wearable harnesses to prevent falls.
The views from the top are stunning, and there is ample room for dozens of people at one time, with secure 4-foot-high railings. Adrenaline junkies could, if allowed, ascend even higher to the narrow upper wings where the aircraft lights are perched.
The Players
In 2014, the cities of Sacramento and West Sacramento reached an agreement with the state to take ownership of the bridge in 2019, but the cities pulled out due in part to cost concerns.
Caltrans maintains the bridge, so hopefully it'll be open to the idea. After all, the Sydney Harbour Bridge is owned by the state of New South Wales in Australia. And a similar proposal in Portland has gained wide support from its mayor, its city and state tourism boards, and Portland's version of the Greater Sacramento Economic Council. A private partner would also likely need to step up to operate the tours. Civic leaders on both sides of the river should start a dialogue to get this idea off the ground.
The Bottom Line
In Sydney, more than 4 million visitors have scaled the Harbour Bridge, paying nearly $300 each for the experience. A few years ago, annual revenues reached nearly $40 million. Even with a fraction of that, perhaps Sacramento could finally afford to take ownership of the Tower Bridge. This is our chance to leverage one of our city's greatest assets and create an A-list civic attraction. Let's take that first step.
A River Viewing Chamber
First published in Issue No. 42, Oct. 2013
The Idea
With the exception of a few rafters, boaters and fishermen, most of us rarely interact with the two rivers that provide our drinking water, feed our crops and provide, in my opinion, our region's single most beautiful topographic feature. But both South Lake Tahoe and exurban Portland have underground observation rooms where visitors can virtually step into their respective waterways. Tahoe's Taylor Creek Stream Profile Chamber and Oregon's Cascade Streamwatch allow visitors to descend into a room that puts them at eye level with fish and other aquatic wildlife, with interpretive exhibits that teach them about river ecology. In our region, the Sacramento River is too muddy to see anything, but parts of the crystal clear American River just might work.
Where would our viewing chamber go? The best option: Cordova Creek—a former drainage channel in Rancho Cordova that's currently being converted into a natural creek. It's also adjacent to Soil Born Farms, adding a potential farm-to-fork element to the endeavor where visitors could learn where their produce and fish come from all in one visit. Mark Marshall, park manager for the Wildwood Recreation Site—home of the Cascade Streamwatch—says the site draws about 105,000 visitors a year.
After we published our original story in 2013, the city of Rancho Cordova and local architect Matthew Shigihara—who designed two of the region's thoughtful (and artful) water intake structures along the river—pulled together a team that got remarkably far in planning such an endeavor.
The Players
The American River is heavily regulated, so it won't be quick and easy (though nothing great ever is). Matthew Shigihara, now a principal at NORR, an architecture, engineering and design firm in Sacramento, is key. He has essentially already designed the stunning structure, rendered here. Now we need the civic leaders in Rancho Cordova to reengage with the appropriate river authorities to see this project through. Former Mayor and current Councilman David Sander is actually a biologist and an early supporter of the project. And Rancho's new mayor, Garrett Gatewood, told The Sacramento Bee in April, "Rancho Cordova tends to be one of those quiet cities, everybody forgets about us. We're ready to step out."
This will accomplish just that.
The Bottom Line
Shigihara believes the project will run into the millions. Yes, that's a lot, but David Lukenbill of the American River Parkway Preservation Society told us that a project with an educational component like this might be eligible for federal dollars or environmental grant money. And hopefully private dollars would flow in too, as they did in Oregon. There are few more valuable natural assets in our region than our rivers, so it would benefit us all to develop a greater appreciation of them while inspiring the next generation to foster a deeper connection with them. So, enough with dipping our proverbial toes in the water, Sacramento—let's jump in and make this happen.
A Tower Records Museum
First published in Issue No. 51, April 2015
The Idea
Tower Records is, hands down, the coolest global company ever to emerge from Sacramento. Founded here in 1960 by Russ Solomon, Tower quickly became a global sensation, and while millions of people around the world felt like it was their hometown record store, it was actually ours.
And now it's time we claim it in a big way.
In the 2015 documentary All Things Must Pass by Colin Hanks and Sean Stuart, music superstars like Elton John, Bruce Springsteen and Dave Grohl gush about the record chain that reached more than 170 stores at its peak, and how it was not just a retailer but a true cultural phenomenon. And cultural phenomena—from Elvis to country music to rock 'n' roll—are celebrated in museums across the country. Why should Tower be any different?
Especially with vinyl back in a big way, let's create a civic amenity that visitors from across the globe will want to experience. Sacramento is short on must-see attractions, and a Tower Records museum would absolutely fill the bill.
Imagine a building that makes an architectural statement as bold as the company it honors. (Cleveland's Rock & Roll Hall of Fame museum, for instance, was designed by the late I.M. Pei, one of the world's greatest architects.) Inside, visitors would reconnect to the soundtracks of their lives as every genre of music on Earth reverberates through its rooms, each telling the story of a music culture that Tower helped shape. Massive video screens of music giants waxing nostalgic for the record chain with the iconic yellow sign would project from the walls, as listening stations—a staple in Tower Records stores—dot the spaces throughout, playing the music and telling the stories of generations of music lovers. And consider the treasure trove of artwork represented by some of the greatest album covers of all time.
Plus, true to Tower's aural history, the museum would feature concerts of all kinds, inside and outside the building, filling Sacramento's air with song.
The Players
As it happens, the Center for Sacramento History houses an impressive collection of Tower objects and memorabilia. Let's use that as the seed for a new international destination.
Solomon, who passed away in 2018, can tell Tower's story posthumously through countless hours of video footage already captured by Hanks and Stuart, and his widow Patti could also donate memorabilia that would keep his company's legacy alive forever.
The Bottom Line
In 2019, the Country Music Hall of Fame and Museum in Nashville drew more than 1.2 million visitors. And the Rock & Roll Hall of Fame museum boasted an annual economic impact of $199 million in Cuyahoga County in 2018. And there are enough very wealthy fans of Tower (Elton, Bruce, etc.) to tap for contributions. Done right, a Tower Records museum could be one of America's most popular attractions, bringing the sound of music back to the city that brought it to the world.
An Almond Blossom Festival
First published in Issue No. 14, Feb. 2009
The Idea
Credit where credit is due: This "Why Not Here?" idea came from my wife and Sactown co-editor Elyssa Lee.
You already know that Sacramento is the City of Trees, but you may not know that we also lay claim to the title of the Almond Capital of the World (it was even a Jeopardy! clue), thanks in part to locally based Blue Diamond, the world's largest almond processor.
So why not take two of our greatest civic legacies and combine them? Why not create an almond blossom festival here? Little Ripon, California, has one. So do Morocco and Sicily. And here's why: almond blossoms are nearly identical to cherry blossoms, the beautiful flowers that draw over 1.5 million visitors to Washington, D.C., every spring for the National Cherry Blossom Festival.
Both have pale pink or white five-petal blossoms and both bloom for a few weeks each year, producing spectacular natural scenery. The late UC horticulturalist Chuck Ingels told us in 2009 that almond blossoms generally bloom in February for about two solid weeks, and sometimes longer.
How do we get started? First, we need a place to plant a whole lot of almond trees (D.C. started with 3,000 in 1912). Imagine thousands of visitors strolling up and down Capitol Mall lined with brilliant white blossoms every February. Or start with someplace that could use a few trees, like the massive railyards project.
Seth Taylor, formerly the "plant doctor" at now-shuttered Capital Nursery in Sacramento told us in 2009 that almond trees are "pretty easy to take care of," and that without actively pollinating the trees with bees (as is customary), they wouldn't produce many nuts, but would still bloom. Since planting adult trees would be cost-prohibitive, Taylor suggested starting with 2-year-old "bare root" trees that will blossom about a year after planted. Other cities augment their festivals with concerts, parades and street fairs to entertain the throngs.
The Players
There's no shortage of tree enthusiasts in Sacramento, but few are more passionate than former Sacramento City Councilman Ray Tretheway, who was also the longtime executive director of the Sacramento Tree Foundation. Blue Diamond would be a natural partner, of course, both as a sponsor and co-host. The railyards developer, LDK Ventures, could be a potential partner if the trees end up in their district. And we have one of the country's greatest agricultural universities in UC Davis that could provide invaluable assistance.
The Bottom Line
Bare root almond trees sell for about $30 each. So $90,000 would buy as many as D.C. started with. Obviously there would be planting and maintenance costs as well, but that's true with any trees the city maintains. We might not yield the over $100 million a year that D.C.'s festival brings in, but imagine if we pulled in even a fraction of that every February. Sometimes you have to spend money to make money. In this case, we'd have to be bloomin' nuts not to.
Capitol Dome Tours
First published in Issue No. 17, Aug. 2009
The Idea
The State Capitol is often referred to as the People's House. But the "people" seem to have less and less access to it. In light of the actions of Osama bin Laden and a truck driver who plowed into the building in 2001, steel bollards and protective fencing now encircle much of Capitol Park, and the majestic front doors have been permanently shuttered as crowds funnel into security checkpoints on the decidedly less majestic side entrance to the building. But perhaps the single coolest liberty we've lost over the decades is access to the building's spectacular dome.
Both the interior and exterior of the dome (and even the tiny cupola at the very top, 243 feet above the city) were open to the public from 1872 until 1942 when access was axed during World War II for security reasons. But surely, with the millions of dollars in new security measures that we've spent and a massive seismic retrofit that was completed in 1982, it's now safe to reopen the dome to the people, at least to the colonnade level at 180 feet where there's a roomy exterior walkway.
After Kansas' Capitol dome tour was shuttered for 33 years, it was reopened in 2006 to rave reviews, and over 300,000 people have taken the tour since.
In 2007, Colorado reopened its Capitol dome tour after years in the dark (it was closed after 9/11). And the tops of capitols from Oregon to Louisiana still welcome the masses to their historic perches. Capitol staffers here have said there are liability and crowd control issues. Colorado limits groups to 15 at a time and Kansas cuts it off at 30, and both have supervision at all times. Yes, our dome has three tiers of steep steps to climb (which pales when compared to Kansas' 296 steps), but it does have handrails, and if it's safe enough for the many VIPs, legislators, Capitol staff and interns who regularly tour the top, then why not for the rest of us?
The Players
The Department of Parks and Recreation operates the Capitol tour office and would likely oversee any legwork needed to make this happen, but this kind of project needs a champion too. Our candidates are state Senator Richard Pan, who represents Sacramento in the building, and Mayor Darrell Steinberg, who knows the Capitol inside and out from his time as the powerful Senate President pro Tem. Both have the clout and the regional ties to recognize that this would be a capital way to draw tourists and locals alike to downtown.
The Bottom Line
Colorado's Capitol Building Advisory Committee determined that staffing would cost them only $40,731 (one employee plus college work-study students) to operate the dome tour in the 2007-08 fiscal year. And in Topeka, the Kansas State Historical Society runs the tours, which cost $152,000 per year to operate in 2019, before the pandemic.
Finding docents in this historic city shouldn't be a problem. But new civic experiences that capture our imagination and remind us of our past are far harder to come by. It's time to reopen the dome to the people who pay for it. Let's all shout it from the rooftop.
Electric Light Parade
First published in Issue No. 4, June 2007
The Idea
On Sept. 9, 1895, Sacramento threw the parade of the century.
Then the home of the world's longest transmission line (stretching 22 miles from Folsom), Sacramento was the Silicon Valley of electricity. A dozen floats were decorated with thousands of bulbs powered by the trolley cables. The Capitol was covered in lights. An estimated 60,000 people attended (at a time when the county's population was less than 40,000), and The Sacramento Union hailed it as "the grandest display of electricity ever witnessed on Earth."
Years later, on a 1950s trip to Sacramento to acquire drawings that led to the creation of the Disneyland Railroad (yep, that has Sacramento roots too), Ward Kimball, then head of animation for Disney Studios, read accounts of Sacramento's parade and took the concept to Walt Disney himself. "What got him was the excitement people felt seeing this electric light parade," said the late Sacramento historian Jim Henley, who had lunch with Kimball in the early '80s. "So he took it back and showed it around."
Let's resurrect this sparkling cavalcade, but with a 21st-century spin. Power it with green energy—solar, electric, whatever. The city has long tried to position itself as a clean energy leader. What better way to promote that than with a little civic pizzazz? The illuminated parade would keep one foot in history and the other in the future. Run it up Capitol Mall and around a lighted Capitol Park. Have it on Thanksgiving weekend to kick off the holidays. And for the floats, Disney may have Cinderella and Peter Pan to take inspiration from, but ours could combine timeless fables (someone call Fairytale Town, please), trains, riverboats and other historically representative concepts. East Peoria, Illinois, hosts a monthlong Festival of Lights every holiday season that kicks off with a 40-float electrical parade, which has featured everything from blue whales to Star Trek's Starship Enterprise.
The Players
As sponsors go, SMUD—which powers our city and has proven to be a major civic booster—would be a no-brainer. The Downtown Sacramento Partnership and the city of Sacramento would also need to join in. Disneyland's version, which ran from 1972 until 2019, was sponsored for years by Sylvania, a division of Siemens, and the latter just happens to make light rail cars in South Sacramento. Business institutions like Wells Fargo (which was already servicing Sacramento back in 1895) would make great sponsors too. And KiboWorks—the Folsom-based LED lighting company that is one of the biggest in the world (CEO Kevin Furry has created, among other projects, the fire effects in Disneyland's Pirates of the Caribbean ride and the lighting for the Times Square New Year's Eve ball)—should be one of the first calls. But who would organize it? We vote for Troy Carlson, proprietor of the Stage Nine Entertainment retail store. In addition to being a bona fide Disney history buff, he also organizes Old Sacramento's Theatre of Lights each winter.
The Bottom Line
The major costs are the floats, plus bulbs or LEDs (LEDs are brighter and last longer). In East Peoria, volunteers build the floats and the city has budgeted about $60,000 for the parade. Illinois also kicks in tourism grant money. And businesses pay $250-$2,500 to sponsor a float, depending on its size. So trust us, if it plays in Peoria, it'll definitely play here.
Nut Tree Restaurant Reborn
First published in Issue No. 86, March 2021
The Idea
If you grew up anywhere around here and you're over the age of, say, 40-ish, there's a pretty decent chance you harbor warm and fuzzy feelings for the Nut Tree restaurant in Vacaville.
Redesigned in 1958 during the height of mid-century modernism, the place was a design triumph. Patrons passed through a glass-encased aviary with exotic birds and plants, which opened into a spacious room filled with Eames chairs (designed by Sacramento native Ray Eames and her husband Charles), California-themed art (including a piece featuring the State Capitol), and model planes hanging from the ceiling (the Nut Tree complex housed a small airport). The cuisine also soared, attracting culinary stars like Julia Child and Martin Yan, and the long-closed restaurant is now considered by many to be one of the first farm-to-fork destinations in California.
As if all that weren't reason enough to resurrect the iconic institution that was bulldozed in 2003, consider that it was designed and built nearly entirely by locals. The Nut Tree's brilliant design director was Don Birrell, who grew up in the Tahoe Park neighborhood and served as the director of the Crocker before decamping for Vacaville; the architecture firm was Sacramento's Dreyfuss + Blackford; the builder was Sacramento-based Continental Heller Construction; the landscaping was handled by Davisite Bob Deering; and the birds were curated by UC Davis alum Bill Toone.
The Players
Don Birrell passed away in 2006, but we could invite other members of the old Nut Tree gang to participate in this restaurant resurrection. Dreyfuss + Blackford can design it, and Bill Toone still remembers what kinds of birds he stocked the aviary with. Although the builder, Michael Heller Sr., is no longer with us, his son Michael Heller Jr. is one of the city's most visionary developers (his most recent project is midtown's inspired Ice Blocks complex) and he's an unabashed Nut Tree superfan—the clear choice to develop the roadside revival. While copyright issues might preclude references to the Nut Tree in the name, perhaps it should be called "Birrell's" as a nod to the man who was the creative spark behind all things Nut Tree.
The Bottom Line
More than 60 years later, mid-century modernism is as in vogue as ever, and the space would not only delight a new generation of diners, but also pay tribute to a time when extraordinary local talents collaborated to create a storied California classic.
An Airport Viewing Deck
First published in Issue No. 56, Feb. 2016
The Idea
The spectacle of flight has fascinated humans since the dawn of air travel, but without an airline ticket, it's no easy feat to watch these magnificent machines take off. Increasingly, however, airports around the globe are creating observation decks of various shapes and sizes to accommodate aircraft enthusiasts of all ages.
In the last decade, observation decks have been built at airports in Baltimore, Atlanta and New York, to name a few. In 2020, San Francisco International opened its SkyTerrace observation deck offering 180-degree views of the airport and planes taking flight. And just in September of this year, Oklahoma City added such a deck as a new amenity. "Now, non-ticketed visitors will be able to view the aircraft activity in an inviting, comfortable atmosphere [that will] hopefully inspire the next generation of pilots, aerospace engineers and astronauts," says the airport's website.
Some decks include historical or aviation exhibits. Others include cafes, restaurants and lounges. The observation platform at Raleigh-Durham's airport, which dates back to 1997, features miniature concrete runways for kids to play on that double as a popular site for children's birthday parties. One of the coolest features at some of the observation decks is the ability to listen in as air traffic controllers communicate with pilots during landings and takeoffs.
But the real allure is the ability to simply marvel at the massive aircraft coming and going in spectacular fashion.
The Players
While some airports have observation decks just off-site (like Dallas and Seoul), the vast majority are on airport property. Some are built into the terminals, while others are freestanding structures. Either way, Sacramento International Airport would need to take the lead on such a project or endorse one proposed by an outside party. Clearly, there are security issues to address, but if dozens of other airports can overcome them, so can SMF.
The Bottom Line
In 2013, Delta built "Sky Decks" in Atlanta and New York City for their frequent fliers, but most observation decks are free, and are increasingly being employed as an airport perk.
In Perth, Australia (pictured here), the airport built its viewing area in 2011 with a capacity for 100 people and a shelter designed to mimic a body section of a Boeing 747. An airport spokesperson says the platform is "extremely popular." Roger that.
A Treetop Tower
First published in Issue No. 81, April 2020
The Idea
As any self-respecting Sacramentan knows, this is the City of Trees, but the best place to fully appreciate the reason behind this well-deserved nickname is from up high. The problem: We don't have a public observation point to look out over the city and its magnificent leafy canopy.
Cue Denmark.
Ever the champions of great design, the Danes have created one of the most spectacular observation towers on the planet, and an arbor-themed one at that.
Behold the Forest Tower, a 148-foot-tall observation platform that opened in 2019 at a nature park called Camp Adventure about an hour south of Copenhagen. Designed by the Danish architecture firm Effekt, the hourglass-shaped perch was fashioned to resemble a massive tree—wide at the base, narrow in the middle and wide again at the top where its branches stretch outward.
There are no elevators and no stairs. Instead, the structure features a spiral ramp (making it wheelchair-accessible) and offers forest views at every level through its porous, branch-like exterior, so you can climb a little or a lot.
Here in Sacramento, such a tower—perhaps with a bespoke design to complement our own urban canopy—would not only provide a new way to appreciate our city's natural beauty (we have one of the densest urban tree canopies in the world), but would also make for a local, national and even international destination. To wit, citing the Forest Tower, Time magazine included Camp Adventure on its "World's 100 Greatest Places" list. Our version would become one of the region's top attractions overnight.
The Players
The effect, of course, would be strongest in an area with a lot of trees. One promising contender: Discovery Park, which is operated by Sacramento County. The tree canopy is particularly dense there and visitors would have an amazing view of the confluence of our two rivers as well. Yes, it floods briefly every winter, but no matter: Denmark's Forest Tower boasts a raised walking platform to the structure and ours could too. The Sacramento Tree Foundation would be a great champion for this project.
The Bottom Line
The Forest Tower is, by all accounts, a runaway hit. It opened on March 31, 2019, and it drew nearly 400,000 visitors from 75 different countries in its first year, despite being an hour away from a major city. Tickets cost about $23 per person to scale the tower, and while Camp Adventure doesn't release revenue numbers, the back-of-the-napkin math on that is approximately $8 million in revenue per year. That's a whole lot of green, perhaps enough to convince some visionary Sacramentans to help the rest of us see our hometown in a whole new way, while planting some serious "roots" of our own.
Vintage Bus Tours
First published in Issue No. 31, Dec. 2011
The Idea
City bus tours are a staple of the tourism trade for most large cities. And Gray Line, probably the best-known bus tour company in America, ceased operations in Sacramento back in 2000. But more and more cities are turning to vintage (or vintage-looking) vehicles to help bring their histories to life.
Both New York and Los Angeles have used red London-style double-decker buses for years. San Francisco's Love Tours features 1960s and '70s Volkswagen buses. And in 2007, Yellowstone National Park brought back eight of its wildly popular 1930s yellow buses. Sacramento has its own rich history worth telling, and there's no better way than behind the wheel of a classic coach car, trolley or bus.
The Players
As it happens, Sacramento Regional Transit (RT) owns, but rarely uses, a handful of historic vehicles, including a beautiful 1958 blue bus (which got a new engine in the '90s) and several wheeled trolleys that use compressed natural gas. In the 1980s, a group of former and then-current employees of Seattle's Metro Transit (that area's version of RT) volunteered to lead semi-regular tours on Metro's vintage fleet, with vehicles dating as far back as 1940. For many years, Metro has owned, stored and covered the vehicles under its insurance, and volunteers have operated and maintained them. Why couldn't that work here? Once the vehicles are in place, the key is to find some charismatic and knowledgeable tour guides to bring the city alive.
The Bottom Line
The tours don't need to run daily from day one. Start the program out slow, perhaps only on weekends, working with hotels to get the word out. And with a range of specialty tours (politics, crime and architecture, to name a few), locals would get on board too. Wherever the passengers hail from, it could only boost the city's economy by exposing them to restaurants, museums and shops that they might not otherwise discover. And the riders wouldn't be the only ones appreciating the city's historical flavor—with a cool retro bus or trolley drawing admiring glances around the streets of Sacramento, the rest of us would be too.
Artful Public Loos
First published in Issue No. 84, Nov. 2020
The Idea
In most big cities, public bathrooms are a necessity, but here in Sacramento, they barely exist. In fact, a recent effort to place one in Cesar Chavez Plaza across from City Hall took roughly three years to complete due to concerns about safety and perception issues. But as cities grow—swelling with people, including the unhoused, who have to answer nature's calls—the need to install public bathrooms also increases. So why not make them better?
Last year, Japan's Nippon Foundation— a nonprofit organization that focuses on issues like public health and social welfare—tried to do just that, revealing public restrooms designed by 16 noted creatives, and began placing them around Tokyo.
But one stood out from the rest—an eye-popping concept from Pritzker Prize-winning architect Shigeru Ban, who fashioned a set of stalls using transparent "smart glass." After the door to the stall is locked, the glass walls—in bright colors like cyan and lime green—instantly turn from transparent to opaque. The idea is that the inside of the stall is easily visible before you enter— so you can see that it's vacant—and then the restroom becomes completely private once you're inside. Cleaning crews show up three times a day to clean the facilities.
And to encourage others to employ the same concept, Ban has decided not to patent his creation, leaving it open for cities around the world to pursue their own variations on this theme.
The Players
There are several advocates in City Hall for more public bathrooms (like Councilman Jeff Harris), and this would be the perfect project for groups such as the Downtown Sacramento Partnership or the Midtown Association to work with the city on a pilot program. The Central Valley chapter of the American Institute of Architects could play a pivotal role, recreating Ban's design or adapting it for Sacramento. The Sacramento Region Community Foundation, whose donors often champion civic projects, could be a source of funding.
The, um, Bottom Line
The more ways we can find to address critical public needs with inspiring urban design, the better off we'll all be. And with World Toilet Day—which "raises awareness of the 4.2 billion people living without access to safely managed sanitation," according to the U.N.—falling on Nov. 19, now is the time to start planning for a better post-pandemic city for everyone.
Transmission Tower Sculptures
First published in Issue No. 78, Oct. 2019
The Idea
Drive around town and you'll see hundreds of steel lattice structures, most of them far taller than the buildings that surround us. They're called transmission towers and they hold the electrical lines that power our city. As infrastructure, they're largely invisible to us. But what if they could become more than that?
In Hungary, the country's electrical system operator, MAVIR, constructed two massive towers that resemble court jesters. In Stockholm, the Swedish Royal Court is exploring ways to convert some of the city's decommissioned towers into observation towers. Over in Buenos Aires, the artist collective Doma adapted an old tower to create a 148-foot-tall robot-shaped sculpture called Coloso (there's even an app that allows users to control the colors). And in Germany, art students affixed translucent plexiglass panels to the base of an active tower, creating a stained glass effect along a local art trail.
The Sacramento region has over a thousand such towers (SMUD alone owns 905 of them, up to 180 feet tall) awaiting the right kind of inspiration. One idea: These towers are nearly the size of redwoods—how about augmenting some with "branches" and green paint in the City of Trees? (We'd also love a giant robot—Doma said it would be happy to make one here too.) In 2011, the Royal Institute of British Architects held a design competition for such structures. We should do that as well.
The Players
Most of Sacramento's transmission towers are owned and operated by SMUD and PG&E. In 2019, only PG&E had some decommissioned towers around here, but declined to disclose where they are. Hopefully the city and county can engage PG&E to see if there's a way to bring those dead towers to life through art. There are also many creative ways to modify working towers, assuming these utilities are open to the idea. The Sacramento Office of Arts and Culture or the Central Valley chapter of the American Institute of Architects would also be great facilitators.
The Bottom Line
SMUD is one of the sponsors of the Wide Open Walls mural festival. In the same way that the festival turns invisible walls into works of art, here's a chance to make the ordinary extraordinary. It's time to electrify our city in a whole new way.
Starry Bike Paths
First published in Issue No. 63, April 2017
The Idea
Dutch artist Daan Roosegaarde has long been fascinated by the intersection of art and technology, particularly the use of light to transform the ordinary into the extraordinary. Our favorite example of this predilection is his 2014 tribute to fellow countryman Vincent Van Gogh, in which thousands of concrete pieces covered in phosphorescent material were embedded into the pavement along a half-mile stretch of a bike path near the painter's hometown of Nuenen as an homage to his 1889 masterpiece The Starry Night. The blue and green lights shine for up to eight hours after the sun sets, creating a radiant tribute to the Netherlands' favorite son.
Inspired by Roosegaarde's creation, urban planners and engineers in Poland debuted their own glowing path, in part to improve cyclist and pedestrian safety at night: The 100-meter-long track in the town of Lidzbark Warmiński comprises glowing particles known as luminophores that were created by the European materials firm TPA. Fueled by the sun, the particles emit light for up to 10 hours, providing a clear path and making for a visual treat.
Sacramento, of course, is home to countless bikeways, none more celebrated than the 32-mile American River Bike Trail that runs from Discovery Park to Folsom Lake. Imagine the lane itself—or at least parts of it—twinkling at night, mimicking the glistening surface of the adjacent river. Picture flecks of gold within it hinting at our Gold Rush history. Or a bike path that passes by the new planetarium at the SMUD Museum of Science and Curiosity glittering with lights rendered like constellations overhead.
The Players
The conversation should start with groups such as the American River Parkway Foundation, the Sacramento Area Bicycle Advocates and the Sacramento Office of Arts and Culture. Any one of these organizations could act as the project's champion, perhaps raising funds through crowdfunding sites like Kickstarter. Who would build it? West Sacramento's Clark Pacific is a cutting-edge concrete company that Apple hired for its space-age headquarters in Cupertino. What if the company partnered with the California Lighting Technology Center at UC Davis or Folsom-based KiboWorks, which creates stunning custom LED projects around the globe?
The Bottom Line
While the creators of the two European pathways are mum on the costs, the Van Gogh path has paid dividends in terms of global media attention (The New York Times, Travel & Leisure, etc.). And like the Van Gogh homage, our track should nod to Sacramento's own rich past. After all, our city's entire raison d'être can be attributed to our rivers and the Gold Rush. So let's get going and glow with the flow.
An Eames Museum
First published in Issue No. 75, April 2019
The Idea
Sacramento has produced some of the country's greatest creative minds, from painter Wayne Thiebaud to author Joan Didion. And in the world of design, the late Ray Eames tops that list.
Ray was born on Dec. 15, 1912, in Sacramento as Bernice Alexandra "Ray" Kaiser, and went to Sacramento High and Sacramento City College before moving to New York at age 19 and later attending school in Michigan, where she met her future husband and collaborator, Charles.
Together, the duo transformed the world of design in the 20th century. And their work remains every bit as inspiring and relevant today as it was in the 1950s and '60s when they helped define mid-century modernism.
Their creations have graced many of the most renowned museums on the planet, from SFMOMA to New York's Whitney and London's Design Museum. Yet, amazingly, an Eames museum itself does not exist.
So let's build one here.
Let's honor Charles and Ray's contributions by erecting an edifice of their own design—perhaps in the form of one of their unbuilt structures—and filling it with their work, such as their signature Eames Lounge Chair and Ottoman, their influential films, Ray's lithographs and Charles' photographs. The couple designed for the masses. As such, the masses should be able to visit to see what they designed for decades to come.
Yes, Ray left her hometown when she was 19, but she spent her formative years here. Similarly, Andy Warhol left his native Pittsburgh at 20, and that's where his museum is located today. And in a city sorely lacking in civic amenities, an Eames museum would make Sacramento a must-stop on the travel itineraries of design aficionados everywhere.
The Players
Any conversation on this topic would have to start with the Eames family. Fortunately, the Eames Foundation is based in California and the family has become especially well acquainted with our city ever since downtown Sacramento's California Museum mounted a Ray Eames exhibit in 2013 and inducted her and Charles into the state's Hall of Fame that same year.
The Bottom Line
Mayor Steinberg has talked a lot about wanting to create a "destination city." For all the major developments around here, none qualify as magnets that will draw visitors from across the globe. This project would become such an attraction, guaranteed. Charles Eames once said, "Recognizing the need is the primary condition for design." The world—not to mention this region—needs an Eames museum. The conditions are right. Our native daughter belongs to the world. Let's invite the world to her hometown.