Canon in East Sacramento unveils all-star chef team, readies to open in July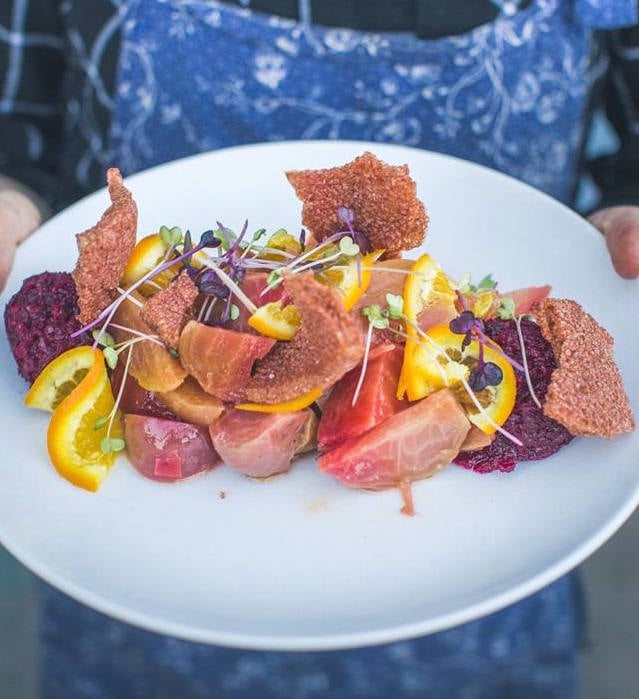 Canon, the new eatery co-owned by restaurateur Clay Nutting, is set to open in East Sacramento by early July with an all-star kitchen team, including executive chef and partner Brad Cecchi (formerly of the Michelin-starred SolBar in Calistoga), and the recently added Jodie Chavious, who is currently the executive sous chef at Paragary's.
The new eatery will take over a warehouse space on 34th Street between Stockton and Folsom boulevards, providing a new neighborhood pub concept, according to Nutting, who co-founded the midtown beer hall LowBrau in 2012. "A tavern is a meeting place, where you have a drink, restore your energy and where you have a conversation," he says. "We'll have the execution of a fine-dining experience, [but] the platform is a casual neighborhood bar."
Cecchi, who cut his culinary teeth locally at Mulvaney's B&L and Grange Restaurant & Bar before stints at the Urban Farmer in Cleveland, Ohio, and SolBar, will bring his elevated approach to the food. He says diners can expect culinary influences from around the globe—think Southeast Asian, North African and Latin American—on his "hyper-seasonal contemporary American" menu, citing a dish with tater tots topped with mole made with 60-plus ingredients as a potential staple.
Canon will be open for dinner and weekend brunch, and menus for both services will be geared toward "social dining," says Cecchi, indicating that he doesn't intend to have a standard two-egg breakfast as a morning fare option. Instead, he'll opt for egg dishes that can be shared amongst diners at the table. Other breakfast accoutrements like bacon, potatoes and bread will be offered à la carte to be passed around, which the chef hopes will facilitate a homier, more communal experience. "The stuffiness of fine dining comes from the atmosphere," he says. "And that's not the atmosphere we're providing. All the food is intended to be shared."
Jodie Chavious, who worked with Cecchi at Mulvaney's, Grange and Urban Farmer in Cleveland, will join him in the kitchen as chef de cuisine. She says she is excited to work with her longtime friend again because he helps her expand her creativity. "Brad is a risk taker, whereas I have to be pushed a little bit more," she says. "It's nice to work with someone who brings that out of you, but who you completely trust."
For his part, Cecchi adds that Chavious "understands my philosophy about food. I trust her to put a focused version of Canon on a plate. Like a lot of chefs in town, she's committed to pushing Sacramento forward. We're extremely lucky to have her."
Chavious, who has a background in pastry, is looking forward to adding her personal flair to Cecchi's menu with additions like doughnuts that are savory rather than sweet. Right now, she says, they are working together to get ice cream (her favorite thing to make) on the menu, as well as her handmade pastas and breads.
Nutting notes that the food, wine, beer and cocktail programs will all play an integral part in Canon's grander intention of being a place where Sacramentans can kick back and relax, particularly on the 1,400-square-foot patio (replete with fire pits) and inside the large dining room that will be kitted out in wood, steel and marble, creating a contemporary tavern ambiance.
"Dining is something we do every single day, and breaking bread is something we should be doing every single day," Nutting says. "We want to create a way for that to happen, but we want to be thoughtful about the style, the experience and the quality of dining as well."
Canon will be open for dinner Tuesday through Sunday and for brunch on weekends.
Tues.-Thurs. 4-10 p.m.; Fri. 4 p.m.-12 a.m.; Sat. 9 a.m-12 a.m.; Sun. 9 a.m.-10 p.m. 1719 34th St. 403-1723. canoneastsac.com
You Might Also Like
Sip craft cocktails for a good cause during Negroni Week in Sacramento
Exclusive sneak peek at K Street's new Jewish deli
The owners of LowBrau to open new restaurant at the Ice Blocks