Craving of the Week: Nash & Proper's Ice Cream Chicken Sammich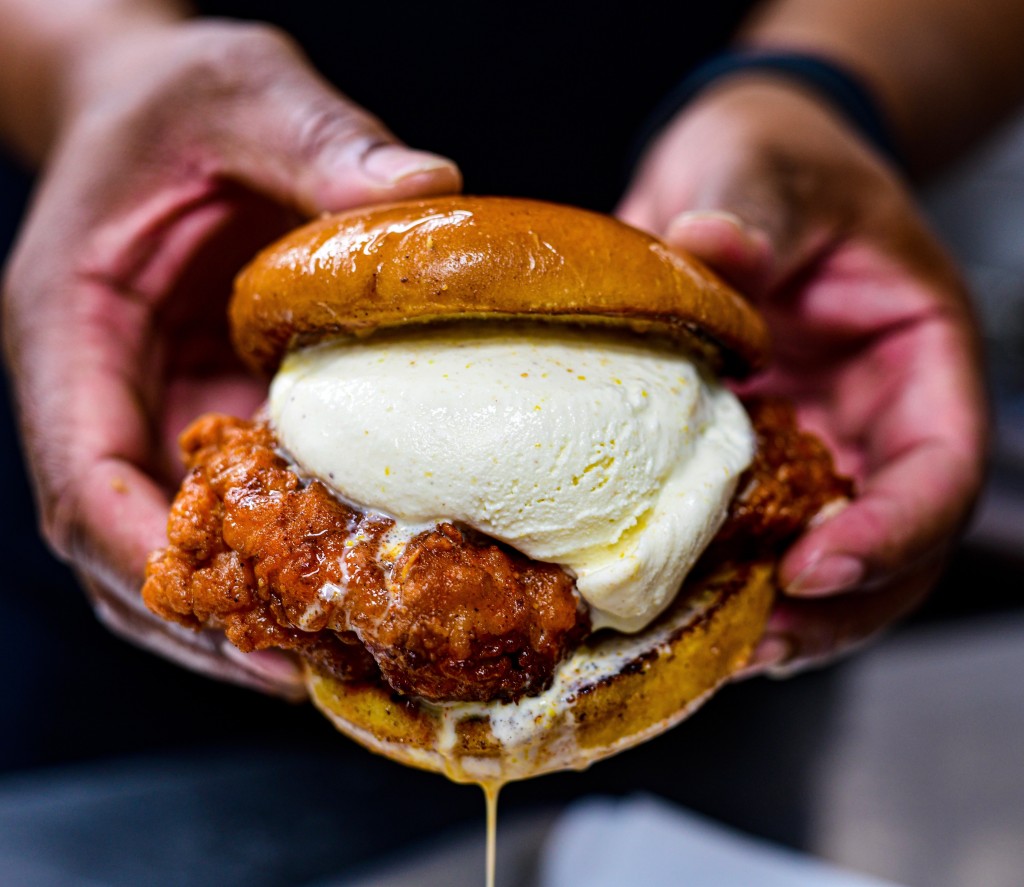 Already locally legendary for its crave-worthy hot chicken sandwiches, Nash & Proper is poised to go viral with a photo of its newest menu addition, the Ice Cream Chicken Sammich, which the downtown restaurant posted on Instagram last week. 
As expected, social media is in a fiery debate over the drippy dish: @boydandrewparks on Twitter noted, "Folks, just because you can doesn't mean you should," while Instagram's @csnyderin916 wondered, "What is this new devilry?" And Redditor ParticularKale8 offered a simple query: "Why?"
I was also skeptical—stunt food as clickbait is a trick almost as old as the internet—but after some arm-twisting from my colleagues, I made my way to Nash & Proper's downtown flagship location to give the mega melt a shot. 
It's built like Nash & Proper's signature sandwich, but with a few unique flourishes. Heat levels, from mild cayenne to blistering Carolina Reaper, still apply. Select your scorch for the sizzling fried chicken thigh, which is nestled between crispy-on-the-outside, custardy-on-the-inside, French-toasted brioche buns dusted with cinnamon sugar. The scoop de résistance—classic vanilla from K Street neighbor Devil May Care—are stuffed in at the last possible second to prevent a runaway thaw. Hot tip: Ask for a side of extra-kicky, house-made habanero maple syrup for dipping.
Despite my initial apprehension, all trepidation melted away with my first bite. The velvety ice cream, flecked with musky Madagascar Bourbon vanilla beans from nearby Allspicery balances the craggy-textured chicken's spicy crunch in such a satisfying way that once you've taken a test bite, you instinctively go in for a mouthful. And then another. You get the drift.
"I honestly wasn't expecting it to be as good as it is," says Nash & Proper chef and co-owner Cecil Rhodes, who invented the sandwich and debuted it at the restaurant's grand opening last Thursday, April 22.
If you're heat-averse like I am, don't sweat it. Try going one heat tier above your comfort level, since the ice cream will dramatically quell any potential combustion. (Typically, I can only handle the mild, but this time, I went for the medium, and it was the perfect salty, spicy foil for the sweet frozen treat.) Not to be outdone, Devil May Care is using Nash & Proper's hot chicken spices for a special flavor to be released this summer. "Whenever we like something we try to make it into ice cream," says DMC owner Jess Milbourn.
Considering the sandwich's major drip factor, it's only available for dine-in. (Another hot tip: Come hungry and be prepared to devour the dish in speedy fashion—speaking of, save your shirt by draping a few napkins from your collar first.) The sweet-salty sensation is also expected to cool down the menu at Nash & Proper's new Elk Grove location, set to open in June. 
I'll leave you with Rhodes' advice for attacking the stack, which served me well: "Hunch over the table, get those elbows out, and just go for it."

$9. 1023 K St. Mon-Thurs. 11 a.m.-7 p.m. Fri. 11 a.m.-9 p.m. Sat. 12-9 p.m. Sun. 11 a.m.-3 p.m. nashandproper.com
You Might Also Like
Vegan Gelateria Conscious Creamery Opens in Oak Park
Feel the Burn
A sneak peek at the colorful new Devil May Care Ice Cream shop