Doughbot returns with a new space, new owner and a menu with vegan doughnuts, baos and katsu sandos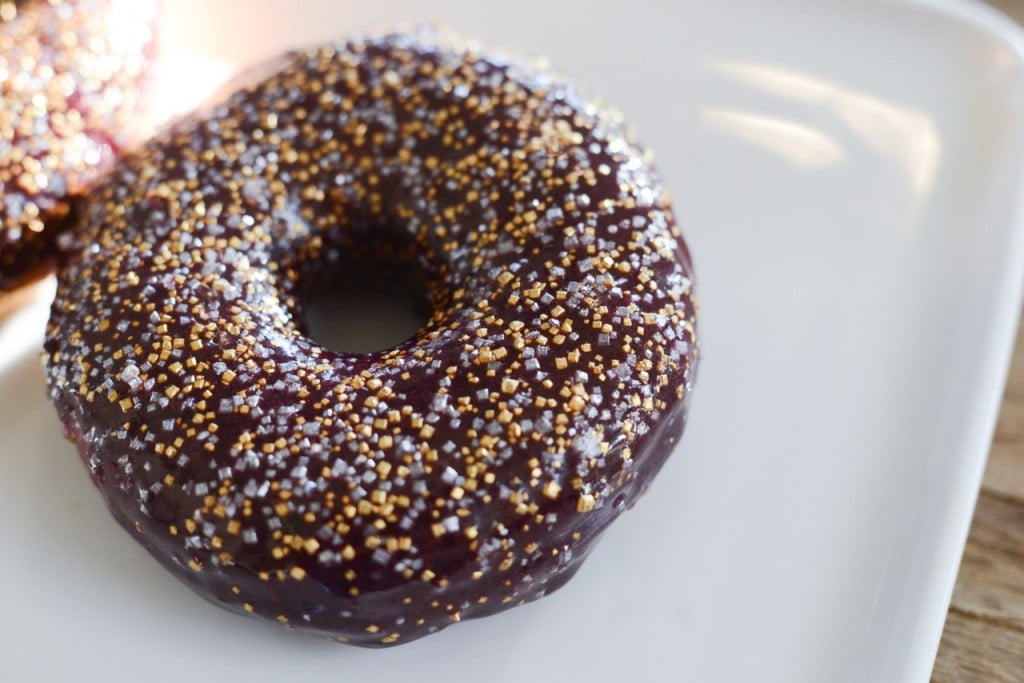 The time to rejoice is nigh for fans of Sacramento's erstwhile Doughbot: A new iteration of the beloved, partly vegan doughnut shop is reopening in early November near Southside Park—on 10th Street between T and U, a stone's throw from where the original space (now occupied by the Japanese restaurant Binchoyaki) was located. The Japanese-inspired cafe slash konbini (convenience store) is a nod to the neighborhood's cultural status as Sacramento's Japantown, and arrives with even more vegan verve than you can shake a pink-lemonade-flavored dunker at.
New owner and local real estate developer Kevin Khasigian, along with consulting chef Mike Thiemann, are doubling down on the original concept (vegan doughnutry was considered newfangled back in 2011, when the OG shop opened) by offering other crave-worthy grab-and-go fare blissfully bereft of animal products like veggie-filled katsu sandwiches and bao buns in addition to artisanal vegan doughnuts (including some non-vegan cake donuts).
"You won't even know they're vegan," pledges Khasigian, who purchased the business from the original owners, Bryan Widener and Dannah O'Donnell, just before they shuttered the business in 2014. "You won't say, 'This is good for a vegan doughnut.' "
As a devout omnivore, I have uttered those words of disappointment before and as such, have learned to give vegan food a wide berth, but I can happily testify to Khasigian's bold claim. For example, biting into the pink lemonade doughnut for the first time was a peak pillowy and puckering experience, very far from my expectations. During a monthslong R&D process, Thiemann—who flexed his plant-based skills at his downtown vegetarian restaurant Mother, which closed in January 2020—researched the dough recipes of his favorite childhood doughnut dives when he discovered a secret ingredient that made the pastries at Winchell's Donut House so habit-forming: potatoes. As moisture bombs, spuds—in Doughbot's case, freshly mashed russets rather than dry potato flour—give a new proprietary dough the pleasing texture of Japanese milk bread: downy soft and melt-in-your-mouth, with some delightfully wispy stretch. While the chef has requested that I redact most of the ingredients of his masterful new recipe, I'll reveal just one other: Miyoko's vegan butter, made in Sonoma County.
"Vegan fat substitutes have come a long way, even since Mother was open," says Thiemann, who cooked through the original Doughbot's recipe book, and plans to reprise many of the flavors, from chai to Khasigian's favorite, The Dude—a cream-filled doughnut with a White Russian glaze.
While I can predict that even old-school doughnut fiends will be won over by the utterly pretty pink-lemonade-lavender (the fresh marigold flower petals lend a subtle flavor to help lift the lavender note), as a sucker for shiny things, I also voraciously consumed the Blueberry Galaxy, whose fresh-berry-and-vanilla-bean glaze is sprinkled with a cosmos of edible glitter. The Chai Krispy is more earthy and spicy owing to the glaze's infusion of Chico Chai, a blend of Assam black tea with cardamom, cloves and star anise with a coating of puffed brown rice for snap, crackle and pop.
But the dough's applications aren't merely fritterly. The bao buns, from carnivore favorite char siu pork to the vegan five-spice oyster mushroom, also utilize the same dough. So, too, do the seasonal fruit-filled malasadas—an homage to the Hawaiian-Portuguese pastry. And the tea-sandwich-thin bread for the Japanese sandwiches? Khasigian and Thiemann might as well start trucking in the taters now. The egg salad sando comes complete with the trendy sunrise soft-boiled egg in the middle, made popular stateside by Konbi in Los Angeles, while the golden panko-fried katsu varieties—both the traditional pork cutlet and the meaty eggplant—are garnished with a miso-flavored cabbage slaw and rice wine vinegar and spread with Thiemann's "doctored kewpie sauce." A full liquor bar and java menu—offered in fresh-brew and canned options through one of Khasigian's other businesses, Naked Coffee (which he bought last year)—Doughbot 2.0's identity also aims to be newly lingerable.
For the 2,700-square-foot raw industrial space on the ground floor of Khasigian's Southside apartment building, local designer Whitney Johnson (known for her work on other downtown projects like Shady Lady Saloon and Bottle & Barlow) has envisioned a look that draws from the science of dough: Like molecules, modular geometric tables can break off to form private two-tops or longer community tables. A custom hexagonal tile will clad an entire wall, but in some spots break apart to atomic effect. Two wordless neon installations, a coffee and doughnut and a pizza—Buffalo Pizza, owned and operated by Khasigian's high school friend, is also moving into the Doughbot space—will hang on the back wall.
A mural featuring Doughbot's new mascot—a mid-century throwback of a robot with dough for brains created by local branding studio Yellow Brick Group—will preside over the whole operation, for which Thiemann offers his own guarantee: "Sacramento is going to freak out over this place." doughbotsac.com
You Might Also Like
Vegan bakery cafe Mud Pie Stand to open in Sacramento
Vegan Gelateria Conscious Creamery Opens in Oak Park
Craving of the Week: Nash & Proper's Ice Cream Chicken Sammich