All the World's a Stage
From San Francisco to New York, a handful of theater companies have broken out of, well, the actual theater to take their shows into parks and playgrounds. We should think outside the black box too.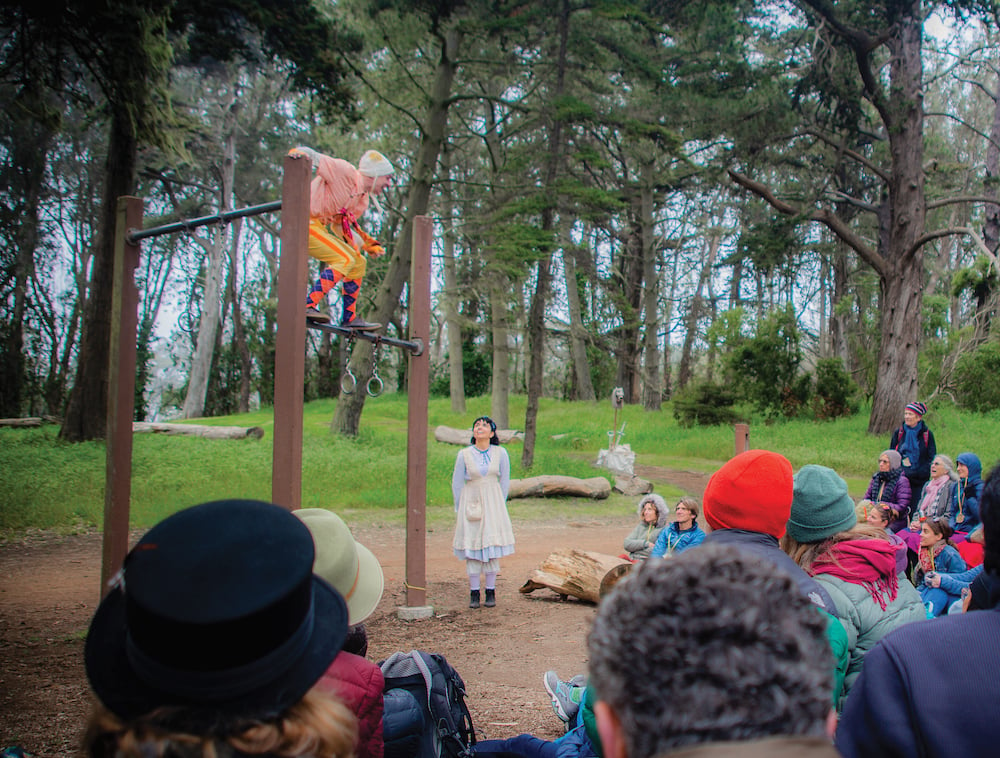 The Idea
I lived in Manhattan for nearly a decade, and one of the perks of living there is, of course, the abundance of great theater. But one of my favorite theatrical experiences there didn't take place on Broadway. In fact, it didn't take place inside a theater at all. It happened in Greenwich Village's Washington Square Park.
The performance was Shakespeare's A Midsummer Night's Dream by Gorilla Rep—a troupe founded in 1989—and the stage was the entire park. One scene might take place at the base of a massive tree, then the actors would suddenly scurry off to, say, the monkey bars at a children's playground. We, the audience members, pursued them on foot from one corner of the park to the other as they performed each scene under the stars in what is known as environmental or site-specific theater. And without stage lights to illuminate the actors' soliloquies, the skeleton crew used… flashlights. Brilliant.
It was also, improbably, entirely free. And thrilling.
In 1994, Ben Brantley of The New York Times wrote, "They actively work the audience, making brazen eye contact, grabbing onlookers by the shoulders and blithely shuffling them along from site to site. Without ever breaking character, they often deliver the text directly to us, like especially demonstrative friends."
There's a similar troupe in San Francisco called We Players, whose productions have included a recent run of Adventures with Alice in various sites around Golden Gate Park. They even performed Hamlet at Alcatraz once.
Here in our neck of the woods, even traditional outdoor theater largely died when the Sacramento Shakespeare Festival relocated from the historic yet decaying William A. Carroll Amphitheatre in William Land Park to an indoor theater at Sacramento City College. (Theatrical aside: Who is going to step up and finally fund the long-planned renovation and expansion of the outdoor amphitheater?)
In the meantime, any number of parks around the region—including other parts of William Land Park—can become instant stages, no infrastructure required.
The Players
How about the theater arts program at Sacramento City College try its hand at performing plays just across the street in William Land Park? Or perhaps they can stage Shakespeare's political drama Coriolanus at Capitol Park where Roman senators would fit right in. Or perhaps the pros at Capital Stage, B Street Theatre or the Sacramento Theatre Company can transform a local park into the backdrop for a roving play.
The Bottom Line
Whether the performances are free or paid (Adventures with Alice sold out at $20 to $80 a ticket), no-boundaries live theater is a sight to behold. And to see it surrounded by grass and trees and birds and sky is a singular pleasure that we should all be so fortunate to experience. In the words of the Bard himself, "One touch of nature makes the whole world kin." Now, off to the forest!
Want to read more inspiring "Why Not Here?" ideas? Check these out below.
The Art of Recycling – Catching Plastic Bottles with Public Art
Bee the Change – Turning the Tops of Bus Shelters into Bee-Friendly Gardens
Why Not Here? 15th Anniversary Edition – 15 Ideas From Over the Years