Bee the Change
In recent years, a global trend of topping bus shelters with bee-friendly gardens has been spreading like, well, wildflowers. With Earth Day coming up on April 22, here's the buzz on eco-forward "bee stops."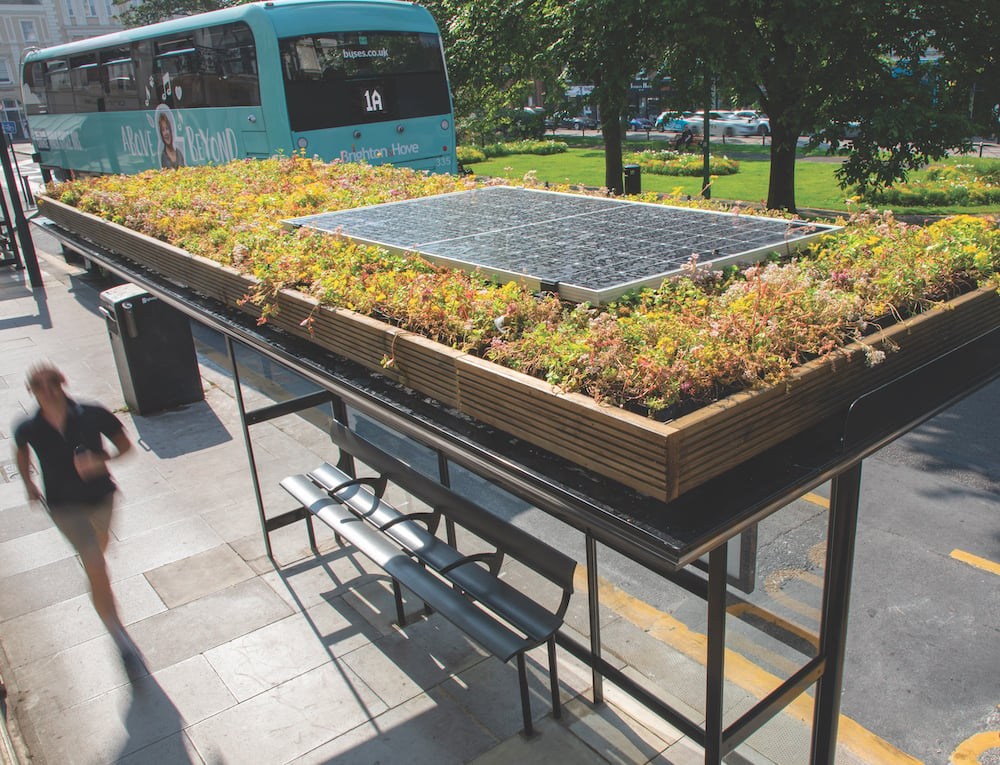 The Idea
In 2019, the city of Utrecht in the Netherlands partnered with Clear Channel—the outdoor advertising company that installs and maintains thousands of bus shelters around the world (including in Sacramento)—to create 316 bus stop structures that were topped with small gardens designed to draw bees and butterflies as a way of promoting biodiversity. The idea stemmed from an increase in concern regarding climate change, including the precarious state of honeybees, which play a critical role in feeding the planet. Additional benefits include collecting rainwater and reducing urban heat islands in the city.
These "bee stops"—which attract pollinators with wildflowers and low-maintenance sedum plants that need little water—were such a hit that the concept quickly spread through Europe. Clear Channel has since installed them in Denmark, France, Germany and Belgium, as well as the United Kingdom, where it has already built 100 and plans to install at least 1,000.
America could use some of that green European ambition.
In October, UC Davis research affiliate Dr. Jennie Durant wrote that "climate change has become a new and formidable stressor for bees" and that "drought conditions in the western U.S. in 2021 dried up bee forage—the floral nectar and pollen that bees need to produce honey and stay healthy."
In other words, we need to help pollinators like bees here too. (And no, according to Clear Channel, no one has reported being stung by a bee.)
Not only will such shelters help clean the air (Sacramento has amongst the worst air quality in the country), but they can raise awareness about climate change and the role that bees play in our ecosystem. And naturally, shelters topped with flowers, bees and butterflies will beautify the city.
The Players
Here, Clear Channel is contracted to provide the bus shelters for Sacramento Regional Transit. And RT has already prioritized sustainability in other ways. (Currently, 25% of all new vehicles purchased must be zero emission.) The public transit system, working with Clear Channel, can further its green mission by replacing at least some current shelters with ones designed with living roofs. Individuals with bees in their bonnets can also make an impact. In Brighton, England, one 27-year-old woman, inspired by Utrecht's success, started a petition on Change.org in 2021 to get a similar effort underway in her hometown. She secured nearly 50,000 signatures, and now Clear Channel has installed two such shelters (including solar panels to power the lights inside), with 10 more on the way.
The Bottom Line
As for funding, Clear Channel UK says that in some cases, it pays for the new shelters, and in others, the cities do, but either way, it maintains all the living roofs. The Sacramento region—where agriculture is central to our core identity, and the bees that are central to agriculture are threatened by climate change—is the perfect place to undertake such a forward-thinking step. And whether it's a single person starting a petition or the powers that "bee," now is the time to plant the seeds for a better, greener future.
Want to Learn About More Inspiring Ideas We Can Bring to Sacramento?
Sowing the Seeds of Change – Growing Pocket Forests
Maine Attraction – Turning Bus Stops into Public Art
Why Not Here? 15th Anniversary Edition – 15 Ideas From Over the Years